Add a little bit of ✨spice✨ to your next glass of the Good Rosé 🌶 Would you try this spicy cocktail?
Saintly Wine brings this tasty idea and asks Rosé wine lovers would they try a spicy cocktail? This is so easy, just add some jalapeño slices to your glass of Rosé!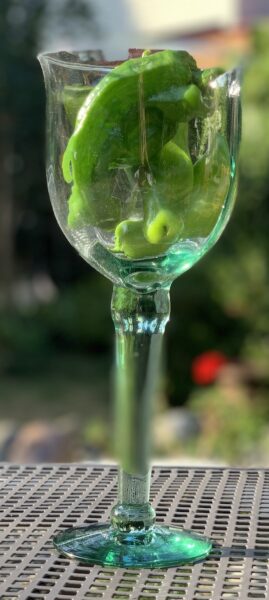 So love it or hate it would you even try it? A trend on tik-tok and starting to make an appearance on Instagram this may not be for the vaint of heart but think about all the great options. How about a "dirty rosé" with pickled jalapeños? Would you add the pickled juice or just the jalapeño? Would you keep the seeds or discard them to make it not so hot? Would you eat the jalapeño on it's own with a shot of Rosé? Would you dare? How about with a side of blistered Shishitos?  The possibilities are endless!
"Contrasts can enhance distinctive qualities. Jalapeños will complement the light, sweetness of many rosé wines while also serving as a decorative garnish. Ice cubes lighten the spice a touch. People are hungry for new experiences and this trend is a novel extension of pairing wine with foods that have intense flavour profiles." Arterra Master of Wine Eugene Mlynczyk
Saintly the good rosé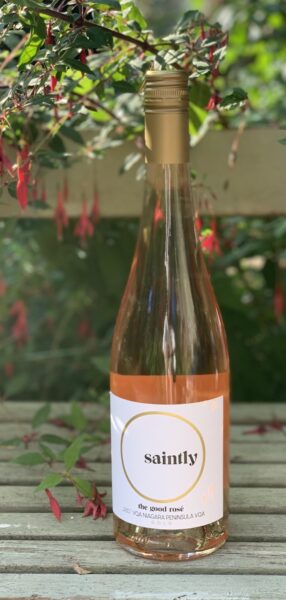 VQA
Saintly The Good Rosé features notes of strawberry, raspberry, peach, and lime, as well as subtle floral notes. The palate is clean and crisp with a rich texture and dry finish. Strawberry carries through on the palate with lingering stone fruit notes.
Blessed with the goodness of grapes from the Niagara Peninsula, Arterra Wines offers up this angelic rosé with a medium-bodied and dry style. Its aromas and flavours of strawberry, citrus, bergamot and rhubarb nestle on a rounded palate, leading to a crisp, long finish. Enjoy with a hummus plate or raspberry almond tart. @lcbo
LCBO food pairing suggestion by Amy Rosen
Saintly is a good tasting rose. Crisp and lively, there is red fruit hints, lots of taste and linger to enjoy. Perfect for sipping; matching with easy-to-make menus; when your work day is over. BC Liquor Stores
$19.99 on sale at $18.99 until September 3 at BC Liquor Stores
Here are some more great, refreshing Rosé wines that are so summer shipping worthy you just have to try them all. Let me know which one turns out to be your favourite and how you "spiced" it up!
BASK Crisp Rosé

BASK Crisp Rosé has subtle aromas of strawberry and peach – a perfect match for summer. The new full-flavoured wine has zero grams of sugar per serving.
This rosé is very dry, low in sugar, and soft and round in texture. Enjoy flavours of red pear, watermelon, caramel and honey with a hint of spice. The perfect match for year-round casual entertaining; superb with salads, grilled fish or chicken with herbs. @lcbo
Just BASK in 0g sugar per serving. BASK gives you one less thing to worry about, so you can zero in on the moment and savour every second. BASK Crisp Rosé has subtle aromas of strawberry and peach—a perfect match for summer. BC Liquor Stores
$11.99 currently on sale at $10.99 until September 3 at BC Liquor Stores
Vintage Ink Pink Ink
VQA
The Vintage Ink Pink is a rosé explodes with layers of strawberry, raspberry, and a hint of watermelon. It is well-balanced with a crisp and refreshing finish.
$17.95 available at the Wine Rack
Sorry BC I couldn't find this wine but you can buy the Vintage Ink Rosé at the Everything Wine shop in Vancouver.
Information and tasting notes provided by Jill Lindsay, Media Profile. Thanks to Saintly for the inspiration. Images MyVanCity. I received complimentary wine to facilitate this feature.