A prelude to the upcoming Bordeaux 2019 Release happening on November 19. With prices ranging from $25.00 to $1800.00.the much-anticipated release of the 2019 Bordeaux has something for every palate, from the serious collector to the curious beginner. For the curious or impatient Bordeaux wine lover the fourteen wines featured here are available to purchase now. Full details of the Bordeaux 2019 release follow below, after these featured wines*
This was a unique opportunity to taste fouteen wines with Master of Wine Barbara Philip and a roomful of my peers.
There was quite a bit of excitement in the room and of course the buzz was about the Bordeaux wines. As it turned out the media tasting was short a number of Bordeaux 2019 release wines due to a myriad of issues. Oddly I hadn't thought of the impact of the pandemic on the supply of wines, why not I'm not sure perhaps because until recently when the distribution branch had an interruption in supply I haven't really been overly impacted when I go to the BC Liquor Store. Living rural I am more often stymied by a lack of stock, our local stores are small and consequently the selection can be quite limited, something I am used to.
It certainly did make sense when Philip went through quite a list of obstacles that caused delays; supply issues for something as simple as delays receiving corks so the wine can be bottled, once over that hurtle there were other supply issues like bottles. All so elementary you don't even think about these issues, but they prevailed in 2020 and beyond so wineries had to be patient, understanding and creative.
Likewise Philip herself was challenged by the lack of travel in 2020 and subsequent years as well. Even once the wine could be bottled, there was a shortage of pallets to pack the wine onto for its long journey to the BC Liquor Stores. Not to mention available trucks to ship the wine to the nearest, or in some cases not so nearest, ports where the wine waited for ships. Finally underway but Halifax was not equipped to handle all the cargo and then there were delays in Quebec. I think you get the picture, things were not normal and delays were the order of the day.
Nevertheless the actual public Bordeaux 2019 release Unlock the Collection will take place on November 19, 2022.
Meantime I had the opportunity to taste a few Bordeaux wines along with other vintages and regions and I am pleased to share my thoughts on the wines with you.
Burgundy
1. Chablis Beaufumé 2020

Available vintages : 2019, 2018, 2017 & 2016
Rewards
CHABLIS 2018
Gold medal Burgondia Wine Competition
CHABLIS 2017
Silver medal General Agricultural Competition
Nominated to the Chablis Wine Competition
CHABLIS 2016
Gold medal Burgondia Wine Competition
Nominated to the Chablis Wine Competition
Beaufumé's 2019* Chablis has an elegant mineral-driven bouquet that reveals wafts of smoke, toast and lees with aeration. The palate is fresh and crisp with lovely citrus fruit and apple blossom. It is quite saline in the mouth but this serves to prolong the finish. Enjoy with ginger chicken. BC Liquor Stores
$42.99 (2019) available at select BC Liquor Stores
Opening with a light aroma of oak and a lovely straw colour with scents of pears, green apples, Meyer lemon and limestone.
I found the wine to have excellent mineralogy and acidity with great body. Rich and smooth and lingering on the palate. Very drinkable. This was my favourite of the whites.
2. Pinot Noir Domaine Cyrit-Buthiau 2018

Bourgogne
A smoking value that delivers the goods is Cyrot-Buthiau's 2019 Bourgogne Pinot Noir, which is made from declassified Pommard vines. A complex perfume of sweet raspberries, cherries and blood orange are followed by black tea, red roses and spice in this medium-bodied, exquisitely elegant wine with a charming core of fruit, bright acidity and fine, mouth-coating tannins. BC Liquor Stores
$36.99 available at select BC Liquor Stores
The wine gave delicious red candy scents with raspberry, red apples, plum torte and a bit of cut wood.
Although the wine is young it was very nice, with slightly lighter body and flavours of ripe fruit with what I thought was terrific acidity. The wine was fresh and you certainly could drink it now, it was very enjoyable on its own and would pair nicely with lighter fare.
Bordeaux
3. Château Daviaud Rouge 2019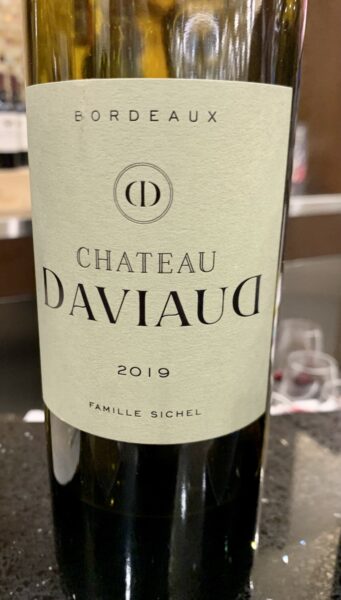 FOOD PAIRINGS
Bordeaux Blend is Full-Bodied & Robust Examples of great pairings: Grilled Steak, Roast Beef, Rack of Lamb, Lamb Shank, Osso Bucco, Sharp Cheddar. BC Liquor Stores
"Elegant and inviting, with aromas of cassis leading to neat tannins, bright cranberryand red curranton the palate."
91 pts., Decanter
$19.99 available at select BC Liquor Stores
Scents of blackberry and dark fruits, an expected richness, just heavenly scents of jam and stewed fruit.
Quite light but delicious with great potential, ripe fruits, cranberry, spice, tobacco, leather with medium tannins and good balance.
4. Château Bel-Air Jean & Gabriel Rouge 2019

Lussac St-Emilion
"The 2019 Bel-Air Jean & Gabriel is impeccable. Soft, creamy and beautifully layered in the glass, the 2019 is especially find for Lussac, where the wines are rarely this polished. Black cherry, chocolate, licorice and dark spice build over time. There is a bit of grip on the finish, but also more than enough fruit to make it all work. Drinking window; 2024 – 2031."
90 pts. Vinous
$50.00 available at select BC Liquor Stores
Aromas of fine cognac, light wood, mellow and wild roses with a deep rich colour.
Dark cherries, medium body with heavier tannins. Flavours of ripe fruits and Italian plums. Very nice and very drinkable.
5. Château Olivier Blanc 2018 

Pessac-Léognan
"With a fair bit of swirling, Olivier's 2018 Blanc leaps from the glass with energetic notes of fresh grapefuit, ripe pears and pineapple, plus hints of lime blossoms and dill seed with a waft of wet pebbles. The medium-bodied palate is elegantly styled with intense citrus and tropical fruit flavours, makred by a racy backbone, finishing refreshingly steely.Drink date: 2022 – 2030
92 pts. Wine Advocate
$70.00 available at select BC Liquor Stores
Medium oak scents, brioche, pear, floral, tropical, some mandarain orange and rose dust.
Light but with good acidity and an ever so slightly light hint of oak, pineapple notes, refreshing, green apples, creamy with good mineralogy, fresh.
6. Domaine de Chevalier Blanc 2018

Pessac-Léognan
"This has a complex nose of dried apple, green mango, grapefruit zest, dtied honeysuckle and crushed almonds. It's full-bodied with bright acifity and a dense, phenolic texture. Wivid and layered with fantastic precision. Very, very long. This needs time. Better from 2026"
92 pts. James Suckling
$225.00 available at select BC Liquor Stores
Exquisite aromas of tropical fruits, brioche, very little oak. Sliced bartlett pear, a background of green pepper or an Anahiem pepper, toasty, pineapple scents.
Absolutely delicious wine, so smooth with perfect balance, medium body, distinct, unique and mellow. Much different than the previous two white wines.
7. Château La Mission Haut Brion 2010

Pessac-Léognan
"Deep garnet coloured, the 2010 La Mission Haut-Brian has a commanding, profound nose of baked blackberries, boysenberries and warm cassis plus suggestions of candied violets, rd roses, chocolate box, cedar chest and smoked meats with a waft of iron ore. Full-bodied, powerful and hedonic, the palate bursts with expressive black fruits and floral sparks. Framed b y exquisitely ripe, grainy tannins and  beautiful freshness, finishing with ipic length. A real head-turner, this beauty is already very impressive, but for that full WOW experience I would give it another 3-5 years in bottle to blossom. Drink date; 2023- 2070."
100 pts. Wine Advocate
$1599.00 available at select BC Liquor Stores
Very dark in colour with a rusty rim, very rich aromas of blackberry jam, tiniest hint of oak and cranberries.
Ripe cherries, heavier tannins, rich with leather, tobacco, stewed rhubarb.
8. Château Saint-Pierre 2018

St-Julien
"Composed of 77% Cabernet Sauvignon and 23% Merlot, the 2018 Saint-Pierre bursts from the glass with a glorious perfume of kirsch, black currant pastille, black raspberries and cedar chest with hints of red roses, pencil shavings and sprice box. The medium to full-bodied palate coats the mouth with velvety tannins and beautifully knit freshness, supporting the generous black and red berry layers, finishing long and perfumed. Drink date; 2025 – 2045."
95 pts. Wine Advocate
$145.00 available at select BC Liquor Stores
Scents of dusty red roses and ripe dark fruits.
Interesting, juicy, ripe, good depth, medium to heavy tannins. Minerality, cherries, blackberry with a refreshing finish.
9. Château d'Armailhac 2018

Pauillac
"Based on 63% Cabernet Sauvignon, 27% Merlot, 9% Cabernet Franc, and the rest Petit BVerdot, the 2019 Château D'Armailhac showed beautifully from barrel two years ago, and it doesn't disappoint now from bottle. Giving up planty of ripe black cherry, mulberries, and cassis-like fruit as well as textbook Pauillac lead pencil, forest floor, and tobacco, it's medium to full-bodied, has good mid-palate density, subtle background oak, ripe yet building tannins, and a great finish. It shows the vintage's more elegant, classic style yet doesn't lack for concentration or length. It's going to benefit from just 3-4 years of bottle age and drink fabulously well for two decades. It's the finest d'Armailhac I've tasted."
94 pts. Jeb Dunnuck
$145.00 available at select BC Liquor Stores
The wine shows more of the delightful dusty rose scents, ripe peach, raspberry and some spice, a bit denser aromas.
Very good, light to medium tannins, great acidity, spicy and lively with lighter body.
10. Chateau Clerc Melon 2019

Pauillac
"The 2019 Clerc Milon is a real success. At more than 70%, this blend contains one of the highest proportions of Cabernet Sauvignon to the property's recent history, and the result is a wine of real nobility. Offering up aromas of violets, wild berries, licorice, loamy soil and cigar wrapper, it's full-bodied, layered and multidimensional, with notable depth at the core, lively acids and ripe, pwdery tannins that assert themselves on the finish. From clay-limestone soils rather than the sandy gravels that characterize d'Armailhac, this is by some margin the more structured and serious of Mouton-Rotheschild's two Pauillac stablemates." Drink date 2020 – 2055
95 pts Wine Advocate
$120.00 available only at the 39th & Cambie BC Liquor Store
Floral and rose scents with that pleasant dust, rich oak aromas. I could sniff this one forever. Aromas of Blackberry pie.
A little lighter, with light tannins, good minerality, fruity, ripe and really good. Can drink now, would pair with rich red meats.
11. Château Mouton Rothschild 2019

Pauillac
"The 2019 Mouton Rothschild is a blend of90% Cabernet Sauvignon, 9% erlot, and 1% Petit Verdot.Deep garnet purple coloured, it races out of the glass with gregarious scents of creme de cassis, red currant jelly, black raspberries, and chocolate covered cherries, giving way to a serious undercurrent of licorice, forest floor, candied violets, and cardamom with a touch of cast iron pan. Medium to full-bodied, the palate is jam-packed with expressive red,black and blue fruit layers, framed by fine-grained tannins and bold freshness, finishing with floral, exotic spices and a mineral firework display."
100 pts The Wine Independent
$1500.00 available only at the 39th & Cambie BC Liquor Store
Scents of dusty closet, in a good way, light oak, port, berries but not an overly ripe scent.
Yum, medium tannins, a bit lighter, almost refreshing, smooth, and fruit forward. Very pleasant.
12. Château Troplong Mondot 2018

St-Emilion
"The 2018 Troplong Mondot will take readers who haven't tasted these wines in a few years aback. Stunning in its aromatic presence, the 2018 is silky, medium-in body and super-refined. Once again, I am blown away by the wine's total sense of precision. The Cabernets are only 15% of the blend, and yet the 2018 is so strongly marked by floral and savory accents. Sweet red cherry, blood orange, mint, rose petal and lavender all build in the glass. The 2018 is regal, refined and absolutely exquisite. Drinking Window: 2028 – 2043."
97 pts Vinous
$250.00 available at select BC Liquor Stores
Scents of gooseberry, the scents are fresher with very light oak, cedar boughs, quite different than the previous wines.
Delicious, fresh fruit, so very smooth, lighter body, lighter tannins. Again a refreshing stand-alone wine with ripe berries. My favourite so far.
13. Château Le Bon Pasteur 2017

Pomerol
"The 2017 Le Bon Pasteur is really gorgeous. Sweet floral and spices give the 2017 tons of allure. Just as inviting on the palate, the 2017 is silky, mid-weight and gracious, with terrific purity of fruit and impeccable balance. This is a wine of restraint, class and total finesse. The persistent, aromatically intense finish is a thing of beauty. Wow – this is one of the best vintages I have tasted here. Drinking Window: 2022 – 2037."
94 pts Vinous
$170.00 available in select BC Liquor Stores
No dust, heavier, denser scents, more subdued dark fruits, clay and wet stone.
Medium tannins, less intense than some of the other wines. Somewhat lighter than I expected, less rich fruit flavour with medium body.
14. Château Suduiraut 2016

Sauternes
"The 2018 Suduiraut is intense on the nose, featuring well-defined pure wild honey mixed with white flowers, quince and quite a strong petrol-like/Germanic note. The palate is very well balanced with a harmonious entry, well-judged acidity and great tension thanks to a bitter orange peel note that counterbalances the rich, honeyed fruit on the finish. Superb. Drinking Window: 2024 – 2050."
95 pts Vinous
$150.00 available at select BC Liquor Stores
Oh my, wake up the senses, apricot, stone fruits, moss, cut grass with ripe scents.
Honey, Greengage plums, mellow, candied pears and demerara sugar. Too good! Goes down so easily.
BORDEAUX 2019 RELEASE
NOVEMBER 19
The much-anticipated release of the 2019 Bordeaux has something for every palate, from the serious collector to the curious beginner. On November 19, 2022 BCLIQUOR will release the 2019 Bordeaux around the province. This is the first time we will have access the most famous châteaux from this vintage and collectors will line up to purchase Pétrus, Angélus, Lafite Rothschild and Margaux from the early hours in the morning.
The broadest selection of product will be available at the 39th & Cambie and Park Royal Signature BCL stores. Participating stores will open at 8:00 a.m. on release day. Quantities are limited. Product selection varies per store. Bottle restrictions may apply. Actual inventory will start showing on Friday, November 18th at 10:00 p.m. The "Where to Buy" on each product page will be activated to show the number of bottles available at each location. Kindly note that the inventory shown is for reference only, for customers to plan their visit to stores. All products will be available to purchase starting Saturday, November 19th.
Click HERE to view or download the Bordeaux 2019 brochure.
For questions, contact our Customer Support Line at 604-252-7425. Hours of operation are November 14 to November 18 from 8:00 a.m. to 4:00 p.m.
PARTICIPATING STORES:
Cloverdale, Richmond Brighouse, Northgate, Kamloops Columbia Pl, Hillside, Nicola Station, Dunbar, Richmond Ironwood, Westshore, Alberni & Bute, Penticton Plaza, Vernon, Arbutus, Kelowna Mission Park, Abbotsford, Langley, 39Th & Cambie, Westwood Centre, Meadowtown, Kelowna Orchard Pk, Pr. George Pine Centre, Caulfeild, 8Th & Cambie, Whistler Market Place, Broadmead Village, Peninsula Village, Abbotsford Village, Ubc Wesbrook Vill, Kerrisdale, Fort Street, Highgate Village, Solo, Park Royal, Nordel Crossing, Lynn Valley.
Please be aware that wholesale pricing will not apply to any product released as part of the 2019 Bordeaux Release. Products within the release are exclusive to BCLIQUOR and are available at retail price only.*
About Barbara Philip
Category Manager – Wines of Europe
Barbara Philip, Master of Wine, is the Category Manager responsible for selecting European wines for BC Liquor Stores. Barbara has a long history of working as a sommelier and wine educator. In 2007 she became the first Western Canadian to achieve the Master of Wine designation. Barbara also works as a freelance lecturer, radio columnist and wine judge with her company Barbariain Wine Consulting.  barbarianwine.com
Tasting notes and reviews supplied by Barbara Philip MW or courtesy of the BC Liquor Stores website. Reviewers as noted. This was a BC Liquor Distribution Branch by invitation media tasting that took place on September 16, 2022. Information about the November 19 release courtesy of the BC Liquor Stores website.