Cocktail Connoisseur's Last Outdoor Party of the Year will be held at the Garden Patio of Museum of Vancouver on Sunday September 11th, 2022 from 4:30PM till 10PM!
The Vancouver and Los Angeles based creative cocktail and art brand, Cocktail Connoisseur invites you to join their last outdoor summer event of the year in Vancouver at the scenic garden patio of Museum of Vancouver, located at 1100 Chestnut Street, Vancouver.
In this unique event, guests are invited on a musical journey taking them from an Ibiza style day party to an emotional Mykonos style sunset and sure enough, finished with a big dance party on the high note. This experience is enhanced by a surreal art exhibition and an immersive cocktail experience.
DJ Sets:
Sotto Voce [4:30 pm – 5:45 pm]
Olive Kiss [5:45 pm – 7 pm]
Rene Luna [7 pm – 8:30 pm]
Hakan Cellek [8:30 pm – 10 pm]
Live Performance -vocals and painting- by AudeRey
NFT Visual and Art Display by Kiarash TK
Special Guest Artist by Farah Rezaee
Exclusive Cocktail Experience by the master mixologists of Cocktail Connoisseur (Jean Laven and Kam Tabarraee)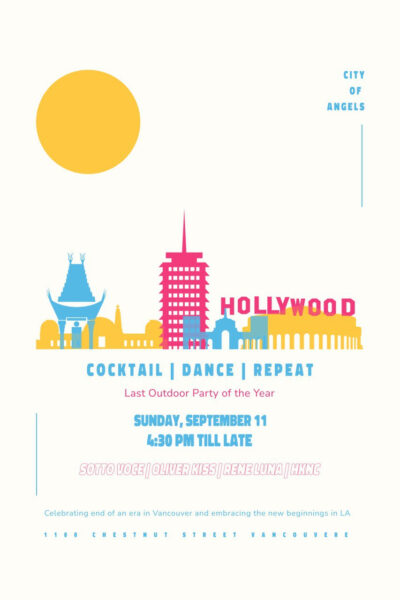 Information and image provided by the Cocktail Connoisseur.