Bar Susu
VISA Infinite Dinner 
Discover playful dishes and creative cocktails from the team at Bar Susu.
Savour playful, eclectic bites with this prix fixe menu at Bar Susu.
Prix fixe Tasting Menu:
Welcome Cocktail
Mandarin Gimlet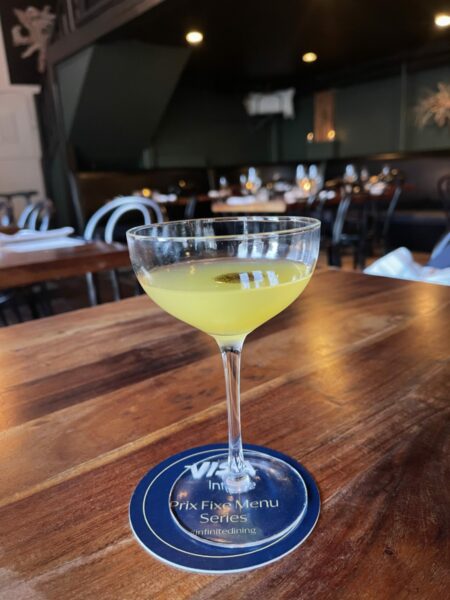 This bright citrusy cocktail is a great start to whet your appetite. Ampersand Gin from Cowichan Valley, housemade orange Cordial, peppercorn, rice vinegar and drop of orange charcoal
1. First Course
Bar Susu Snacks: Beef Tartare Tart, Rosettes, Smoked Trout Broth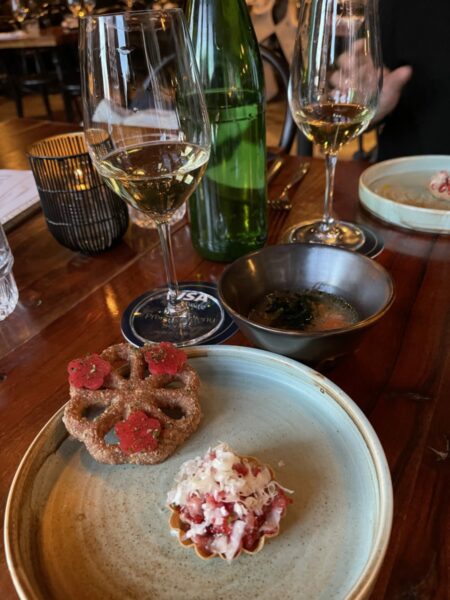 A beautifully presented trio: Beef tartare served in a biscuit cup, Rosettes filled with Chicken liver mousse and the Smoke Trout Broth was served in a lovely pewter cup and poured at table side.
Wine Pairing: 2021 Rigour &Whimsy Pinot Blanc "Maybe it's Just an Illusion", Okanagan Falls, BC
This wine was delicious! It's refreshing and fruity. It looks still, but the fine bubbles just burst in the mouth.
2. Second Course
Scallop Crudo, Yuzu Kosho, Radish, Chive, Thai Basil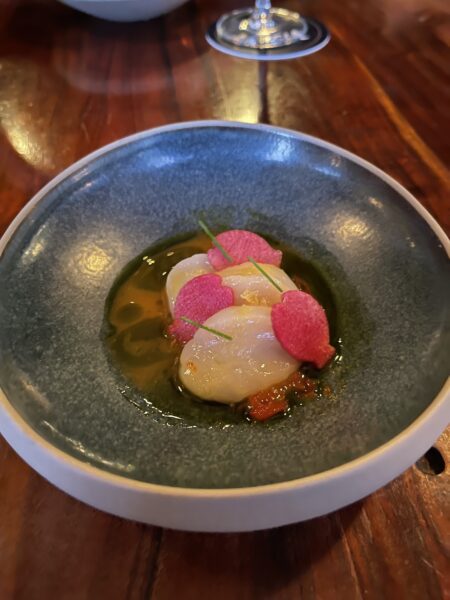 The scallops were so fresh and silky in contrast to the crunchy pickled radish slices. The acidity in the Yuzu Kosho sauce balances the contrasting flavours.
Wine Pairing: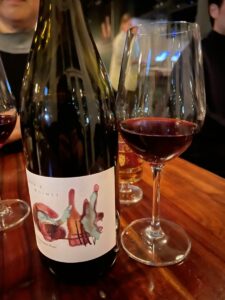 An explosion of lemon, pear and green notes underlined a trace of salinity and minerality, this Albarino has presence! For this dish, I would have preferred a lighter version of this wine as it overwhelms the delicate scallop dish.
3. Third Course
Winter Salad – Endive, Black Kale, Radishes, Miso Dressing, Comte Cheese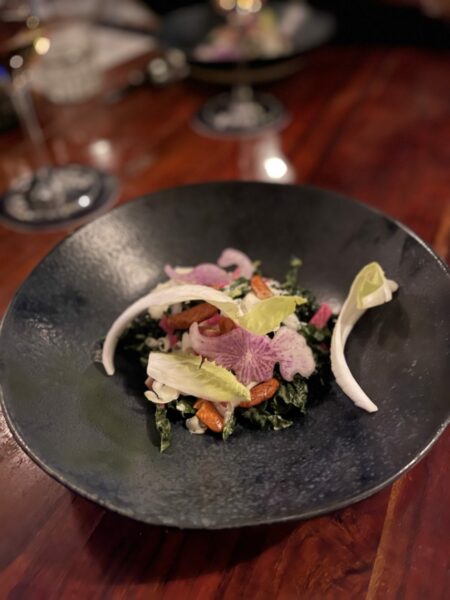 The flavour combination of this salad is not your typical one. It feels almost whimsical with miso dressing, mixed with crumbled Comte cheese and accented with popular crunchy Japanese snack, "Kakinotane". The slight bitterness of the endive and black kale bring a little seriousness
to the dish.
Wine Pairing: Chino Rose Bernard Baudry, Cabernet Franc, Loire Valley, France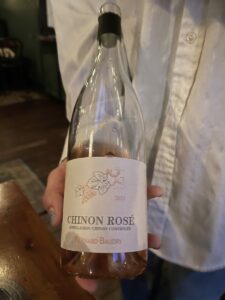 This lovely Cabernet Franc rosé is a soft salmon pink colour and quite light on the nose as it was first poured in the glass; but it soon opened up beautifully and paired well with the Winter Salad.
4. Fourth Course
Roasted Sablefish, Grains, Maitake, Koji Butter Sauce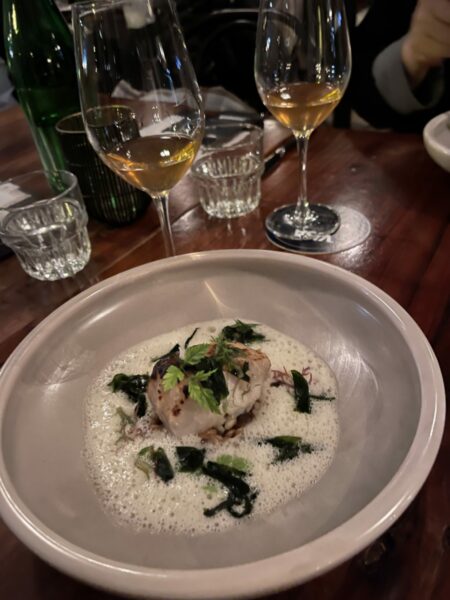 I really enjoyed this dish as the combined flavours expressed the sense of "Umami" so well. The sablefish was perfectly cooked and the maitake mushrooms and grains provide a bit of texture. The foamy Koji Butter sauce reminds me of the foam on the ocean waves.
Pairing: 2020 Thorn & Burrow Chardonnay, Similkameen, BC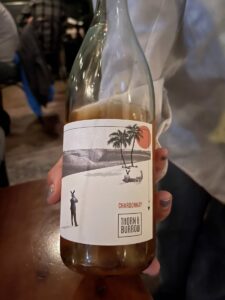 Extended skin contact and aged in lees, the Thorn & Burrow Chardonnay is brimming with textured apples, flinty lemons, bright acidity and complexity. This wine pairs flawlessly with the buttery sablefish.
5. Fifth Course
Striploin Steak, Sansho, Sunchoke, Romesco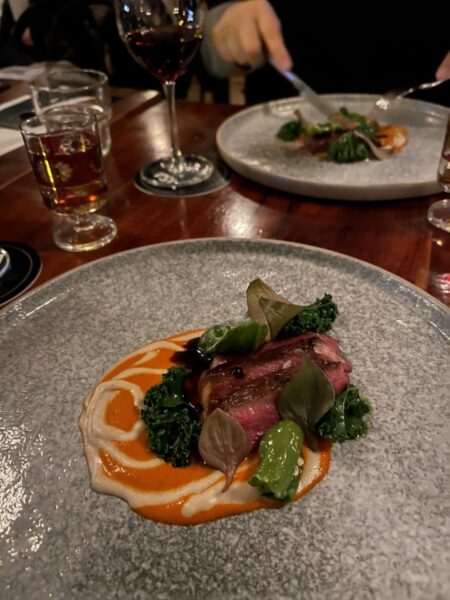 Another artfully presented dish, the Striploin Steak was flavourful and tender. I'm not sure what was the sauce, but it was very tasty.
Wine Pairing: 2020 Rigour & Whimsy Syrah "Into the Darkest Wood", Okanagan Falls, BC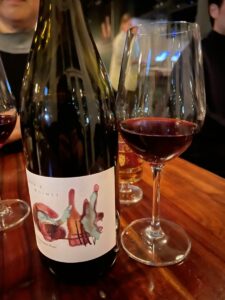 Made from grapes sourced from a single certified organic vineyard in Osooyos, this earthy Syrah is full of dark plums, dusty violets and white pepper. It's a classic pairing with the steak.
Sake Pairing: 2011 Kozaemon Yamahai Shikomi, Muroka Nama Genshu, Honjozo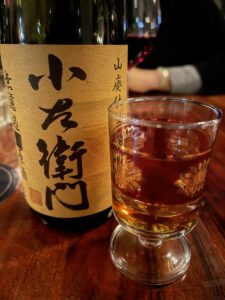 As an additional pairing, Aaron Saymac, GM, brought us a couple of glasses of aged sake to try with the striploin and what a treat it was! This eleven year old sake was a deep golden amber and slightly funky and medicinal on the nose. It was full bodied, nutty, earthy and tasted like a liquid shiitake mushroom. It actually paired surprisingly well with the steak!
6. Sixth Course
Winter Mess, Cherry Sorbet, Crème Diplomate, Yuzu Meringue, Nori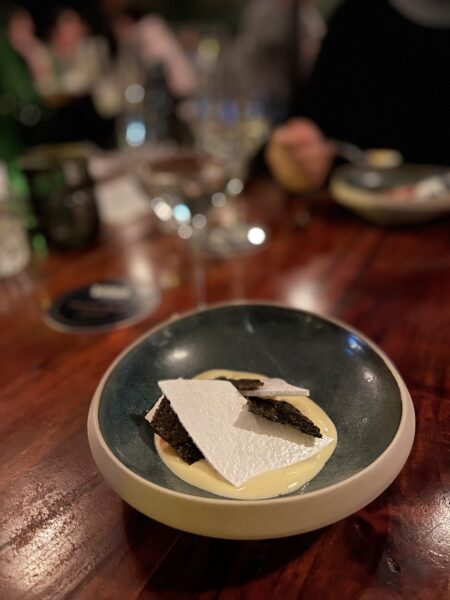 A sweet ending to our first VISA Infinite Dinner and it was a memorable evening. This dessert was light and creamy, the tart cherry sorbet was refreshing. I love the Nori chips as garnish that completed the final thread of umami woven through the six courses.
Sake Pairing: Ippaku Suisei, Junmai Ginjo, Akita Japan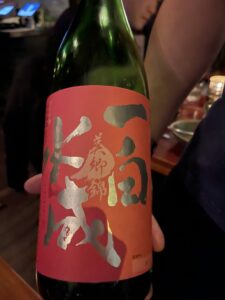 The Ippaku Suisei Junmi Ginjo, made from Omachi Rice with 50% polishing was an interesting choice for the dessert pairing, but it worked! The Sake was soft and rounded, and paired very well especially with the Nori chips.
General Comments:
This six course menu was well thought out and executed. The dishes were beautifully presented with full on flavours and lots of umami – everything had either some seaweed (Nori) or fermentation element, such as sake lees, miso, etc. The wine pairing was interesting and bold at times creating an evening of delicious surprises. Wine pairings are not included in the price of the prix fixe menu.
The room is casual, warm and inviting. Bar Susu is a natural wine bar with a compact menu that changes regularly. The bar seating by the front entrance is comfortable and full of ambiance. The wine list is extensive with natural, organic and low intervention wines and there is a blackboard of daily special pours.
Definitely Bar Susu has the same DNA as Published on Main – but a more laidback version.
Visa Infinite Dining Series 
Experience some of the best restaurants and chefs in your city
If your card says Visa Infinite, you get access to chef-curated events at top restaurants through the Visa Infinite Dining Series.
Each in-person event features:
BA multi-course meal at some of the country's most notable restaurants.
WELCOME TO THE VISA INFINITE DINING SERIES, WINTER 2023
Winter is the season of luxuriously bold and deeply satisfying flavours, best savoured with good company. This collection of carefully curated Visa Infinite Dining Series experiences features collaborative feasts and Prix Fixe tasting-style menus paired with exciting wines and cocktails at some of the country's most highly sought-after tables. We hope you enjoy these exclusive dining experiences cooked up just for you.
Bar Susu
209 E 6th Ave
Vancouver, BC
V5T 1J7
ABOUT THE VISA INFINITE PRIX FIXE SERIES
Book your reservation and enjoy delicious prix fixe menus curated by top chefs and restaurant teams at some of Canada's favourite restaurants. Discover exciting new restaurants or revisit your favourites and experience what the restaurant does best in the most accessible way. Preview the menu, choose your reservation from the list of dates and times, and pre-pay for your table in advance to confirm your spot for an evening that is as effortlessly simple as it is delicious.
ABOUT BAR SUSU
The casual sister restaurant to Michelin-starred Published on Main, Bar Susu is the place to go for intriguing natural wines, playful bites, and fun cocktails. A secret neighbourhood gem and a Vancouver destination all at once. What began as a pop-up has become one of Main Street's favourite hangouts. Helmed by Chef de Cuisine Marc Marayag, the menu features items such as spiced chicharrones, decadent duck liver parfait honey crullers, sublime sea bream, and delectable roasted lamb belly. Enjoy what this talented chef does best with this special prix fixe tasting menu.
Note: This is a prix fixe menu with no substitutions. Additional menu items or drinks may be ordered and paid for separately. Reservations are booked for two hour blocks. Venues are not suitable for young children. Please note that the food in the image above is a representation of the restaurant's style of cuisine, not a representation of this prix fixe menu. While this is a set menu, some ingredients may differ based on seasonality and availability. Any changes will be communicated at least seven days prior to the reservation.
Click here to explore more delicious dining events with the Winter 2023 Visa Infinite Dining Series.
This prix fixe dinner was on February 28, 2023. Shelley Hayashi and one guest received a complimentary menu as listed above, (value $75.00/person) compliments of IDMG Culinary. The glass of Aged Sake courtesy of the restaurant. All other beverages were purchased for at $105.40 including taxes, compliments of MyVanCity.