2019 has been named International Year of the Salmon, and in honour of B.C.'s favourite ray-finned fish, this year's Ocean Wise® Pop-Up Café — taking place during the annual Dine Out Vancouver Festival — will feature a menu that highlights both sustainable wild salmon and a land-based farmed option.
"We all love salmon, and we're so incredibly fortunate it's available to us. The fact we get to eat wild Pacific salmon is a gift," said Ocean Wise Executive Chef Ned Bell. It's a gift that should not be taken lightly however, he added. "Environmental change and human impacts across the Northern Hemisphere are placing salmon at risk, and we have to do what we can to minimize that risk, and ensure there is salmon in our ocean for future generations."
The three-course menu, only available during the limited run of the Ocean Wise Pop-Up Café, features two ocean-friendly options for salmon lovers: North Coast wild Pacific Coho from Haida Gwaii, and steelhead from Little Cedar Falls, where fish is raised in a land-based, closed containment system. Both are Ocean Wise recommended choices. "When we choose salmon for our dinner plate, we want to make sure it's caught or farmed in a way that ensures the long-term health and stability of that species, and that our choices don't negatively impact other marine species that are linked to wild salmon via the greater ecosystem," said Bell. "We're highlighting two of those choices with this menu."
Dinner service will take place at the Ocean Wise Pop-Up Café at Vancouver Aquarium on Jan. 24, 25, 26, and 31, as well as Feb. 1, and 2. There are two seatings per night at 6 p.m. and 8 p.m. Each seating lasts 1.5 hours.
Ocean Wise Pop-Up Café Menu 
First Course
Wild BC Salmon Chowder
Kelp & Smoked Sea Salt Scones
Cream, Maple & Fennel Pollen
Or
Ned's Famous Wild Salmon Tacos
Lemon, Honey & Miso Vinaigrette
Avocado, Radishes, Sprouts & Toasted Golden Sesame Seeds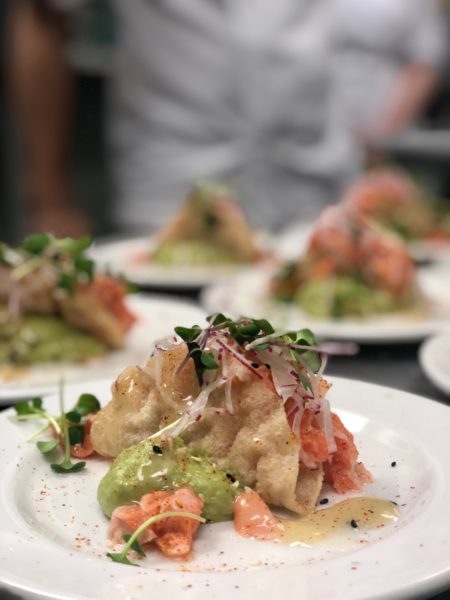 Or
Heirloom Tomato, Red Beet & Avocado Tacos
Maple Miso, Red Radishes & Sprouts 
Main Course 
Wild BC Coho Salmon
Beets, Watercress, Brown Butter Foam
Cashew Cream & Crumble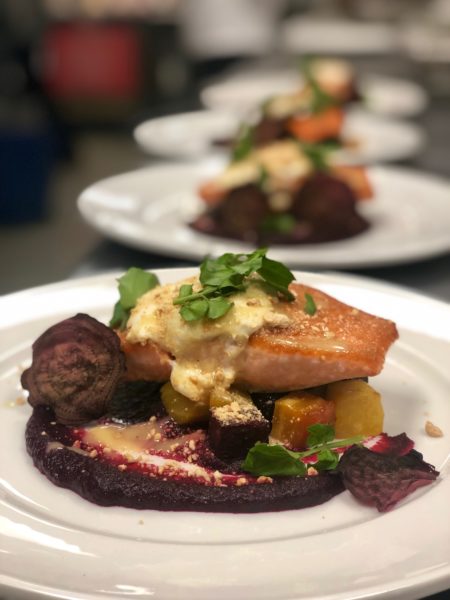 Or
Rossdown Farms Chicken
Composition of Mushrooms, Roasted Celery Root, Black Pepper & Truffle Vinaigrette
Or
Little Cedar Falls Steelhead
Parsnips, Pickled Pears
Buttermilk, Horseradish & Lemon Dressing
Or
Composition of Mushrooms
Parsnips, Pickled Pears, Crispy Parsnips Watercress, Black Pepper & Truffle Vinaigrette 
Dessert
Pecan Praline Cheesecake
Vancouver Island Sea Salt Caramel
Or
The Best Chocolate Cake
Kelp, Lime & Vanilla Gelato
Unique to Dine Out Vancouver, guests at the Ocean Wise Pop-Up Café can explore the Aquarium's many galleries, either following the early seating or before the late seating. Guests can dive into Treasures of the BC Coast, transport themselves to a west coast fishing village at Steller's Bay, and enjoy an exotic-albeit-brief staycation in the Tropic Zone while witnessing the nocturnal habits of the more than 50,000 animals that call Vancouver Aquarium home. For some guests, this may be the last chance to check out Douglas Coupland's art installation, Vortex, a radical art installation where art meets science meets ocean.
Tickets are limited and cost $70.05 per person (inclusive of tax and service charges). For guests wishing to dive further into Chef Ned's epicurean experience, wine pairings will be available for an additional cost. For tickets, visit www.vanaqua.org/dineout.
Ocean Wise®
Ocean Wise is a not-for-profit organization whose vision is a world in which oceans are healthy and flourishing.www.ocean.org
Vancouver Aquarium
Vancouver Aquarium, an Ocean Wise initiative, is one of the world's leading accredited aquariums, dedicated to the conservation of aquatic life. www.vanaqua.org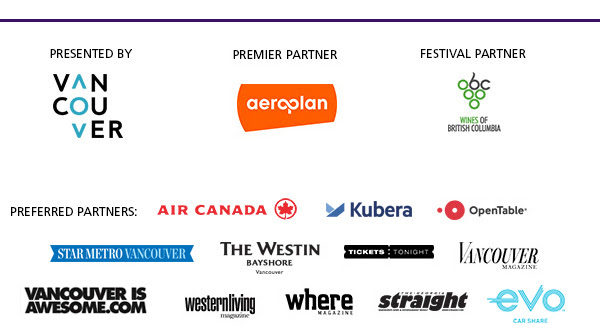 Media release and images provided by Deana Lancaster, Ocean Wise.