If this isn't #veryvancouver we don't know what is.  Latin inspired kitchen collaborations wrapped up in our temporary pop-up restaurant space (due to upcoming development)! Poquitos Cantina is using it's last months to bring Vancouver a number of stellar Latin Kitchen Takeovers. The first in this series is with Bad Hombre Catering: La Cruda Brunch (Hangover Brunch!) is happening this Sunday Jan. 20th. Local vegan food cart, El Coroto follows soon after with a Vegan night on Wednesday, January 23rd. Check out the details and links to the Facebook Events for both fast approaching events below!
Sunday Jan. 20th
Bad Hombre presents "La Cruda", a Hangover Brunch!
FB:  Bad Hombre presents "La Cruda" – a Hangover Brunch!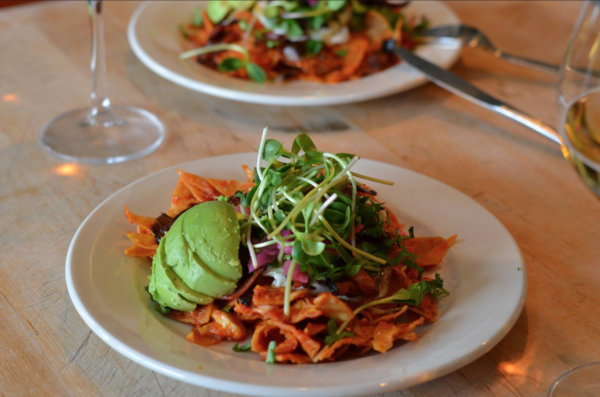 Details: Bad Hombre Catering is slicing and dicing there way into your stomachs on this one day Brunch Takeover! A menu of fine Latin American food designed to cure the common hangover- curated by Chefs Miguel Hurtado Alcalá and Sebastián Toro Carvajal of Bad Hombre. Reservations recommended!
Bio:  Let's face it, we all knew it had to happen. Three culinary mavericks shake off their well-greased chef capes and begin an adventure of their own design, with one goal in mind: to create food that speaks not only to their Latino roots (Colombian and Mexican), but also to the local climate of diy entrepreneurship and bold risk-taking in the face of all odds.
Bad Hombre is comprised of three seasoned chefs operating in unison- a dance, an alchemic experience shifting seamlessly between cathartic gatherings of hundreds and intimate occasions reserved for those special memories that punctuate daily life. With each ingredient channeled through ancestral codes, served on a palate of good humour and elating ease, these bad hombres will convince you time and time again of what your heart has concluded all along: you should be glad you let them in.
Wednesday Jan. 23rd
El Coroto Venezuelan Vegan Takeover
FB: El Coroto Venezuelan Vegan Takeover
Details:  Join us for a vegan kitchen takeover by Chef Juan Pablo González and Alexandra Peña, owners of El Coroto food cart! The menu features traditional Venezuelan flavours, with iconic staples of its gastronomy such as "Pabellón Criollo" "Arepas" and mouth watering deep fried "cheese" sticks called Tequeños. Three course menu for 55.00 per person. Two seatings available. Get your tickets quick!
Bio:  Arepas are considered a staple of Venezuelan and Latin American culture. They are made from white cornmeal, water and salt. The dough is formed into a patty, grilled, split open and stuffed with a variety of ingredients like a sandwich.  Our approach is to serve quality vegan, gluten free, health conscious food that uses ingredients from local farmers and suppliers. To share our Venezuelan culture with Vancouver and beyond.
Tequila with us! Your neighbourhood pop-up stop.
Media release and images provided by Poquitos Cantina. Feature image: El Coroto Vegan Food Cart.