Please join Howard Soon and the Vanessa Vineyard team to enjoy a perfectly paired 5-course wine dinner featuring the exceptional wines of the Similkameen Valley.
Dine on Lobster Terrine, Wagyu Beef Cheek and Roasted Venison Loin, all paired with classic Vanessa Vineyard wines. Each dish has been crafted to highlight each of the wines.
Space is limited for this experience – please purchase your tickets early to avoid disappointment.
Tuesday, March 26, 2019
Glowbal at Telus Garden, 590 West Georgia Street, Vancouver, BC
$125 all inclusive
6:30 | Canapés Reception
7:00 | Dinner
Rosé 2018
Creamed Goat Cheese & Potato Spiral
marinated vegetable salad, smoked caramelized onion mushroom soil, watercress panacotta, apple curry vinaigrette
Viognier 2018
Lobster Terrine
avocado pudding, preserved meyer lemon, cucumber gelée lobster tuile
Meritage 2014
Braised Wagyu Beef Cheek
wild mushroom fricassee, herb agnolotti, roasted cauliflower, carrot raisin sauce
Cabernet Sauvignon 2015
Roasted Venison Loin
caillettes, salsify, honeycrisp celery, valrhona cocoa espuma, juniper berries jus
Syrah 2014
Chocolate Ganache
bittersweet chocolate custard, cocoa crumbs, licorice syrup lime purée
To purchase tickets, please send an email to klin@nullglowbal.ca.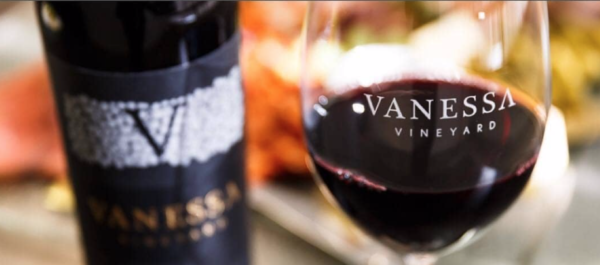 About Vanessa Vineyard
When one of the owners first visited the property, he noticed the pasture was covered in butterflies and from this he took the Greek word for butterfly, Vanessa, as our vineyard name. On the advice of respected vineyard developers Robert Goltz and Richard Cleave, a decision was made to fully commit to transforming the site into a vineyard dedicated exclusively to red wine grapes due to the Similkameen Valley's favourable climate and the site's ideal growing conditions. A team of advisors assisted in choosing the best clones and rootstock for our site based on its microclimate and terroir.
Due to the quantity of rocks that were on the site, the vineyard development was initially challenging. Although at first viewed as burdensome, the rocks became a key asset for the soils. The rocks act to stress the vines while allowing the day heat to be harnessed and imparted throughout the cooler nights. Additionally, the gentle sloping hillside and southwest exposure of the site are optimal for the vines as they directly benefit from the afternoon sun, which contributes to the lengthening of the growing season and the production of intensely ripe fruit. With these factors the fruit is able to capture the minerality of the soils on which it grows that are unique to the land, and allows Vanessa Vineyard to produce fruit of the highest quality, with flavours and minerality that are distinctive.
Our vision is to produce only the highest quality grapes that reflect the terroir on which they grow and, in time, to become one of the best red sites in Canada. For the first five years we were exclusively grape growers, selling our high quality fruit to a select few wineries in British Columbia. In 2012, the decision was made to begin producing small quantities of premium wine. We hope that by using only 100% estate-grown fruit in the making of our wines that we can properly represent the Similkameen Valley and strengthen its reputation as what EnRoute Magazine calls one of the "world's five best wine regions you've never heard of ".
We are committed to achieving uncompromising quality and production efficiency and, most importantly, to respecting the land on which we operate. We aim to bring innovation to the Similkameen Valley, and build a strong reputation in the wine industry through our standard of quality and environmental consciousness.
Howard Soon, Master Winemaker
A living legend, for over three decades Howard Soon has been on the leading edge of winemaking innovation. Originally a brewmaster, a taste for more creativity saw him join the fledgling BC wine industry in 1980. Shortly thereafter, Howard began establishing milestones in BC wine, becoming the first to release a series of single vineyard designated wines, amongst innumerable other benchmarks. His collaborative relationships with growers led him to Vanessa Vineyard in 2006, where working with our viticulture team, he oversaw the planting of our vineyard. He subsequently purchased the vast majority of our grapes for his highly-acclaimed Sandhill Vanessa Vineyard wines. In 2017 Howard "retired" to "go back to the workbench" as he coins it, focusing on truly small lot winemaking as Master Winemaker for Vanessa Vineyard.
Explore Vanessa Vineyard
Vanessa Vineyard is now included with your BC Wine Country Explorer's Pass – on sale now! #SwirlSipExplore  Explorer's Pass Program available at winebc.com
About Glowbal Restaurant Group
Glowbal Restaurant Group is one of Western Canada's fastest growing restaurant groups and has become one of the most successful restaurant companies in Vancouver. The group of eight brands include Glowbal, Coast, Italian Kitche, Trattoria (Kitsilano, Park Royal and Burnaby), Black + Blue, The Roof, The Fish Shack and Nosh (Burnaby and TELUS Garden). Immersing guests in an experience that is fresh and vibrant, with flawless service, impressive wine and cocktail lists, and some of the most inventive, celebrated cuisine in the Pacific Northwest, it's no twonder that Glowbal restaurants are exactly where everyone wants to be.
Images and "About" features courtesy of Vanessa Vineyard.
Sponsored post.
[wdi_feed id="2″]