As Spring in the Okanagan heralds new release wines, RauDZ Creative Concepts (RCC) is celebrating a release spirit of a different kind – 'The Whole Truth' Gin. Kicking off the release at Kelowna based RauDZ.
Walking into RauDZ Regional Table we were met with an elegant green-decorated flute handed to us by Wes Hunter, Beverage Operations. Bright and refreshing, it was a take on the Bellini using RauDZ own gin and especially designed for Sunny's Modern Diner as a perfect patio or breakfast sipper.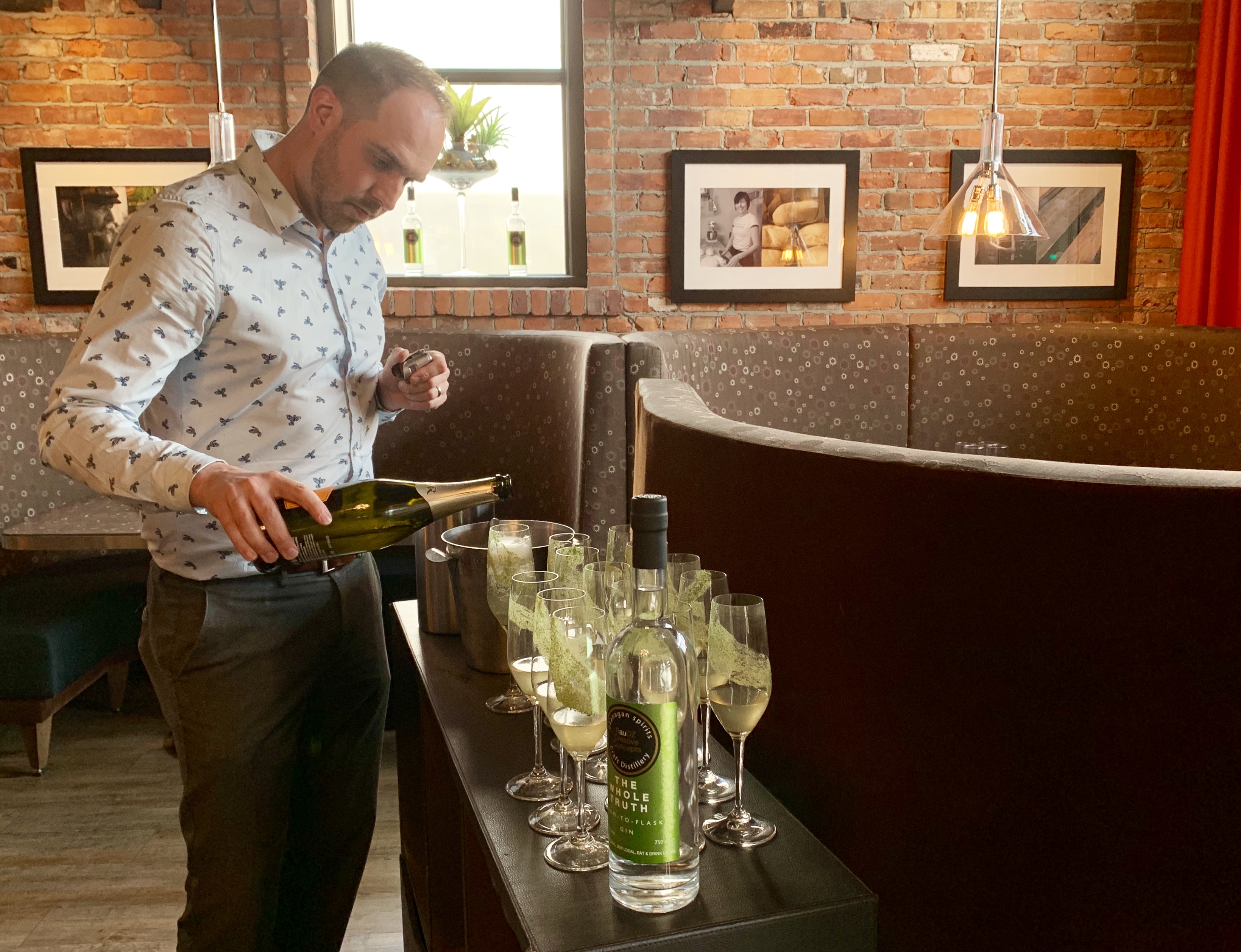 Yes, RCC has already spring boarded its original concept of creating its own gin intended as a special enhancement to its 'The Truth' gin-and-tonic rendition that was on the opening day cocktail list for RauDZ, Spring 2009. To create this gin, RauDZ reached out to Okanagan Spirits, Western Canada's oldest distillery. On hand to represent Okanagan Spirits were Melissa and Jeremy Dyck.
Jeremy shared the story of this great collaboration with RauDZ and related how Melissa's twin, Tyler Dyck had hand foraged one of the botanicals. At Poplar Point at the foot of Knox Mountain, less than three kilometres from the restaurant, he picked the native BC shrub, mock orange. In this farm-to-flask gin, you'll also find regional elements of mint, cucumber, lemon verbena and orris root (root stock of an iris). How fitting for the RauDZ philosophy of 'eat local' to embrace 'drink local'.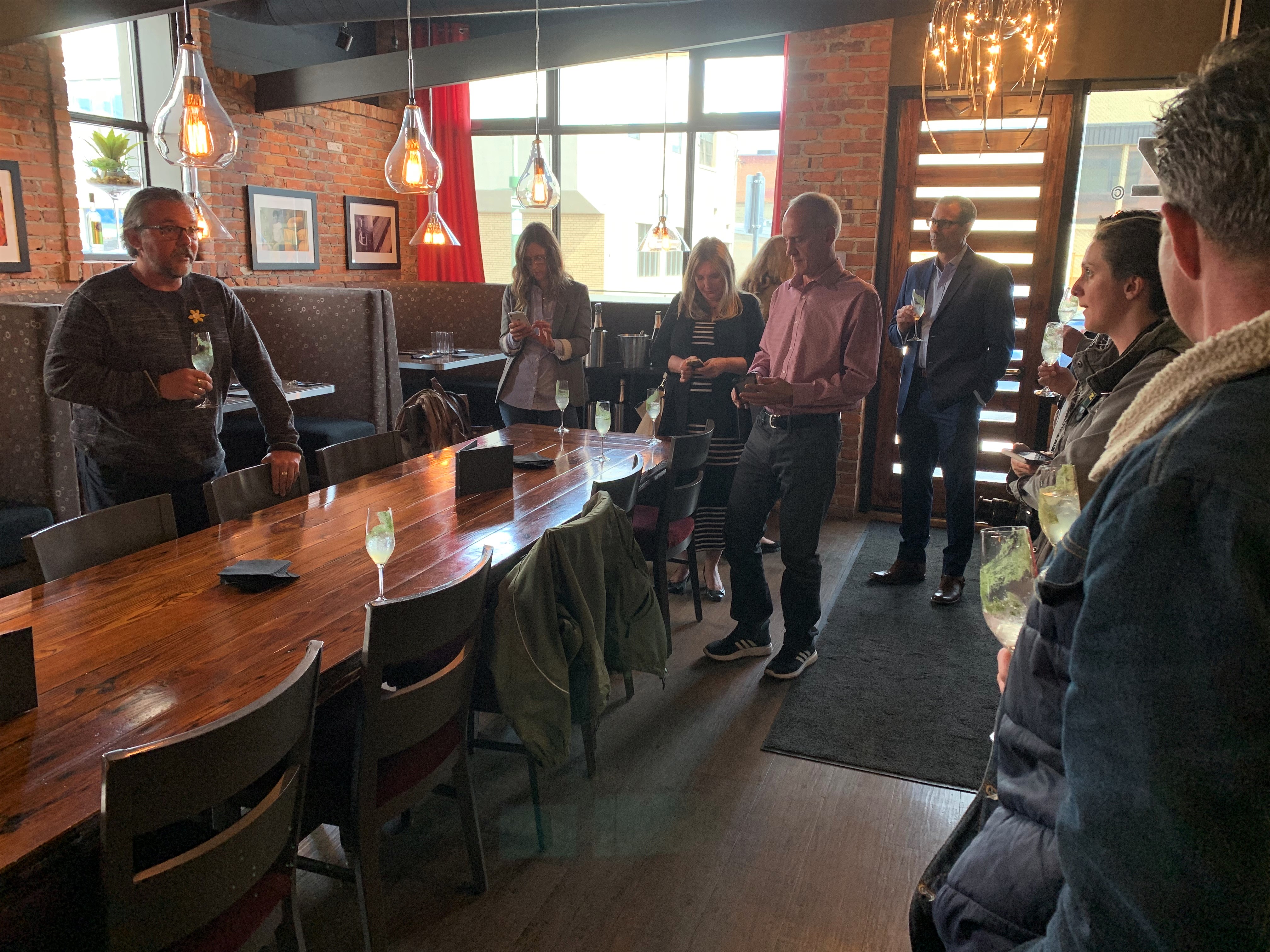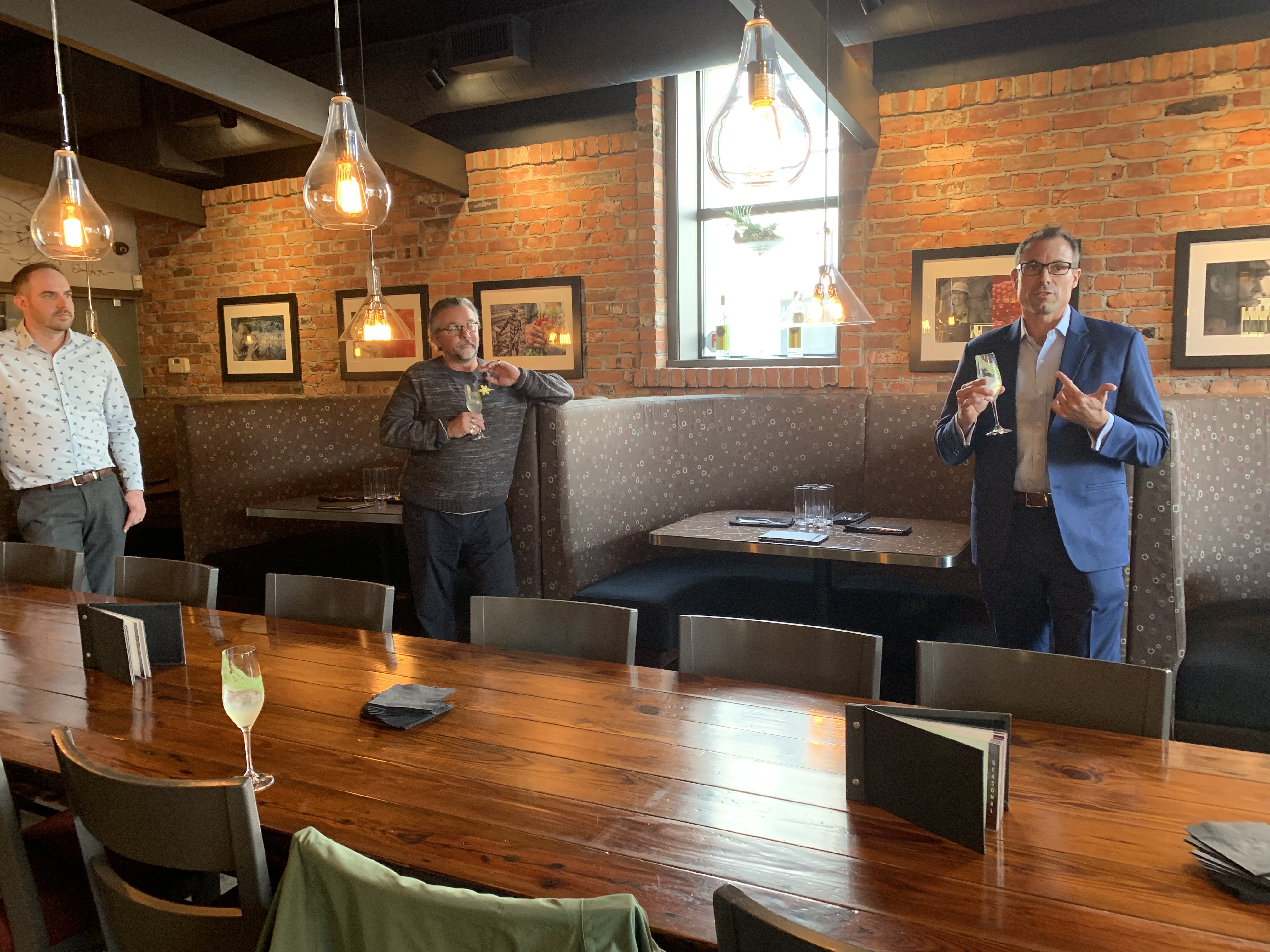 RCC Chef/Owner Rod Butters said a few words and gave credit to co-owner Audrey Surrao, Director of Operations Chef Bernard Casavant, Hunter and the entire RCC team. Chef Butters also gave a shout out to former Bar Manager Gerry Jobe and the entire Liquid Chefs' team.
Stations were set up at the bar for participants to recreate 'The Whole Truth' gin-and-tonic although we were given a head start with the cucumber carpaccio lining the glass ready with ice. We added the cute little airline size bottles of gin, Fentimans Tonic and a squeeze of a lime slice before adding a mint sprig. While we enjoyed our refreshing results, the bartenders demonstrated the skill required to perfectly install that cucumber carpaccio with a little race against each other.
Custom cocktails in keeping with each property's concept were created for the RauDZ Creative Concepts restaurants. Given its Tuscan/Italian ambiance, Terrafina at Hester Creek by RauDZ in Oliver has a take on the white Negroni called 'A Convenient Truth'. Special feature of it is an ice cube of mint and lime zest infused cucumber juice. In the trendy and tiny space magnet to artists and writers alike of micro bar & bites in Kelowna you'll find 'Can you Handle the Truth'. Here, the Mint Julep is elevated with the craft gin and served in a copper mug garnished with fresh mint.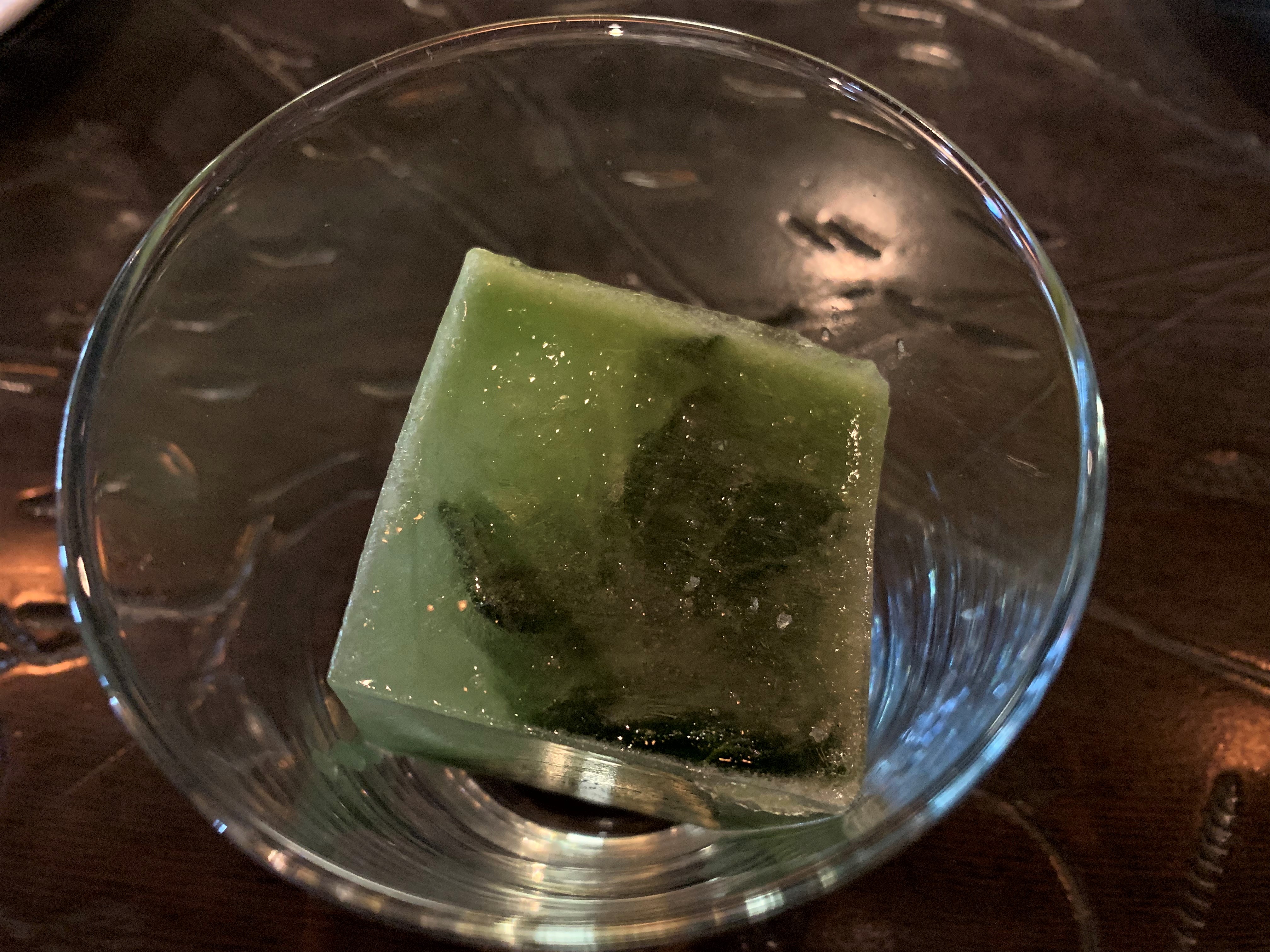 To accompany the cocktails at the launch, the snacks created by the kitchen crew were deceptively simple and paired perfectly with the flavour profiles. Fresh shucked oysters on the shell were served with two different mignonettes – I was particularly fond of the lime, cucumber and mint selection. The other pairings were elegant cucumber sandwiches suitable for high tea and delicate white gazpacho topped with a pansy.
Cheers to RauDZ for knocking yet another concept out of the ballpark. For the launch, even RauDZ iconic sucker was a mint green. Between RCC's four locations and the release of Chef Rod Butters first cookbook in 2017, The Okanagan Table: The Art of Everyday Cooking, there's lots to celebrate!
Bestowed Best Local Cookbook by the Gourmand World Cookbook Awards, you can purchase it in many fine locations. "The Whole Truth' Gin is exclusive to RCC restaurants, a bonus to visit each and taste the bar lists creativity.