For the past few years MyVanCity has been bringing you our #FavouriteThings Gift Ideas. This year I just couldn't wait for our personal wine recommendations for your gift giving and hosting pleasure so for the first time here are my personal recommendations of regions, wineries to visit, and wines for you to taste, buy and savour.
This time we're exploring Kelowna and West Kelowna wine country. Just a few of our #FavouriteThings wineries. Autumn is an ideal time to visit anywhere in BC Wine Country. Fewer crowds and it's when "the grown-ups come out to play"
I can't think of anything more enjoyable than winery touring. Kelowna and West Kelowna have some wonderful wineries making excellent wines and there are a number of restaurants that are on my swoon worthy list.
This my list of #FavouriteThings wineries and wines I personally recommend. Enjoy!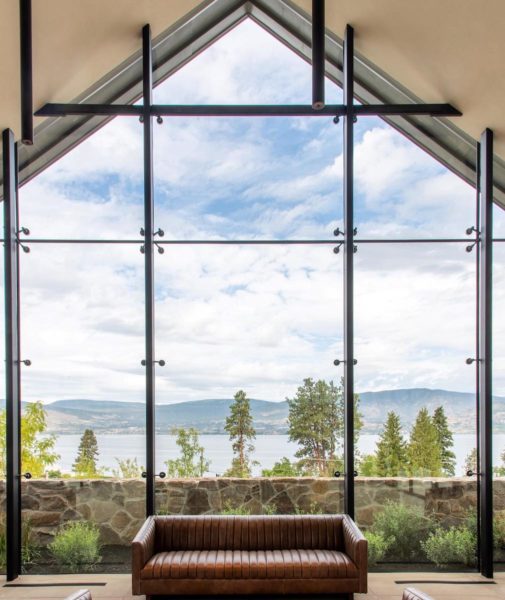 With their new Tasting Room the environment is elevated to the level of their exceptional wines. This is a must visit when you are in Kelowna. It is also convenient, located right next to Martin's Lane. Also a member of the von Mandl family of wineries.
I have recently visited and indulged in a wonderful Visa Infinite® Wine Country Series dinner and was overwhelmed by the wines. What an exceptional line-up. I am a big fan of white wines and the wines I tasted are now part of my #FavouriteThings and I personally recommend them to our readers. You can see my review of the Visa Infinite® Wine Country Series dinner here and see my notes on the wines we enjoyed.
Tasting Room
Deepen your appreciation for the north Okanagan at our brand-new tasting room.
Open 7 days 11 am – 8 pm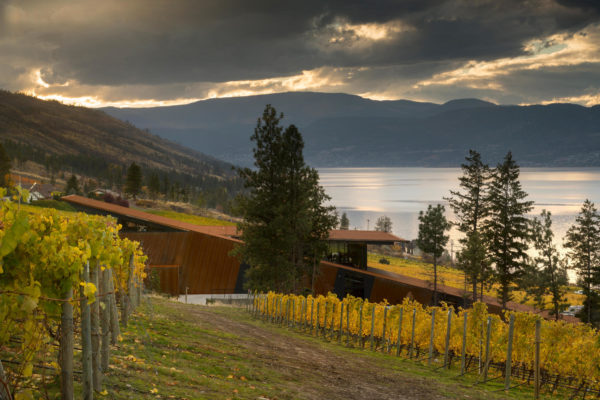 There is no question that Martin's Lane stands out in a crowd. Another architectural wonder and delight masking the unique, distinct and exceptional within. Without exaggeration this is an outstanding example of beauty and incredibly dedicated to best viticulture practices. Their wines are tended, harvested and crafted by hand according to winemaker Munn. "We don't interfere. We don't use a single pump. We believe this brings out elegant and complex expressions of Pinot Noir and Riesling."
Martin's Lane is producing an exclusive, high quality, low volume line of fine wine and yes, they are expensive. Visitors to Martin's Lane are here to buy the best Pinot Noir and the best Rieslings. This is not  a showroom for the inquisitive but a refined buying experience for drinkers and collectors of fine wines.
Private Tours and Tastings are available. Join a member of the small winery team for complimentary winery tours & wine tastings for you and up to five guests, by appointment. Enjoy complimentary wine tasting year round in the hospitality area of the winery, by appointment.
5437 Lakeshore Road
Kelowna, BC, Canada
V1W 4S5
+1 250 707 2263
info@nullmartinslanewinery.com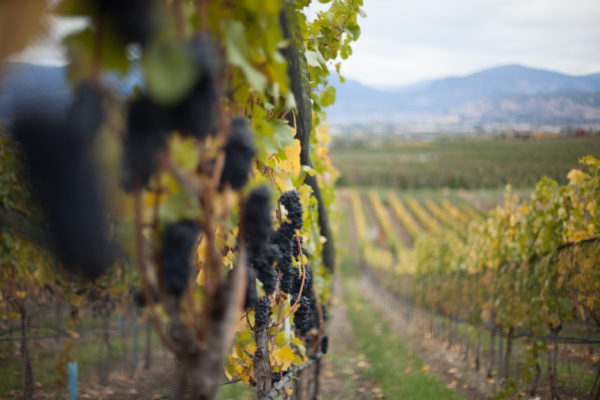 I must give you a pre-amble to this winery because as you will discover the opportunity to taste these glorious wines is fleeting. Until 2020 there will not be a Tasting Room where you can visit to learn about and taste these wines but believe me the wait will be worth it. Periodically there is a remote tasting at either a wine shop or wine event. Most recently I caught up to Doug and Dawn Reimer at the BC Pinot Noir Celebration. I was able to refresh my palate and senses with their delightful Rosé of Pinot Noir and both an outstanding 2015 and 2016 Pinot Noir.
Mirabel produce a Chardonnay, Rosé of Pinot Noir and a Pinot Noir. All are highly rated. Wines this good must be shared and enjoyed. Wines are available for purchase on the Mirabel website. Read our previous reviews here. Read about our experience at the BC Pinot Noir Celebration here.
Mirabel, "of wondrous beauty", perfectly represents the Reimer family's stunning South East Kelowna hilltop estate and vineyard overlooking the beautiful Okanagan Valley.
The family's commitment to quality and producing a luscious, elegant, sustainably-grown Pinot Noir is evident in this first vintage.
The Reimer Family Vineyard was planted in 2006 on a steep hill with both southwesterly and northwesterly aspects. Grapes were planted at an elevation of 930 feet, up to 1220 at the top. Careful soil analysis revealed a complex mixture of calcium carbonate, alluvial sediments, and a silt loam sits overtop a gravel loam. Six acres (84 rows) were planted to three sustainably-grown Dijon clones: 115, 667 and 777, blended together for optimum colour, flavour, acidity, tannin and length. The yield is cropped at 2.5 tons per acre and harvested by hand. 1.5 acres of Chardonnay will be planted in 2019.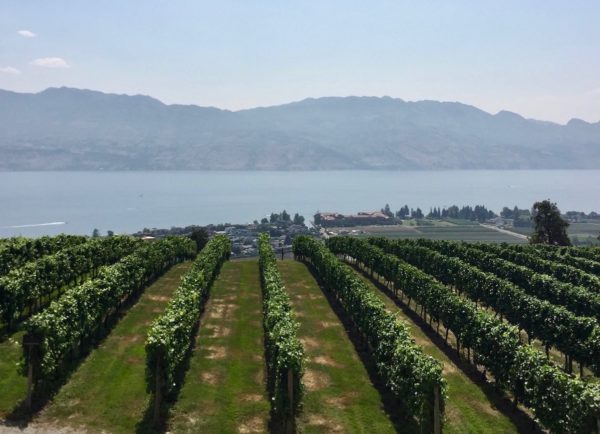 Mission Hill was named 2019 Winery of the Year and little wonder. A magnificent estate winery that is an architectural treasure producing a wide range of excellent wines. Whether you are a wine buyer of Legacy Collection, Terroir Collection, Sparkling or Reserve wines then you will be impressed with the selection of wines in several price points available.
Visitng Mission Hill is a complete experience. Offering a outstanding Tasting Room experience curated by a friendly and knowledgeable team of wine experts. Team members will take the time to introduce you to the wines on offer on the day of your visit. Curated and member only visits are also available.
About Mission Hill Family Estate
Mission Hill Family Estate, located in the heart of British Columbia's pristine Okanagan Valley, offers visitors an exceptional experience in a setting of unparalleled natural beauty and extraordinary architecture. Established in 1981 by Proprietor Anthony von Mandl, O.C., O.B.C., the family-owned winery is known for its exemplary vineyard estates and award-winning wines. Heralded as 'the gold standard of wineries' by Condé Nast Traveler, the winery offers cultural programs including the annual summer concert series, culinary programs and international art exhibitions. missionhillwinery.com
Mission Hill Family Estate
1730 Mission Hill Road
West Kelowna, Okanagan Valley
British Columbia, Canada
V4T 2E4
General Information 250-768-6400
Wine Boutique 250.768.6498
Facsimile 250.768.2267
E-mail info@nullmissionhillwinery.com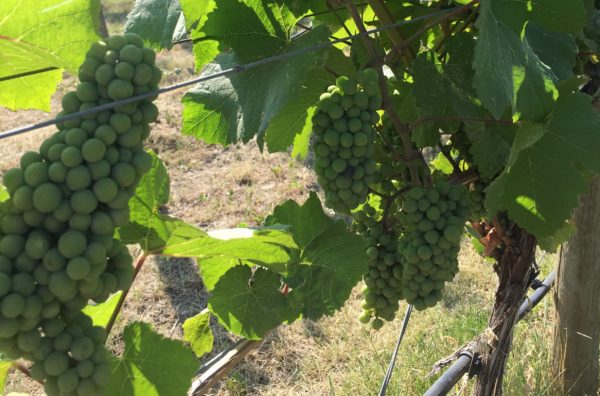 Definitely one of our #FavouriteThings and a winery I have no problem personally recommending not only for their principles of production from a single vineyard but just because their wines are so darn good. Admittedly I am a major riesling fan and live with a major pinot noir fan so maybe that makes me a bit bias so I suggest you visit and experience the superior wines of Tantalus Vineyards. They made have the oldest continuously producing vineyard in British Columbia but you will be amazed at the way they meld modern principals with classic styles. A visit to their tasting room is a must.
OLD VINES. AUTHENTIC WINES.
Tantalus Vineyards was founded on the belief that exceptional wines made from a single vineyard of outstanding pedigree would capture the imagination and palates of those seeking authenticity
and a sense of place.
We are situated on the eastern slopes of the Okanagan Valley, overlooking the shores of Lake Okanagan and the City of Kelowna. Originally known as Pioneer Vineyards, the site was first planted to table grapes in 1927 and today is known as the oldest continuously producing vineyard in British Columbia.
1670 Dehart Road
Kelowna, British Columbia
V1W-4N6
Phone: 1.877.764.0078 or 250.764.0078
Fax: 250.764.0771
Email: info@nulltantalus.ca
HOURS
May 1st to October 31st: Open DAILY 10 am to 6 pm
If you are looking for a winery that embraces life in a big way then The View has to be on your list. Maybe sometimes the personalities play a big part in the final result that is the wines at The View. This is a winery that is welcoming with a bit of tongue in cheek. Take the flirty shoe that is their trademark, doesn't that tell you that you're in for a good time while visiting and enjoying their great line-up of approachable wines? Never pretentious, always welcoming. Jennifer and her team are the best!
THE VIEW WINERY & WARDS CIDER OUR HISTORY
The View Winery is situated on a parcel of land that has been in the Turton/Ward family for 5 generations. Historically, fresh market apples were grown on the property. In the mid 1990's a transition began and vineyards and cider apples were planted. Spartans and McIntosh gave way to Gewürztraminer, Riesling, Ehrenfelser and Pinotage vines as well as cider apple varieties such as Belle de Boskoop, Chisel Jersey and Bulmers Norman.
In 2006, plans began to make our own premium wines and the beloved old packinghouse built by Great Granddad Ward in 1922 was transformed into a winery and cidery.
The View now produces over ten thousand cases each year. Our diverse portfolio of award winning wines includes Riesling, Gewürztraminer, Pinot Gris, Ehrenfelser, and our signature reds: Pinotage and Pinot Noir. Our rosé has emerged as a favourite as have our Silver Lining Estate blends. In 2013 we added Canada's first wine in can with our wildly popular BLING Sparkling Wine.
#1-2287 Ward Road
Kelowna, British Columbia, V1W 4R5
1 (250) 860-0742
Editor's note:
When visiting BC Wine Country, before you go: Do your homework and a bit of research about the wineries you wish to visit. Check the winery website to find out their months, days and hours that their Tasting Room is open. Know if you need to book your tasting in advance of your visit. Many wineries are now so busy there may be times that they are unable to accommodate you. It will be a much better visit if you have a confirmed appointment. Be on time. Expect to pay for your tasting, some, but not all wineries refund all or a portion of the fee if you purchase wine. Plan ahead for a designated driver or use the services of a wine tour company. Limit the number of wineries you visit in a day. A more leisurely timeline will increase your enjoyment. For the best overall experience, I like to limit my daily visits to three, maximum two wineries if a winery lunch is on the agenda. – Valerie, Editor.
WHERE TO DINE
Where to begin? So many great options in the Kelowna area.  These are our #FavouriteThings places we personally recommend.
It's been awhile but the good memory of the dinner we had here still lingers. If you are looking for old school white table dining then this is right up your alley. The restaurant is divided into two sections so when you reserve we suggest you ask to be seated in the quieter section without large groups. Other than that all good here with fabulous food and attentive, slightly cloying, staff.
OUR AWARD WINNING LAKESIDE RESTAURANT
An evening spent in the Hotel Eldorado's award-winning Kelowna lakeside restaurant will be an evening to remember. Executive Chef, Oliver Kaiser strives to take advantage of the Okanagan's bounty of seasonal and organic products provided by local suppliers.
Boasting fantastically prepared AAA Sterling Silver Beef selections, fresh seafood and an award-winning wine list featuring over 150 different labels – nothing beats dining lakeside at the El. 
500 Cook Road (On the Lake)
Kelowna, BC V1W 3G9
Tel: (250) 763-7500
Toll Free: 1 (877) 734-3184
Fax: (250) 861-4779
E-mail: Info@nullEldoradoKelowna.com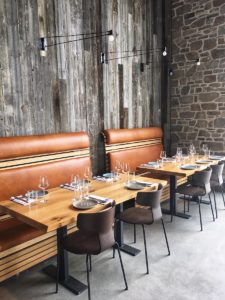 We're Nominated! Air Canada / Canada's Best New Restaurants 2019
At Home Block Restaurant, we embrace the bounty of the Okanagan while our name pays homage to the Home Block Vineyard which surrounds us. Our building is crafted from fieldstone and 100-year-old reclaimed barn wood and our cuisine draws on those elemental roots. We integrate natural cooking methods like our wood-fired grill fueled by timber from local orchards and seasoned barrel staves. The result is honest, confident, and approachable food that unites flawlessly with CedarCreek wine.
Come soak up the spectacular views of the lake, vines, and valley with us.  Book below on Open Table or call 250-980-4663 for reservations.
Hours: 
Mon–Thu 11:30 am–9:00 pm
Fri and Saturday 11:30 am–9:30 pm
Sun 11:30 am–8:00 pm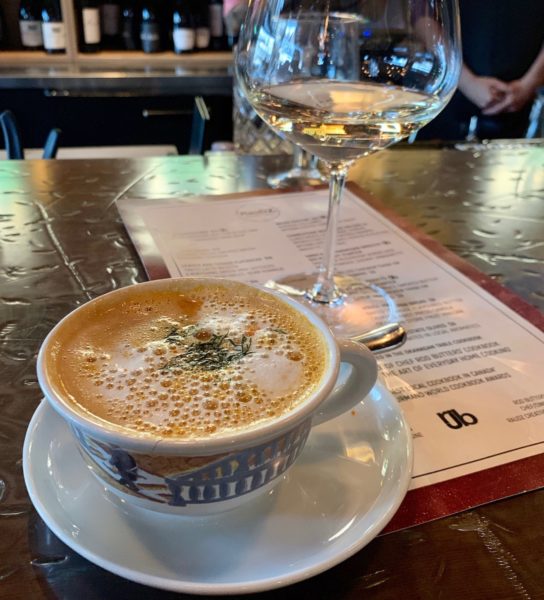 We never visit Kelowna without visiting RauDZ even if it's only a seat at the bar with a glass of BC wine from their wine list of great options paired with a bowl of Crab Cappuccino of course! Great spot for dinner and, best of news, they now take reservations.
OUR RauDZ STORY
WE'RE SERIOUS ABOUT SUPPORTING LOCAL.
We're blessed in the Okanagan to have a large number of independent growers, vintners and crafts people who excel at what they do.
Many of our suppliers have been with us for years.  Their philosophy and passion for food dovetails with ours: grow, or produce, local fare of the highest quality.
We are leaders in the use of organic, sustainable and naturally raised ingredients and concentrate on pure, simple flavours with a fun presentation.
We are committed to our community, our suppliers, our environment and to you – our friends and neighbours.
1560 Water Street, Kelowna
250-868-8805
Book Your Reservation Online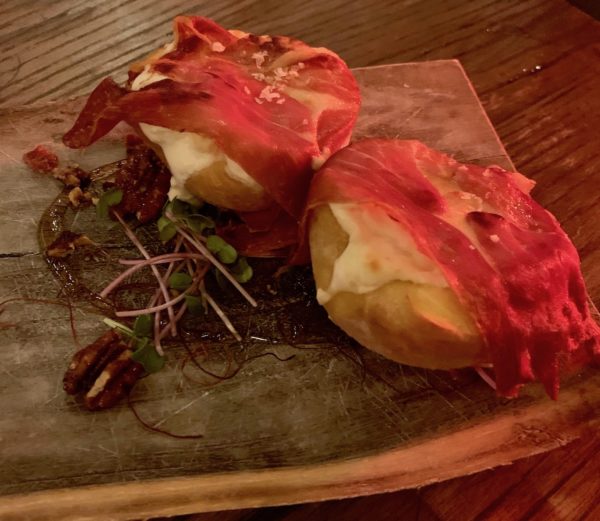 This was a new discovery for us on our last visit to Kelowna. Wow! This is a must for adventurous diners. Small, shared plates with a daily changing menu (don't worry some favourites will be repeated).
The food here is edgy and features the totally unexpected. Our meal was superb with some interesting and delicious combinations. Semi long table seating on high tops or at the bar. Outdoor patio in season. Looking for a spot where foodies go where the food will both surprise and delight you, this is it!
Salt & Brick is truly Kelowna's Most Unique Culinary Experience. Salt & Brick features a Fresh Sheet Menu filled with well thought out share/small plates created daily by Chef James Holmes. Our one of a kind food is combined with 101 local wines carefully curated by our team with the goal of featuring the most unique & diverse list of the Okanagan's best wines. With a special focus on smaller wineries and on those off the beaten path that you may never experience on a trip to the Valley.
Located just steps away from Kelowna's Best known landmark "The Sails" as well as our number one attraction, Lake Okanagan. Salt & Brick is one of many incredible local dining spots on historic Bernard Avenue, the heart of Downtown Kelowna.
A diner with booze! The food is very good, the space is compact and the vibe is pure pleasure. Friendly team here and the kitchen is on view. Divine milkshakes (adult style, wink, wink). Why locals and regulars wish this would stay a secret.
Fun with yummy dishes, most a modern take of true diner food. Sorry can't accommodate larger groups. Outdoor seating in season. Prepare to wait for a seat, even at the counter. It's that busy and that popular.
RauDZ Creative Concepts Ltd. (RCC), owned by the dynamic team of Audrey Surrao and Chef Rod Butters added Sunny's a modern diner to their restaurant portfolio in Spring 2018.
Sunny's is located at 235 Bernard Avenue, around the corner from other RCC hotspots RauDZ Regional Table and micro bar & bites.
The name Sunny's is a tribute to the restaurant owners' shared photogenic and always remembered golden retriever and a play on the sunshine of the Okanagan Valley and the restaurant's prime Lake Okanagan location.
235 Bernard Avenue
(downtown Kelowna)
Kelowna, BC
Sorry, no reservations
info@nullsunnysmoderndiner.com
778-478-1170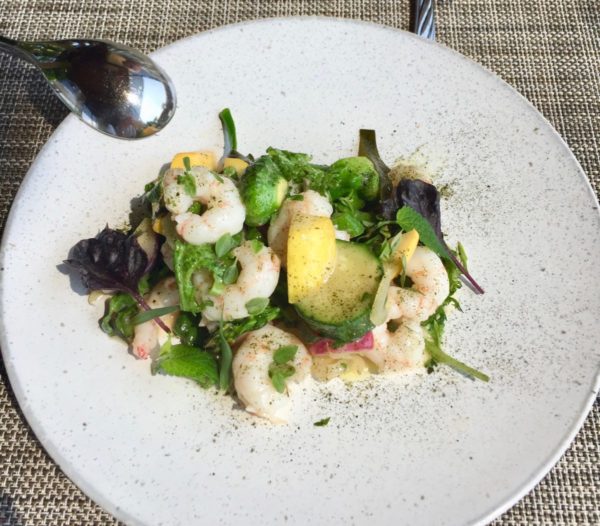 While you are planning your visit be sure to leave time for lunch or dinner in the beautiful Terrace Room at Mission Hill. Read our review here. With an ever changing menu of locally sourced dishes, executed with finesse this is THE place to dine in West Kelowna.
The wine list includes Reserve, Terroir, Legacy, Ice Wine and Flights categories of Mission Hills Family Estate wines.
Life's most memorable moments are often over a meal and an extraordinary glass of wine, in a very special setting. We invite you to share our table at the Terrace Restaurant to celebrate great wine, food and life. We embrace what is grown around us. Discover our ever-evolving menu, inspired by the changing seasons of the Okanagan Valley.
Terrace Restaurant Reservations: (250) 768-6467 or terrace@nullmissionhillwinery.com.
Reservations are now available for the season and we look forward to welcoming you at the Terrace Restaurant this year.
The Terrace Restaurant is open from
May 11th – September 30th, 2019*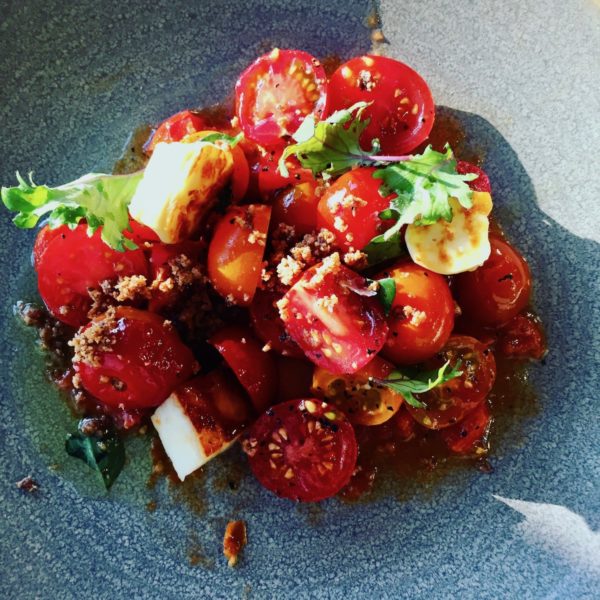 Think fun, good times, great food, local brews! Another of our #favouritethings we personally recommend. Smack in the middle of an industrial area the vibe here is casual fun with really good food.  ps they also have great wine
Great beer really calls for good solid food and so we are so stoked that we managed to convince one of Kelowna's top-rising, young chefs to join our crew as a partner!
Chef Nelson Daniels has spent the last five years working as Sous Chef at our dear friend Chef Mark Filatow's restaurant, Waterfront Wines. As a result of his time there, Nelson brings a wealth of local knowledge to the team and will not only be supplying guests with his casual yet delicious food in-house, you will finally be able to get your paws on Nelson's to-die-for charcuterie to enjoy at home – next to a growler of tasty Vice & Virtue brew of course…
1033 Richter Street,
Kelowna, British Columbia V1Y 2K4, Canada
All images, except as noted, MyVanCity. Information in italics courtesy of the wineries or restaurants. Feature image courtesy of Wines of British Columbia, winebc.com.
[wdi_feed id="2″]