As I mentioned in a previous feature I have been a slow to the table Chardonnay drinker and fan. My saga continues and this time the Chardonnay in question was a Quails' Gate 2015 estate grown Rosemary's Block.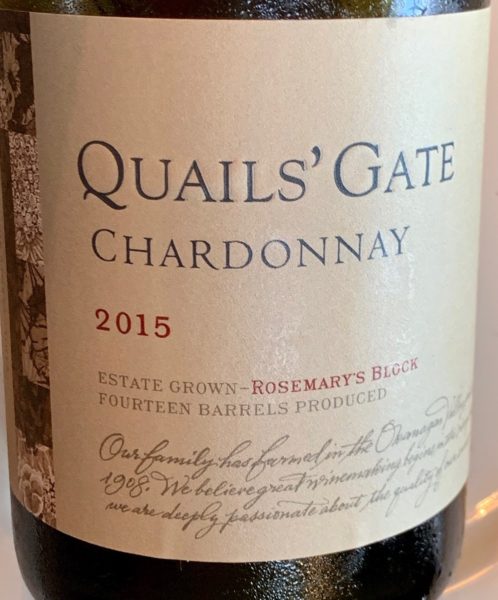 The wine was taken out of a wine cooler ahead of time so as not to be too chilled. I found this to be a delightfully, lightly oaked Chardonnay with a pleasing aroma of grass and new woodsy scents, followed by walnuts and fresh stone fruit. I also get some of what I call "grandma's closet" scents,  or armoire if you prefer,  which is a very good thing because it also conjures good memories.
For this particular pairing we dined at home thanks to the culinary skills of a family member who had done just a little foraging and market shopping earlier in the day.
We dined family style so there were no courses just everything on the plate at once. A Shiitake Mushroom Risotto rich and creamy with freshly grated Italian parmesan, sweet onion and greens finished with white wine. Had we been doing courses with individual pairings we would no doubt have chosen a bolder red but the highlight of the dinner was the Seared East Coast Scallops and the reason I had chosen Chardonnay as the wine to be served.
The side dish was a mix of salad turnips and turnip greens with garlic scapes. The dish was much milder than the ingredients would suggest. The tiny white turnips were the right combination of soft and crunchy, the greens ranged from mild to slightly bitter with no two bites quite identical and the garlic scapes added the interest to the dish. I was pleasantly surprised that the Chardonnay stood up quite well to this dish.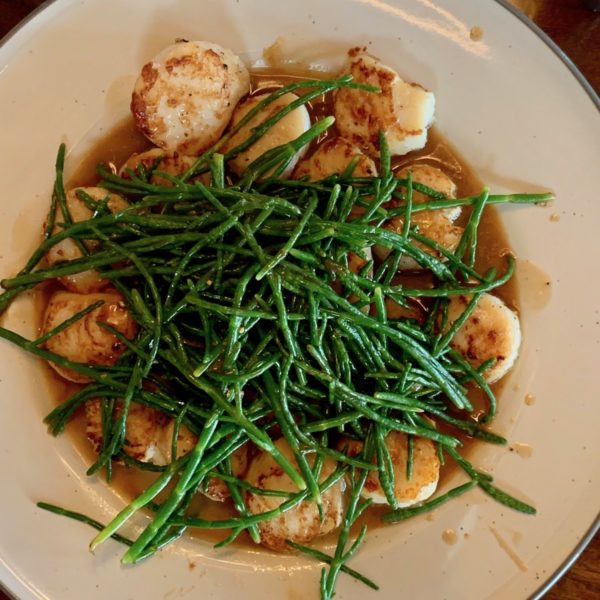 The pièce de résistance of the dinner were the Seared East Coast Scallops swimming in a white wine reduction along side salty and crisp sea asparagus. I first tried the scallop on its own to test my palate with the Chardonnay pairing. Superb! The scallops were done to perfection and very flavourful. The Chardonnay was now releasing its characteristics as it became closer to an optimum temperature. The woodsy scents now were similar to what you might notice in a flower shop, not floral but more like cut stems.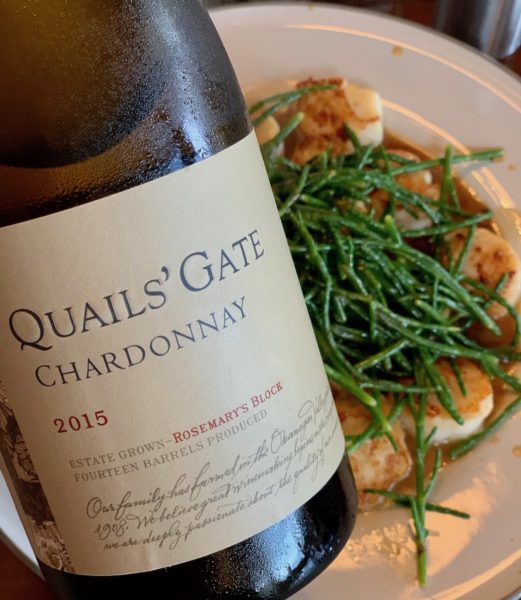 The light oaky flavours were the perfect foil to the intensity of the scallops and the salty sea asparagus. The wine had just the right body and, if you will excuse the overworked expression, was buttery and the flavours lingered in the mouth. Not too light, neither was it harsh but had just the slightest tartness that enhanced the pairing.
I can't think of a better choice for the dinner. The Quails' Gate Rosemary's Block estate grown Chardonnay stood up very well to this eclectic mix of textures and flavours of the dinner. Current vintages were bottled in 2018 and are available online at $44.99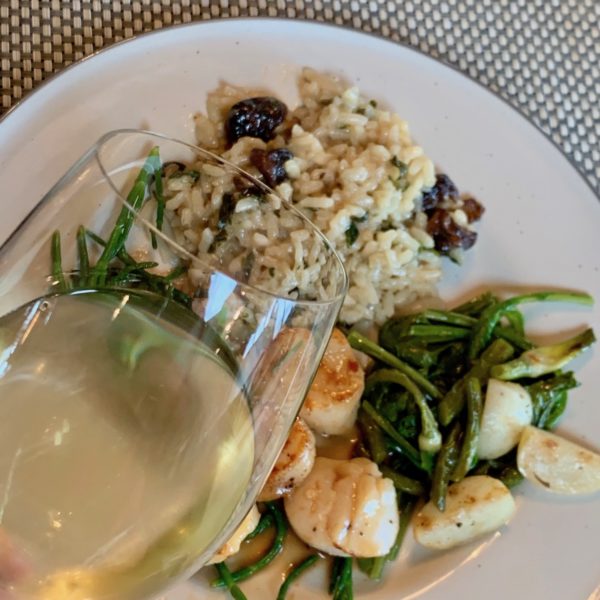 What the winery has to say:
Our Rosemary's Block Chardonnay is dedicated to our Mother Rosemary and her role in creating our Family's winery. This beautifully crafted Chardonnay is graceful and refined with an impressive intensity at its core.
Made in a Burgundian style, this wine is elegant and complex with aromas of peach, white flowers, and lightly roasted nuts. On the palate, a mouth-watering freshness is balanced with subtle toasty notes and a lengthy, mineral finish. Try pairing with roasted halibut, seared scallops, roasted chicken or lightly creamy pasta dishes.
The grapes for our Rosemary's Block Chardonnay were picked in October from two of our finest Chardonnay blocks (Fields 3 and 5) located on the Upper Boucherie Bench. Two clones of Chardonnay – 809 and 76 – were used for this wine and the grapes were whole-cluster pressed and fermented in new and old French oak barrels for 11 months. Full malolactic fermentation occurred and the wine was left to age on its own lees with regular battonage every 3 weeks, giving the wine the rich, luxurious mouthfeel. Enjoy now or until 2025.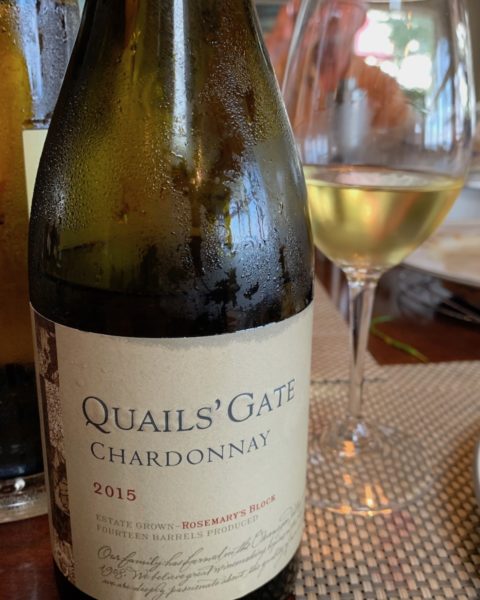 I received this wine in 2017 in order to facilitate a #FavouriteThings Holiday Gift Suggestions feature on MyVanCity.ca. The wines were first tasted in September, 2017 during a visit to the winery. At that time we both purchased wine at wine club prices and received one complimentary bottle of wine.
Tasting notes (in italics) courtesy of Quails' Gate. All images, except as noted, MyVanCity. Feature image: Quails' Gate.
[wdi_feed id="2″]