My good friends, Matt and Mel sent me an invitation recently.  The title in the subject line certainly piqued my curiosity, "Foch Sho".  His message read, "I've been wanting to do a wine tasting night for a while with my favorite varietal, FOCH! Come join Melissa & Myself for Dinner, Dessert and Foch."  Matt is a passionate award-winning bartender, most recently at Nomad, and Melissa is an amazing cook and baker. How could I possibly turn down an offer like that?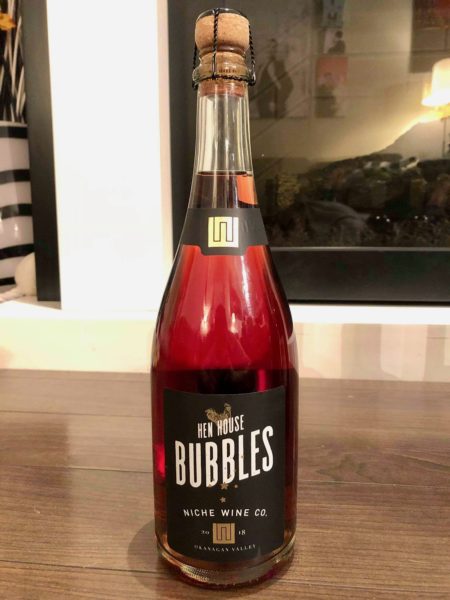 They assembled about a dozen people for a tasting and long-table dinner.  We began with a glass of Niche Wine Co. 2018 Hen House Bubbles ($22.99), a delicious 12% sparkler, sure to please anyone with its big juicy berry flavours – blueberry, raspberry, and blackberry.  Nicely balanced and the gummy bear fruitiness carried through onto the palate followed by a medium-plus finish.  This wine is a charmer any time of the year.  Be sure to have some on hand to greet your visitors over the holidays.
Matt decided to do the wines in flights of three, decanting each of the wines so they would show their best.  While we were waiting for the wines to open up, he explained his long-time passion for this variety.  A cigar aficionado, he finds the aromas and flavours very complimentary and he is considering a cigar and Foch tasting sometime in the future.  Marechal Foch (pronounced "MAR-e-SHALL-fosh) is often described as fruity, with dark berries, raspberry, cherry, plum, spice, smoke, meaty, chocolate, mocha, caramel and butterscotch aromas and flavours.
It can make a wide range of styles from light, fresh and fruity wines to dark, inky black, rich and full-bodied ones and even fortified after-dinner wines.  They tend to be high in acid and low in tannins, which appeals to those who tend not to like big reds.
Foch is a French hybrid developed by Eugene Kuhlmann about one hundred years ago.  It was named for a World War One French hero, Marshall (Marechal) Ferdinand Foch, though due to new regulations, the grape is no longer grown in France.
The grape has small berries, ripens early, is cold hardy and is resistant to fungal diseases.  The best wines are made from older vines.  Because it is a hardy grape it is grown in regions where 'regular' (vitis vinifera) grapes would not ripen.  You will find Marechal Foch grown extensively all along the eastern coast of North America, though there are some pockets in the Okanagan, on Vancouver Island and in Oregon.
The first flight featured the following wines: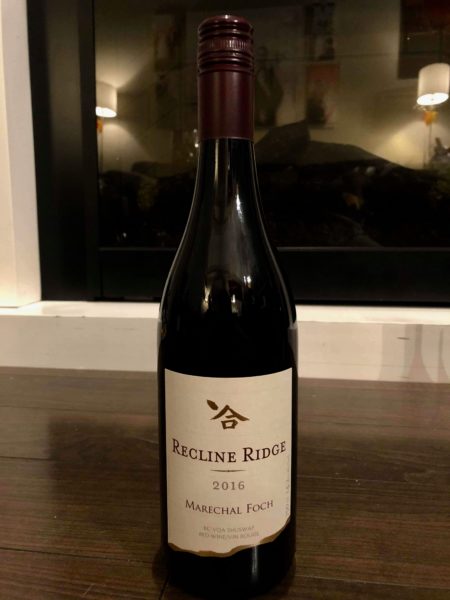 1.Recline Ridge 2016 Marechal Foch                             14.2%ABV                 $17.74
Garnet red in colour with medium-deep intensity (as did all the other wines).   The nose is fruity with aromas of dark cherry, plum, with berry and spice undertones.  Good balance with medium body and smooth ripe tannins.  The flavours follow the nose.  A medium-plus finish.  This wine served as a good introduction to those unfamiliar with this variety.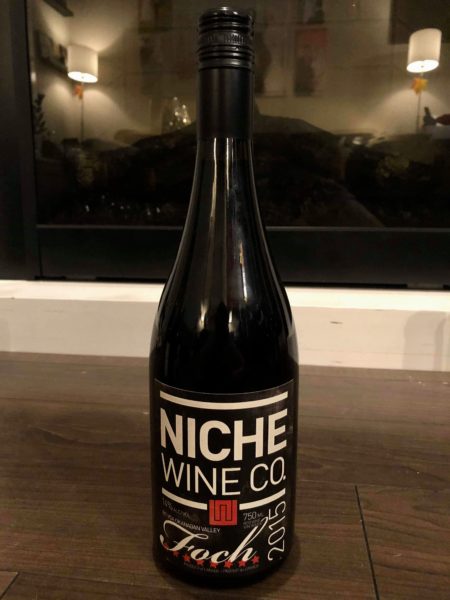 Niche Wine Co. 2015 Foch                                    14.0%                          $23.00
This wine spent 20 months in American oak as is evident with the darker character of this wine – black pepper, earthy, tobacco leaf aromas.  Very good balance with medium-body and smooth tannins.  The palate shows flavours of plum, vanilla, dark cherries and chocolate.  It follows with a medium-plus smoky finish.  Four years of age has given this wine an elegant character.  I am not a person who thinks of desserts with red wine, but this one made me think it would go very nicely with Black Forest cake.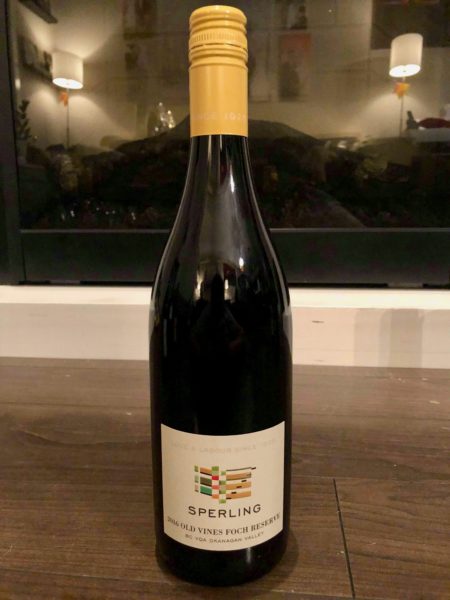 Sperling 2016 Old Vine Foch Reserve                       13.5%                 $32
The nose is lighter than previous vintages with delicate cherry and cocoa aromas with a slight acerbic note.  Good balance and medium-bodied.  Rustic and very approachable were common remarks from others in the group.
After this beginning flight we went on to dinner, perfectly matched for the occasion – Beef Bourgogne, Mashed Potatoes, Green Beans and Oven Roasted Brussels Sprouts.  This really made the wines shine.
The second flight began and featured: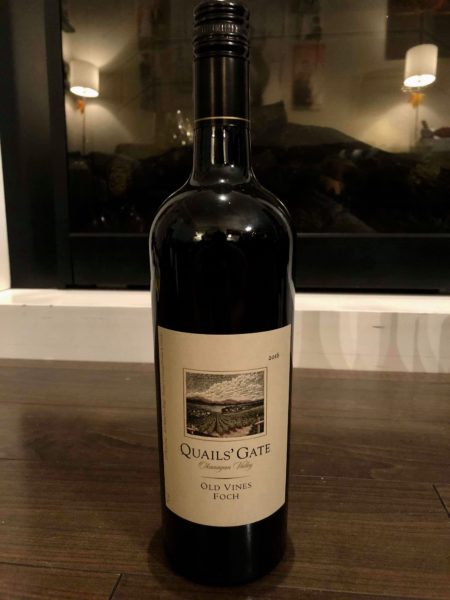 Quails' Gate 2016 Old Vines Foch                         13.5%                 $25.99
Fermented in French and American neutral barrels and aged for 20 months prior to blending and bottling.  The nose is rich and layered with aromas of dark fruit, cocoa, smoke, tobacco, earth and sweet spice. Very good balance with good structure.  The flavours mirror the nose. Followed by a medium-long finish.  Serve with braised meats, mushroom-based dishes or tomato sauced pizzas or pasta.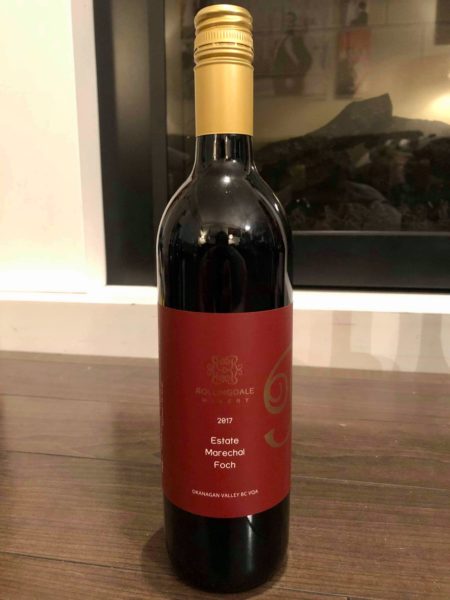 Rollingdale 2017 Estate Marechal Foch               10.6%                      $21.65
It is fair to say that this wine was significantly different from the others.  Clearly, the lower alcohol level suggested it would be a light and delicate quaffable wine.  Vanilla, red cherries and cranberry notes on the nose and palate.  Medium-light body and a medium-short finish.  This is a good wine for people who say they don't like red wine.  There is no oak, very little tannins and no malolactic fermentation.  Expect a Beaujolais nouveau styled wine.  Best served slightly chilled.  Nothing scary here!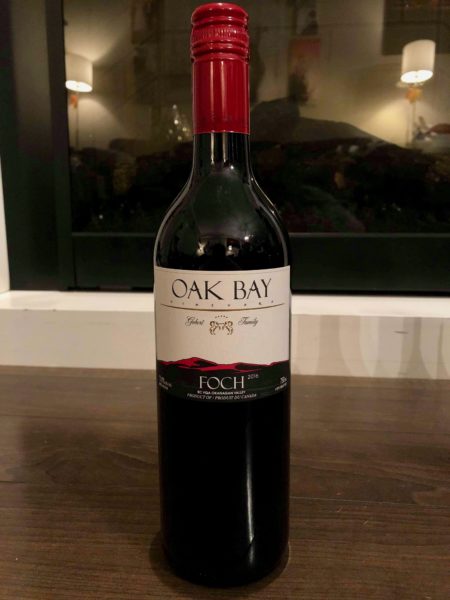 Oak Bay 2016 Foch                                                 13.0%                          $22.00
The nose is rich and layered with black pepper, plum, cherry, fig, tobacco leaf and anise.  Good balance and body.  The flavours echo the nose followed by a medium-plus finish.  An impressive example of BC Marechal Foch.
Dessert followed this second flight and to my great delight, it was a not-too-sweet Black Forest cake which was perfect with the wines poured.
The third flight consisted of: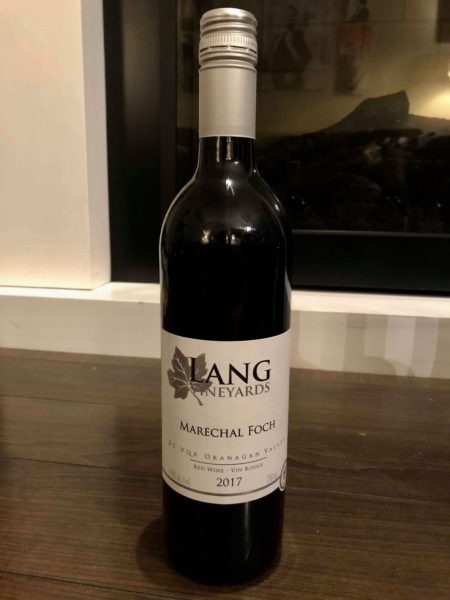 Lang Vineyards 2017 Marechal Foch                     14.8%                          $23.00
Made from some of the oldest vines on the Naramata Bench (65 years old), this wine shows depth and character.  Cherry, plum, fig, leather, cocoa and dark berries on the nose and palate. Good balance.  A medium-plus finish.  Certainly, a 'yummy' wine.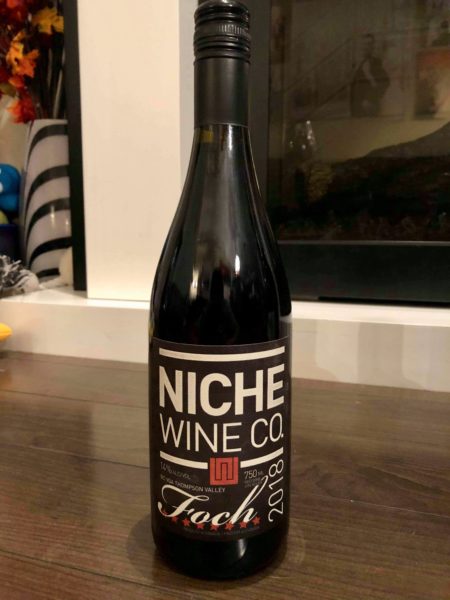 Niche Wine Co. 2018 Foch                                             14%                 $27.99
One of the most impressive wines of the night.  A 'big' Foch with lots of depth.  Dark berries, plum, cocoa, spice and vanilla.  The wine is well integrated from start to finish with a lingering finish.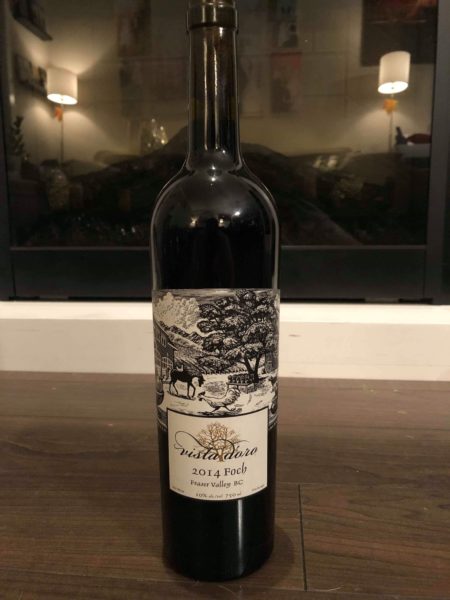 Vista D'oro 2014 Foch                                                10%                 $17.50
Sadly, we ended the flight with a bad bottle.  Unfortunately, it does happen from time to time.  This one had turned to vinegar so was removed from the table.
Fortunately, Matt had a surprise for us to end on.  A fortified 'Port-like' Marechal Foch made by Quails' Gate.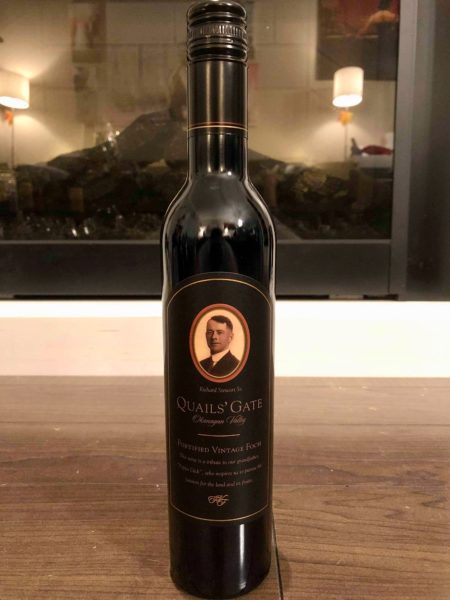 Quails' Gate 2016 Fortified Foch                               18%                 $29.99
Rich, ripe, dark cherry and chocolate.  Very good balance.  On the palate, spice, anise and almond flavours mingle with the fruit.  A medium-plus finish.
Marechal Foch, once met with disdain in BC and for some good reason as it was overcropped and produced mediocre wines.  It took a winemaker from down under to see its potential and treat it properly so it could produce good quality wines.  For years now, it has had a steadily growing cult following.  See what all the fuss is about and try some for yourself.  You, too, may catch 'Foch Fever'.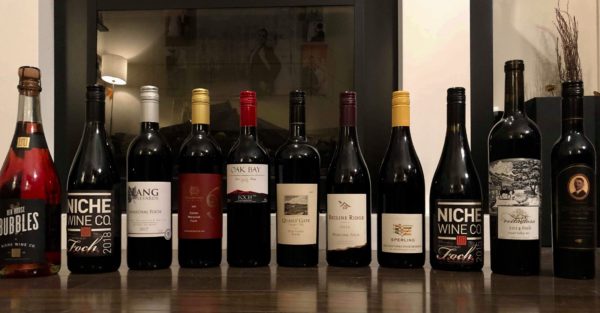 (All photos courtesy of Matt Benevoli)
For more background on Marechal Foch, see the addendum below for some excerpts from John Schreiner (http://johnschreiner.blogspot.com/)
The hybrid varieties, including Foch, were imported from France after World War II by wineries in Ontario and New York State when producers recognized that the native North American vines were never going to yield appealing table wine.
Some Okanagan growers began importing the hybrids in the 1950s and 1960s from Ontario or New York nurseries. A Quails' Gate vineyard map shows two blocks of Foch that were planted in 1969 in its West Kelowna vineyard.
Richard Stewart, the scion of the family that owns Quails' Gate, planted Foch in 1956 (as did many others). Much of the Okanagan's Foch was pulled out in 1988 because the variety was judged mediocre. The problem was that almost every grower was over-cropping what was already a naturally vigorous varietal. The resulting reds were thin and acidic.
Before the 1988 removal of hybrid grape varieties from the Okanagan, Maréchal Foch grapes comprised about a quarter of the entire grape harvest.
After the pull-out, Foch was only two per cent of the harvest. The variety might have vanished entirely, like Chelois, Rougeon or De Chaunac, but for the work of Quails' Gate Estate Winery.
It can be argued that Quails' Gate virtually saved the variety in British Columbia, even starting a modest comeback, when the winery crafted its first Old Vines Foch wine in the 1994 vintage.
In 1994, Jeff Martin, an Australian winemaker, was recruited to be the winemaker at Quails' Gate. He found that most of the vines in the Quails' Gate vineyard were relatively young, having been planted since 1990.
Much of his Australian experience was making big reds with grapes from mature vines.  To make a big red in the Okanagan in the mid-1900s, he had to do his best with Maréchal Foch. His best was so good that the Quails' Gate Old Vines Foch has been a cult wine ever since. And the winery has extended its Foch franchise to add a reserve Old Vines Foch and a Port-style Foch.
Foch likes to grow like a weed but when it does, the wines are thin and acidic. Cropped properly, you get bold, ripe reds
The dramatically improved quality of the wine compared with virtually every Foch that preceded it had much to do with how the grapes were grown. Left to its own devices, the Foch vine (and other red hybrids) will produce ten tons of grapes an acre. That was why most Okanagan red table wines in the 1980s were thin and light.
However, when the yield is reduced to something sensible, perhaps four tons an acre, the resulting wines have weight and flavour.
Excellent wines from the variety are made in British Columbia by such producers as Alderlea Vineyards, Starling Lane, Larch Hills, Skimmerhorn and Sperling Vineyards, among others. One wonders how short the roll call would be if Quails' Gate had not raised the bar in the first place.
Lang has long been a proponent of Maréchal Foch, a French hybrid that once was ubiquitous in Okanagan vineyards – and also was controversial
The Maréchal Foch is one of the wines in Summerhill's Heritage Series of wines. "The Heritage Series was established to celebrate the history of BC's wine industry, demonstrating that beautiful wines can be produced with grapes that are rarely used in modern winemaking," the winery explains.
The hybrids still in the vineyards today are being cropped at the same tonnages as the vinifera grapes. That is why delicious wines are being made from the surviving French hybrids.
[wdi_feed id="2″]