Located in Comox, 40 Knots family-run Vineyard and Estate Winery is one of the largest wineries on Vancouver Island.  Their award winning wines are distinctly shaped by ocean breeze and sun-soaked climate.  Nestled with a view of the glacier and adjacent to the Salish Sea, their Vineyard Terrace is the centerpiece of the 24 acre vineyard property.  Now renovated to offer year-round celebrations, this vineyard terrace is heated and offers a view through 360° glass that folds open for the warmer seasons.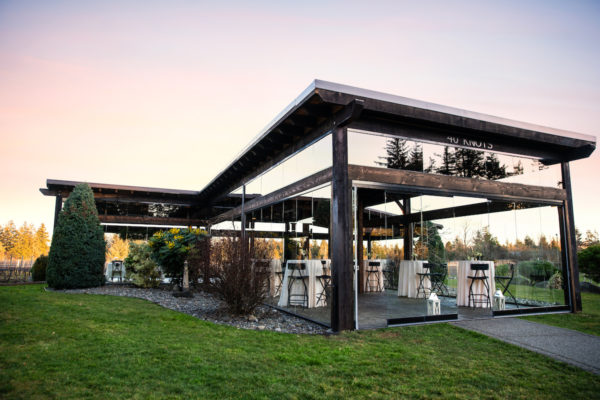 Experience Old World Traditional – New World Bold wines.  40 Knots is one of the largest wineries on Vancouver Island, farming biodynamically on 24 stunning acres.  We craft wines distinctly shaped by ocean breeze and sun-soaked climate.  Nestled with a view of the glacier and adjacent to the Salish Sea, enjoy our Cellar Tasting Lounge, Balcony, Vineyard Terrace, and stroll in our vineyard.  Families and dogs are welcome!
Established in 2005, we grow noble varieties such as Pinot Noir, Chardonnay, Gris and Gamay, as well as common hybrids such as Auxerrois, Sieg and Schönberger.
Come for one of our popular guided tastings, take a stroll, enjoy a flight of red or white, book a ticket to one of our events, and stay for a picnic of local farm fare.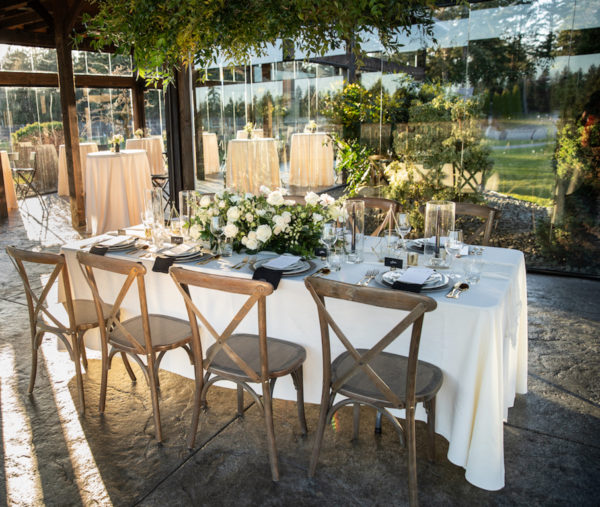 If you are planning an intimate wedding, anniversary, birthday or special occasion with your bubble you won't find a more gorgeous venue. Step inside the glass enclosed Vineyard Terrace and you are transported into the most tranquil and tasteful of reception rooms. Unobstructed views of the vineyard are outstanding.
This venue is exceptional and I am sure will be extremely popular with locals and visitors alike. The Comox Valley is a wonderful, pristine playground that any host or bride would be proud to be offer and welcome their guests.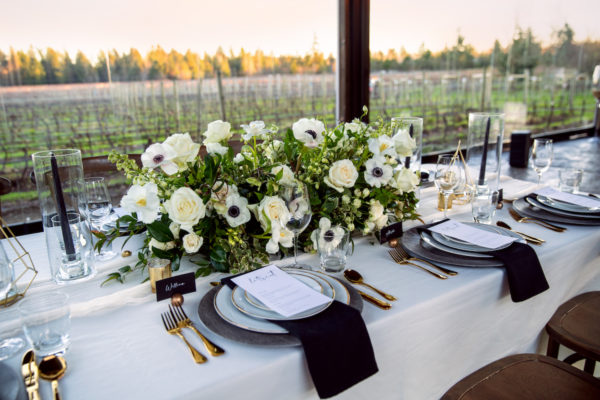 Looking for a beautiful spot in the Comox Valley to have a romantic picnic, host a celebration, or just come for a glass of wine?  Check out 40 Knots Winery new Vineyard Terrace, completely enclosed with 360° glass and heated for your comfort all year long!
When spring and summer weather surface once again you can enjoy the intimate feeling of being both indoors and outdoors taking in the breathtaking views.
Don't want to wait for the temperatures to climb? No problem, this beautiful glass facility is heated for your comfort.
Here are some things you should know:
The Vineyard Terrace holds up to 130 guests
The glass walls slide open to allow the outdoors in
Although 40 Knots has a list of preferred partners you are welcome to choose a caterer. The winery kitchen is available for rental.
Beer, cider and spirits are available through 40 Knots and some tables and chairs are also available.
With 70 events already booked there are still 12 weekends open between May and September. We try to keep one event per weekend but are defintely open to booking back to back if the event makes sense.
40 Knots is well prepared for when events are open again.  In the meantime come for a glass of wine and check out the new 360° glass enclosed Vineyard Terrace, heated for your comfort. 
The Vineyard Terrace pairs with their a 40 Knots locally sourced picnic.
Available for many types of celebrations, including corporate. They also have other Venue options as well, such as the Cellar Hall, Stall Speed Lounge and Viva La Vino (Front apron of Winery)
As of right now we can have up to 10 guests for an elopement but that is a quick in and out. No cocktails or celebrating afterwards.
With 360° glass, the terrace is now open year-round. 
Book for your next celebration, or come for a glass of wine with their popular picnics of locally sourced items.  www.40knotswinery.com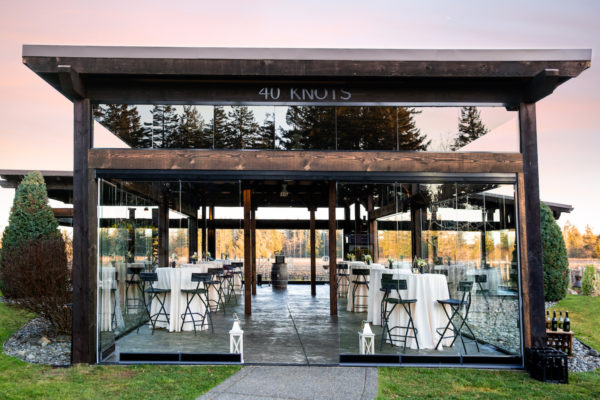 At 40 Knots, clean ethical wines are a promise.
This guides us in every step we take farming, cellar management, crush pad operation, our store, our delivery to the customer, and our promise to protect the environment. Our goal is to grow ultra-premium grapes on Vancouver Island. Some of the greatest vineyards in the world are grown near oceans with the salt air embedding the Burgundy oak. Great wines are not made in the tank and the barrel. Great wines come from the vineyard.
Sustainability Promise
40 Knots Sustainability Promise is a promise for today and tomorrow.  We are committed to environmental sustainability and social sustainability.  40 Knots has made strides towards sustainability by evaluating the environmental impact of each process, each procedure, and each purchase before any decisions are made.  Partnering and collaborating with like-minded businesses have been key to success.
40 Knots is committed to continuous certification in Green Tourism, a most relevant and credible recognition that requires continuous improvements and team commitment with considerations from cradle to re-purpose.
Information and images courtesy of the winery.