With such devastating news about the flooded blueberry fields in the Sumas Prairie region and other areas the BC Blueberry Council wanted to bring a little BC Blueberry holiday cheer your way with some tasty recipes.
BC blueberries add natural sweetness to salads, and an unexpected touch to appetizers and snacks
Blueberry Spinach Pakoras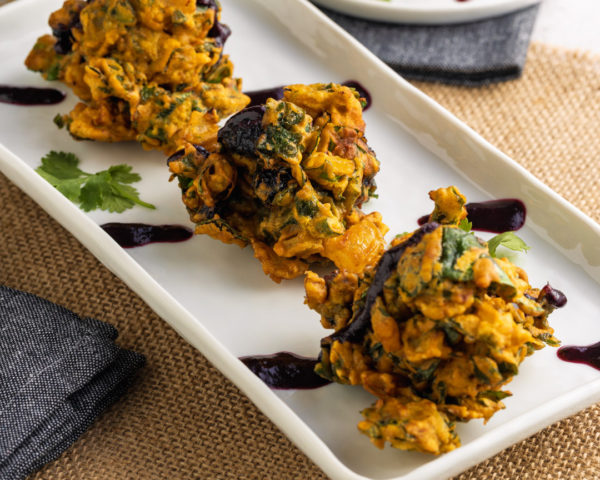 Gluten Free
Yields
15 – 20 pakoras
Ingredients
4 cups (950 mL) Vegetable oil
3 cups (120 g) Fresh spinach, chopped
1 cup (150 g) B.C blueberries, fresh or frozen (do not thaw)
1 cup (75 g) Onion, diced
¼ cup (10 g) Cilantro, chopped
¾ cup (120 g) Chickpea flour
3 tbsp (30 mL) Cornstarch
2 tsp (10 mL) Cumin seeds, whole
2 tsp (10 mL) Ground coriander seeds
2 tsp (10 mL) Hot paprika powder
2 tsp (10 mL) Ground turmeric
1 tsp (10 mL) Salt
½ cup (120 mL) Water
Directions
In a large deep pot, pre heat oil on medium heat to 350°F/176°C.
In a bowl mix the spinach, blueberries, onion and cilantro.
Mix in the chickpea flour, cornstarch, spices and salt. Gently mix in the water.
Scoop tablespoons of batter for each fritter in the oil. Fry each side for 2-3 minutes, until golden brown.
Drain on paper towels and serve immediately with minted yoghurt and a squeeze of fresh lime.
Savoury Blueberry Scroll Biscuits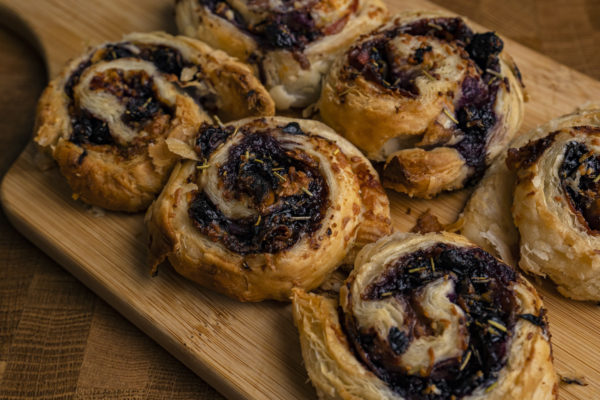 Yields
12 scrolls
Ingredients
1 sheet (225g) Puff Pastry, thawed (keep cold)
2 tbsp (15g) All purpose unbleached flour
2 tbsp (30ml) Roasted garlic, cooled and mashed into a paste (optional)
6 slices (75g) Prosciutto or Serrano ham- thin slices
1 cup (70g) Asiago cheese, grated
¾ cup (110g) B.C. Blueberries, fresh or frozen (do not thaw if using frozen)
1 tbsp (15ml) Lemon zest, finely grated
2 tsp (10ml) Fresh rosemary, finely chopped (or substitute for 1 tsp. dry)
Directions
Once the roasted garlic is prepared, pre-heat oven to 400°F/200°C with oven rack positioned in the centre. Line a large sheet pan with parchment paper.
Dust 2 tbsp of flour on a clean surface, roll out cold puff pastry, turning over to coat in flour, into a 14" x 14" sheet.
Spread the roasted garlic evenly on the cold puff pastry, arrange a single layer of Prosciutto slices, sprinkle evenly with grated cheese, blueberries, rosemary and lemon zest.
Roll the pastry up into a cylinder and cut into twelve 1" discs.
Carefully transfer each disc to the lined sheet pan, lay them on their sides and gently press down to flatten.
Bake in the centre of a pre-heated oven for 20-25 minutes until golden brown.
Blueberry Chutney and Duck Confit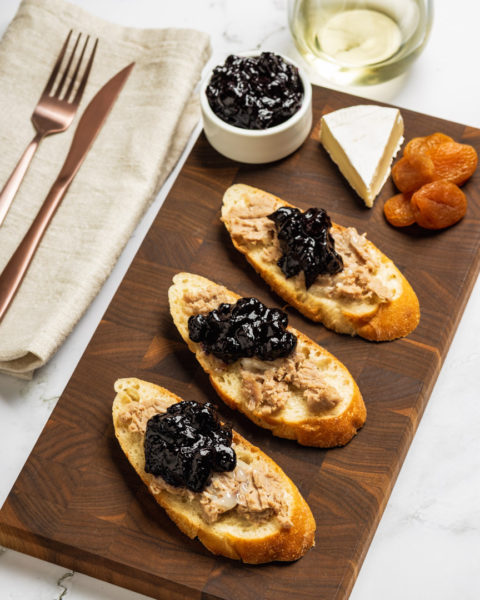 Holidays
Yields
3 cups
Ingredients
4 cups (1 L) frozen or fresh blueberries
1 can (16 ounces) whole berry cranberry sauce
1/4 cup (75 mL) sugar
3 tablespoons (45 mL) balsamic vinegar
1-1/2 teaspoons (7 mL) grated orange peel
1 teaspoon (5 mL) ground ginger
1/4 to 1/2 teaspoon (1 to 2 mL) crushed red pepper
1/4 teaspoon (1 mL) ground black pepper
Directions
In a medium nonreactive saucepan combine blueberries, cranberry sauce, sugar, balsamic vinegar, orange peel, ginger, and red and black peppers.
Bring to a boil; boil uncovered, stirring frequently, until slightly thickened, 15 to 20 minutes.
Pour into clean jars; cover and refrigerate up to 3 weeks, place in canning jars and process according to manufacturer's directions, or place in covered plastic containers and freeze.
Serve with roasted or grilled turkey, chicken or pork, if desired.
From light, healthy treats, through to indulgent dishes, BC blueberries add the perfect natural sweetness to your desserts and baking.
Classic Blueberry Lemon Tea Loaf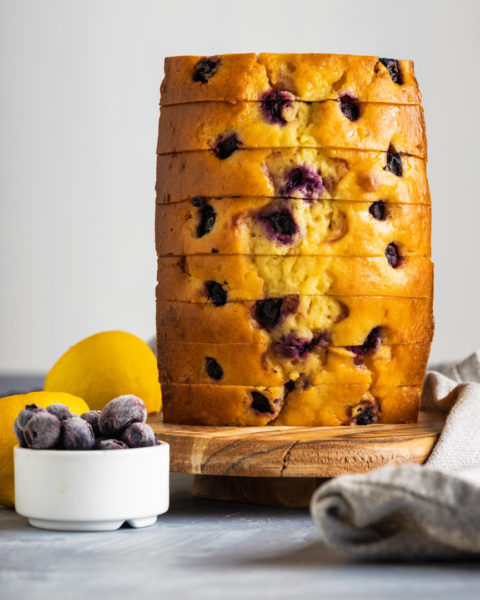 Yields
1 loaf
Ingredients
1.5 cups (200 g) All purpose unbleached flour
1.5 tsp (7.5 ml) Baking powder
1.5 tsp (7.5 ml) Baking soda
¼ tsp (pinch) Salt
1.75 cups (275 g) B.C. blueberries- fresh or frozen, divided in half (mix 1 tbsp of the flour mixture in with the blueberries)
3/4 cup (150 g) White sugar
½ cup (120 g) Unsalted butter (room temperature)
2 (100 g) Large eggs (room temperature)
½ cup (120 ml) 14% Sour cream
1 tbsp (15 ml) Lemon zest
2 tbsp (30 ml) Lemon juice – fresh (*approximately the zest and juice of 1 large lemon or 2 small lemons)
Directions
Pre-heat oven to 350°F/ 160°C
Butter a 9" x 5" x 2.5" non-stick loaf pan.
Combine the flour, baking powder, baking soda, and salt in a small bowl, mix and set aside.
Mix 1 tbsp of the flour mixture in with the blueberries until coated, set aside. (If the blueberries are too dry to coat, then add ½ tsp. of lemon juice so the flour adheres to them.) *This is to stop the blueberries from sinking to bottom of loaf.
In a large bowl, cream together the butter and sugar until light and fluffy, approximately 1 minute.
Beat the eggs in one at a time.
On low speed, alternately mix in the flour mixture, sour cream, lemon zest and juice in three intervals.
Gently fold in half the amount of blueberries.
Pour into the greased loaf pan.
Top with the remaining blueberries.
Bake in the middle rack of a pre-heated 350°F/160°C oven for 45-55 minutes or until cake tester comes out clean.
Cool in the loaf pan for a minimum of 30 minutes, then invert onto a cooling rack.
Slice and serve.
Blueberry Linzer Cookies
Holidays
Yields
24 – 36 cookies
Ingredients
JAM FILLING:
1 cup 150g B.C Blueberries- fresh or frozen
1 cup 165g Sugar
1 pkg 185ml Liquid Pectin/ or ½ pkg.-28g of powdered pectin
1 tbsp 15ml Lemon zest
1 tbsp 15ml Lemon Juice
COOKIES:
2 cups 260g Cake and pastry flour
½ tsp 5ml Baking powder
¼ tsp pinch Salt
1 cup 160g Almonds
¼ cup 40g Sugar
1 cup 240g Unsalted Butter- room temperature
½ cup 80g Sugar
1 large 50g Egg
1 large 15g Egg yolk
1 tsp 5ml Finely grated lemon zest
1 tsp 5ml Vanilla Extract
¼ cup 40g Confectioners' Sugar
Directions
Jam Filling
Starting on a medium heat, in a small saucepan, mash and break down the blueberries using a potato masher. Add the sugar, pectin, lemon zest and lemon juice, raise the heat and bring to a rolling boil for 1-2 minutes.
Set aside and cool at room temperature.
Cookies
In a 350F/160C oven bake almonds until fragrant and toasted, approximately 5 minutes, allow to cool.
Place the cooled almonds and ¼ cup of sugar in a food processer and process until finely ground. Set aside.
In a separate bowl, whisk together the flour, baking powder and salt. Set aside.
In a large bowl, using a hand or stand mixer, beat together the butter and ½ cup sugar until light and fluffy. Beat in the eggs. Mix in the almond/sugar mixture, lemon zest and vanilla.
Mix in the flour mixture in three intervals, do not over mix.
Divide the dough into 2, half-inch thick discs, then wrap tightly in cellophane and refrigerate until chilled and firm, at least 2 hours and up to 2 days.
Place rack in the centre of the oven, and pre- heat to 350F/160C. Line a large cookie sheet with parchment paper.
Remove the dough from the refrigerator and allow to stand at room temperature for 5-10 minutes.
On a generously floured surface, roll out the dough until about ⅛ – ¼ inch thick. Using a 2" or 3" decorative cookie cutter, cut out cookies and place one inch apart on the prepared cookie sheet.
Using a smaller 1" cookie cutter with decorative shape, cut out the centers of half of the unbaked cookies, this will be the top half of the cookie sandwich.
Bake the cookies for 10-13 minutes at 350F/160C until a very light golden. Cookies with cut-outs (for the top) will bake slightly quicker. Allow to cool.
Repeat with the remaining dough.
Sprinkle icing sugar over the cut-out tops of the cooled cookies.
Dollop approximately 1 tsp of the blueberry jam filling in the centre of the bottom halves of the cooled cookies.
Top with the sugared, cut out cookies and gently sandwich together.
Cookies can be stored in an air tight container for 2-4 days, however best assembled to the day of consuming.
Blueberry Mincemeat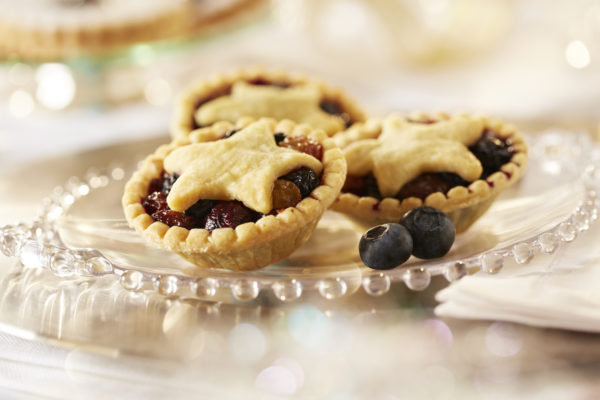 Holidays
Yields
6 cups
Ingredients
1 ¼ cups 225g sultana raisins
1 ¼ cups 225g golden raisins
½ cup 85g dried cranberries
1/3 cup 80g mixed candied citrus peel
½ cup 125ml brown sugar
½ cup 125ml margarine or butter, softened
1 tsp 5 ml grated lemon rind, yellow part only
2 Tbsp 30ml brandy
1 Tbsp 15ml lemon juice
1 tsp 15ml ground cinnamon
½ tsp 2.5ml ground cloves
½ tsp 2.5ml ground ginger
½ tsp 2.5ml ground nutmeg
4 cups 1L BC Blueberries, fresh or frozen
Directions
Combine first 13 ingredients in a large mixing bowl.
Stir in blueberries, and let mixture sit overnight in the refrigerator to allow flavours to combine, and raisins to plump.
If not using immediately, either pack closely in sterilized jars and process, or freeze.
To use, spoon into pre-made pie shells and bake for approximately 20 minutes.
Savoury or sweet, BC blueberries are a great choice for sauces, chutneys, vinegars and jams
Blueberry Sauce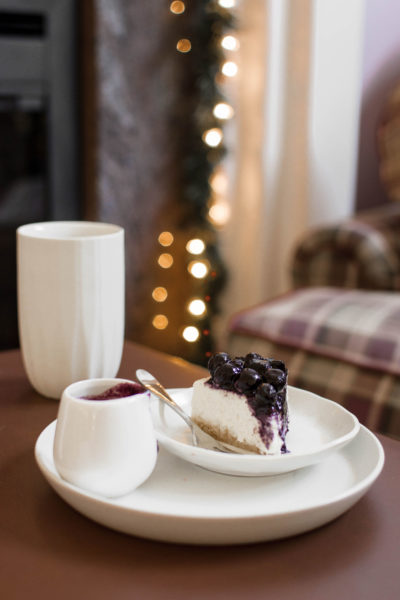 Kid Friendly Dairy Free Gluten Free
Yields
2 cups
Ingredients
2 cups fresh or frozen blueberries
2 tablespoons sugar (or other granulated sweetener)
1 tablespoon each lemon juice and water
Directions
In a medium-size saucepan, over medium heat, stir blueberries with sugar, lemon juice and water until berries are soft, about 5 minutes; chill.
About BC Blueberry Council
The mission of the British Columbia Blueberry Council is to enhance the viability and strategic development of the blueberry industry through promotion, research, industry education and relationship building.
Information, recipes and images provided by Brooklynn Doucette, Town Hall Brands. Feature image: Holiday Winter Frozen BC Blueberries. Photo credit: Rhonda Dent Photography