"A boat beneath a sunny sky, Lingering onward dreamily In an evening of July"
A Boat Beneath a Sunny Sky by Lewis Carroll
For BC Wine lovers this is an exciting time of the year! So many new releases to discover and enjoy. Featured here three new delectables from Stag's Hollow.
Notes from the winery: "We've been off to a bit of a slower start in the vineyard this year with some cooler temperatures and seemily a bit more rain than is normal for the spring in the Okanagan. However, every vintage comes down to September and October, so we're still in good spirits. The vineyard crew is busy shoot-thinking as we wait for flowering which should begin in the next week or so, provided we get some warm sunny days."
June Releases:
2021 Pinot Gris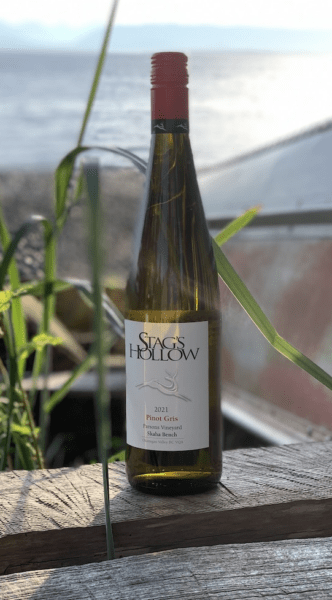 Wine Profile
Tasting Notes
On the nose, our Pinot Gris shows off an alluring combination of white peach, ripe apple, honey, jasmine and a hint of citrus. The palate is textural and balanced. Notes of tart green apple, honeydew melon, ginger and spice complement the off-dry sweetness of the wine beautifully, and linger on the finish. A wine that has something for everyone, and will pair nicely with a variety of dishes.
Production Notes
Fruit from this block was hand-harvested in 2 picks, almost exactly a month apart: the 1st for acidity and brightness, the 2nd for richness and flavour. Lot #1 was pressed and cold-settled for 48 hours, before being racked and split between a stainless steel tank and several stainless steel barrels, warmed and inoculated. Lot #2 was cold-settled for 24 hours, and then racked into 4 500L French Oak barrels (2nd fill), warmed and inoculated. After a partial malolactic fermentation and 5 months of regular batonnage, all 3 lots were blended, together stabilized, filtered and bottled.
Winemaker Notes
Similar in style to the previous 2 vintages, this wine is an homage to Alsacian Pinot Gris. Rich & textural, yet bright with warm spices. In 2021, we harvested this block in 2 separate picks: one early and one as late as we could push it. As with the previous vintages, we were looking to capture the classic tree fruit character of Okanagan Pinot Gris, with bright acidity, but balance it out with honeyed and spiced characteristics that develop from longer hang time and slight raisining. Combined with a range of fermentation and ageing vessels, I think the blend strikes a nice balance of weight, sweetness and acidity.
Food Pairing Notes
Classic: white meats (chicken or veal) with creamy mushroom sauces, foie gras, any smokey foods or sauces, smoked salmon, pâtés, rich game birds, spicy chicken and pork dishes (like Chicken tikka masala), Thai curries with coconut, and warm & meat curries. Adventurous: strongly-flavoured dishes (venison).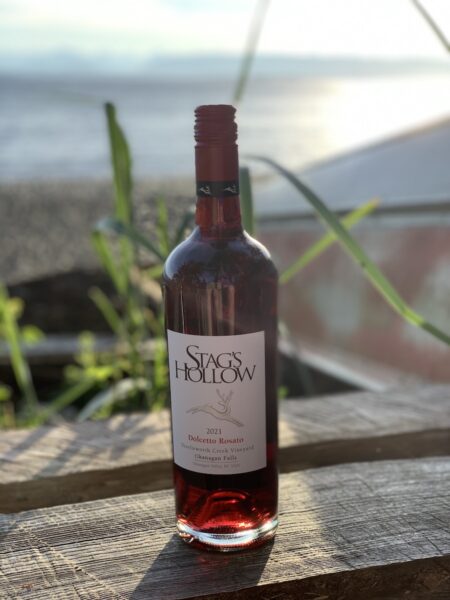 Wine Profile
Tasting Notes
Don't let its electric magenta colour fool you–this rosato is drier, more savoury and fuller in flavour than most of its paler rosé counterparts. Driven by Dolcetto's intense varietal character, the nose is bursting with red fruit, wild flowers, earth, spice and herbs, with each sniff offering something new. The palate is dry, textural and savoury, with lively cranberry-like acidity and just a touch of structure.
Production Notes
Four bins of hand-harvested fruit from our older block of Dolcetto were foot stomped, and then sealed up for 5 days of cold maceration. After the cold soak, the bins were pressed directly into a concrete tank (full solids) and inoculated with a selected yeast. Once the primary ferment finished, the wine was racked off of its lees, into stainless steel, where it was stabilized, filtered and bottled.
Winemaker Notes
In 2020, we really wanted to push the boundaries of what we expect of Okanagan rosé, and produce something vibrant, structural and food-friendly. Dolcetto seemed like the perfect fit, because of its natual acidity, and the colour we were able to achieve with extended cold soaking is absolutely stunning. Back with its second vintage, upon popular demaind, this is certainly on the serious, more savoury side of rosés. The 2021 is a touch more pigmented and slightly earthier than 2020, but equally as satisfyingly savoury and delicious.
Food Pairing Notes
Classic: cured meats, beet salad, grilled salmon. grilled meats (steak, tenderloin or even skirt steak tacos), seafood (especially grilled), antipasti & fried appetizers. Adventurous: Lebanese dishes, spicy Indian food, hamburgers, and even dessert! Adventurous: Lebanese dishes, spicy Indian food, hamburgers, and even dessert!
2021 Albariño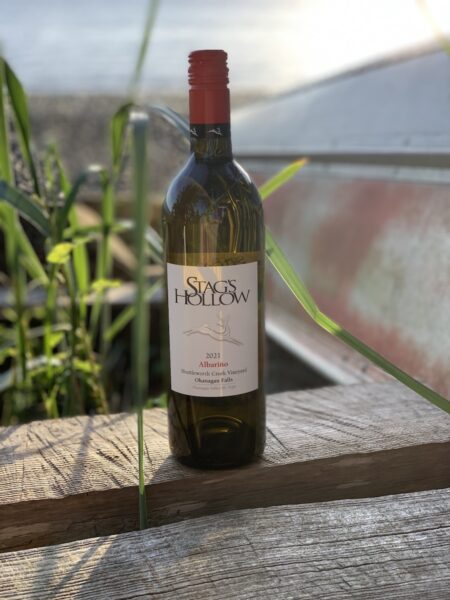 Wine Profile
Tasting Notes
The nose shows vibrant notes of ripe stone fruit, lemon curd, pineapple, mango, grapefruit and honey. The stone fruit and citrus (particularly the peach, lemon & lime) notes carry through to the palate, which is generously rich and textural from the extended lees contact, but balanced by an abundance of mouth-watering acidity. The finish is refreshingly dry and mineral-driven, with lingering salinity.
Vineyard Notes
Shuttleworth Creek Vineyard – Okanagan Falls (gravels, glacial till & silty loam)
Production Notes
The fruit hand-picked and hand-sorted, destemmed, and lightly crushed before being pressed. A small portion of the fruit was crushed into a picking bin and allowed to spontaneously ferment on skins for 5 days before being pressed into a stainless steel tank. Of the pressed juice, a portion was racked, after 12 hours of settling, into stainless steel barrels and French oak barriques (1 new, 1 3rd fill & 2 4th fill). The remaining portion settled a further 24 hours and was transferred into 2 concrete tanks. These inoculated ferments were kept cool (12-14°C), monitored closely, and all were aged on their lees with frequent stirring to build texture. After 6 months, the lots were blended, stabilized, filtered and bottled.
Winemaker Notes
The goal with this wine was to build a richly textural wine that was true to its varietal character, but also complex and intruiging, and I think we achieved it. On the complexity front, we experimented with a small amount of skin contact and spontaneous fermentation, and I believe this had a really positive impact on the depth and texture of this wine. Interestingly, as this block has matured, we've found that the salinity that Albariño is so known for worldwide has become increasingly pronounced with each new vintage.
Food Pairing Notes
Classic: seafood (oysters, crab, prawns, shellfish, grilled white fish…you name it!), seafood pastas & risottos, light & creamy cheeses, goat's cheese. Adventurous: sushi & sashimi, ceviche, Vietnamese dishes, Thai dishes, Caribbean/Cajun dishes, pickled food.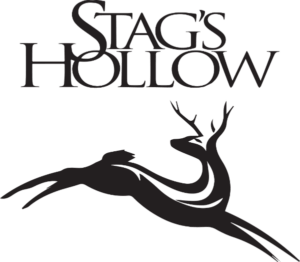 Wine profiles courtesy of the winery. Images: MyVanCity. I received complimentary wine to facilitate this feature.