"In this series, I will be sharing my take on which Wines pair well with some inspirational recipes"
This is one of my "go to" dishes when the weatheer gets cold or stormy. Ideal for those long winter nights in January. This is a dish that fills you up, a comforthing dish that is best for family.
The dish is delicious and calls for an equally delicious, rich red wine. For this pairing I selected the Hester Creek 2021 Select Vineyards Cabernet Merlot.
2021 SELECT VINEYARDS CABERNET MERLOT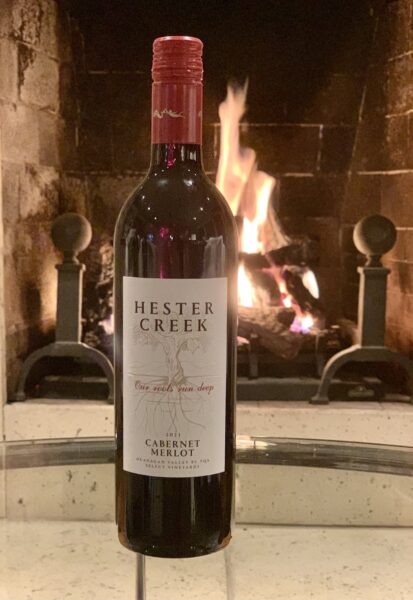 WINE PROFILE
Tasting Notes
Bold yet approachable, our Foundation Series Select Vineyards Cabernet Merlot shows enticing aromas of clove, sandalwood, sage and blackberry. These lead to a full palate of ripe black fruit, roasted espresso, and light vanilla tones, ending with a round and pleasingly long finish. A robust red that is a great companion for grilled foods, enjoy with BBQ pork chops, smoked ribs or try a lentil sauté.
Winemaker Notes
An enticing Bordeaux style wine, this vintage is made with handpicked grapes from our estate vineyard along with select farms south of Oliver and in Osoyoos. Approximately 2/3 Cabernet Franc and Cabernet Sauvignon and 1/3 Merlot, the Merlot was harvested first, this year in late September, with the Cabernet varietals picked last in late October and early November. The Cabernet Sauvignon provides a solid framework, the Cabernet Franc contributes the structure and elegance, and the Merlot adds a nice roundness to the blend. All the fruit was hand-picked, meticulously sorted, destemmed and fermented on the skins. After a gentle pressing and malolactic fermentation the lots were blended and then spent an additional 8 months aging on fine lees with 75% in French oak and 25% American oak.
A heavy, rich red with cacading aromas that range from ripe blackberry to leather to tobacco. Just what you would want from a winter wine.
Deep notes of complex dark fruits, medium tannins. Good depth and nicely lingering on the palate. A fairly heavy bodied wine that matches well with the beef broth, short ribs and the winter vegetables.
Braised Short Ribs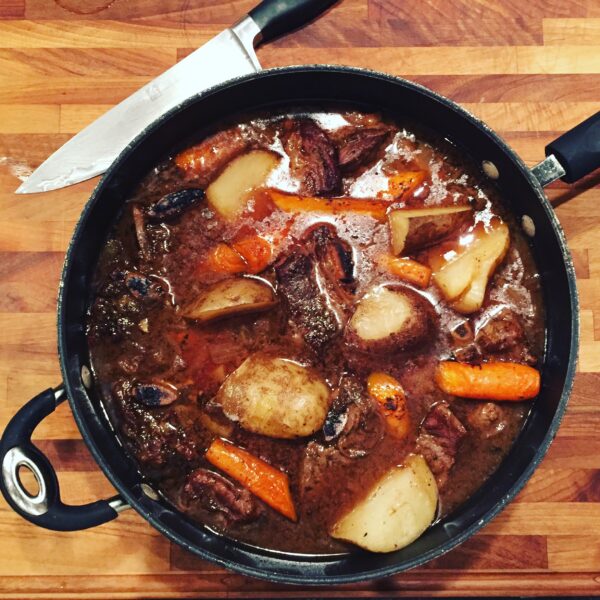 Ingredients
bone-on beef short ribs (1 lb per person)
onions, sliced
carrots, cubed
turnip, cubed
potatoes, quartered
green beans
beef bouillon
soy sauce
worchestershire sauce
salt and pepper
Method
Braise the short ribs in a hot pan, browning on all sides, and set aside.
Add the onions and fry until they start to turn golden and caramelized.
Add two cups of water to the pan with the onions deglaze and scape any bits from the bottom of the pan.
Add a couple of dashes of soy sauce and 4 or 5 dashes of the worchestershire sauce and one tablespoon (or one packet) of beef bouilion for each cup of water.
Add the braised ribs to the pan
Salt and pepper to taste.
Place is a pre-heated 300 degree oven. As beef browns turn it over in the broth and return to oven. Slow bake for 3 to 5 hours adding the turnip and carrots one hour before serving, potatoes 45 minutes before serving. Steam green beans separately and add just before serving.
Serve broth on the side, or save it for soup.
JOIN US FOR OUR NEW VIDEO SERIES FEATURING THE PEOPLE AND WINES OF HESTER CREEK
– FROM OUR KITCHEN TO YOURS, VIRTUAL COOKING CLASSES –
– FROM OUR CELLAR TO YOURS, VIRTUAL TASTINGS –
– FROM OUR VINEYARD TO YOU –
Wines notes courtesy of the winery. My notes (in bold italics) This wine was featured previously, read that article here.
#ChefLifeShared