January is for many a month of new beginnings so it also follows that this is a good time to try new wines. This week the opportunity presents itself to taste and enjoy three wines from Township 7.
Always a favourite, especially their delightful sparklings, which have been featured many times, but this month it's down to business with their Chardonnay (perfect with Braised Scallops) their Merlot (ideal with any hardy winter soup) and their Cabernet Sauvignon (the undisputed pairing for a Standing Rib Roast).
You get the picture, chase away any January blues by enjoying the occasional, and sometimes stormy winter nights, by pairing the right wine with comfort food! These three wines lend themselves to chilly nights and your favourite dish. Enjoy!
2020 Chardonnay 

100% Chardonnay
Okanagan
TASTING NOTES
Our fresh and elegant Chardonnay displays fragrant Ambrosia apple, pineapple and citrus blossom aromas, with a hint of spice. The palate is dry yet round, and as it develops builds in richness and intensity. Flavours of vanilla bean, peach and bright citrus are followed by a lingering finish.
STYLISTIC NOTES
This well integrated Chardonnay was predominantly sourced (75%) from Hidden Terrace vineyard in Oliver with small additions from other select sites including our Naramata Bench Estate. Half the wine was fermented in French oak barriques (225L neutral barrels) with the remaining 50% in stainless steel. A 7 day fermentation at 18°C, contributed to a roundness of texture. The wine in barrel then underwent malolactic fermentation to further enhance the texture and complexity, while the stainless-steel portion maintained the natural acidity.
FOOD PAIRING
Serve with grilled citrus spiced chicken wings or a savoury peach tart with goat cheese.
$25.97 available online and at the winery
2020 Merlot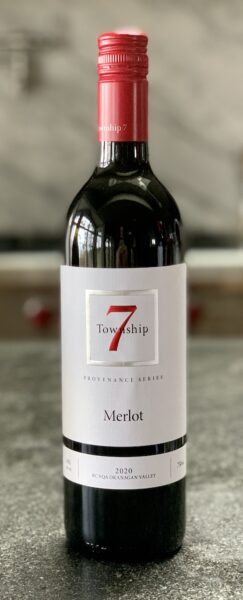 100% Merlot
Okanagan
TASTING NOTES
This Merlot is laced with red cherry, plum and spicy aromas of tobacco leaves, cocoa, and vanilla. The three terroirs add complexity and depth to the wine finished with barrel aging to soften tannins and enhance age-ability.
STYLISTIC NOTES
This vintage was crafted with Merlot from our North Oliver Bench's Blue Terrace Vineyard and Front Yard Vineyard in Naramata. In Oliver the rich, rocky soils provide a foundation for superior grape quality. The grapes from the Naramata Bench add complexity and dimension to the blend. Two to three weeks of maceration time which included remontage, pipeage and pulsair treatments, resulted in wine with rich fruit extraction and satisfying tannins. Aged in American and French barrels for 18 months adds caramel and vanilla notes which mellow the mouthfeel.
$29.97 available online and at the winery
2020 Cabernet Sauvignon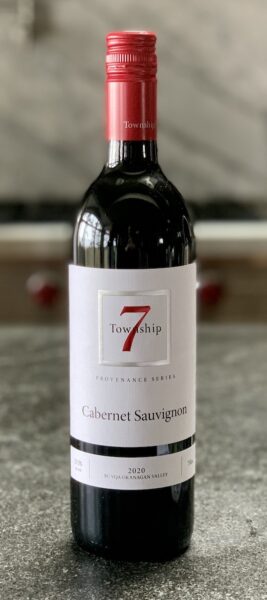 NEW VINTAGE RELEASE
100% Cabernet Sauvignon
Okanagan
TASTING NOTES
Crafted with fruit from our Oliver estate and a long time grower in Osoyoos, this full-bodied Cabernet Sauvignon displays abundant aromas of black currant, cherry and caramel, along with light herb and cedar notes. The blend of terroirs delivers a compelling wine of complexity with a hint of minerality on the palate.
STYLISTIC NOTES
This vintage was crafted with 100% Cabernet Sauvignon from our estate Blue Terrace Vineyard in Oliver with the remainder from Raju Vineyard in Osoyoos. The Blue Terrace grapes have a rich fruit profile to balance the intense tannins from the Raju fruit, located close to the US border. A 21-day maceration period with varied cap management promoted rich fruit and tannin extraction. Gentle pressing and subsequent malolactic fermentation in primarily French oak barrels (1/3 of which were new), enhanced softening of the mouthfeel.
FOOD PAIRING
Try with full-flavoured dishes such as braised beef short ribs or a grilled Portobello burger with sun-dried tomatoes and crumbled blue cheese.
$33.97 available online and at the winery
VINTAGE REPORT
This year brought just about everything mother nature could throw at us, although on balance turned out quite well. Cool, wet weather in the spring delayed bud burst about 7–10 days behind typical. Heavy rains during flowering interrupted pollination, leading to a poor fruit set. This became a defining feature of the vintage, with eventual yields down 20-30% from average. The humidity was higher than normal in June and early July causing some early disease pressure. However, July and August saw hot, dry weather, allowing ripening to catch up from the delayed start. Smoke generated from western United States wildfires drifted north to our region, at one point giving us almost 5 days of uninterrupted heavy smoke cover. Not only was this a scare for potential smoke taint, but also a possible loss in photosynthetic capacity of the vines. Luckily, blue skies soon reappeared and led to a warm, dry autumn. Veraison during this period was drawn out and seemed to be the longest we can recall in many years. This ultimately culminated in a very good balance between Brix and acids for the harvest.
The first frost was recorded in colder areas on October 16, and a significant snowfall on October 23. Vineyards in close proximity to the heat of Okanagan Lake were not affected by either of these events, and fortunately by this time, most of the harvest was complete.
The year had average growing degree days of about 1600. On the Naramata Bench, there were few summer heat spikes, with only one day where temperatures reached 40°C. The majority of the days were in the high 20's or low 30's, perfect for even ripening of vinifera grapes. Harvest began slightly later than average on September 3rd with Chardonnay from Oliver for our sparkling wine program. We finished harvesting with Cabernet Franc from Oliver on November 2.
Overall, the grapes from this harvest were really nicely balanced, with good acidity and slightly lower sugar levels, making for wines with excellent balance, finesse, and ageability. However, lower yields meant that there is not as much wine made as we would have hoped.
South Langley/Fraser Valley
T: 604-532-1766
21152 16th Avenue (at 212th), Langley, BC
Open 11am-6pm Daily
Reservations recommended for wine tastings.
BOOK A RESERVATION
Naramata Bench/Okanagan Valley
T: 250-770-1743
1450 McMillan Ave., Penticton, BC
Jan.1 – Feb.8: CLOSED
Open 11am-5pm Thursday – Sunday
Beginning February 9, 2023
Reservations recommended for wine tastings.
BOOK A RESERVATION
For more wine pairing ideas and dishes check out #ThisWineThatDish Wine notes courtesy of the winery. I received complimentary wine to facilitate this feature.