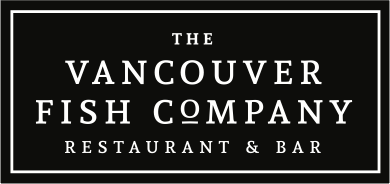 This week The Vancouver Fish Company launched an exceptional new 3-course, Dine Out Menu available for only $59.
The new Dine Out menu is available starting Wednesday, February 1 and features premium ingredients with each plate such as whole Lobster, Sablefish, Lingcod Pakora, Brant Lake Wagyu Sirloin and more, all for excellent value. Crafted by Chef Matthew Blais, guests are able to select their courses from a variety of menu options.
Vancouver Fish Company Dine Out 2023 Menu
Available from 11:30am Jan 20th through Feb 5th!
$59 / person – please select one item from each course
Course – Starters
Chicken Fried Sturgeon
buttermilk brined Northern Divine sturgeon, special spice, ranch dip
…suggested wine pairing: Joie Farm Winery | Noble Blend, Okanagan Valley, Canada ◊ 5oz • 13 | 8oz • 19.5 | btl • 59
Mushroom Salad
locally foraged & cultivated mushrooms, kale, parmesan, puffed rice, buttermilk vinaigrette
…suggested wine pairing: Bench 1775 | Glow Rosé, Okanagan Valley, Canada ◊ 5oz • 12 | 8oz • 18 | btl • 54
Lingcod Pakora
salted lingcod & potato pakora, celeriac, cilantro, apple & jalapeno chutney
…suggested wine pairing: Bench 1775 | GewÜrztraminer, Okanagan Valley, Canada ◊ 5oz • 14 | 8oz • 21 | btl • 62
Bison Tartare
cold smoked bison, shallot, capers, Avonlea cheddar, cured yolk, garlic bread
…suggested wine pairing: Scorched Earth | Pinot Noir, Okanagan Valley, Canada ◊ 5oz • 15 | 8oz • 22.5 | btl • 68
Mains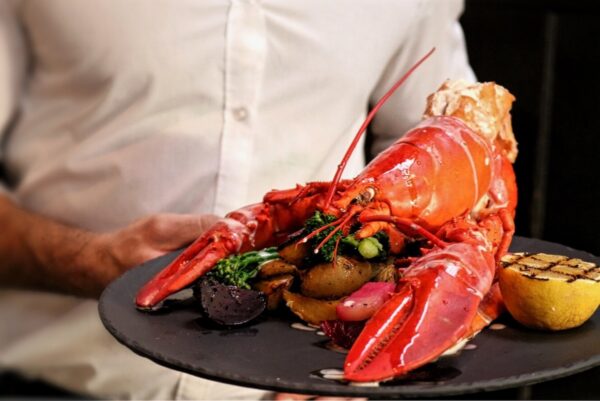 Nova Scotia Lobster
steamed whole lobster, roasted potatoes, cauliflower, brussels sprouts, chard, beurre blanc, drawn butter, grilled lemon
…suggested wine pairing: Joie Farm 'En Famille' Reserve | Chardonnay, Okanagan Valley, Canada 5oz • 16 | 8oz • 24 | btl • 79
Sablefish
adobo marinated sablefish, Kabocha squash purée, roasted cauliflower, Brussels sprouts, chermoula, pepitas
…suggested wine pairing: Phantom Creek | Pinot Gris, Okanagan Valley, Canada ◊ 5oz • 15.5 | 8oz • 23 | btl • 76
Scallop & Wild Mushroom Risotto
seared Hokkaido, maitake, oyster and chanterelle mushrooms, puffed quinoa, parmesan, chives
…suggested wine pairing: Le Vieux Pin 'Ava' | Viognier, Okanagan Valley, Canada ◊ 5oz • 16.5 | 8oz • 24 | btl • 82
Brant Lake Wagyu Sirloin
Brant Lake sirloin, potato rösti, maitake mushroom, swiss chard, roasted cauliflower, bone marrow butter
…suggested wine pairing: Poplar Grove | Syrah, Okanagan Valley, Canada ◊ 5oz • 17 | 8oz • 25.5| btl • 86
Desserts
Berry Crème Posset
preserved summer berries, brown butter shortbread, shaved cocoa
Pumpkin Sticky Toffee Pudding
bourbon caramel, candied walnuts, sunchoke chips, sourcream whip
Add ons
avocado $2.99
scallops $21.99
fries $4.99
garlic bread $4.99
prawns $15.99
salmon $21.99
truffle fries $7.99
Brussels sprouts $9.99
+1 604 559 3474
info@nullvanfish.com
Contact Info
1517 Anderson St.
Granville Island,
Vancouver, BC
V6H 3R5
Canada
Opening Hours
Sat & Sun: 11:30am – late
Mon – Fri: 11:30am – late
Follow Us
Facebook
Instagram
Tripadvisor