From May to September, The Paisley Notebook founder, Aman Dosanj, is launching her seventh instalment of intimate, thought-provoking pop-up experiences aimed at bringing communities together.
SOURCED is a naturally constructed feast that reimagines how we eat. Following the growing seasons, each hyper-local 4-course dinner reflects the bounty of organic ingredients from the Okanagan Valley with an ever-evolving table-at-the-farm. Whether serving Coorg-style pandi hailing from the Indian state of Karnataka (sour slow-cooked pork with Kachampuli vinegar), Bengali jhal muri street snack (an explosion of textures and flavours with puffed wild rice) or Keralan meen pollichathu (marinated Pacific fish blindly grilled inside a banana leaf), the idea is to highlight the delicious possibilities with Indian flavours using Canadian ingredients sourced from the land and sea.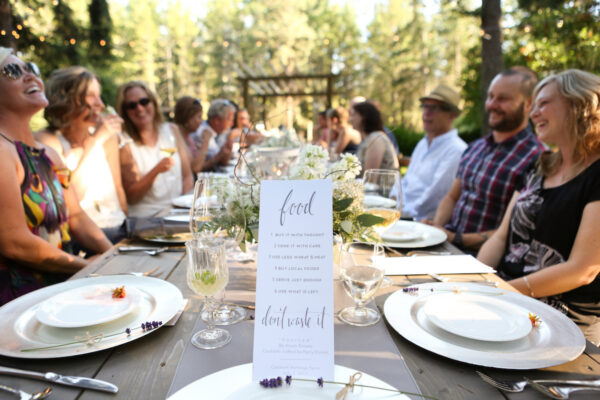 "My farmers are my superhero power," said Kelowna-based Aman Dosanj. "In a way, my cooking style takes things back to how food used to be—before herbicides and pesticides ran rampant in India's agricultural systems. Using fire and minimal equipment is reminiscent of how they still cook in villages."
From commissioning custom-made clay pots and re-thinking the definition of single-use to dehydrating wine lees for Holi to remind guests about the importance of seasonal workers to the Canadian wine industry, part of the project uses sustainability practices to strengthen ties with Indian culture.
"This year, the stories of the surprise menus dive deeper," the chef explained. "I've been researching the ancient cuisine of Multan, on the Pakistan side of Punjabi. Multan was a major trading hub, so one-pot cooking and self-stable foods were essential for survival in hot desert lands. While Punjab, India, used to be about 70% vegetarian, Punjab, Pakistan, was the opposite. Any conversation about Punjabi cuisine should start by asking which side of the border." 
SOURCED 7.0 Schedule: 
Tickets for all beverage-paired dinners are $160 per person (plus GST). Email aman@nullpaisleynotebook.com to book. Space is limited and early bookings are recommended. Due to the nature of pop-up events, tickets are non-refundable but transferable.
For more information on The Paisley Notebook, visit paisleynotebook.com.
About The Paisley Notebook 
Aman Dosanj is a former footballer (soccer) who made history as the first British South Asian to represent England at any level. From footballer to culinary entrepreneur, the Okanagan-based entrepreneur is known for her ability to educate, connect and tell stories with The Paisley Notebook. Working closely with organic farmers and local producers, Dosanj curates magical pop-up dinner experiences directly across the Okanagan Valley rooted in Slow Food philosophies and social justice work. Since 2017, the project has raised $70,000 for Canadian charities with small acts of kindness. After winning the best 'Culinary Tourism Experience' at the 2018 Canadian Tourism Industry Awards, The Globe & Mail listed the self-taught chef as one of the country's next star chefs in 2020. Dosanj is also and the founder of her own Indian spice blend line, and a freelance food and travel writer who regularly contributes to ELLE Canada, Chatelaine, Quench Magazine and enRoute (Air Canada).
This March, her hometown of Southampton, England, unveiled a statue to commemorate her sporting achievements and ongoing anti-racism activism: Dosanj is only the fourth female sports personality with a statue in England.
Media release, video and images courtesy of Aman Dosanj, The Paisley Notebook. photo credits: Jessica Zais Photography.