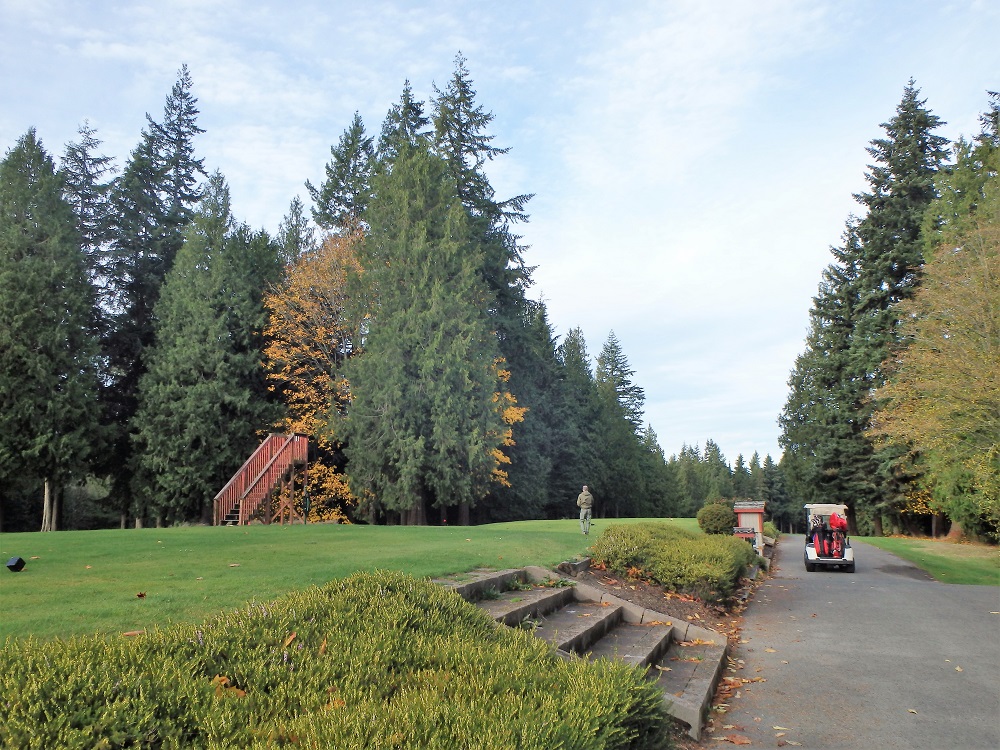 While we've always loved golfing in the state of Washington, we hadn't really thought of the Tulalip Resort Casino as a base for a golf getaway until we received an invitation to explore the option.
Situated about 81 km (50 miles) north of SeaTac International Airport in Seattle, 93 km (58 miles) south of Bellingham International Airport, or about 166 km (103 miles) south of Vancouver, just off Interstate 5 on Quil Ceda Boulevard, it's easy to access.
For us, Tulalip Resort Casino hadn't been an obvious choice because we don't gamble often. As French novelist Marcel Proust said, "The real voyage of discovery consists not in seeking new lands but seeing with new eyes." (Founder and my editor at myvancity.ca Valerie van der Gracht has written many glowing posts about Tulalip Resort Casino. She urged me to check it out personally, and what a discovery it was!)
We golfed at Kayak Point Golf Course which is a beautifully appointed club found just 19 km (11.8 miles) away after a scenic drive. The course was selected by Golf Digest as one of "America's Top 50 Public Courses to Play" and offers golfers of varying skill levels a fine outing. The back tees offer a total of 6,719 yards while the forward tees total 5,332 yards. With views of the Olympic Mountains, the sloping fairways are sculpted within an old growth forest of alder, fir and cedar.
Onsite, in addition to the championship layout, you'll find full practice and teaching facilities, stocked pro shop, restaurant and banquet facilities, and accommodating and friendly staff. There's a lovely residential area close by, however, no homes or roads border the course, so you can find your Zen in the 260 acres of rolling forest and wetlands. As to those wetlands, you'll enjoy the birds and wildlife while only having to contend with water hazards on two holes. Kayak Point is open year-round and offers tempting seasonal rates. On our November golf date, we initially teed off alone and felt like it was our own private course. Later, a guy playing alone caught up with us and turned out to be extremely helpful as a seasoned and fun-loving member in guiding our aim in relation to the course contours.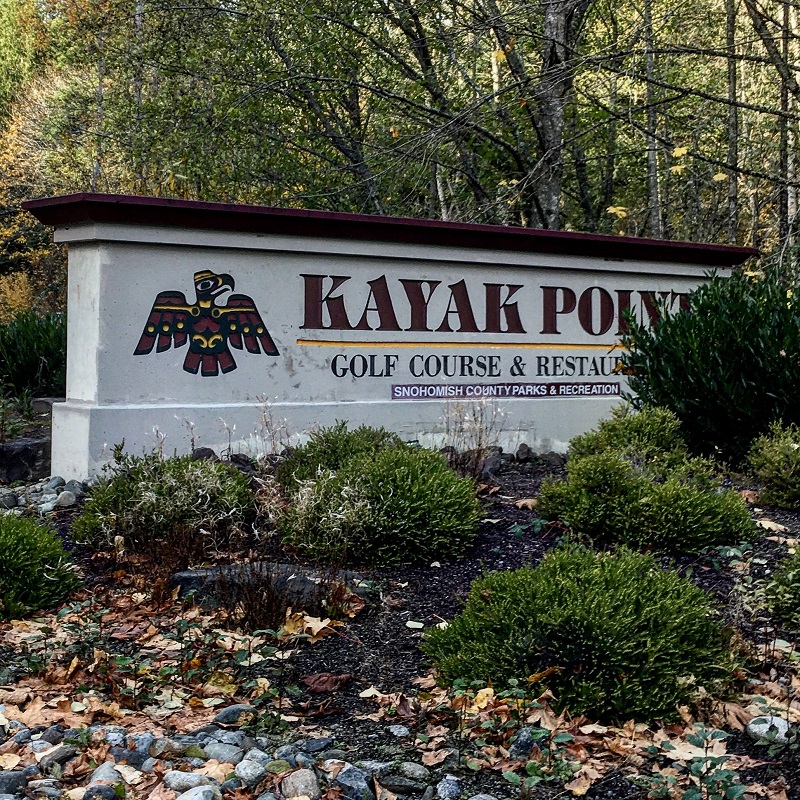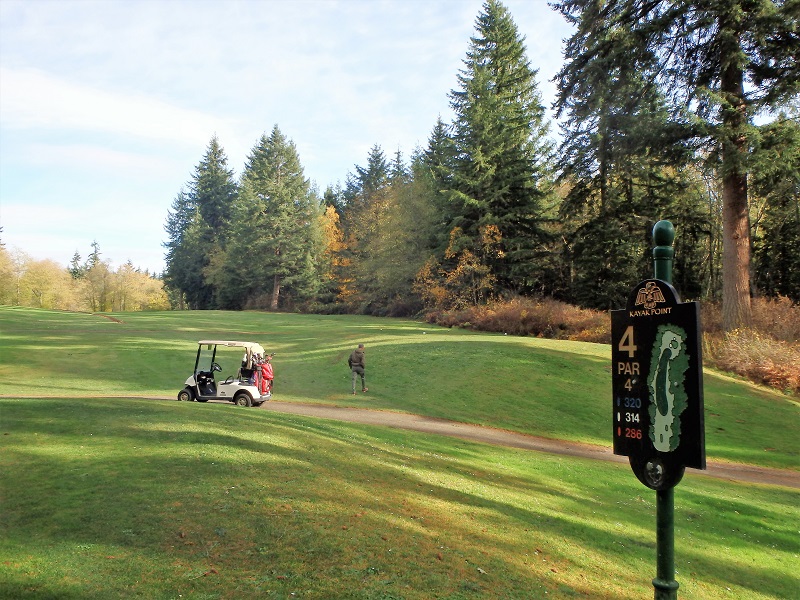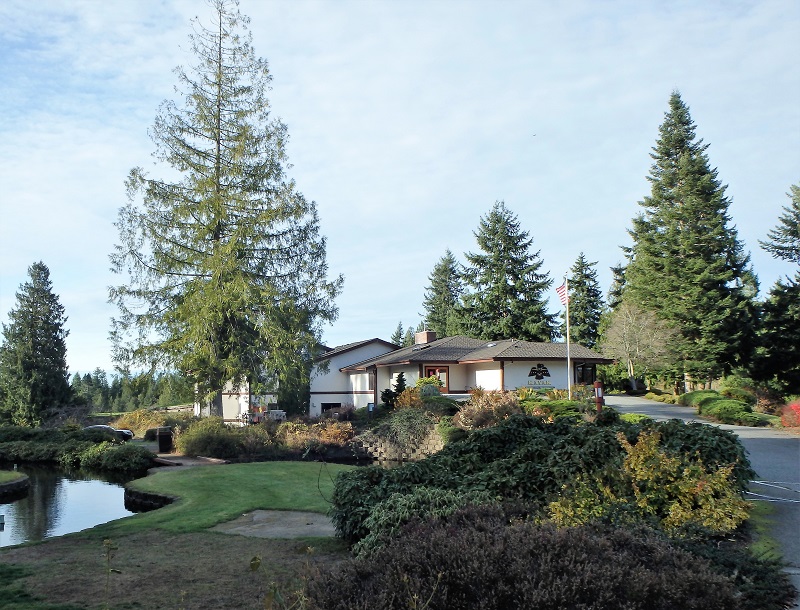 Our Proust-worthy "voyage of discovery" occurred within Tulalip Resort Casino. While the outside main entry hinted at the fabulous works of Native art you experience within the complex, inside the juxtaposition of warm tones of cedar, slates and browns with the bold reds and blacks of the Tulalip Tribes was stunning. With "new eyes" we feasted on lavish displays in every area from the lobby, reception, shops, restaurants, casino, recreational and spa facilities, hallways to the rooms and felt the rare privilege to stay inside an amazing art exhibit of NW Native tribes.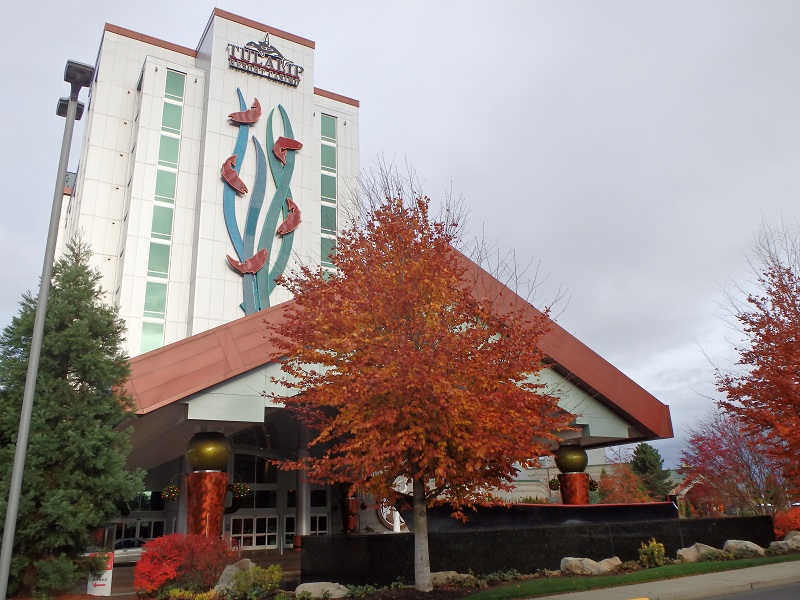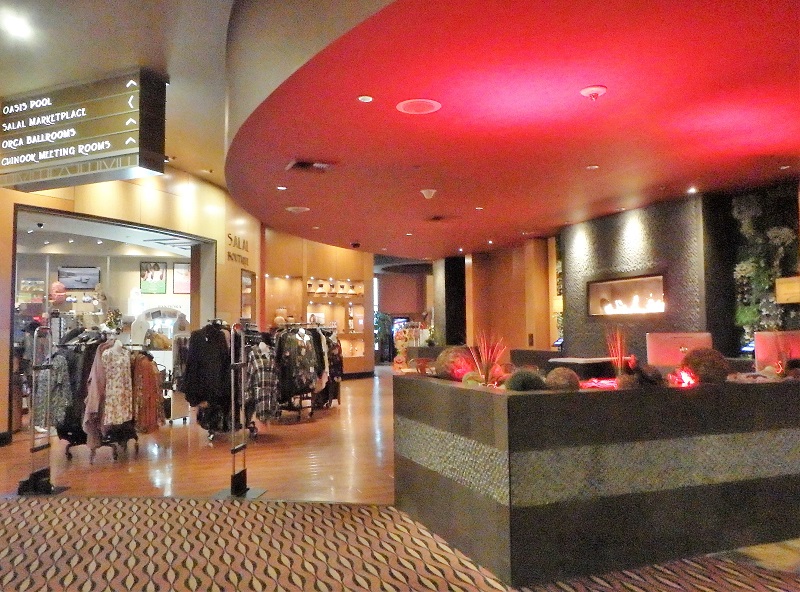 Our discovery was deeply enhanced by the story woven into the displays and into a pamphlet "Welcome to the journey of the Tulalip people" found in our room.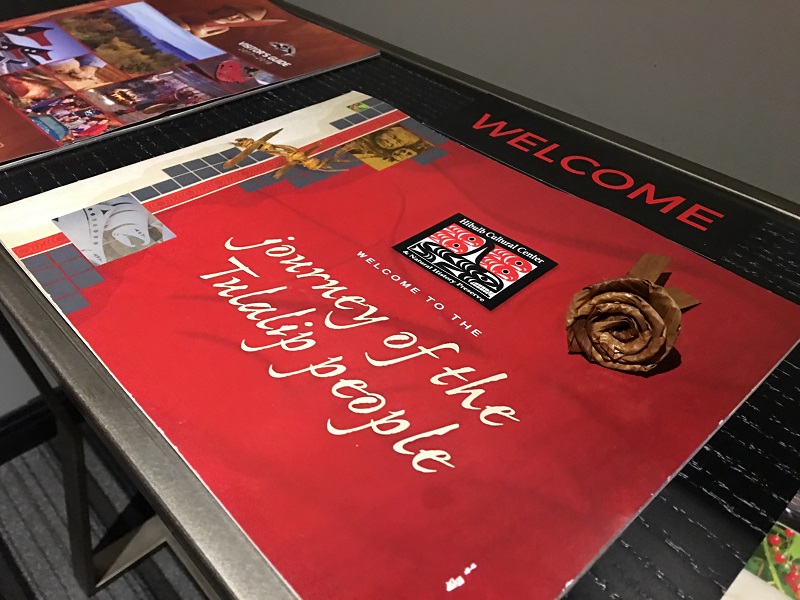 A perfect complement to a golf getaway is the T Spa presented at the Tulalip Resort Casino as "the ideal location to balance mind, body, heart and spirit". T Spa is a world class, luxurious and tastefully-appointed sanctuary offering a full regime of services. Guests can opt to indulge in body treatments, hair styling, manicures and pedicures, skin therapies, deep tissue stress relieving massages and native inspired spa rituals.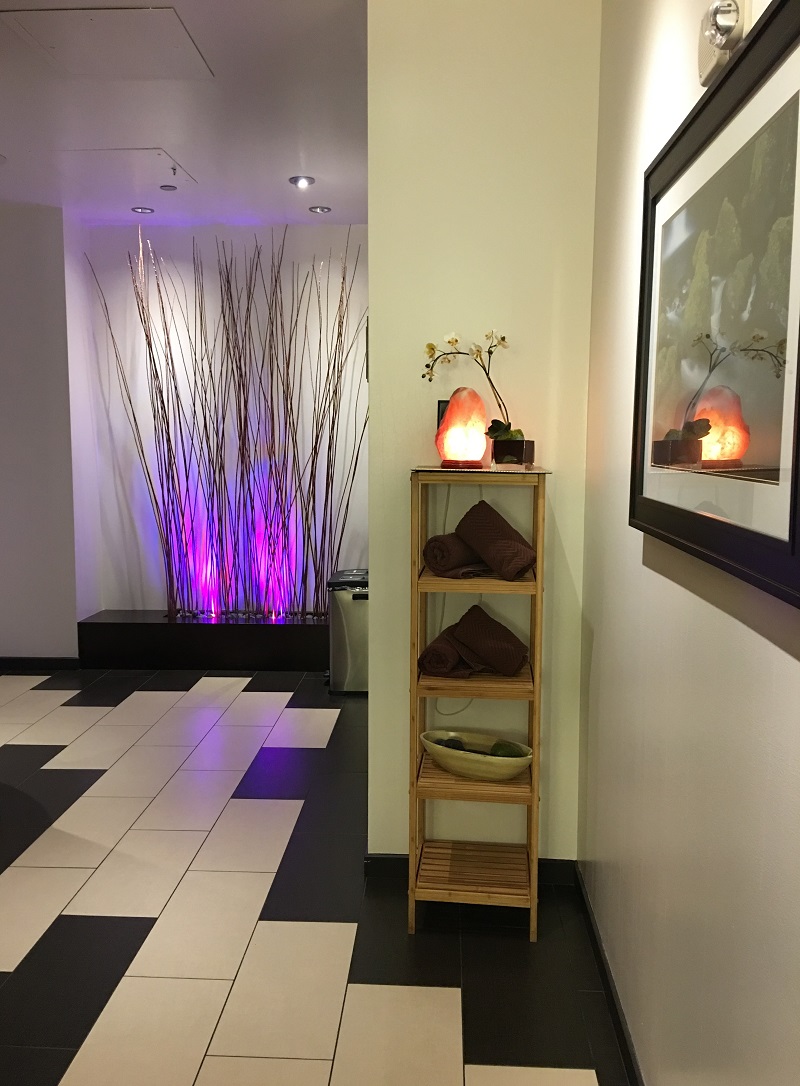 My husband and I were treated to the River Rock Hot Stone massage. It was Mark's first massage and probably not his last as his therapist worked out his aches and stresses successfully bringing him to that warmth of inner peace and relaxation one strives for in such pampering. Also, located in T Spa is the state-of-the-art fitness facility, lounge areas to relax, Eucalyptus steam rooms, cedar saunas and grotto showers to add to your renewal. What a great way to hone your body and mind for another golf round!
Of course, you'll need to refuel for your game, and outstanding options to grab a bite or to experience fine dining are part of Tulalip Resort Casino's many features. We met our host in Destinations Lounge – the hotel lobby bar – for artisan cocktails and predinner appetizers such as vegetable platters with tapenades, dips with crostini, and lettuce wraps.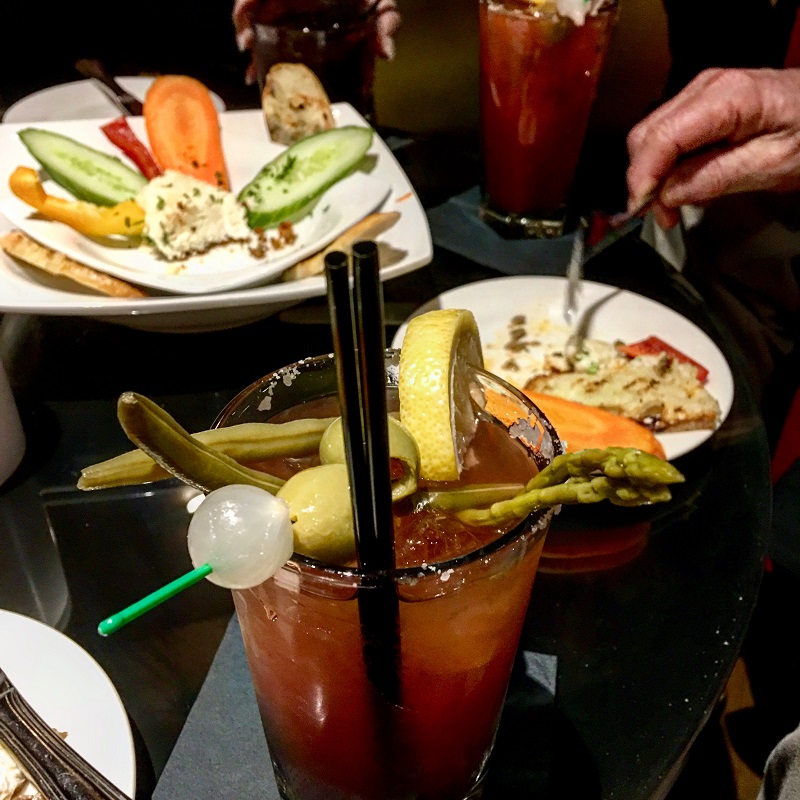 At the Blackfish Wild Salmon Grill and Bar, a tantalizing Tasting Menu was presented by Chef David Buchanan (No relation despite coincidental last name. With his culinary skill, I'd be proud to call him kin!) paired with wines and ciders procured by Sommelier Tom Thompson. Each sip and morsel, a work of art giving homage to either or both the local Northwest bounty and historic culinary traditions. A highlight was the Heritage Sockeye Salmon on a Stick, prepared using traditional tribal techniques and seasonings roasted over Alderwood coals of an open fire pit on Ironwood sticks.
Our full menu:
Flight of Schilling Cider: Grapefruit and Chill; Pineapple Passion; and London Dry
Wines including Figgins Riesling, 2016; Toil Oregon Pinot Noir, 2015; Leonetti Cellars Sangiovese, 2014; and Leonetti Cellars 'Reserve' 2007
Dungeness Crab Cake: Fresh Roasted Corn, Apple Bacon, fresh Tarragon, and Lemon Aioli
Petit Caesar Salad: Hearts of Romaine, Roasted Garlic Crouton ring, shaved Parmesan, and garlicky house-made Caesar Dressing
Heritage Sockeye Salmon on a Stick: Alaskan Sockeye traditionally prepared, seasoned & roasted over Alderwood coals on ironwood sticks. Served with grilled Asparagus spears and Corn Fritter Cakes
Coffee-dusted Filet Mignon: 8-oz center-cut Filet with roasted Fingerling Potatoes scented with fresh Thyme, Wild Boar Bacon wrapped Asparagus. Finished with Kona Coffee demi and drizzled with Kona Coffee-Honey Beurre Blanc and spiced Hazelnuts.
Dessert Selection
Skillet Sticky Toffee Pudding Cake: Warm date cake covered in a sweet toffee sauce. Served with bananas, toasted pecans and double cream
Signature Chocolate-Raspberry Soufflé: 72% chocolate and cacao nibs with raspberries on the bottom. Served with Dark Chocolate Crème Anglaise
Berry Meringue Concorde: Layers of crisp vanilla meringues, sweet cream and local berries. Covered in Meringue pieces and accentuated with Fresh Berry Sauce
Strawberry Cheesecake Dip: House-made graham cracker sticks, halved strawberries, white chocolate shards and finished with Lime Zest
Specialty Spirited Coffee: Salted Caramel Nitro Latte
Tulalip Resort Casino offers an events centre where you'll routinely find a rich heritage of celebration from native traditional ceremonies, cabaret, amphitheatre and ballroom with live acts such as comedians and musical groups. Check the schedule regularly to stay tuned for coming events. We were fortunate to attend a wonderful and intimate — despite sold-out — performance by musician Robert Cray in the Orca Ballroom.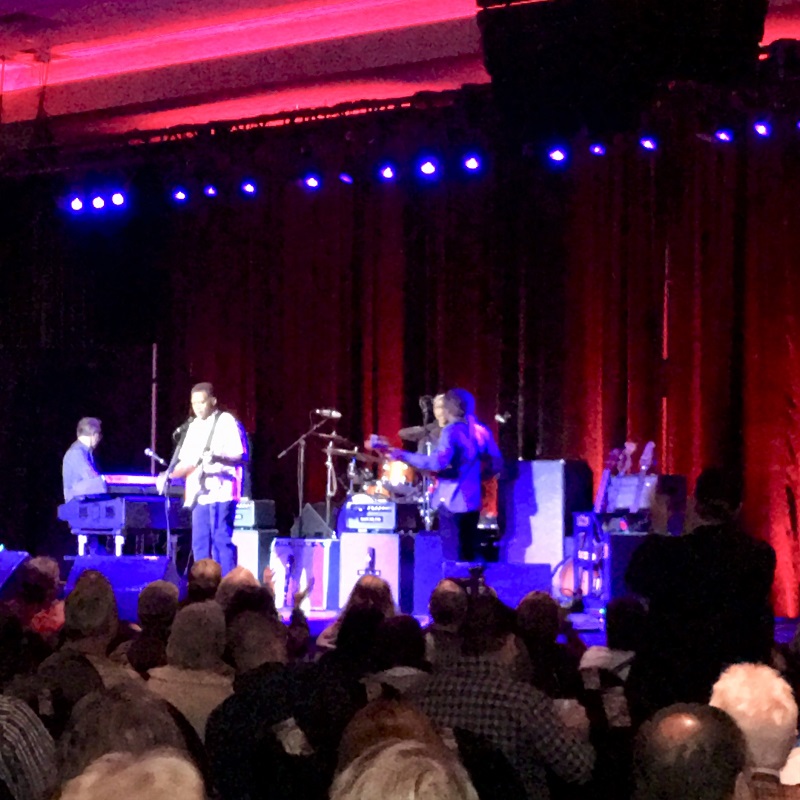 While on our stay, we didn't avail ourselves of the gaming options, the huge and well-equipped facility could rival casinos in Las Vegas. Settling in at the slots was a temptation after we made a post-concert stop at the newly opened Blazing PADDLES Stone Fired Pizza and Spirits venue for a scrumptious pizza and nightcap.
The next morning, we enjoyed breakfast at Cedars Café to say our goodbyes and express gratitude over innovative eggs benedict and other delightful morning creations. Other restaurants include Killer Coffee, The Draft, Journeys East, Eagles Buffet, and Canoes Carvery. With the commitment to customer service and continuous updates, you'll want to peruse its website for all the latest choices.
Tulalip Resort Casino contains fun little shops scattered throughout and sports the spectacular Oasis pool with waterfall sure to delight swimming and lounging enthusiasts. If shopping is your passion, right next door you'll find the Seattle Premium Outlet shops, which were thriving during our stay.
The rooms are so welcoming, you may find settling into your accommodations a worthy retreat. The rooms were recently renovated and that striking Native motif highlighting rich reds and tones of gray and black carries through to the finest of details. Blue Tooth-enabled media hubs, 55-inch 4K OLED Smart TVs, instant-access high speed WIFI virtually everywhere within the complex, in-room refrigerators, USB outlets, and LED reading lamps are among the luxury elements added. The bathrooms are spa-like and the custom-made bed and down coverings are like sleeping on a cloud – sure to knock a few strokes off your golf game!
Next visit, we'll return to Kayak Point Golf Course as well as check out more in this Northwest Pacific region, just a short distance from the bountiful base of Tulalip Resort Casino.