Thanks to social media, the glamourized visual presentation of food has become a cultural phenomenon. The term "food porn" is used in every day settings to describe meals and restaurants so appealing to the eyes they achieve lust-worthy status.
With that in mind, a recent survey conducted by OpenTable, the world's leading provider of online restaurant reservations, delved into the role of images in people's (and especially millennials') dining choices and experiences. It revealed that 41 per cent of Canadian millennials are likely to post a picture on social media when they're dining out (compared to 23 per cent of the total respondents), and that 28 per cent of millennials (compared to 14 per cent of total respondents) say a photo has made them more likely to choose a restaurant1.
Recognizing the power of "food porn", and how photos can impact diner decision making, OpenTable compiled a list of 25 Canadian Restaurants with the Most Images on OpenTable to illustrate the way diners and restaurants rely on online images.
"Sometimes words simply cannot do a dish justice – especially when a chef has worked tirelessly to make every plate look beautiful," says Caroline Potter, Chief Dining Officer at OpenTable. "There is no better endorsement of a restaurant's appeal than photography be it diner-produced and loaded on social media using hashtags or on foodie sites such as OpenTable or as a form of restaurant marketing. Food images are increasingly becoming a restaurant calling card."
Vancouver has 7 restaurants featured on the list including: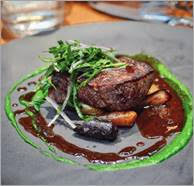 The full list of 25 Canadian Restaurants with the Most Images on OpenTable can be found below.
Auberge du Pommier – Toronto, ON
Bannock – Toronto, ON
Brasserie T! – Montréal, QC
Buca – Toronto, ON
Café Boulud – Toronto, ON
Canoe Restaurant and Bar – Toronto, ON
Cava – Toronto, ON
CHARCUT – Calgary, AB
Chez Victoire – Montréal, QC
Deville Dinerbar – Montréal, QC
Edible Canada at the Market – Vancouver, BC
Hawksworth Restaurant – Vancouver, BC
Italian Kitchen – Vancouver – Vancouver, BC
Lai Wah Heen Restaurant – Toronto, ON
Miku Restaurant – Vancouver, BC
Minami Restaurant – Vancouver, BC
O&B Canteen – Toronto, ON
The Oakwood Canadian Bistro – Vancouver, BC
Park Restaurant – Montreal, QC
Patria – Toronto, ON
Q Haute Cuisine (formerly La Caille) – Calgary, AB
Restaurant Toque! – Montréal, QC
Terroni – Summerhill – Toronto, ON
Terroni ADELAIDE – Toronto, ON
YEW seafood + bar – Four Seasons Hotel – Vancouver, BC
Media release and images, except feature image, were provided by Jill Lindsay, Media Profile. Feature image: MyVanCity