FINE FOOD AND FISHY FRIVOLITY
AT PROVENCE MARINASIDE
From April 1st through 30th, join Provence Marinaside in Yaletown for some finny fun and fine food at its 11th annual Poisson d'Avril.  In France, 'Poisson d'Avril' (April's Fish) is a one-day affair corresponding to our April Fool's Day. The good folks at Provence believe you can never have too much of a good thing and have extended the fun to encompass a month-long celebration of all things fishy.
Starting April 1st the restaurant will be featuring a special three-course prix-fixe Poisson d'Avril Menu value priced at $59 with optional wine pairings (Canadian $21/ Old World $26) curated by Provence's Wine Director, Joshua Carlson.
"Poisson d'Avril is an opportunity to showcase the bounty of our ocean and lakes while welcoming spring with a bit of fun. The promotion has become our spring tradition and our guests look forward to it every year," says Provence Owner and Executive Chef Jean-Francis Quaglia.
Poisson d'Avril's 'fish forward' menu offer a 'school' of choices – from Steelhead to Branzino, Halibut to Tuna; there is something to please every fish fanatic. Grilled, poached, cured, baked and seared are just some of the many ways Provence will prepare the 'finny fare.' Someone in your party not a fish lover? Not to worry – there are plenty of non-fish choices available on Provence's regular menu.
Which starter will be the bait that tempts your taste buds? Lemon-Cured Steelhead (sorrel mayo, crispy shallots, pickled baby cucumber and radish) or Grilled Duo of Branzino and Ahi Tuna (fresh arugula salad, caponata)? Carlson has paired the Steelhead with Unsworth Vineyards Charme de L'Ile NV Cowichan Valley, British Columbia / Monmousseau l'Essentiel Brut Zéro NV Loire, France  and the Grilled Duo with Tantalus Vineyards Riesling Lab 2017 Kelowna, British Columbia  /  Luis Pato Vinhas Velhas Branco 2017 Bairrada, Portugal.
Your next major decision comes with which Main to reel in. The choices are difficult – how do you choose between these? It's impossible. This is the point at which you might want to do some negotiating with your table mates and agree on 'sharezies.' The more table mates, the more you get to taste.
Westcoast Niçoise Salad Provençal – grilled Steelhead, green beans, grape tomatoes, Niçoise olives, red and yellow bell peppers, pickled quail egg, red new potatoes, anchovy vinaigrette (T.H. Wines Rosé 2017 Summerland, British Columbia / Domaine Aureillan Rosé 2017 Côtes-de-Provence, France)
Whole Mediterranean Fish – baked with red onion, Roma tomato, lemon, white wine and olive oil, served with seven grain rice, roasted rainbow carrots and zucchini batons (Road 13 Vineyards 'Blind Creek Vineyard' Viognier 2016 Oliver, British Columbia / Michel Gassier 'Nostre Païs' Costières de Nîmes Grenache Blanc & Roussanne 2015 Southern Rhône, France)
Pacific Halibut – warm spring vegetable salad with sherry and grapefruit vinaigrette, salsa verde (Howling Bluff Estate Winery Sauvignon Blanc 2017 Naramata, British Columbia / Domaine Alain Gueneau 'La Guiberte' Sancerre 2017 Loire, France)
Seared Ahi Tuna – crispy shallots, sautéed bell peppers, 'Forbidden rice,' warm wild mushroom and espellete vinaigrette (Rust Wine Co. Gamay Noir 2017 Oliver, British Columbia / Jean Loron Rift 69 Beaujolais-Villages 2017Beaujolais, France)
Grilled Branzino Filets – artichoke beignets, sautéed baby spinach, saffron poached spring potatoes, saffron beurre monté (Fairview Cellars Grüner Veltliner 2016 Golden Mile, British Columbia / Domäne Wachau Grüner Veltliner Smaragd Terrassen 2016 Wachau, Austria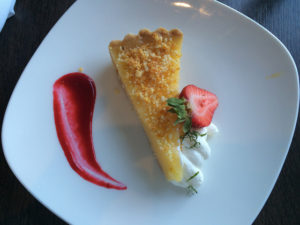 Having enjoyed your first and second courses, sit back and imagine yourself on the Côte d'Azure as you enjoy Provence's seawall and marina view. Sip your wine and peruse the
dessert menu
for your choice sweet ending. Provence's legendary Lemon Tarte and silky Crème Caramel are perfect dénouements to any finny feast. For those indulging in the optional wine-pairing, Provence will select a BC or Old World wine to complement your choice of dessert.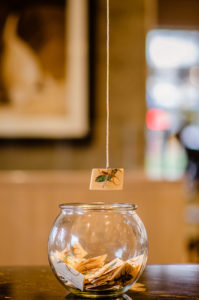 In keeping with the prankish spirit of Poisson d'Avril, Provence invites patrons to try their luck with the childhood game 'Go Fish.' Everyone who orders the Poisson d'Avril Menu has the chance to 'cast' for prizes from the fishbowl. Every 'fish' contains a unique prize – some serious (free meals and gift cards) and others whimsical (sing for your supper, you do the dishes) so get ready to demonstrate your angling skills and join in the fun.
While there is something very fishy happening at Provence Restaurants this April, diners will agree that the Poisson d'Avril is no joke.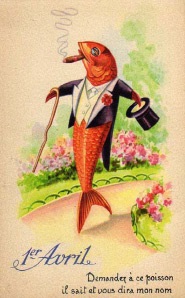 Provence Marinaside
Yaletown
1177 Marinaside Crescent
Vancouver, BC
604-681-4144
@ProvenceMarinaside
website

(Next door to Provence Marinaside)
1167 Marinaside Crescent
Vancouver, BC V6Z 2Y3
604-681-4144 ext 8
website
Media release and images provided by Nancy Wong, Culinary Communications. All photos by Emrys Horton, EPH Photography.
[wdi_feed id="2″]