Anytime I have the opportunity to attend a wine tasting seminar I'm there. I've heard it said that "a little bit of knowledge is a dangerous thing" well maybe in terms of my pocketbook at the wine store. I also enjoy attending a wine seminar because it gives me a chance to learn something new, even if I've tasted the wines before. Learning just a little bit more about wines and wine pairing can enhance your overall wine tasting pleasure.
The exploring the U.S. wines of DISH seminar moderated by Maude Renaud-Brisson, was an open and lively panel discussion through 12 different U.S. wines. With lively engagement and discussion with a panel consisting of Franco Michienzi, Wine Director, Elisa; Kelcie Jones, Wine Director, Chambar; Shawn Jones, General Manager, Nomad; and Sean Nelson, Sommelier, Hawksworth. All while supporting the BC Hospitality Foundation!
The seminar presented twelve wines from New Mexico, California, Washington and Oregon. A diverse selection of wineries with wines of similar characteristics. Two rosé wines and a Brut rosé; four pinot noir wines, a Gewürtraminer, White blend, Sauvignon Blanc Riesling and Fumé Blanc rounded out the even dozen. Here are the wines in the order we tasted, followed by the wineries tasting notes and my own review comments:
Gruet Brut Rosé nv
Tasting Notes
A beautiful garnet in color, this Rosè NV has a delicate, fine mousse and rich, fruit flavors. This full-bodied sparkler starts with floral and berry aromas which introduce flavors of cherry, raspberry and wild strawberry, finishing delicately with zesty acidity.
Winemaking Notes
Varietal Blend: 100% Pinot Noir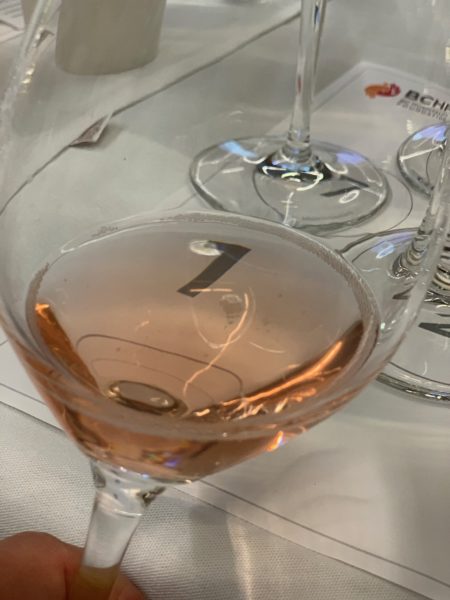 This was a pleasant wine with a light, fresh taste with strong aromas of strawberries, candy apple, candy floss and honey. Quite bubbly and would make a delightful patio wine from spring through September when I'd bring it inside and continue enjoying with friends. New Mexico
Fetzer "Shaly Loam" Gewürtraminer 2017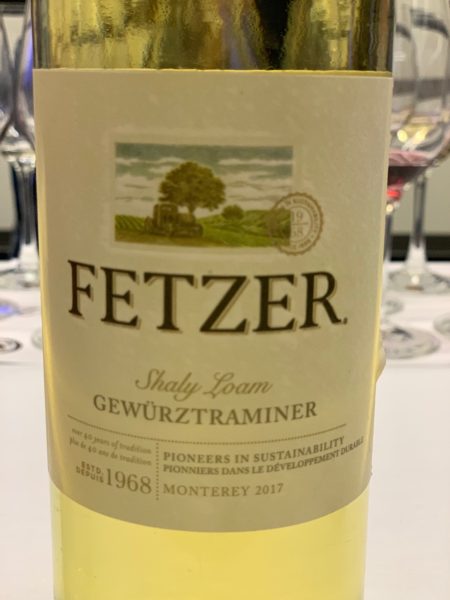 Our Shaly Loam Gewürztraminer is crafted in an off-dry style, offering a subtle sweetness balanced by crisp acidity and vibrant varietal character. The nose delivers exotic layers of melon, peach and apricot preserves, rosewater, candied ginger and a touch of warm cinnamon spice. On the palate, a delicate sweetness offsets richly nuanced notes of peach cobbler and pineapple upside-down cake, a medley framed by subtle savory notes of cashew nuts and pastry.
In 2016, our Gewürztraminer fruit was harvested in the cool-climate vineyards of Monterey County at peak ripeness to capture the signature aromatics of this expressive variety. The grapes were whole cluster-pressed, then fermented in 100% stainless steel with partial lees contact, to enhance the mouthfeel.
Pairing
BREAD PUDDING WITH APPLES, PRUNES, AND WALNUTS
The heady aromatics and exotic layers of rich fruit flavor in our Gewurztraminer deliver just the right touch of sweetness to complement this decadent dessert. Recipe here.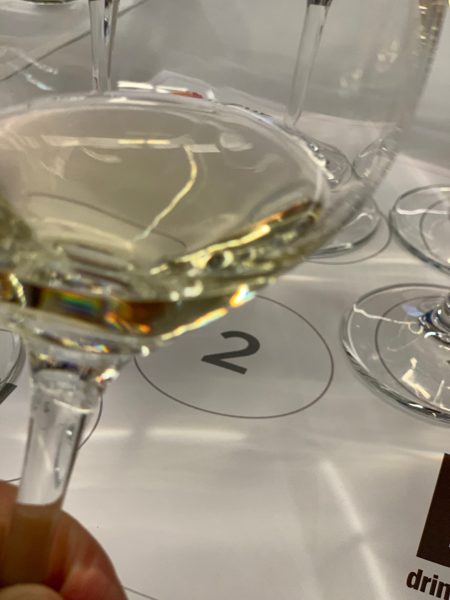 This wine presented with heavenly aromas of sweets and candy, honey, good acidity and a smooth finish. Although a first sip gives a sweet finish, it does mellow. The honey aroma remains strong. "Just leave my nose in the glass and I'll be forever happy" Easy drinking and an excellent price point. This was my #1 of the whites. 350843 BC Liquor Store $14.99  California
Cline Family Cellars Farmhouse White 2017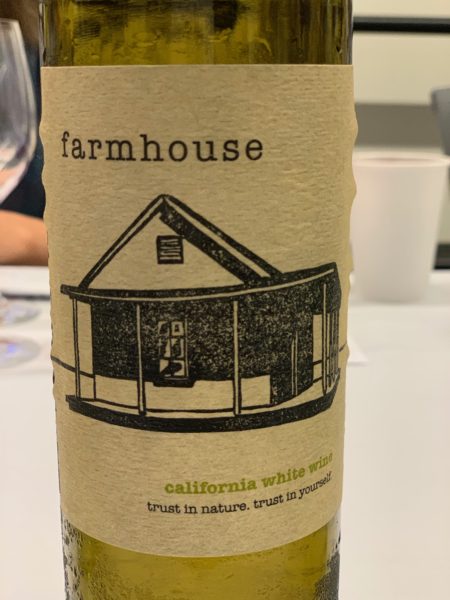 A white blend committed to sustainability, quality, and affordability.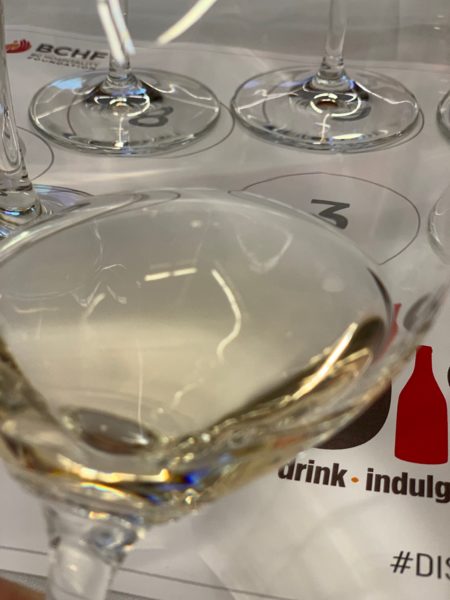 I found this white blend had the scent of a riesling which to me translates into incredible aroma. It had a mild, sweet taste but not a sweet finish. Easy drinking.
O'Neill Vintners Line 39 Savignon Blanc 2017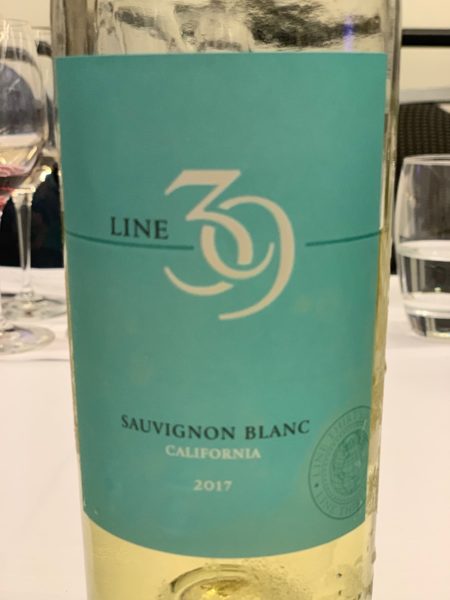 The 39th parallel runs through the heart of California wine country and is home to Line 39 wines. Here we craft dynamic wines expressive of their region of origin and premium vineyard pedigree. Line 39 wines are versatile and sophisticated, providing a wonderful complement to a variety of foods.
TASTING NOTES
Our Sauvignon Blanc opens with vibrant aromas of grapefruit and lemon with subtle grassy characters and a crisp clean finish. This wine is a fine accompaniment to shellfish or on its own after a long day.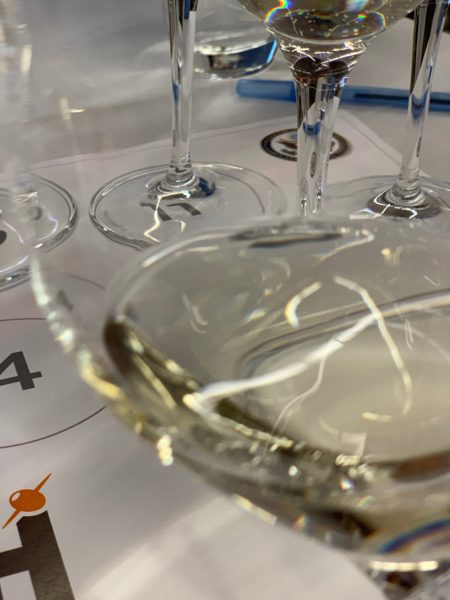 Beautiful, sweet, floral citrus aromas. Scents of honey but with a tart taste. A nice wine. California.
Ferrari-Carano Vineyards and Winery Fumé Blanc 2018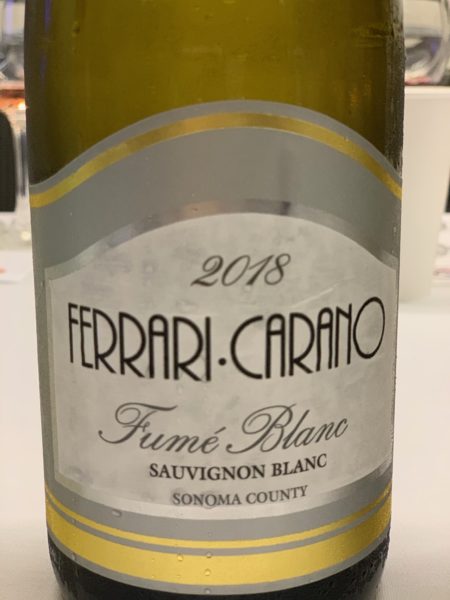 One of the first two wines Ferrari‐Carano ever made over 35 years ago, this Fumé Blanc is comprised of Sauvignon Blanc grapes from Sonoma County.
Ferrari-Carano's 2018 Fumé Blanc has delicious aromas and flavors of pineapple, pink grapefruit,
lemongrass, lychee, peach, pear, honeydew melon, orange blossom, guava and a touch of minerality.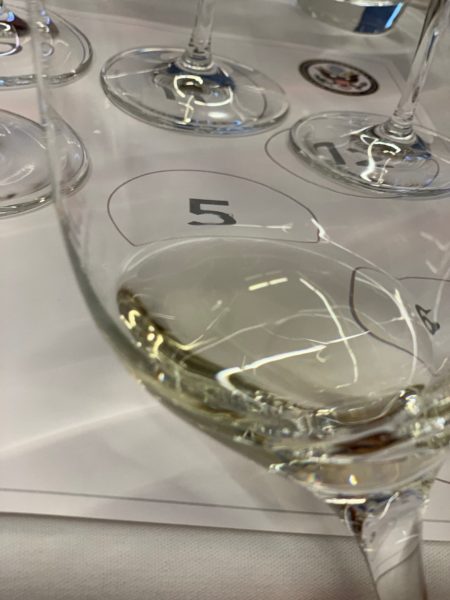 This wine's aromas were a mix of honey, peaches and stone fruits with a bit of armpit. Good acidity, nice taste, citrus flavours but not tart. Medium flavour. I found it really good if not a bit on the light side. My #2 pick of the whites. Sonoma, California
Charles Smith Kung Fu Girl Riesling 2015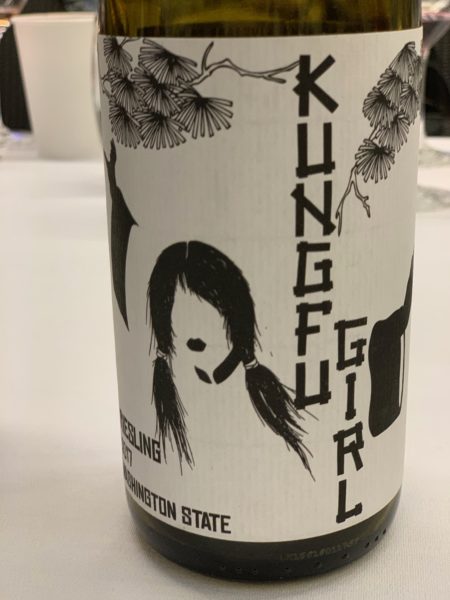 It takes an unconventional winemaker to make a totally unexpected dry Riesling. One night, Charles was eating Chinese takeout and watching a fight scene in a notorious martial arts film when he had an idea: a killer white wine made to be paired with Asian food. Just like that, Kung Fu Girl was born. And it's been kicking ass and taking names ever since.
She's been wowing judges and casual drinkers since the first vintage. With a black belt in peachy apricot awesomeness, nothing goes better with spicy Asian food.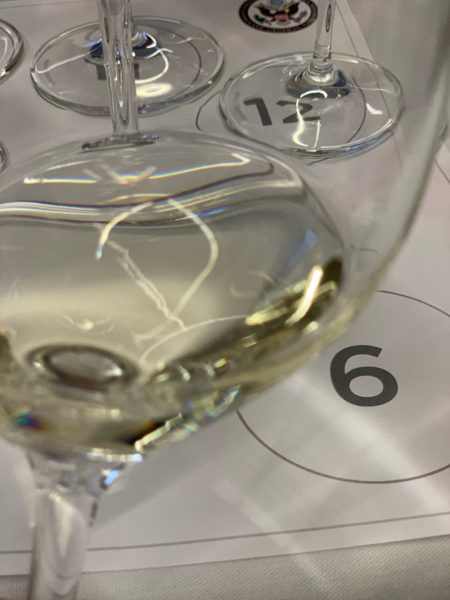 I first discovered Kung Fu Girl Riesling on a trip to Maui. As anyone who has been to the Islands would know shopping consists of Costco or small overpriced shops. Looking for something close to home I stumbled across this one, kind of liked the hokey name and label and being a riesling fan, thought it would be a good fit. It has a light aroma and good flavour of citrus, good acidity and easy drinking. Not too sweet, off-dry finishing dry.  I enjoyed this one. 301671 BC Liquor Store $19.99 (on sale until June 1 $16.99)This was my #3 pick of whites.  Washington State
Layer Cake Pinot Noir Rosé 2017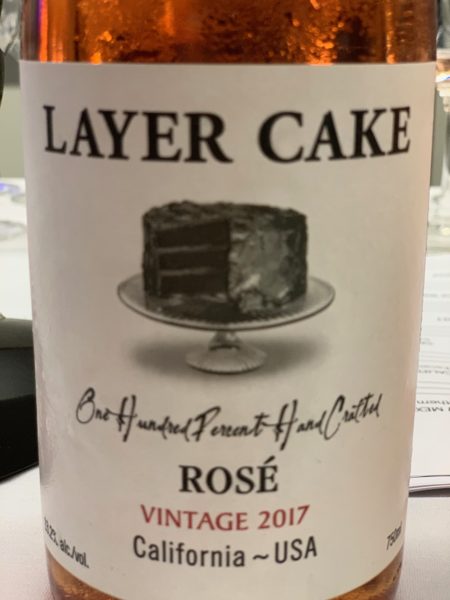 WINEMAKER NOTES
To make Layer Cake Rosé, we select grapes from our California vineyards at a high acidity level to get the crispness and touch of fruit we're looking for. The grapes are left to rest for just long enough for the juice to take on color. When it reaches the perfect hue, we apply cool, gentle fermentation in stainless steel tanks that allow us to get the delicate flavors from the vineyard to the bottle without losing complexity.
TASTING NOTES
Layer Cake Rosé is perfectly pale pink and reminiscent of rose gold liquefied in the glass. Aromas of passion fruit, pink grapefruit and dried rose petals mingle with the slightest hint of dark chocolate and cranberry. On the palate, tropical flavors of guava and crushed loquat harmonize with field-ripened strawberries, picked fresh for the farmers market. The vibrant acidity is layered with pink grapefruit zest, rhubarb and pineapple that culminates in a bone dry, refreshing finish.
WINE FACTS
68% Pinot Noir, 32% Syrah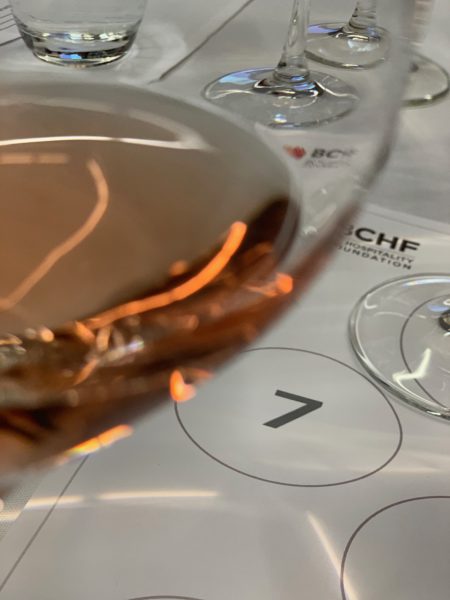 With a slight wet dog and yeasty aroma, but in a good way. Good colour, not sweet, light with good acidity. Very good strawberry taste. My #1 Rosé choice. Central Coast, California
Copain Tous Ensemble Rosé 2018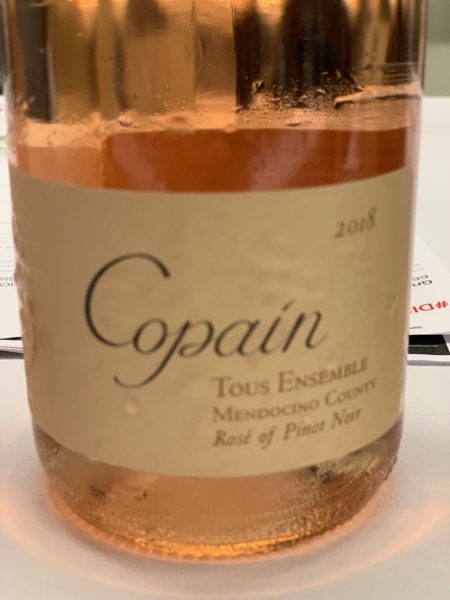 Aromas of rose petals, Santa Rosa plum skins, and fresh raspberries. Ripe cherries and orange peels also present themselves on the palate with a silky texture and lingering finish.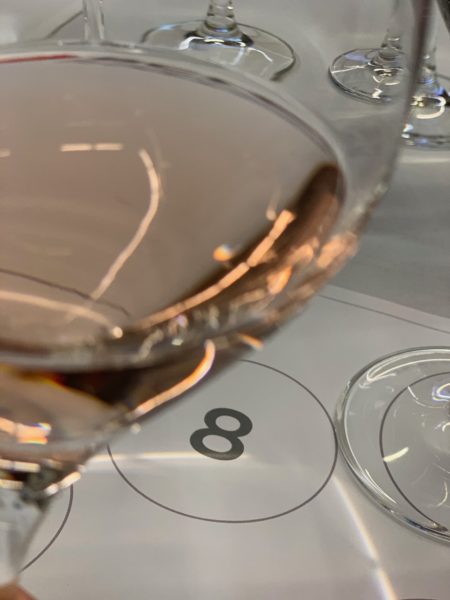 I found this wine slightly lighter than the Layer Cake Pinot Noir Rosé with aromas of fruit salad and candy. Light, but not too light, good acidity, dry. A pleasant wine. My #2 Rosé pick.  Available at Everything Wine 35802 $28.99 California
Primarius Pinot Noir 2016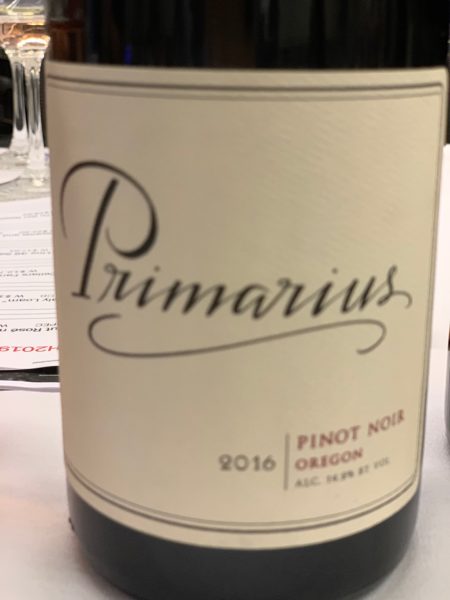 This Pinot Noir is a blend of all of our vineyard sources throughout Oregon and is representative of one of Oregon's great vintages. Aromatics suggest brambly cane berries and Bing cherries accented by some subtle notes of cinnamon and clove. The palate carries these aromas on and compliments them with lively acidity and just a hint of oak sweetness. The mouthfeel is round and pleasant and yields some further depth suggesting Morello cherries and nutmeg. The finish lingers with soft, silky tannins and leaves an aftertaste of sweet red and black fruits and Christmas spice.
VARIETAL BLEND:
100% Pinot Noir
I detected heavy oak, cherries, dark fruit aromas, slightly smokey. A nice taste with stone fruit flavours, soft and silky. Very good with smooth tannins, a sweet finish and not too heavy. Excellent for food pairing. Slightly lighter than the Cline Family Pinot Noir. My #2 of the pinots. Oregon
Please note the only tasting notes available on the winery website are from 2014.
Cline Family Cellars Sonoma County Pinot Noir 2017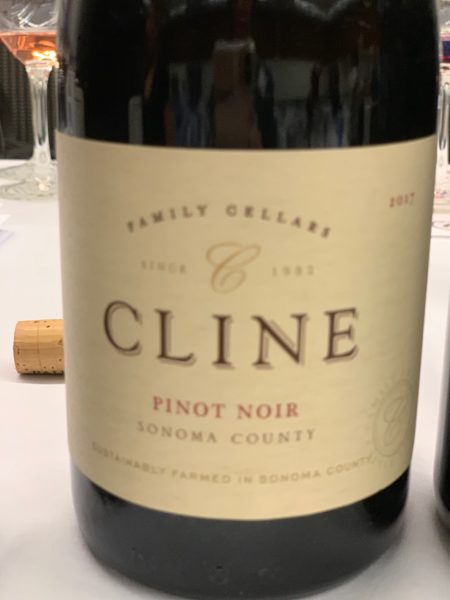 Our Pinot Noir has an extraordinary elegance, and a silky red berry scented bouquet with flavorful layers of raspberry, dark chocolate, cedar and lilacs and a lingering and complex finish.
Sonoma County is one of the finest regions for growing world-class Pinot Noir. The Clines were early pioneers in southern Sonoma County planting Pinot Noir vines almost 20 years ago. The location that Fred Cline selected benefits from a coastal mountain opening that spans from the Pacific Ocean, through the town of Petaluma and on to the San Pablo Bay. In summer, vines experience foggy mornings and cooling evenings balanced by sun-drenched warm afternoons. These growing conditions allow the fruit to hang longer, fully ripen and mature which adds bright acidity and intense flavours.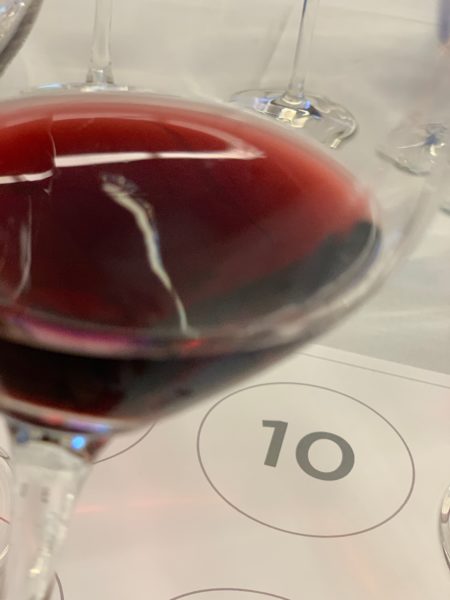 Heavier, slightly tart aromas of cranberries. Fruit forward with a very smokey taste, smooth finish. Darker in colour than the Primarius pinot. Tied for #3 of the pinots. California
Paul Hobbs Russian River Pinot Noir 2016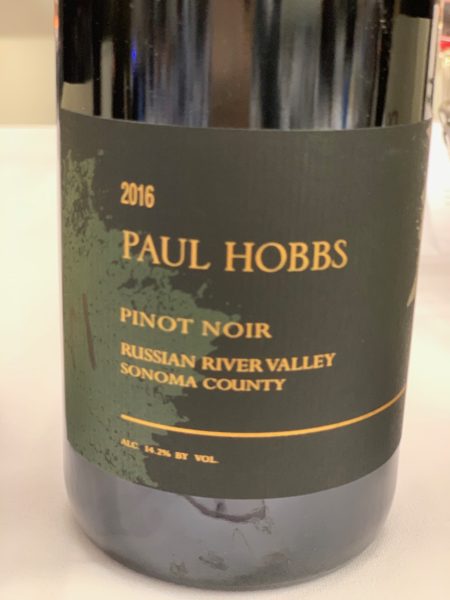 Planted in distinctive sites in Russian River Valley and 'true' Sonoma Coast, our pinot noir exhibits the unique character of each site one with beautiful aromatics, and elegantly balanced structure with tension and precision of fruit.
Carefully selected from the winery's top vineyard sources that are defined by both their proximity to the coast and Russian River to allow cool morning, warm afternoon diurnal swings to develop fruit with purity, richness, and elegance.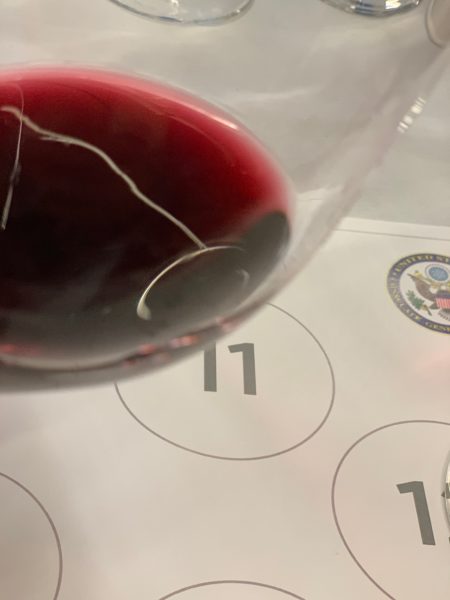 This wine had what I would call an unsettling aroma of turpentine, mushroom and slight cat pee with strongly alcohol forward scents. Although the darkest of the pinots I found it surprisingly light and somewhat sweet in taste with very little tannin. Not for me given the price point. Tied for #3 California
DeLoach Russian River Valley Pinot Noir 2017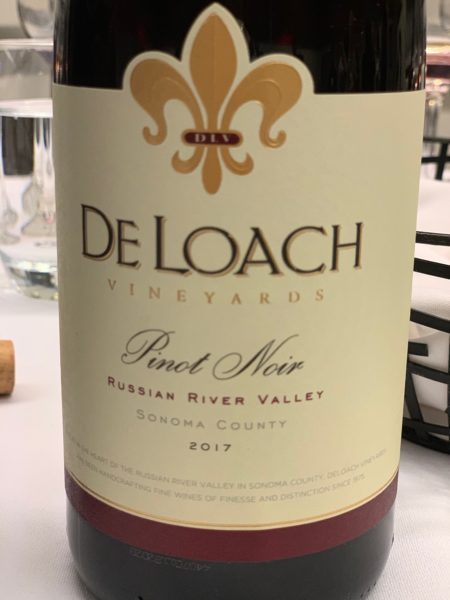 As a family-owned winery widely considered a pioneer of Russian River winemaking and a leader in Pinot Noir, we take great pride in producing distinctive wines that highlight the unique nuances of our appellation, while at the same time nourishing the land with sustainable viticulture and minimally intrusive winemaking. True to our roots, we handcrafted this wine using traditional winemaking techniques including fermentation in wooden open-top vats, hand punch downs, basket pressing, and eight months of oak barrel aging, The delicate balance of fruit and spice with medium-fine-grained tannins makes this a deliciously smooth and elegant wine. *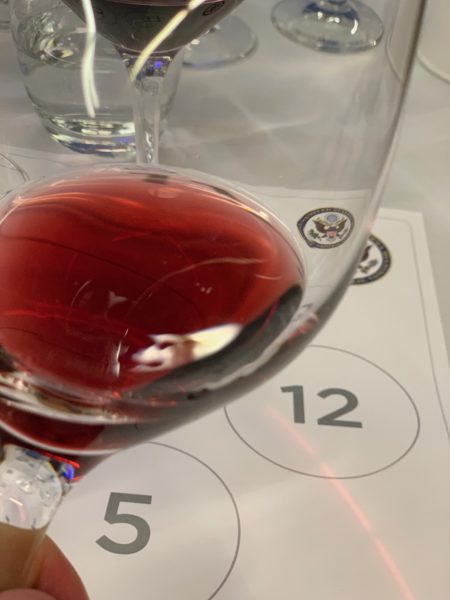 *Note: I was unable to find this wine on the winery website. The notes above are the result of a Google search and are from the back side of the label on a 2012 Russian River Valley pinot noir.
A nice fruity aroma with scents of yeast and armpit. The wine is pleasant, fruity and relatively light. Lighter in colour than the Cline Family pinot but darker the the Primarius pinot. This was my #1 pick of the pinot noirs. California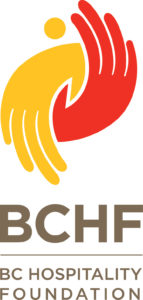 About the BC Hospitality Foundation
The BC Hospitality Foundation (BCHF) is a registered charity that raises funds to support those in the hospitality industry facing financial crisis due to a medical issue. Each year hundreds of hospitality workers across BC face financial challenges and have nowhere else to turn. The BCHF helps them when all other options have been exhausted. In addition, the BCHF offers a scholarship program to foster the development of the next generation of hospitality workers and industry leaders.
With thanks to the organizers of DISH for the invitation, Dana Lee Harris and Karen Madsen, and the many volunteers who make this event possible, and all their hard work on behalf of BC Hospitality Foundation. Notes in italics are courtesy of the wineries, except where noted. All images MyVanCity. All opinions are my own. 
[wdi_feed id="2″]