Whether it's a toast to Prince Harry and the Duchess of Sussex on their anniversary, a toast to the newest Royal Baby Archie, or a toast to celebrate Queen Victoria's birthday you will find this the perfect, most toast-worthy of Chardonnay wine.
This 'royal' vintage, from a small vineyard in France's Burgundy region, will be available exclusively at JAK'S Beer Wine & Spirits 14 locations beginning on May 17 limited quantities available.
When it was revealed that the 2016 Olivier Leflaive Bourgogne Les Sétilles was served at Meghan and Harry's wedding reception, it flew off the shelves in England with one store selling 810 bottles in under two hours. And now British Columbians will have the opportunity to drink like royals thanks to a collaboration between JAK'S Beer Wine & Spirits and Vino Allegro Wine Imports.
2016 Olivier Leflaive Bourgogne Les Sétilles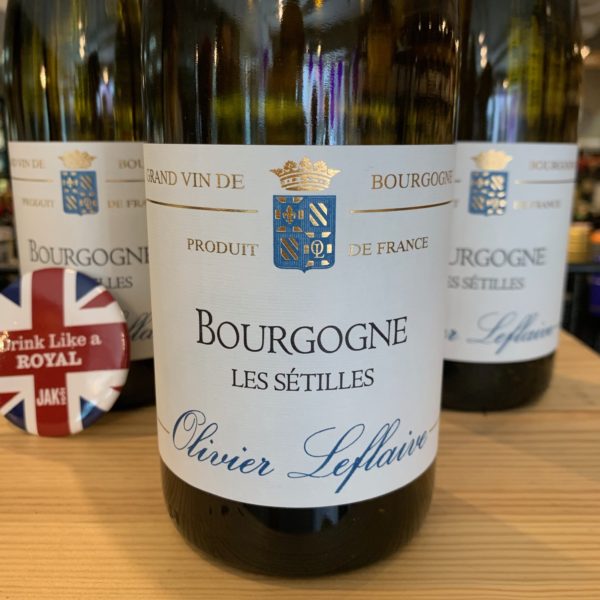 TERROIR
The wine is stemming from the blending of about sixty plots located on the village of Puligny and also in Meursault.
Soil : Calcareus clay, Stilty clay
IN THE VINEYARD
Wine-Growing method : sustainable
Harvest: 70 % manual, 30% mechanical
VINIFICATION
At their arrival in our cellar, the grapes are immediately and carefully pressed with a pneumatic press. 
70% crushed grappes, 30% destemmed grappes
Finning: yes
Filtration with a kieselgur filter
MATURING
14 months (whose 5 months in stainless steel tank)
100% % in oak barrels (whose 12% of new oak)
SERVING
Serving temperature : 10-12°C
Should be drunk between 2018 and 2021
TASTING NOTES
The aromas of white flowers, peach, grilled almond and lemon peel dominate on a mineral background. The attack is full and warm on the palate with a lively and greedy finish.
FOOD PAIRING
Ideal during the aperitif, with charcuteries or goat cheeses.
I was more than pleasantly surprised by how much I enjoyed this Chardonnay. It is a smooth, tart, and dry pleasure in the mouth and I immediately thought of how well it would pair with fresh, local BC seafood and shellfish. Definitely drinkable on its own but whatever subtleties it may be exhibiting it would surely open more fully with a dish, either as extravagant as the royal wedding reception first course*, or more local rustic fare. I did not find any overpowering oaky tone and this is nothing like a California Chardonnay, maybe a bit more similarity to a Chablis but not entirely. A delicate wine with a significant reputation as well as the prestige of its royal association. $53.99
*The first course: Cornish White Crab served over Fennel with a Bloody Mary Jelly and a tossed salad of radish, cucumber, apple and elder flower.
About Olivier Leflaive Frères
An haute-couture wine estate and merchant in the heart of the Burgundy winegrowing region.
Managing every link in the chain
The philosophy of Olivier Leflaive is to produce simply great wines. There are no secrets to this – everything starts in the vines with good grapes. Olivier, Franck and their team are lucky to have strong relationships with some of the best winegrowers on the Côte, people who grow their vines with care and attention.

Although the quality of the harvest is key, vinification and ageing also play a major role in bringing out the essence of each appellation. Franck Grux and Philippe Grillet make it their daily task to ensure the quality of the wines and respect for the terroir. As such, the estate's approach is to treat each cuvée individually.

Careful acquisitions
In a similar way, Olivier has continued to expand his estate since its creation. Running the business means guaranteeing maximum control over the vines. Today, the estate covers some 17 hectares, and is the result of carefully-managed acquisitions over the years.
 Solid teamwork
The work of the team reflects the company's family spirit. A solid core of people have been part of this adventure for many years, which ensures a rigorous approach and constant quest for improvement.
About JAK'S Beer Wine Spirits
JAK'S is a fourth-generation family operated liquor retailer based in BC. With 14 stores across Metro Vancouver, Penticton, Campbell River, and Williams Lake, JAK'S shares its passion for people and spirits across the province. JAK'S is dedicated to offering unique product selections, outstanding service and unmatched in-store experiences.
About Vino Allegro Wine Imports Inc.
Vino Allegro is a wine importer which strives to bring its clients closer to the vineyard. They source quality, hidden gems that are sure to impress the palate of today's informed and curious wine consumer.
About Olivier Leflaive Frères, information about the wine, and winery images courtesy of the winery. Bottle shot and feature image MyVanCity. I received a complimentary bottle of the wine in order to facilitate this review. All opinions expressed are my own.
[wdi_feed id="2″]