I recently journeyed to Covert Farms Family Estate in Oliver, BC and I have to admit it was nothing at all like what I expected.
First we drove past acres and acres of vineyards, many bearing the names of the wineries that buy grapes from the farm. When we arrived at the winery we were surprised to find signs pointed out hiking routes. A little further along we came to a huge outdoor space with lots of family friendly acitivites like a home made water slide and an old tractor for "riding" on. Another surprise was the rustic Tasting Room with the outdoor patio. Inside a wine lounge and a lot of homey crafts and fun things to discover. Mostly I think it was just the expanse of the farm and winery that was a surprise to us and I'm sure many first time visitors.
The farm is 650 acres with 300 acres leased to Peller Estates and 40 acres leased for the production of organic fruits and vegetables. There is a store with Secrest organic produce and even fields of u-pick, just like a real farm because it truly is a real working farm.
They are open 7 days a week in July and August and if you visit you will find 36 different fruits and vegetables, in season, from early June to mid October depending on exactly what you're looking for. Best to check the Covert Farms website for the harvest list.
We were there for wine tasting but we will definitely return for some pickling cukes later this month.
Here is what we tasted:
Sparkling Pinot Noir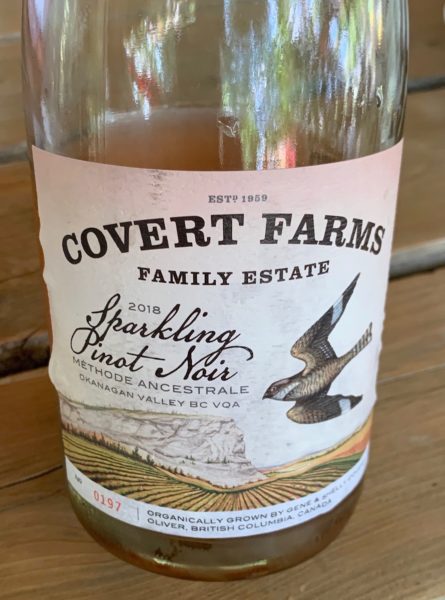 Naturally fermented in a stainless steel tank and then gravity fed directly into bottles where fermentation is finished without intervention. This pétillant naturel technique of winemaking is unique and without additions, making it a rare and pure expression of Covert Farms Family Estate's terroir.
Yeasty strawberries with green apple and apple scents. Tart, acidic, tangy bubbles, pale in colour. Although unfiltered it was clear.
Pinot Blanc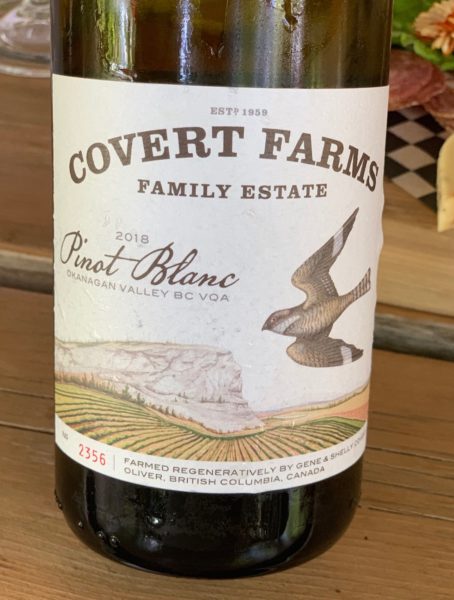 Supple and round, singing of fresh nectarine, peach blossoms and Okanagan bunch grass.
Peach aromas, tropical fruits, citurs and sweetish scents. Very Viognier flavoured with cinnamon, pepper, spice, blueberries and slightly sweet tasting. A bit alcohol forward.
Rosé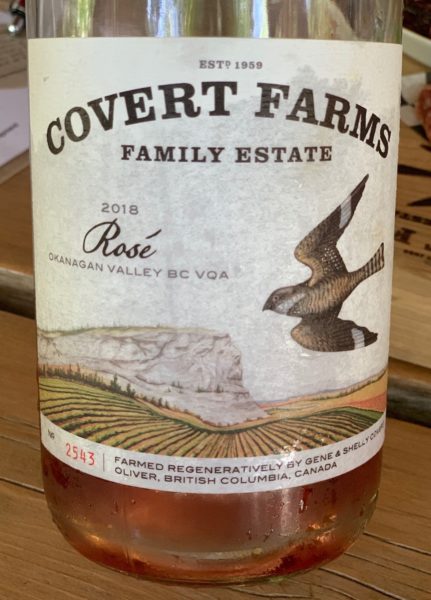 Mouth-wateringly refreshing bursting with notes of rainier cherries, and strawberries. 6 hours cold soaked on the skins, aged sur lie 6 months in stainless steel tanks.
Dusty strawberries and raspberries. Light, fresh taste of green apples. Tasty blend, very acidic. Dark orange, almost a light red in colour.
Pinot Noir Grand Reserve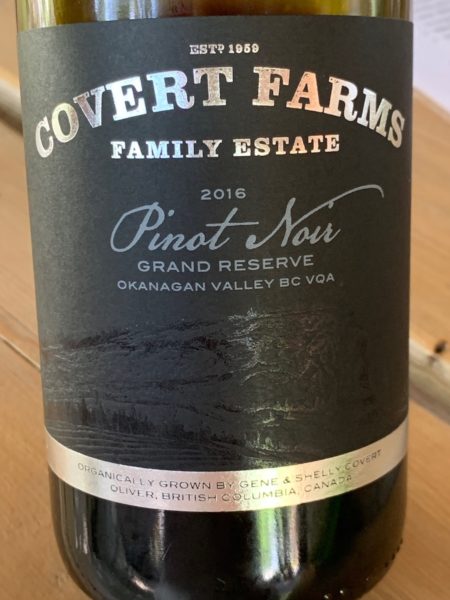 Aged in French oak 21 months. Notes of cherry blossoms, cinnamon, Japanese maple, and cocoa.
Musty cherry with perfume essence. Flavours of prune and dark fruits. Tasty although lighter than I expected. Very light body, lower acidity.
Zinfandel Grand Reserve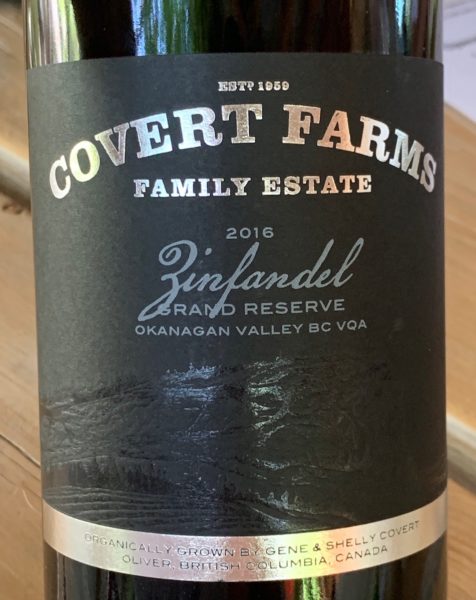 18 months in French and American oak. A rare Okanagan wine with a plate of lush blueberries. Aromas of mocha, black pepper and figs.
Smoky, toasty, dusty, campfire with sour cherries. Medium colour depth. Bing cherries, hard candy, ripe fruit. Great, jammy, yummy, easy drinking.
Amicitia
37% Merlot, 23% Cabernet Sauvignon, 16% Cabernet Franc, 14% Malbec, 9% Petit Verdot, 1% Syrah. 14 months in French and American oak. A wide array of flavours including raisins, dried cherries, and Italian plum.
Scents of dark cherries, toasty, olives, fur and cow. Rich, complex. Sweet with tannins, just a bit lighter than I expected.
Cabernet Sauvignon Grand Reserve

100% Cabernet Sauvignon 22 months in French Oak. Flavour profile including lapin cherry, chocolate, and dried fruit. Combined richness from notes of vanilla, cinnamon, and leather.
Dark cherries, dill pickles, pleasingly musty, pepper and play doh scents. Good with yummy fruit taste, heavy and tasty.
We craft our estate wines with minimal intervention using natural fermentation when possible to focus on vineyard and fruit. Our white wines display purity in fruit paired with crisp natural acidity coveted by enthusiasts. Our low yields result in terroir-focused artisan reds that are luscious and age-worthy.
Covert Farms Family Estate accepted seven medals – four gold and three silver – at the International Organic Wine Award, based in Germany. The family-owned winery emerged victorious against strong global competition consisting of nearly 300 wineries from 28 countries.
Covert Farms has entered the competition for three consecutive years, and holds distinction as the only winery in Canada to participate in 2019. The winery earned three gold medals for its bold reds, including the 2015 Amicitia (93 points), 2016 Grand Reserve Cabernet Sauvignon (93 points) and 2015 Grand Reserve Zinfandel (93 points). In the rosé category, Covert Farms' delicate 2018 Sparkling Pinot Noir was awarded a gold medal and 90 points, and the patio-friendly 2018 Rosé received a silver medal and 88 points. In the white wine category, the supple 2018 Pinot Blanc earned a silver medal and 88 points.
Learn more about the Coverts' winemaking process first-hand by booking the Hands on Harvest Signature Experience, an immersive exploration of the farm and winery that shares the fascinating world of regenerative agriculture with plenty of tastings along the way; at the end of the tour, participants can relax on the porch and sample charcuterie and cheese paired with wine tastings. To learn more about the Coverts' winemaking process from vineyard to bottle, visit covertfarms.ca/wine-process.
About Covert Farms Family Estate:
Covert Farms Family Estate is a fourth-generation, 650 acre organic farm, vineyard, and winery. Situated in Oliver, BC, the estate boasts more than 40 organically grown fruits and vegetables, and 100 percent estate grown grapes – featuring a wine portfolio that includes the opulent Roussanne/Viognier; clean and crisp Sauvignon Blanc/Sémillon; cherry- and strawberry-flavoured Rosé; and intriguing blends such as The Bluff, MDC and Amicitia. Visitors can relax on the licensed patio and enjoy a glass wine with a charcuterie and cheese board, or take an expansive 1.5-hour family-friendly Hands on Harvest Signature Experience tour aboard the Coverts 1952 cherry-red Mercury truck. Those who love recreation will appreciate the location of Covert Farms as a gateway to the famous Okanagan landmark, nʕaylintn (McIntyre Bluff), while event organizers can take advantage of the estate's two acres of dedicated licensed event space, including a cozy wine lounge and open-air barn. Groups will be wowed by Covert's impressive farm-to-table offerings and interactive add-ons like customizable tours and team-building activities.
https://covertfarms.ca
With thanks to Jorden Hutchison, Hutchison PR for the information regarding the International Organic  Wine Awards and Hands On Harvest Signature Experience. Feature image by: Roslyne Buchanan. Bottle shots, except as noted, MyVanCity. Winery tasting notes (in italics) followed by my own tasting notes. I received a complimentary tasting including a charcuterie board for myself and a guest in order to facilitate this review. All opinions are my own.
[wdi_feed id="2″]