TOP CHEF TO EXECUTIVE CHEF -Notch8 Restaurant & Bar at the Fairmont Hotel Vancouver welcomes Dennis Peckham as new executive chef-
It was a delightful evening spent at Notch8 and an opportunity to meet and experience the wonderful cuisine of Executive Chef Dennis Peckham.
My favourite way to enjoy reviewing a restaurant is to let the Chef make all the decisions about the menu. As we often do my companion and I requested to share dishes rather than each have an appetizer, main and dessert but rather enjoy a selection chosen by Chef that we can nibble on and compare our thoughts.
You must start with the Notch8 Signature Bread stout, comté cheese, garlic butter, and mustard seed. Warning, it's substantial, really good and impossible to resist. I kept going back for more.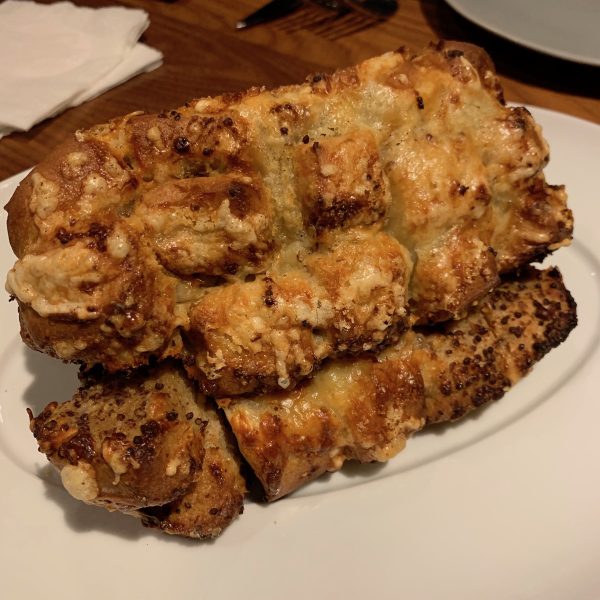 Next one of my favourite dishes, the Carpaccio. When done right as this dish was it is superb. Bison, Jersey blue cheese, Mizuna and Hazelnuts. It was rich and just right for sharing.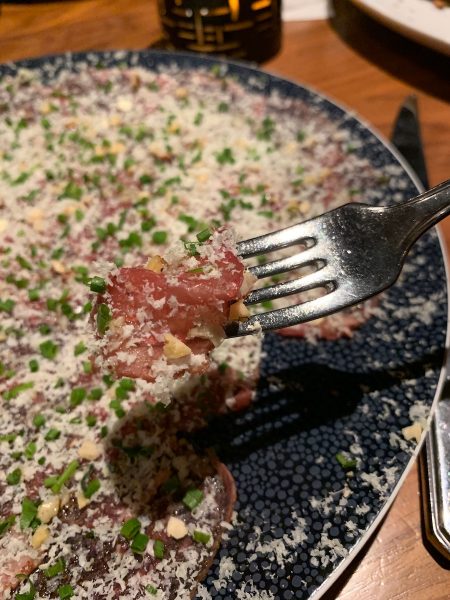 How can you resist the Gnocchi? You have to have this dish. Chive, potato, roasted squash, sage and pine nuts. It was a dream of crispy sage and pillowy goodness.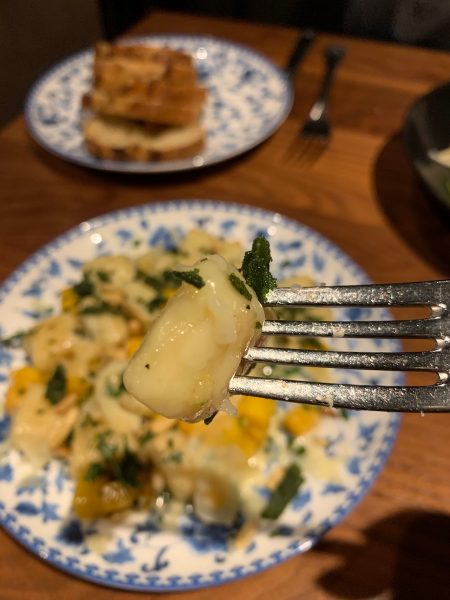 Feeling particularly mellow by this time when Chef Dennis brought out a dish I can never say no to; Duck  Roasted duck breast, pickled black currant, beets, and red cabbage. Perfection!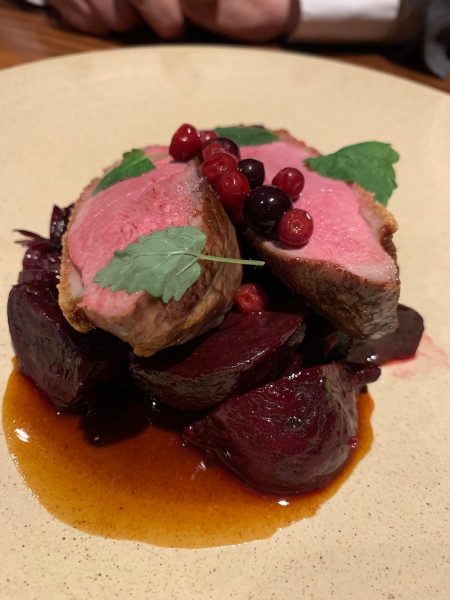 Notch8 has the best dishes on any menu I've had the pleasure of experiencing lately. I am biased because so many of the dishes are in my top handful that are so irresistible I have to order them.
Next up another irresistible dish, the Sablefish. We are so lucky to live in a region with access to fresh, local, produce and seafood. Roasted pumpkin, pickled mustard seeds, squid ink tulle, and black garlic puree.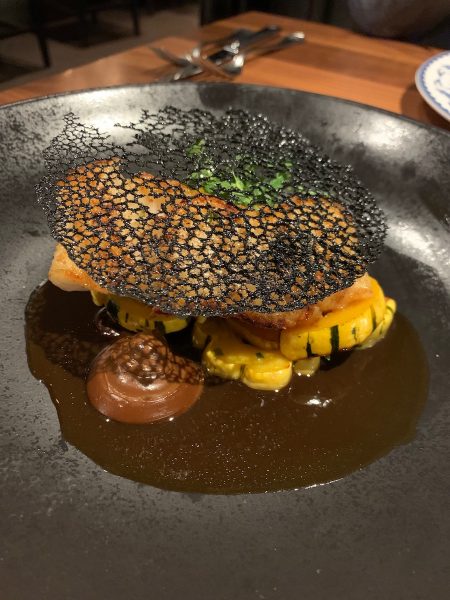 Just when you think dinner can't get any better, it does with Wagyu. Served with broccolini, braised red onion, arugula, garlic frites with lemon aioli. Doesn't get any better than this.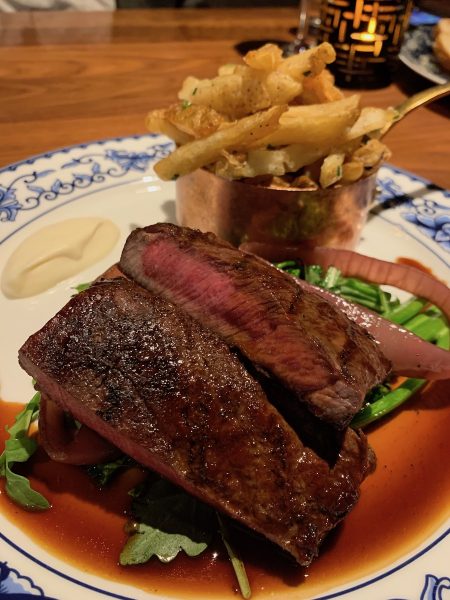 Needless to say we could hardly eat another bite, except who can resist freshly made ice cream. So maybe just a little taste.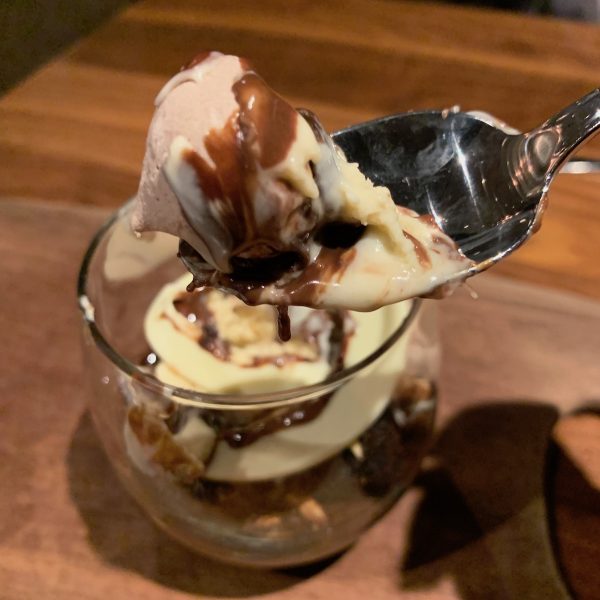 Notch8 has an excellent wine list with a great representation of BC wine. Here is what we enjoyed:
For more information or reservations, please visit fairmont.com.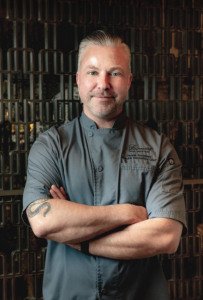 About Chef Dennis Peckham
Leading the kitchen in Notch8 Restaurant & Bar at Fairmont Hotel Vancouver is no small undertaking. The restaurant's doors stay open 365 days a year, serving four different meal periods daily to guests from around the globe. Dennis Peckham rose to the challenge becoming Notch8's Executive Chef in May 2019. 
Growing up in Williams Lake, Dennis' first introduction to the culinary world was through the café his father owned. However, as a young man, his attention was focused on playing hockey rather than behind the counter learning the business. Having graduated high school, (though he notes that he failed home economics because he only attended on cooking days), and looking for a job, he happened to take a role as a dishwasher in a local restaurant. The connection to the comradery and culture of kitchen life was instantaneous, and in turn, Dennis made the decision to relocate to Vancouver, BC, to attend Dubrulle Culinary Institute, later graduating 
in 2001. In the years that followed, his talent and tireless dedication would pay off, seeing his dream play out in the kitchen of Vancouver's Lumiere Restaurant (Mobil Five Star), at Thomas Keller's California restaurant The French Laundry (Michelin Three Star) as the Chef de Partie in 2004, and even on television screens as a winning contestant on Food Network's Chopped Canada in 2016, and as a competitor on the same network's Top Chef Canada in 2019. Dennis was also previously with Fairmont Hotels & Resorts as Executive Restaurant Chef at Fairmont Waterfront in Vancouver, before finding his new home at Notch8. 
The chef credits his successful career to the line chefs he's worked shoulder-to- shoulder with over the years. "When you're on the line with someone, you see how they approach their craft", says Dennis. "You have a shared passion, and everyone has different backgrounds, so you end up learning everything from making the perfect pasta dough to the fastest way to break down a whole pig." 
When he's not in the kitchen, you can find Dennis at the rink playing rec hockey, or on a walk at the lake with his two year old Doberman pinscher, MacGyver. Working out and healthy living are integral parts of his life, having trained for and competed in fitness competitions for the past three years. 
### About Fairmont Hotel Vancouver Fairmont Hotel Vancouver, known as the 'Castle in the City', with its chateau-style green-clad copper roof and gargoyles is an architectural landmark in the heart of Downtown Vancouver. A registered heritage property operating since 1939, the hotel symbolizes grandeur and timeless elegance with service and hospitality that has earned it a Forbes Travel Guide Four Star Rating for four consecutive years. In spring 2019, Fairmont Hotel Vancouver completed a $75M, five- year multiphase renovation project showcasing a new lobby and restaurant, 557 new guest rooms, the luxurious Fourteenth Floor Heritage Suites and a new Fairmont Gold product featuring redesigned guest rooms, private lounge, dedicated concierge team and first-class services. 
About Fairmont Fairmont Hotels & Resorts is where occasions are celebrated and history is made. Landmark hotels with unrivalled presence, authentic experiences and unforgettable moments have attracted visitors to Fairmont and its destinations since 1907. The Plaza in New York City, The Savoy in London, Fairmont San Francisco, Fairmont Banff Springs and Fairmont Peace Hotel in Shanghai are but a few of these iconic luxury hotels, forever linked to the special places where they reside. Famous for its engaging service, grand public spaces, locally inspired cuisine and celebrated bars and lounges, Fairmont promises a special brand of thoughtful luxury that will be remembered long after any visit. With a worldwide portfolio of more than 75 hotels, Fairmont also takes great pride in its deep community roots and leadership in sustainability. Fairmont is part of Accor, a world-leading augmented hospitality group offering unique experiences in 4,900 hotels and residences across 110 countries. 
Chef bio and image provided by Abbey Vogt, Fairmont Hotels & Resorts. All cuisine images MyVanCity. I received a complimentary dinner for myself and a guest. I left a gratuity equal to 20% of the cost of the dinner for our server. All opinions are my own.
[wdi_feed id="2″]