On a recent trip in February I happened across the Artisan Wine Shop on Broughton. Smack dap in the middle of tourist central and in an area of interesting and unique shops. You can imagine my surprise and delight to find  an undiscovered wine shop and at the same time a wine tasting was going on.
BC wine lovers know the best place to taste wine is in the winery's Tasting Room. Unfortunately we aren't able to do that right now as we practice social distancing. Our favoured spring new release wine tasting events were unceremoniously cancelled and as much fun as a virtual tasting is it doesn't really take the place of the real thing.
On this quiet, slightly overcast Sunday afternoon I'm thinking about how much I enjoyed my visit to the Artisan Wine Shop and I thought I would share my experience with you. The Artisan Wine Shop in Victoria is so worth a visit and thankfully it is still open during these abnormal times. If you find yourself either visiting Victoria or if you are a local I highly recommend a visit.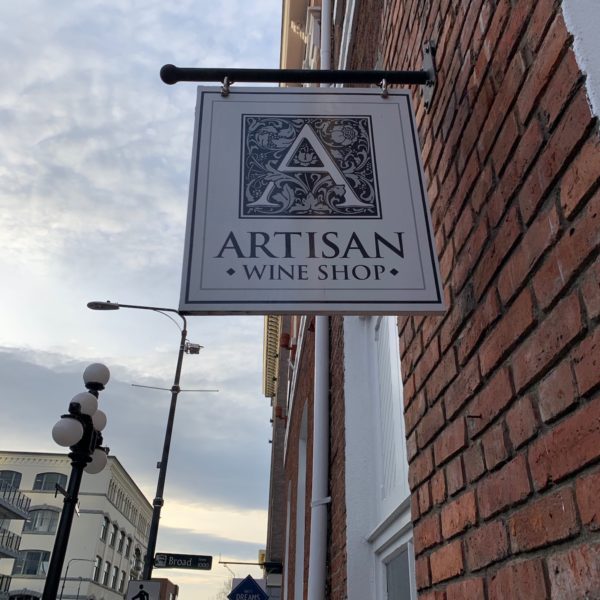 Artisan Wine Shop in Victoria sells exclusively wines of the von Mandl Family collection of wineries that include Mission Hill Family Estate, CedarCreek Estate Winery, Martin's Lane Winery, CheckMate Artisanal Winery and Road 13 Vineyards as well as other brands exclusive to the Mark Anthony Group such as Prospect, Diabolical, Rigamarole and White Bear.
The layout of the wine shop is pleasing and the stock of wines makes for one stop shopping. With two locations; one in Victoria and one in North Vancouver Artisan is worth a visit for lovers of the wines of the von Mandl family collection and the Mark Anthony Group. Wines range from very affordable to pricey for Mission Hill Legacy Collection, the Martin's Lane Pinot Noirs and Rieslings or CheckMate's Merlots and Chardonnays; with more moderately priced Road 13 and CedarCreek at varying price points.
I could easily have spent much more time just browsing and enjoying the ambience of the Artisan Wine Shop. The team were both friendly and very knowledgeable and there is nothing better than an afternoon spent wine browsing, unless of course it's wine tasting!
It was an interesting tasting of a trio of Pinot Noirs. Beginning with 2018 Mission Hill Five Vineyards at $19.00, next CedarCreek 2017 Pinot Noir at $27.00 and finally the Mission Hill 2017 Reserve at $28.00. Everyone has a different taste and the best way to discover a wine that is new to you is by tasting. Unfortunately at this time winery tasting rooms are temporarily closed and wine shops are not permitted to conduct tastings.
We would suggest you rely on the wine reviews who's opinions you trust, like MyVanCity or  there are a number of good apps that may help you in deciding to try something you haven't tasted before. For BC wine the TasteAdvisor app allows you to track your favourites and what you've tried; discover and expand your wine experience; explore wines and wineries; have a personal sensory profile; and receive wine recommendations based on your personal sensory profile.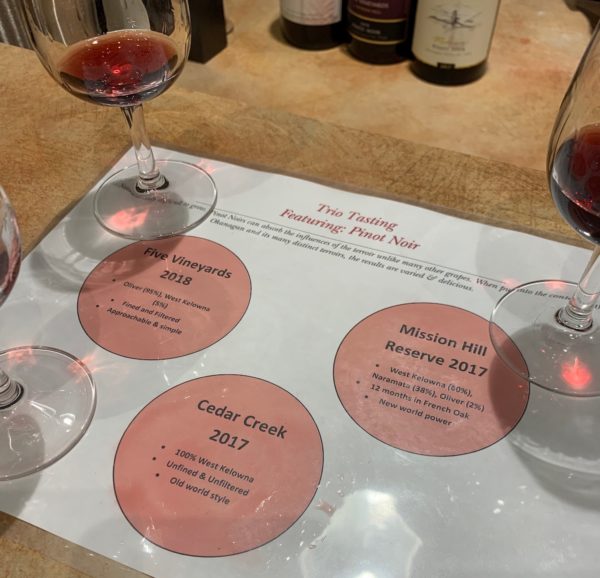 Each wine had it's own distinct characteristics and here I will defer to the winery's tasting notes. Given the price point of the Five Vineyards it was at the very least a satisfactory, if not good wine, and good value. The CedarCreek which I admit to having a bias for was very good and I think that at $27.00 still a good price point. Mission Hill fans will not be disappointed by the Reserve.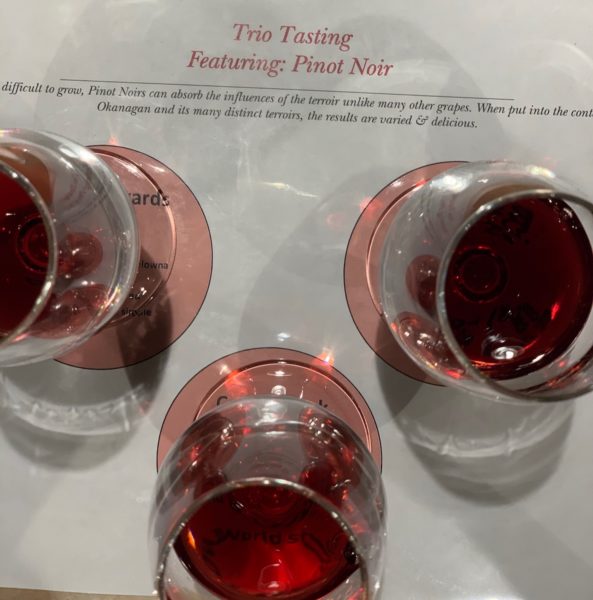 2018 FIVE VINEYARDS PINOT NOIR
Light ruby colour; sour cherry, berry, beet, earth and raspberry aromas; dry, medium bodied, with earthy, fruity flavours, balanced acidity and moderate tannin on finish.
2017 CEDARCREEK RESERVE PINOT NOIR
All the grapes for this wine come from four separate blocks within our Home Block Vineyard, each farmed differently and harvested as much as three weeks apart. This was also the first year we started farming Home Block organically and the results show in the bottle. In true Pinot form, this wine is light and delicate, though has a riper fruit profile due to the warmer vintage. It is made in a truly low-intervention style: natural fermentation, natural malolactic fermentation, unfined and unfiltered.
This is a soft, lighter style, easy and approachable wine while still retaining some interest and complexity. Riper fruit profile than in previous years (think black fruits over red fruits).
2017 MISSION HILL RESERVE PINOT NOIR
Tasting Notes
Layers of red fruit and brambleberry finish with delicate tannins. Savoury notes and a subtle hint of herbal spice deliver a complex wine that is sure to enchant.
Gold – All Canadian Wine Championships
A short video clip with Alex Kim Introduction to Wine Tasting
For now we are all doing our wine tastings at home. More innovative folk are joining up on Zoom or other social media platforms to have a virtual wine tasting. On a more positive note I am pleased to be able to tell you that the Artisan Wine Shop is open and also taking online orders.
Stay safe and please support your local wineries and wine shops during these challenging times. For a retrospective of BC wines offering shipping to your door use this link.
Video clip of an introduction to the tasting by Alex Kim. Video by MyVanCity. Wine notes courtesy of the wineries or LCBO. All images MyVanCity. During my visit I purchased a bottle of the CedarCreek Pinot Noir.