This is a guest post on Winemaker's CUT 2020 wine portfolio which is exciting as they've added two new, sustainable vineyards to the roster – Chahal vineyard, north of Oliver and Slow vineyard on the Naramata Bench. These vineyards belong to friends of Winemaker's CUT, Michal and Martina Mosny and in these trying times where we must all stay apart, at least these friends can share in and contribute to the making of fabulous wine.
In this time of sickness, I have been thinking a lot about wellness. Wine for me enhances my wellness because like the figure on the label of this bottle of 2019 Boho Zen, I strive to consume wine as a mindful activity. I stop all the chaos in my head that's swirling around and strive to be present. I purposefully taste the wine and let all the other thoughts and feelings go with a sense of curiosity and kindness.
Instead of succumbing to all the distractions in my brain, I took some time to try to truly experience the Boho Zen and filled myself with its flavours of summer ripe plums, woody tobacco, and plush cherries. I considered the technical information about the wine and marveled at how much thought, choice and abandon go into producing something that hinges on the uncontrollable whims of nature while it is consciously shaped by the careful editing of its human creators.
Boho Zen is a blend of 90% Syrah 10% Merlot which has been hand harvested and then cold-soaked for three days in stainless steel. Winemaker's CUT tells me this wine came into being with "wild, spontaneous ferment as well as co-ferment." For us writers, this is pure poetry. No wonder taking time to actually taste a carefully crafted wine like this is a mindful act.
2020 has not been a very Zen year.
Months ago, before all of the pileup for horrible events occurred, a box arrived at the doorstep containing eight wines to try from Michal and Martina. I say "months ago" because I have been in a time warp along with everyone else. On top of deeply concerning social crises, many, including me, are feeling frightened, disrupted and overwhelmed by the global pandemic. Like global warming, the pandemic shines a spotlight on how interrelated our personal health is with the health of our planet.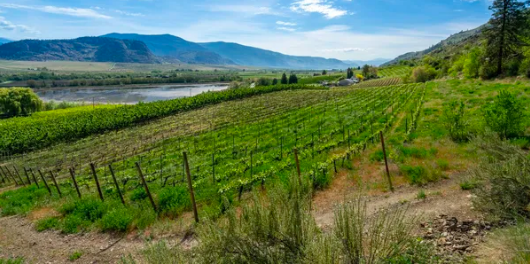 Sampling amazing wines, dining out in fabulous restaurants, travelling to exquisite places in the world, spending quality time with family and friends are all ways to forget one's troubles and of course, COVID-19 has wiped out any of those possibilities for being in the moment and not fretting about the future. Canadians are resilient and don't give up their need for community very easily. So, even though it was chilly in Victoria, we gathered outside with our next door neighbours and shared a bottle of Winemaker's CUT's 2019 Rosé. Bundled up in ski jackets, keeping our 2 metres distance, we yelled at each other from our adjacent porches about how crazy everything was. Even in those less than ideal conditions, composed of 90% Cabernet Franc and 10% Syrah, the Rosé was still fabulous with notes of vanilla, lemongrass, warm apricot and cool mint. This was early spring. Little did we know that things could actually get worse with racism being exposed, divisiveness around the pandemic, civic rights being crushed, violent protests and the list goes on. If we're not Zen, the planet can't be Zen. And right now, it feels like we're wound up, full of uncontrollable negative emotion, regretting the past and fearing the future. One of the aspects of slowing down and actually tasting wine is that it brings us into the present. It is in this spirit that I finally decided to write some blogs about one of my favorite Okanagan wineries.
I was inspired by the words of a wise woman I am lucky to know. Psychologist, Dr. Theresa Nicassio writes: "We can resist the reality of the loss, we can get angry, we can get depressed, we can act out…we can do a lot of things. Ultimately, we also have an opportunity to surrender to the loss and accept the reality of change." Rather than finding myself stuck, unable to write, I decided to surrender to the many losses of 2020 and accept the reality of change. This quote is taken from the very first page of her book YUM: Plant-based recipes for a gluten-free diet. As you can see from her words, this is a cookbook, but it's also one of the wisest books I've read about wellness for ourselves and our planet.
As a writer, I tend to only have flashes of insight or understanding when I am putting pen to paper and when I was writing in bits and pieces about Winemaker's CUT this year, not able to find any thread or bring my thoughts together, I found myself reflecting on health as something deeply natural, but in our world at this time, very much at risk.
Guest blogger:  Jennifer Fraser