"In this series, I will be sharing my take on which BC Wine pairs well with some inspirational recipes"
Sometimes the recommended wine is so good it sells out before I have time to write a review. That's what happened here, so instead of one wine there are two suggested wine pairings. One pairing for those lucky enough to still have the SOLD OUT Sauvignon Blanc on their shelf and another suggested by Wine Club Manager Cathy Davison.
The Sauvignon Blanc was a classic pairing with the rich and creamy dish of scallops and heavy cream (gasp!) So, not a dish to eat every night but spectacularly delicious. The Sauvignon Blanc was just perfect! Unfortunately this delightful wine is already Sold Out! It's not surprising really because the wines are exceptional for the price.
You can still enjoy the second wine pairing option presented here.
Pairing:
La Frenz Sauvignon Blanc 2020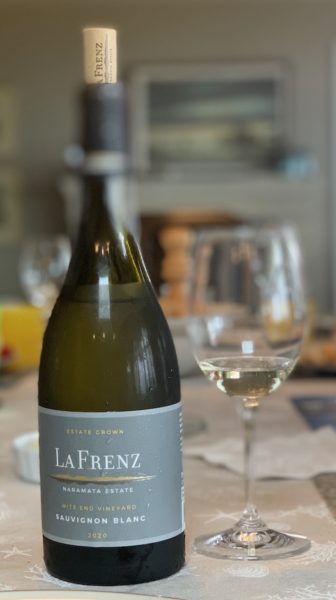 Our Sauvignon Blanc is crafted to present a crisp, dry wine that offers aromatics of pea shoots, grapefruit and with a hint of honeysuckle. Experience mouthwatering flavours of gooseberry, ripe pear and passionfruit finishing with lingering notes of fresh cut grass and minerality.
Pair with a crisp, green papaya salad or grilled prosciutto wrapped asparagus spears.
This wine is best enjoyed in its youth when it is showcasing the great characteristics of vibrant acidity, citrus and green notes.
Wonderful green apples, granny smith, a touch of spice. Slight tartness and excellent acidity. A hint of vanilla scents. This is one delicious wine.
Aromas of fresh, lightly tropical like pineapple, with freshly cut chives. Meyer lemon flavours, but not tart. 
Sweet scents with a dry finish.
Suggested BC wine pairing:
La Frenz Reserve Ensemble 2019

The 2019 Ensemble is a well-integrated blend of Sauvignon Blanc and Semillon that has fragrances of white frangipani, mandarin and lemon thyme and shows a honeyed warmth throughout with a rich texture. A fresh vibrant wine yet showing great complexities, brimming with lemon sorbet, lychee, honeydew melon and tarragon, finishing with notes of lanolin and golden hay that is typical of aged Semillon.
Quite easily enjoyed upon release, our Ensemble can be aged for the next 5-10 years from release to experience a richness that further development will bring.
Recommended by Cathy Davison, Wine Club Manager.
Creamy Pan-Roasted Scallops With Fresh Tomatoes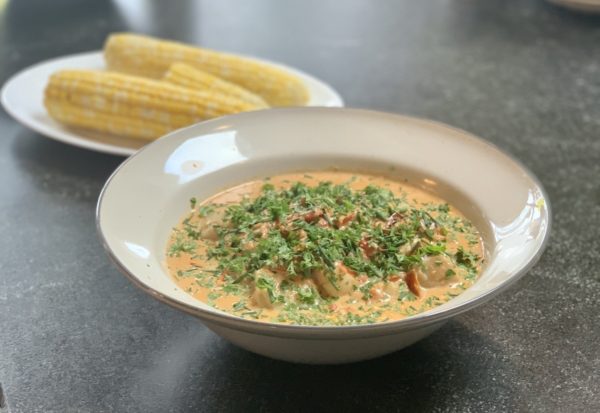 INGREDIENTS
unsalted butter
1/2 thinly sliced red onion
Pinch of celery seeds
Salt and black pepper
2 cups chopped fresh tomatoes
1/3 cup dry white wine
4 teaspoons Worcestershire sauce
1 cup heavy cream
sea scallops, patted dry (4 per person)
1/2 cup chopped fresh chives
1/2 cup chopped parsley leaves, plus more for garnish
METHOD
Heat a heavy fry pan to medium-high heat and add the butter, letting it melt. Add red onion, celery seeds and a pinch each salt and pepper, cook until the onion is tender and opaque, about 3 to 5 minutes. Stir in tomatoes. Turn down to a simmer, stirring occasionally, and cook until jammy, 9 to 13 minutes.
Increase heat to medium-high and stir in the wine. Cook until about a third of the liquid evaporates, about 5 minutes. Add Worcestershire and cream, and simmer, reducing heat if needed and stirring occasionally, until sauce thickens enough to coat a spoon, 5 to 7 minutes.
Season scallops with salt and pepper,  slice into quarters or smaller pieces and add to the pan. Cook, uncovered, until scallops are just cooked through and opaque, 2 to 4 minutes, depending on the size of the scallops. Stir in chives and parsley leaves. Serve immediately, garnished with more parsley.
By slicing the scallops into bite size pieces you ensure that everyone gets a good share.
Serves four.
This dish was deliciously rich and the original wine pairing was superb.
Be sure to put La Frenz on your list for Spring, 2022.
See the previously publshed recipe and wine pairing #ThisWineThatDish | La Frenz Viognier 2020 | soup à l'Oignon Gratinée here.
Tasting notes courtesy of the winery. My notes (in italics and bold italics) I received a complimentary bottle of wine to facilitate this feature.