"In this series I will be sharing my take on which BC Wine pairs well with some inspirational recipes"
This is definitely a recipe for vegetable fans or vegetarians. Sorry not vegan this time. To really appreciate the under rated cauliflower think roasted!
Roasting the cauliflower tames the bitterness and brings out the sweet, crispiness that makes it so appealing in this dish. Add goat cheese, and the right wine, perfection!
Suggested BC Wine pairing:
Evolve 2020 Spontaneity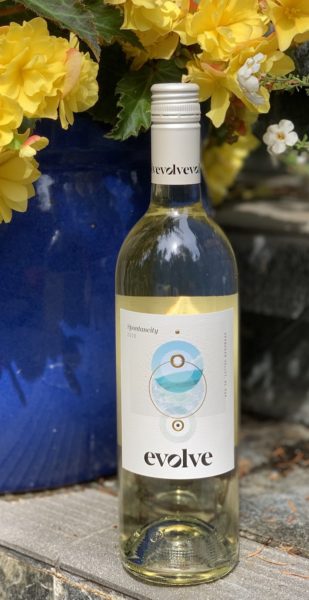 New release
Life is too short not to be spontaneous. This white blend of 50% Pinot Gris, 30% Sauvignon Blanc, 20% Ortega is light and fruity with a slightly sweet finish. Chilled on a patio with your tribe is perfection in a glass.
Excellent aromas of stone fruits and apples, with candy scents. Ripe fruits with pleasant flavours of peaches with good acidity.Refreshing.
Easy drinking alone or paired.
Roasted Cauliflower Gratin With Tomatoes and Goat Cheese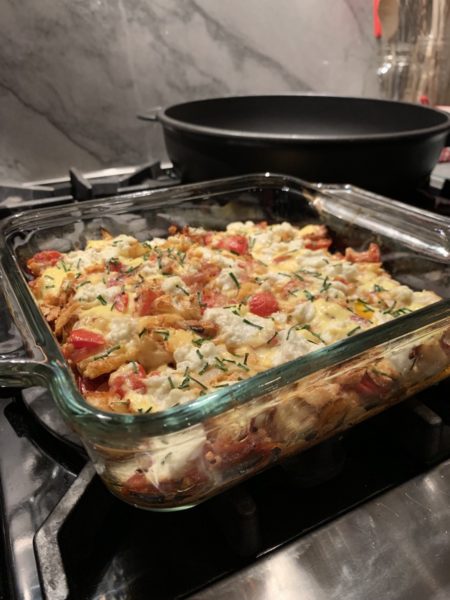 INGREDIENTS
1 head of cauliflower
Salt and freshly ground pepper to taste
3 tablespoons extra virgin olive oil
1 small red onion, sliced thin
1 garlic clove, minced
1 teaspoon fresh thyme leaves
1 can chopped tomatoes in juice *
⅛ teaspoon nutmeg
2 eggs
soft goat cheese (room temperature) + extra
chopped chives
Trim off the bottom of the cauliflower so only the flowerettes remain. Slice into 1/2″ sections. Coat in olive oil, sprinkle with salt and pepper and roast at 425 just until the cauliflower starts to brown, turn over and continue roasting, about 20 minutes total. You want the cauliflower to still be firm.
Fry the onion slices and garlic in the olive oil, add the thyme. Salt and pepper to taste. * for this dish I skipped the canned tomatoes because I had some overripe Heirlooms on hand which I chopped into pieces.
Toss everything together in a bowl and place in a casserole dish.
Beat the eggs and add the soft goat cheese, combine well. Pour the goat cheese egg mixture over the cauliflower and onions. Sprinkle with nutmeg. Drop spoonfuls of the extra goat cheese on top.
Bake at 375 for about 30 minutes or until golden.
Wine notes courtesy of the winery. My notes (in bold italics) I received complimentary wine to facilitate a post for Evolve Spontaneity, Chronos Rosé, and McWatters White Meritage. Read that feature on MyVanCity.ca here. Look for more TIME Family wines in an upcoming #FavouriteThings Holiday Gift Suggestions 2021 feature. The #FavouriteThings features begin on November 1st.