"In this series I will be sharing my take on which BC Wine pairs well with some inspirational recipes"
This is a special Valentine edition of #ThisWineThatDish I am sharing the dish I made last night to celebrate Valentines with hubby.
First of all a little explanation about the choice of wine; Chardonnay is a go-to wine with Scallops, that is something undeniable, but what happens when you throw in bacon, Brussels Sprouts, lime juice, maple syrup and Dijon? Beyond the obvious taste sensation you really challenge the wine, in this case a Culmina 2016 Dilemma Chardonnay.
I specifically chose a Culmina Chardonnay, first and foremost, because they make such excellent wines, all on my favourites list. So what better recommendation and introduction to their Chardonnay than past experience with their fine wine making.
The dish was very good, but better still, really easy and quick to prepare. Who wants to hang around in the kitchen when you could be gazing into each other's eyes, whispering sweet nothings? Get the picture? Now try it yourself, paired with the Culmina Dilemma.
The BC Wine Pairing:
DILEMMA VINTAGE 2016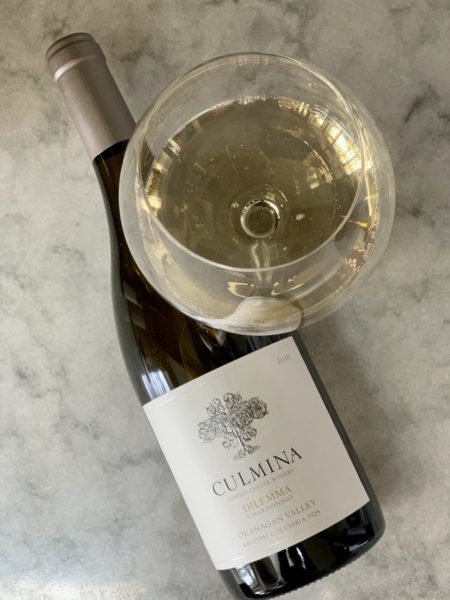 VARIETAL
Chardonnay
APPELLATION
Okanagan Valley
VINEYARD
Margaret's Bench
VINTAGE CONDITIONS
2016 began exceptionally early, with very warm temperatures in early March and continuing into April, causing record breaking Bud Break on all three benches. Unseasonably cool and wet conditions followed in June and early July, slowing growth back to almost normal thresholds. Moderate heat followed in July and August, with September marked by warm days and quite cool nights, allowing for excellent ripeness and optimal acid balance in all varieties.
TASTING NOTES
An elegant, terroir-driven Chardonnay, Dilemma shows expressive aromas of ripe citrus, stone fruit, and fresh chamomile flowers. Soft peach flavours anchor a textural, mineral-driven palate, taut with fresh acidity and subtle chestnut flavours. Classically structured and restrained, the toasty oak finish is long, savory, and bright.
FOOD PAIRING SUGGESTIONS
BC Island grilled scallop with apple fennel slaw "spoons"; Burrata with grilled Okanagan freestone peaches, extra virgin olive oil, fresh basil, and toasted hazelnuts; Morel mushroom risotto with garden thyme and new season white onions; braised tarragon chicken with button mushrooms and Grass Root Dairy cream; baked pistachio-crusted steelhead with herbed potato mash; washed rind cheeses like Brie or Saint Nectaire.
AGING POTENTIAL
2-4 years
I noted scents of crips green apples and an abundance of spice with green pepper and notes of Meyer lemon. Some slight tropical aromas with light oak and peach.
I loved the ripe fruit that tickled the palate with full flavour combined with a pleasant acidity. The Chardonnay lovers Chardonnay.
The Culmina 2016 Dilemma did not disappoint. Matching well with the fresh lime juice, subtle maple syrup and tangy Dijon flavours of the sauce and the sweet, nuttiness of the braised Brussels sprouts combined with the richness of the scallops.
The wine was brought up from my cellar (aka basement), where the temperature was around 14C, a few hours before serving dinner. I left it outside where the temperature was around 8C versus my refrigerator which is barely over 1C. The wine came inside about 30 minutes before pouring and I think that was ideal.
Although possibly near its best before date, the wine was a standout. This wine is sold out at the winery, the 2017 Dilemma is available to purchase online.
Culmina 2017 Dilemma is available online at $31.00. Wine notes, tasting notes and food pairings for the 2017 Culmina Dilemma available here.
Seared Scallops With Glazed Brussels Sprouts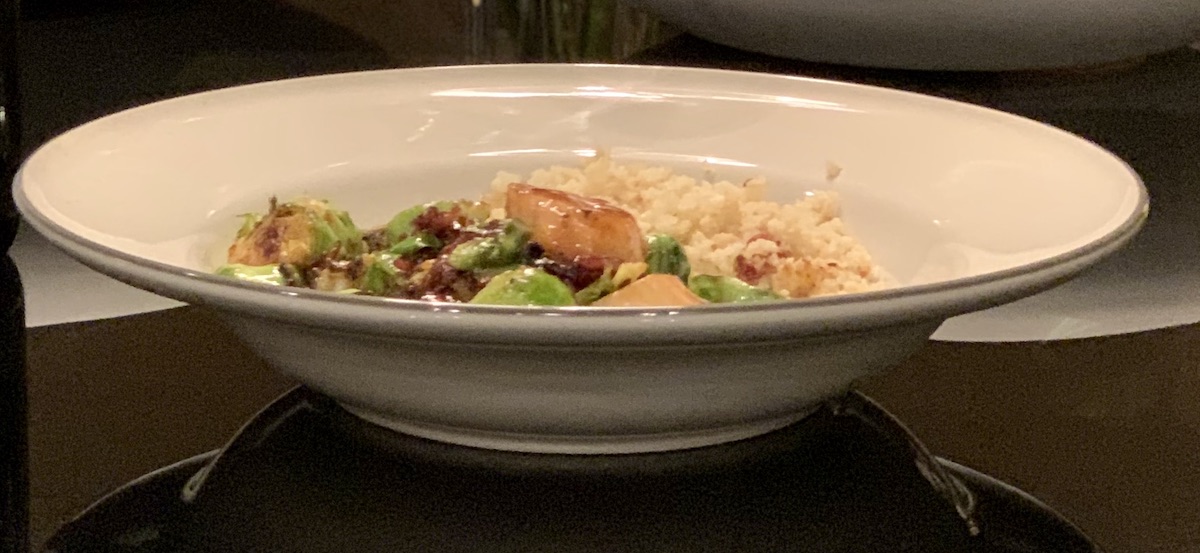 salt and black pepper
2 slices bacon, sliced crosswise into thin, short strips
1 tablespoon olive oil
8 large sea scallops
½ pound brussels sprouts, trimmed and halved, larger ones quartered
Sauce
2 tablespoons fresh lime juice
2 tablespoons maple syrup
1 teaspoon Dijon mustard
½ teaspoon garlic powder
3 tablespoons cold unsalted butter
Place bacon and olive oil to a large, cold skillet. Turn the heat to medium-high and cook, stirring occasionally, until the bacon is very crispy. Remove.
Dry the scallops and add to the pan, braising until browned on the underside, turn and braise the other side being careful not to overcook. Remove and add to the bacon. Keep warm.
Add the Brussels sprouts cut side down and cook until caramelized, season with salt and pepper, turn and braise on the other side adding more olive oil to the pan if needed. Remove and add to the bacon and scallops. Keep warm.
Sauce
Add all ingredients in a small rankin and stir well. Transfer to the pan and as it starts to thicken and glisten in colour add the butter and stir to combine. Add in the bacon, scallops and Brussels sprouts and toss to coat. Serve immediately.
Join the club. Enjoy the perks.
Award-winning wines delivered right to your door. Plus discounts, free shipping, priority access, exclusive events, and more.
Culmina Family Estate Winemaking Philosophy
A love and appreciation for the craft of making fine wine underscores every detail at Culmina Family Estate Winery and is embedded in all that we do, from the vineyard to the cellar.
Our winemaking philosophy revolves around two principles: gentle handling of fruit and minimal intervention of wine. We employ a combination of traditional practices and leading-edge technologies to preserve the beautiful, natural character of our wines.
Wine notes courtesy of the winery (in italics) My notes (in bold italics). Images: MyVanCity. The Culmina 2016 Dilemma from my cellar compliments of the winery to facilitate a #ShiptoSip feature in March of 2021, read the full feature here.