It's Spring and it's time to channel your inner wanderlust! Welcome back wine touring!
Come Explore

Fort Berens Estate Winery is located in Lillooet, along the Gold Rush Trail in British Columbia's newest and most exciting emerging wine region. Lillooet's first winery was forged on the road less traveled. It is a culmination of the dreams, vision, and pioneering spirit of the team. Today, with 38 acres of vineyard and a cabinet filled with regional, national, and international wine awards, Fort Berens is showing the world that this is a discovery for the new millennium. At this breathtaking location, we passionately handcraft award-winning wines that reflect our unique Lillooet terroir.
TASTING ROOM & KITCHEN
Come explore Lillooet's first winery and sample our latest vintages in our tasting room while looking out at the towering Coast Mountains. Spend some time shopping through our collection of wines, glassware, gift ideas, cookbooks, preserves, and more. Plan to enjoy a farm-fresh wine-paired lunch at our seasonal restaurant, The Kitchen at Fort Berens, while you soak up the breathtaking vistas from our patio.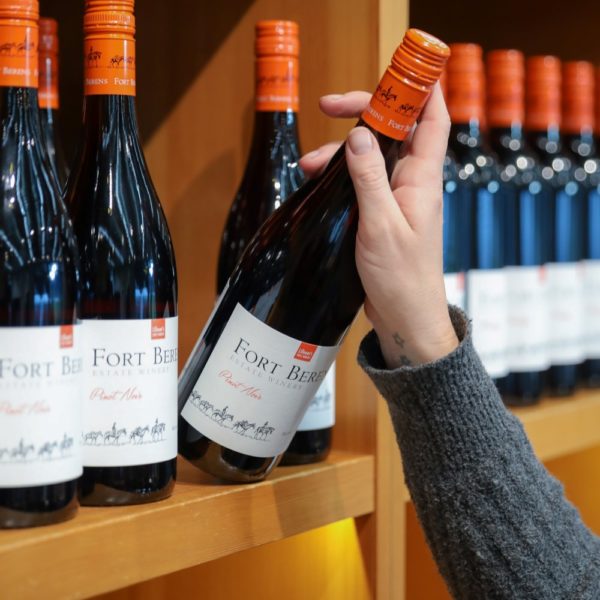 Tasting Room
Drop-in and enjoy a wine tasting, daily from 10am-6pm. We offer wine tastings in our tasting room without reservations. The tasting fee is $7 per person, which is waived upon purchase of a bottle of wine.
We also offer a guided wine tasting in the Discovery Club Lounge. This is a 45-minute guided wine tasting with one of wine ambassadors in the Discovery Club Lounge. In addition to our classic wines, you will have an opportunity to taste Reserve wines as well as older vintages. Friday through Monday at Noon, 1pm, 2pm and 3pm. Tasting fee is $ 25 (+5% GST) per person. Discovery Club members receive two complimentary tickets per year. Tasting fees are collected after the tasting.
BOOK A GUIDED TASTING IN THE DISCOVERY CLUB LOUNGE

Enjoy a 45-minute guided tour of our winery and vineyard with one of our wine ambassadors. After the tour, you have the opportunity to sample of some of our best wines, including our reserve wines, during a guided tasting in the Discovery Club Lounge. Friday through Monday at 10:30am. The Tour & Tasting is $ 50 per person (+5% GST), which will be collected after the tasting.
BOOK A VINEYARD TOUR & TASTING
The Kitchen at Fort Berens

The Kitchen at Fort Berens is open daily. Hours are Sunday through Thursday from noon till 4pm and on Friday & Saturday from noon till 7pm.
The culinary team is led by Chef David Schuk, who with 25 years of culinary experience has worked in some of Vancouver's finest restaurants.
Our menu changes frequently with the changing availability of fresh ingredients sourced from our local farms and other food producers in British Columbia. We try to keep the menus on our website as up to date as possible, but the menu on the website might be slightly different at times from the menu on the patio.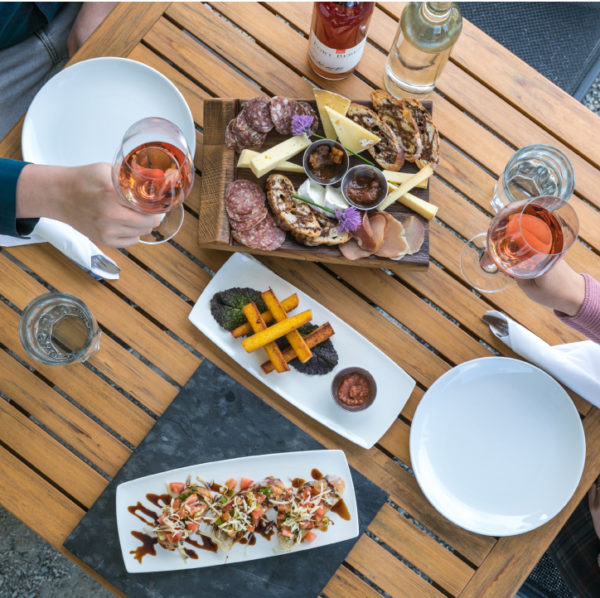 THE WINERY
We are passionate about making wines that express the unique Lillooet terroir. We aim to provide premium quality wines at a fair price ensuring our customers get great value for their money.
At Fort Berens, we have set out to produce consistent, high-quality, award-winning, terroir-driven wines. We do this with minimal intervention so that the terroir and the fruit can shine through in the glass. Our main focus is on producing single varietals from single vineyards. While most of our wines are produced from our grapes grown in our Estate Vineyard, we do seek out a few other vineyards to supplement our production. In the future, we hope to be able to source grapes from other vineyards in Lillooet.
Our winemaker works very closely together with the vineyard team to grow premium grapes that have a great expression of the terroir. Decisions with regard to yield and cultural practices are made with the wines we wish to make in mind. Differences in clones, rootstocks and even vintages are welcomed to create wines that encourage the consumer to discover the riches of the Lillooet terroir. Our highly trained winemaker and vineyard manager work together to develop a highly receptive and pro-active winemaking strategy.
To-date, we have received a large collection of BC, national and international wine awards, including most recently the Lieutenant Governor's Award of Excellence for British Columbia Wines for the estate grown Riesling 2012. These many accolades confirm that our strategy has us on the right track.
We have embarked on a long term project to learn more about the Lillooet terroir. Every vintage, we will work with a number of experiments that will help us in systematically learning about how certain varietals, rootstocks, clones, vineyard management practices and winemaking practices contribute to our production of premium wines. The new facility was designed in such a way, that as we learn which varietals work best in our climate, we can adjust the production procedures and techniques to accommodate future plantings and production accordingly. This learning strategy is geared towards a continuous improvement of the quality of our wines and the expression of the terroir.
Our winemaking style:
We aim to produce wines that are clean and fresh. Wines that have old world elegance blended with the fruit forward styles consistent with new world wines.
Generally, our red wines are cellared one year in French and American oak barrels and then aged 12 months in bottle prior to release. We like to release our wines so they are ready to drink or further cellared for an additional 4-8 years.
We like our white wines fresh while reflecting good acidity that is retained through our relatively cool nights. Generally, our whites are dry and fruit forward.
Our Riesling is really expressing the Lillooet terroir. It is off-dry with tropical notes. It has evolved very consistently over the last three years, which provides us with a good basis for aging for those that seek a more mature Riesling.
To-date, we have received a large collection of BC, national and international wine awards. With Danny Hattingh joining the Fort Berens team as our full-time onsite Winemaker in 2014, we are doing many vinification experiments (up to 30) to see what techniques and equipment work best with our cultivars and their various clones. Our new facility was designed in such a way, that as we learn which varietals work best in our climate, we can adjust the production procedures and techniques to accommodate future plantings and production accordingly. We are confident that with these learnings and being able to now produce wine in our new facility, which we will continue to produce wines of exceptional award-winning quality that will continue to improve with each vintage.
TASTING ROOM HOURS
May-October
Mon-Sun: 10am-6pm
(incl. Holidays)
1881 Highway 99 North
PO Box 758
Lillooet, BC V0K 1V0
TF: 1-877-956-7768
P: 1-250-256-7788
F: 1-250-256-7780
E: info@nullfortberens.ca
We would like to acknowledge that the winery and vineyards are located in the St'at'imc Nation territory that includes Bridge River (Nxwisten), Pavilion (Ts'kw'aylacw), Cayoose Creek (Sekw'el'was), Seton Lake (Chalath), Lillooet (T'it'q'et) and Fountain (Xaxl'ip).
Information and images courtesy of the winery.