Res Fortes crafts modern, elegant and distinctive wines. Now for the first time available to wine lovers in British Columbia. All of Res Fortes wines are a pure expression of Roussillon's unique terroir. They are a gateway to explore an ancient and unique region and its undiscovered wines of exceptional quality.
Côtes du Roussillon Rosé 2020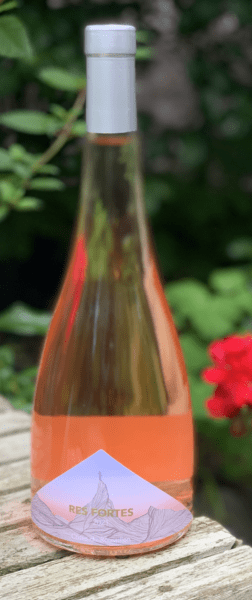 Maury, South of France
Variety
50% Grenache Noir, 30% Syrah, 20% Grenache Gris.
Tasting note
Floral, stonefruit and red fruit, mouthwatering acidity, surprising full body.
Food pairing
Grilled pork, chicken and seafood.
Vineyard Information
Age of vines: 40 – 60 years old
Côtes du Catalanes

Indication Géographique Protégé Red 2018
Maury, South of France
Variety
30% Grenache Noir Barrel aged, 30% Grenache Noir Tank aged, 10% Syrah & 30% Mourvèdre.
Tasting note
Intense ripe red fruit, plum and black cherry along with a touch of cinnamon, vanilla and spice from time spent maturing in old French oak. Rich and structured with supple tannins and beautiful balance.
Food pairing
Lamb meatballs, BBQ pulled pork, or ribeye with peppercorn sauce.
Other
Best served decanted.
Vineyard Information
Age of vines: 40 – 60 years old
Côtes du Roussillon White 2019

Maury, South of France
Variety
60% Macabeu, 40% Grenache Gris.
Tasting note
White melon & pear fruit, round & ripe, mineral acidity, dry. Something very unique.
Food pairing
Grilled pork, chicken and seafood.
Vineyard Information
Age of vines: 40 years old
Available, by the glass, at Nightingale.
RES FORTES CÔTES DU ROUSSILLON WINE
From Rugged Ancient Hills Comes Modern Elegant Wine
Our Wines Are A Pure Expression Of Roussillon's Unique Terroir In The South Of France
MORITZ BAK
Winemaker
"When I was young, I remember travelling on the train across Europe and seeing the Swiss Alps with terraced vineyards covered in snow. By the age of 16 I was hooked. My passion has been winemaking ever since." Moritz Bak
Moritz spent many summer months as a child with his grandfather in the South of France, who would talk for hours with great passion about wine… and even let him try a little. Listening to him, Moritz's fascination with wine began.
After studying Wine Science at Brighton University's Plumpton College, graduating in 2010, Moritz set out to travel the World and hone his winemaking skills in the Northern and Southern Hemispheres, following the vintages. He worked in the USA, South Africa, France, New Zealand, Germany, and Australia, in well-known regions such as Sonoma Valley, Paarl, Roussillon, Bordeaux, Barossa Valley, Hawkes Bay, Riverland and the Mosel.
While working for some of the world's best wine producers, Moritz broadened his understanding of the processes and techniques required to make high quality wines from different grape varietals and volumes. Some of the well-known brands that Moritz has worked on are Chateau Bauduc, Mellasat, Kendall Jackson, Dr Loosen, Orin Swift, Delagat's Barossa Valley Estates, Oyster Bay, and Penfolds.
After working with dozens of amazing and talented winemakers all over the world and winning numerous prestigious awards and accolades, Moritz knew he was ready to break out on his own.
"In 2014 I decided it was time to use what I had learnt from all over the World and create my own premiere vintage!"
Moritz chose the Roussillon region and the village of Maury in the South of France as the place for the first vintage, knowing the potential for quality residing in the Pyrenees foothills where he purchased a 14 Hectare Organic vineyard and winery in September 2018. Since then, his wines have garnered a worldwide following. Res Fortes wines have achieved critical acclaim from Decanter, IWSC, Wine Enthusiast, and other reputable publications, have been awarded 90 points and above numerous times, and have won Silver and Gold medals at the Global Rosé Masters as well as San Francisco International Wine Festivals.
Wine notes and winemaker's bio courtesy of the winery. Images: MyVanCity. I received complimentary wine to faciltate this feature.