"In this series, I'll share which B.C. wine pairs best with select recipes from the best chefs in B.C." 
Now that we are heading into Fall many of us are spending more time in the kitchen and enjoying it! Here is a wonderful recipe that will wow your dinner guests.
Albacore Tuna Tiradito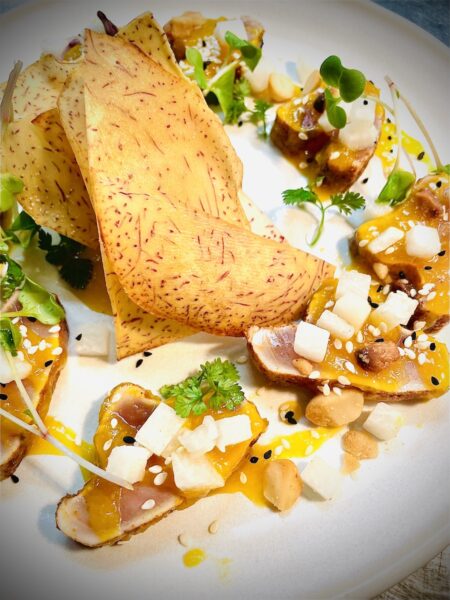 Serve with Fort Berens Riesling
Serves 4
 1 lb albacore tuna loin with belly removed
 1 tsp cumin
 ½ tsp ground coriander seed
 ½ tsp ground cinnamon
 ½ tsp paprika
 ¼ tsp cayenne pepper
 1 tbsp Aji Amarillo
 Toasted macadamia nuts (sprinkle)
 Jicama (sprinkle)
 Sesame seeds (sprinkle)
 1 taro
 Oil
1. Sear albacore tuna loin very rare.
2. Mix spices and then coat tuna with spice mixture.
3. Slice tuna into ½ inch thick slices.
4. Toast macadamia nuts until lightly browned.
5. Cut raw jicama into small cubes.
6. Thinly slice taro with mandolin and fry in oil until lightly browned.
7. Drizzle approximately 1 tbsp of Aji Amarillo over tuna slices. (Aji Amarillo is a Peruvian
chili paste available at specialty grocery stores).
8. Top with sprinkles of chopped, toasted macadamia nuts, cubed jicama, and sesame
seeds.
9. Top with taro chips and enjoy.
This recipe is from Julian Harries-Jones, Chef at The Salted Vine
Fort Berens Riesling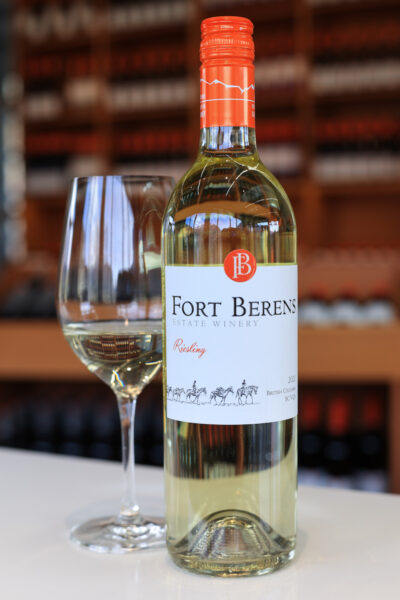 Tasting notes:
Bright and lively with notes of tropical fruit, and hints of lychee, muscat, and rose petals, this Riesling is beautifully balanced and features flavours of green apples, pears, and lemon zest. The versatile and slightly off-dry wine is great to enjoy on its own, and it pairs with almost any dish.
Winemaker's notes:
Made with grapes from our estate vineyard and a vineyard in Vernon. The grapes were given 12 hours skin contact after crushing and were then lightly pressed to collect the free run juice. After daily tasting, the ferment in stainless steel was arrested naturally by dramatically lowering the core temperature of the wine until it was no longer active. This left just enough residual sugar to balance the higher acid levels traditional in this varietal. 5 months of lees contact gave this terroir driven Riesling an elegant and aromatic palate.
Food pairings:
This slightly off-dry Riesling is very food-friendly. It will balance well with Asian and spicy Mexican dishes.
Cellaring advice:
This wine is ready to be enjoyed now, or you can cellar it until 2025.
The Riesling is available at Government BC Liquor Stores, Save-On-Foods, and private liquor stores.
The Salted Vine Kitchen + Bar is located along the picturesque Sea-to-Sky Highway in downtown Squamish. With a menu that places a premium on fresh, sustainable, and seasonal ingredients, an expertly curated beverage program, and modern-country farmhouse décor that reflects the hardworking spirit of the local community, The Salted Vine offers a contemporary and inspired taste of the Pacific Northwest and a new upscale dining experience in the heart of historic Squamish.
The Salted Vine is open for happy hour and dinner service Wednesday through Sunday and features a 70-seat dining room and lounge and 20-seat patio.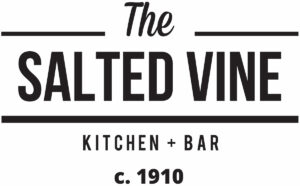 "With this pairing, I want to match the delicate flavour and lightness of the albacore tuna to the freshness and refreshing acidity of the Dry Riesling from Fort Berens. The acidity of the Dry Riesling cuts through the fattiness of the tuna and the spice that the Aji Amarillo brings enhances the fruit in the wine. A very refreshing experience, perfect for a warm summer
evening."
– Pat Allan, Restaurant Director/Sommelier from The Salted Vine
"This recipe will pair well with both the Classic and our Small Lot Dry Riesling. Both wines have a crisp acidity to balance out the richness of the dish. The combination of beautiful aromatics will enhance the flavour of both the fish and the wines. In general, as an aromatic wine, either dry or off-dry Rieslings pair beautifully with fragrant and spicy dishes."
– Alessandro Nel, Winemaker from Fort Berens Estate Winery

Recipe, Albacore Tuna Tiradito, bottle shot and wine notes courtesy of the winery and provided by Kim Lawton, Dog Leg Marketing. Feature image MyVanCity.