It's that time of year again! Dine Out Vancouver Festival returns for its 17th season–from January 18 to February 3, 2019–with custom multi-course menus from Homer Street Cafe & Bar.
Reservations are available at www.dineoutvancouver.com
Homer Street Cafe & Bar is set to offer a three-course Dine Out Vancouver menu created by executive chef Jonathan Chovancek. With the restaurant's elevated comfort fare and quality ingredients in mind, chef Chovancek will feature a variety of starters, mains and desserts such as Purple Top Turnip Soup, Mushroom Tagliatelle and Dark Chocolate Mousse, to name a few. $45 per person with featured wine pairings available*.
DINE OUT VANCOUVER
$45 per person
STARTERS
roasted beet salad
caramelized goat cheese & arugula, lemon & quinoa dressing
or
purple top turnip soup
crispy charcuterie gremolata, Spanish olive oil
or
duck liver paté
grilled sourdough, bitter greens, fig & hazelnut vinaigrette
MAINS
rotisserie pork belly
chermoula, carrots & baby potatoes, spiced apple jus
or
roasted steelhead
ras el hanout roasted squash & red lentils, burnt orange honey vinaigrette
or
mushroom tagliatelle
charred tomatoes, kale & parmesan cheese
DESSERT
canadian cheese cake
raspberry preserve
or
dark chocolate mousse
chantilly cream
or
lemon curd parfait
spiced coconut crumble
FEATURED WINES
50th Parallel Pinot Gris 16 Lake Country BC $11/$52
Tantalus Vineyards Riesling 16 Kelowna BC $12/$57
50th Parallel Pinot Noir 15 Lake Country BC $12/$57
Bartier Bros 'Cerqueira Vineyard' Cabernet Franc 15 Oliver BC $12/$57
Reservations: Call (604) 428-4299 or book online at https://www.dineoutvancouver.com/restaurants/
*Price is per person and does not include wine pairings, taxes or gratuities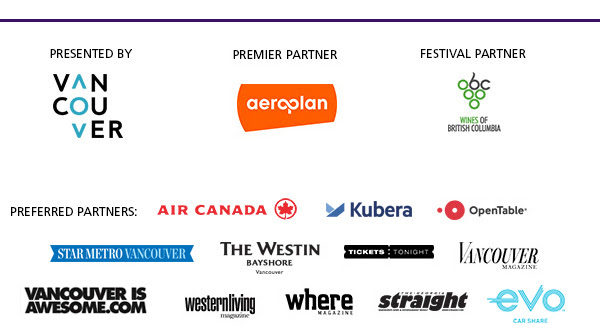 Media release and image provided by Amanda Harris, Camber Communications. Image photo credit: Tracey Ayton