A wine dinner is a good way to either discover or learn more about wine. In this case Water Street Cafe happily partnered with Hillside Winery in its latest instalment of their ongoing Wine Maker Dinner Series!
The evening was hosted by the team at Hillside Winery, paired with Water Street's own Sous Chef Jon Chang wine dinner menu. Each dish was crafted to pair perfectly with each Hillside wine selection. Another wonderful evening where Water Street Cafe continues to support the local wine industry. The Water Street Cafe is proud to have one of the most unique BC focused wine lists in the country.
I have enjoyed a number of Wine Dinners at Water Street Cafe and each one has been excellent. Pairings are carefully crafted and presented, featuring a different BC winery. The most recent Wine Dinner featuring Hillside Winery carried on the tradition of excellent wine paired with fabulous dishes. Winemaker Kathy Malone was in attendance providing the tasting notes of each wine along with some history of the winery and each varietal.
The five course dinner included:
WELCOME AMUSE BOUCHE
fresh kusshi oysters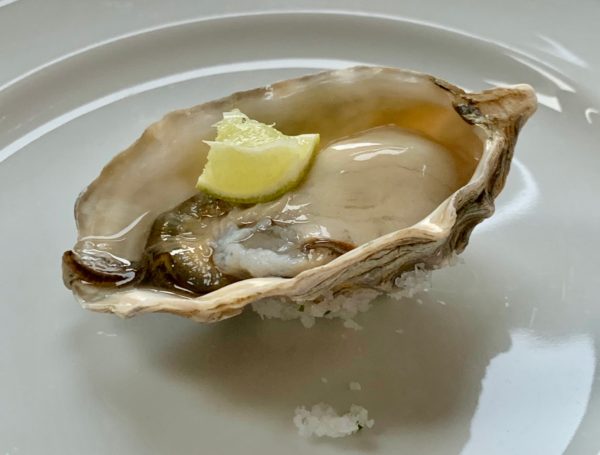 These tiny Kusshi oysters were so fresh and perfectly paired with the Hillside Reserve Pinot Gris.
paired with hillside reserve pinot gris 2007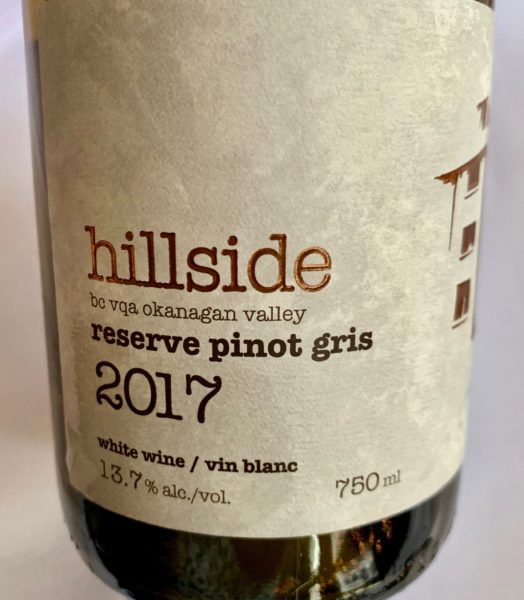 1ST COURSE
DUNGENESS CRAB STUFFED HOUSE MADE RAVIOLI
saffron dill cream sauce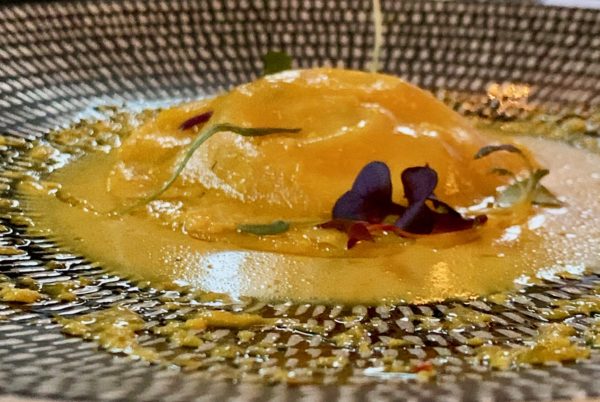 I think if I had to chose just one dish for the evening, this would be it. The Dungeness Crab Ravioli was exceptional. El dente pasta filled with flavourful Dungeness Crab.
PAIRED WITH: HILLSIDE WINERY RESERVE VIOGNIER 2017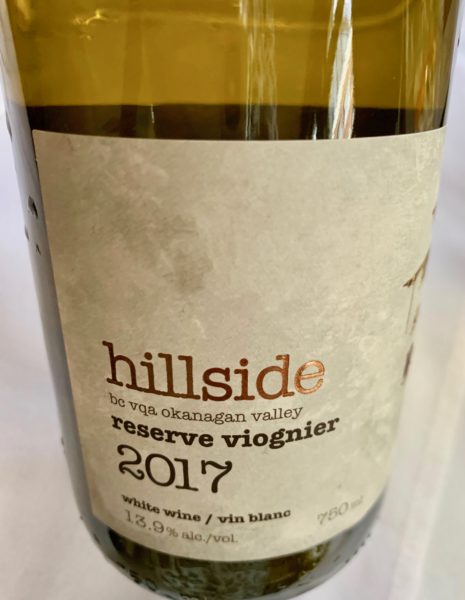 2ND COURSE
FRESH LING COD
thinly sliced ling cod, prawns, thai coconut, seafood broth, tableside service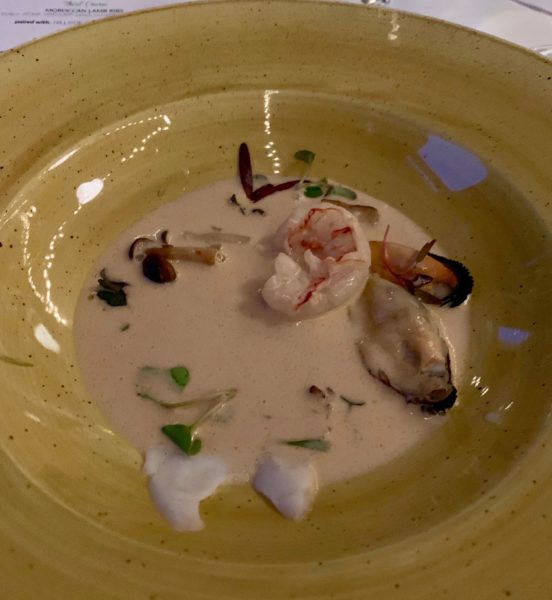 Just tangy enough on the palate to make a statement. Delicious fresh ling cod topped with a succulent prawn, pairing wonderfully with the Hillside Muscat Ottonel.
PAIRED WITH: HILLSIDE WINERY MUSCAT OTTONEL 2017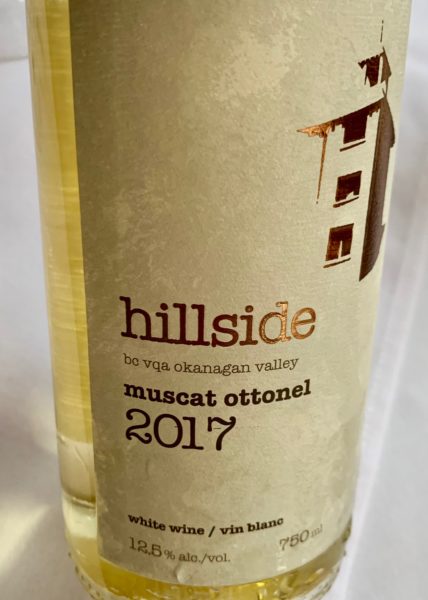 3RD COURSE
MOROCCAN LAMB RIBS
bulgur wheat tabbouleh salad, cucumber dill yogurt dip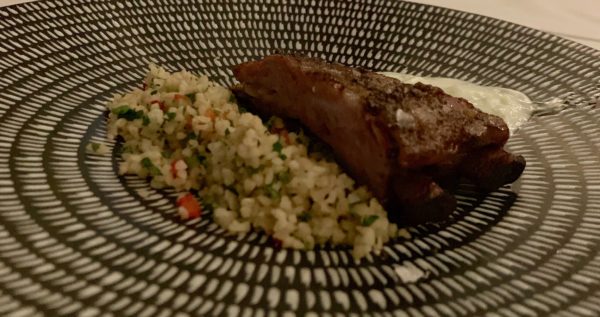 A deeply rich dish that balanced so well with the Hillside Syrah.
PAIRED WITH: HILLSIDE WINERY SYRAH 2015
4TH COURSE
SWEET POTATO PAVE RING
beef, veal meatballs
This dish was definitely a crowd pleaser with tasty meatballs and a pave of sweet potato pairing nicly with ever popular Hillside Cabernet Franc.
PAIRED WITH: HILLSIDE WINERY CABERNET FRANC 2016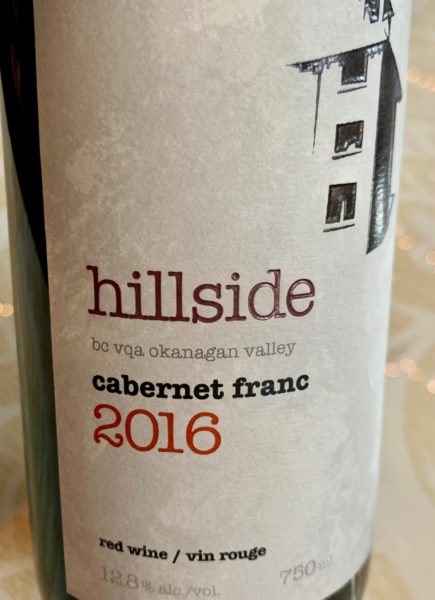 5TH COURSE
CHOCOLATE & HAZELNUT NAPOLEON
rich chocolate & hazelnut layered between crispy phyllo, hazelnut and sugar garnish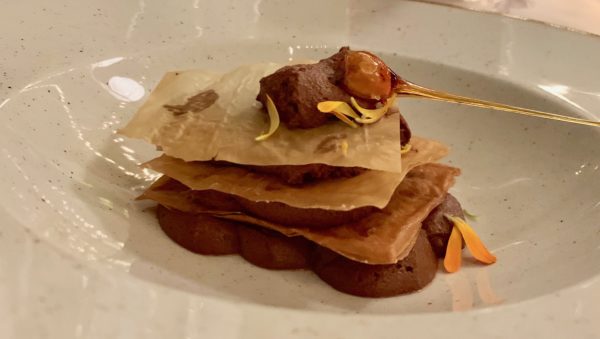 Is there anyone who doesn't love chocolate? Just loved the phyllo pastry and the hazelnut lollipop. The Hillside Mosaic was an excellent wine that would pair with many dishes.
PAIRED WITH: HILLSIDE WINERY MOSAIC 2012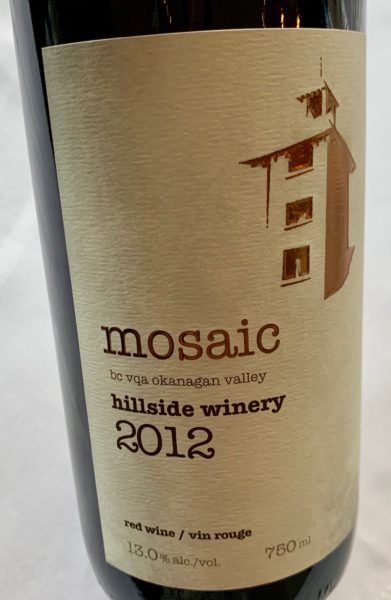 Each course was well paired with the Hillside wine chosen as the pairing. The Mosaic was an interesting choice with dessert, an excellent wine that would pair well with a number of different selections.
For next Water Street Cafe Wine Dinner in the Series which will feature Stag's Hollow Winery from Okanagan Falls takes place on Wednesday, April 17. For more information use this link.
Hillside Philosophy
Grow the best quality fruit possible, pick at optimum physiological ripeness, ferment cool, and intervene with nature only when necessary…simple, elegant. Simple, elegant, yes, but easy? Definitely not. The temptation to constantly "fiddle" and "improve upon" Mother Nature is really more about manufacturing. Natural, beautiful wine is not manufactured—rather, it is carefully guided through natural phases to become the glorious essence of the effects of sun and soil on specific grape varieties.
It is our belief that great wines start in the vineyard, and to this end, we use only the best quality fruit available from our twenty acres of grapes densely planted on hillside terraces surrounding the winery. We also have partnerships with select vineyards along the Naramata Bench.
It has been our commitment since our inception to produce hand-crafted, naturally fruit-forward, well-balanced wines that represent the true character of the grapes. Our uniquely designed winery allows us to ferment and age the wine in many small batches to maintain the varietal character and integrity of each grape type and vineyard.
Cool temperature fermentations for the whites using state of the art steel fermentors allows us to produce intensely aromatic and flavourful wines that captivate the senses. More traditional techniques are applied to the reds involving open top fermentors, French and American oak barrels, and a very hands-on winemaking team, resulting in rich, classic style wines that have consistently won accolades from both consumers and wine judges alike.
All of our latest releases are available for purchase online, or in our beautiful Tasting Room and Gift Shop.
Kathy Malone, Winemaker
Raised in the mountains of Vermont, Kathy has called the Okanagan "home" for more than three decades.  In 2008, after many years winemaking with Mission Hill Family Estate, Kathy made the move to Hillside to share in the Naramata lifestyle.
Kathy has been deeply involved in the development of the BC wine industry over the 30 years of her career.  As chair of the BC Wine Grape Council's R&D Committee she appreciates the dynamic nature of our young wine region, "Growing wine grapes in desert conditions, on the edge of climactic viability, has necessitated an acceleration in research and development that has resulted in international recognition of the work of our local research scientists.  We are very proud of their achievements."
Since her arrival at Hillside, Kathy's understanding of the unique conditions of the Naramata Bench caused her to direct her focus to the local terroirs, "our region and vines being so young, we are recognizing terroir differences and flavor complexity in the wines more and more as the vines come "of age".  By respecting and showcasing the fruit of these vines, I want to give our wine drinkers the chance to share in the discovery and development of this special region."
Kathy brings out the best in Hillside wines with a gentle touch and minimal intervention.
WATER ST. CAFE
Committed to Quality…
Our culinary team works with local suppliers to bring in the freshest of products to showcase the best that BC has to offer. What every small restaurant ought to be: a commitment to quality, service and value that keeps our guests coming back time and time again creating true guest connection and the best hospitality experience in Vancouver.
a Vancouver landmark since 1988
Across from the steam clock in the heart of historic Gastown, our stone-clad heritage building, the Edward Hotel, has stood since 1906 amongst the cobble stone streets in the oldest neighborhood in Vancouver. Our restaurant has been featured in movies, television shows, and numerous dining guides.
Join us for Brunch, Lunch, Dinner or your next private event. We look forward to hosting you!
Water St. Cafe
300 Water Street
Vancouver, BC V6B 1B6
(604) 689-283 waterstc@nulltelus.net
I received two complimentary tickets to the wine dinner to facilitate this review. All opinions are my own. Images by MyVanCity, feature image courtesy of Water Street Cafe. A gratuity equal to 18-20% of the value of the dinner left with thanks to the team at Water Street Cafe.
[wdi_feed id="2″]