"In this series Anna Savino from Piemonte is sharing inspirational Italian recipes"
My friend Anna is one busy young woman; she has a family and works in the wine industry, that means she is always on the go. Consequently, I have to fill in once in awhile, like today, with an Italian recipe I have tried and enjoyed. This is one I made just last night and it was delicious.
I think one of the best things about Italian cooking is that it turns just a few ingredients into something special and most of the recipes are way easier than you might expect.
Like many of the recipes I share on #ThisWineThatDish this one is inspired by a recipe you will find on NYTCooking. As always I varied from their recipe with a few changes.
Tagliatelle With Prosciutto and Butter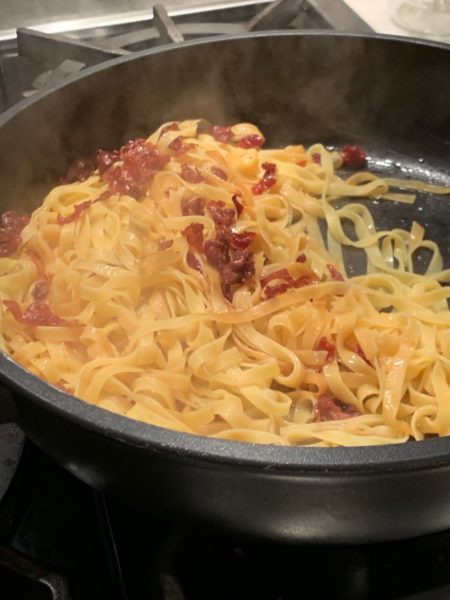 Ingredients
Butter
Proscuitto
Parmesan or similar cheese grated
Tagliatelle pasta
nutmeg (optional)
This is a quick recipe and you can probably boil the pasta and simultaneously fry the prosciutto. Melt the butter in a heavy bottomed pan at medium high. Break the prosciutto into pieces and fry  until just crispy.
No need to remove the prosciutto from the pan if your pasta is ready. (el dente)
Reserve some pasta water and add the pasta to the pan. Depending on how much you like cheese you can add a little or a lot.
To make it saucy add the pasta water and toss until everything comes together and is creamy. I use only a little pasta water but I add lots of cream (room temperature is best). Toss and toss to combine.
Serve in pasta bowls and sprinkle with nutmeg (optional). Serve immediately.
Suggested BC wine pairing:
Da Silva Chenin Blanc 2018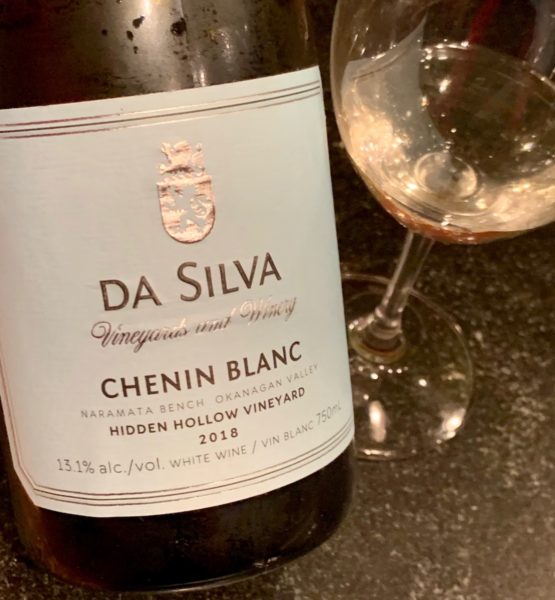 100% Chenin Blanc
Honey, quince and floral notes with hints of wet wool. Finishes with bracing green apple acidity.
This was one fine pairing. Loved the Chenin Blanc with the dish. The Tagliatelle was super rich and needed an unoaked, crisp white wine and the Da Silva Chenin Blanc ticked all the boxes. Smooth, and slightly fruity with just the right amount of acidity to counter the creamy pasta (yes I added a liberal amount of cream even though it wasn't called for in the original recipe, and I'm glad I did). The wine was a nice light colour but had good body and a delicious fresh taste. This one was a winner.
Some take aways from this recipe. The dish is quite salty due to the proscuitto so I would suggest very little or no salt in the pasta water, especially if you intend to add the pasta water to the dish.
Thank you to guest blogger Anna Savino @italiannawinetours and @barolowineclub on Instagram, and online at ItaliAnna Food & Wine Tours and NYTCooking for inspiration.
Anna Savino contributor to our #TasteItalia Food &Wine Pairing Articles is now happy to announce a fantastic online project with some of the best guides around the world called Guide Collective www.guide-collective.com be sure to check it out!
Tasting notes courtesy of the winery. I received a complimentary bottle of this wine for review. All opinions (in italics) are my own. If you would like to be featured on MyVanCity.ca please contact your pr agency or email myvancityval@nullgmail.com for details. Wine samples accepted for review.