"In this series I'll share which B.C. wine pairs best with select recipes from the best chefs in B.C." 
This recipe is featured on the CedarCreek Wine Menu at Provence Marinaside, available  January 2021. Created by: Shawn Jeong, Sous Chef
Beet Salad with Smoked Ricotta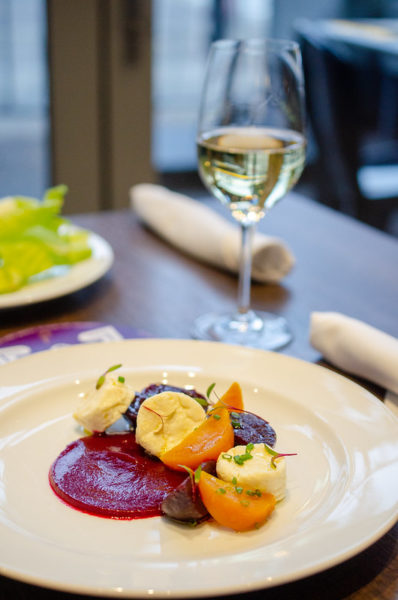 Serves 4 
Home-Made Ricotta 
2 cups whole milk
2 cups whipping cream
1 lemon zest and juice
1 tsp. white vinegar
salt
∙ Pour the milk into a 4-quart pot and set it over medium heat. Let it warm gradually to 200°F, monitoring the  temperature with an instant read thermometer. The milk will get foamy and start to steam. 
∙ Remove the milk from heat. Pour in the lemon juice, vinegar and the salt. Stir gently to combine. ∙ Let the pot of milk sit undisturbed for 10 minutes. After this time, the milk should have separated into clumps of  milky white curds and thin, watery, yellow-coloured whey — dip a slotted spoon into the mix to check. If you still  see a lot of un-separated milk, add another teaspoon of lemon juice or vinegar and wait a few more minutes. ∙ Set a strainer over a bowl and line the strainer with cheese cloth. Scoop the big curds out of the pot with a slotted  spoon and transfer them to the strainer. Pour the remaining curds and the whey through the strainer. (Removing  the big curds first helps keep them from splashing and making a mess as you pour.) 
∙ Let the ricotta drain for 10 to 60 minutes, depending on how wet or dry you prefer your ricotta.  ∙ Optional if you have a smoker – smoke the ricotta for 10 minutes 
∙ If you like, it can then be moulded in small ramekins or ring moulds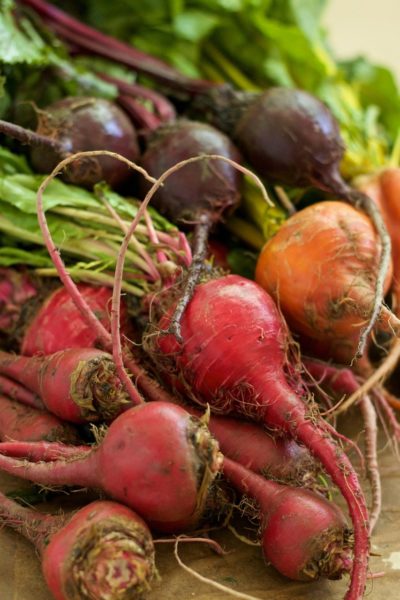 Beet Salad 
4 red beets
4 golden beets
4 tsp olive oil
2 cloves garlic
1 bay leaf
2 sprigs fresh thyme
1 Tbsp. brown sugar
½ cup orange juice
1.5 Tbsp. cider vinegar
Salt
∙ Pre-heat oven to 350°F 
∙ Roast beets for 1 to 1 ½ hours until a fork can easily pierce them 
∙ Once the beets are cooked, peel and chop into bite-sized chunks 
∙ While the beets are roasting, on medium heat in a frying pan, add olive oil, garlic, bay leaf, thyme and slowly heat to make herb-infused oil 
∙ Lower the heat; add in the brown sugar, orange juice, vinegar, and salt – mix to form dressing, set aside
∙ Toss the dressing with the chopped beets 
Beet Purée 
1 red beet
1 golden beet
1 cup + 2 Tbsp orange Juice
½ cup water
1 Tbsp. sugar
2 Tbsp. cider vinegar
salt
Peel and rough chop the beets
∙ In a large pot, add the chopped beets, orange juice and water 
∙ Simmer over low heat until the beets are cooked 
∙ Drain the beets and purée in a blender with sugar, vinegar and salt 
Plating 
∙ Spread the purée over the plate 
∙ Top with beet salad 
∙ Accompany with ricotta on the side
Suggested wine pairing:
CedarCreek Platinum Series Haynes Creek Single Vineyard Viognier 2017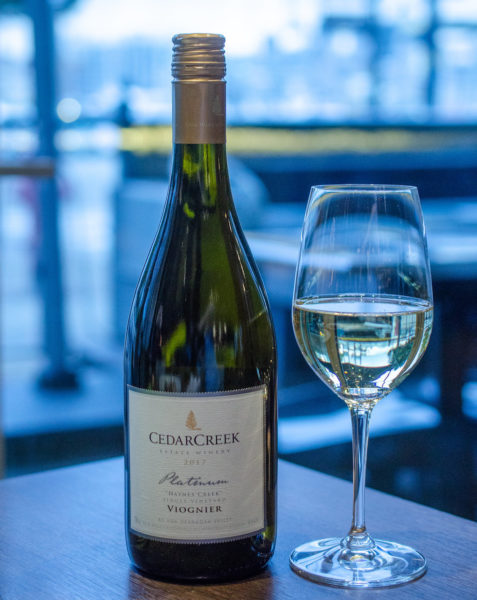 Made from a single block of Viognier from the estate Haynes Creek Vineyard, this impressive version is fresh; notes of guava, mango, ginger and lemongrass, bergamot and exotic spices waft heartily from the glass.
"The wine has crunchy and tangy fruit on the palate; outstanding potency and succulence, yet it's not blousy of flabby; slick and oily in texture with a powerful and lengthy finish."
Recipe and images provided by Nancy Wong, Culinary Communications. Tasting notes courtesy of the January Wine Dinner feature previously published on MyVanCity. Link to article here. All images by Emrys Horton, EPH Photography.