"In this series I will be sharing my take on which BC Wine pairs well with some inspirational recipes"
This may not sound like a traditional pairing but don't knock it until you've tried it. The Delicate squash is quite dense and rich, add in the miso marinate that gives it an acidic but sweet finish and any wine would be challenged.
With summer waning into Fall you can follow this recipe and use the BBQ or take it inside on chilly evenings and cook it under the broiler. Can be served cool or warm out of the oven.
The dish was done on the bbq along with other root vegetables and served to lovers of rich, red wines. Hence, the choice of he Syrah. Sometimes you just have to move out of your comfort zone to find something special.
Suggested BC Wine pairing:
Church and State 2018 Syrah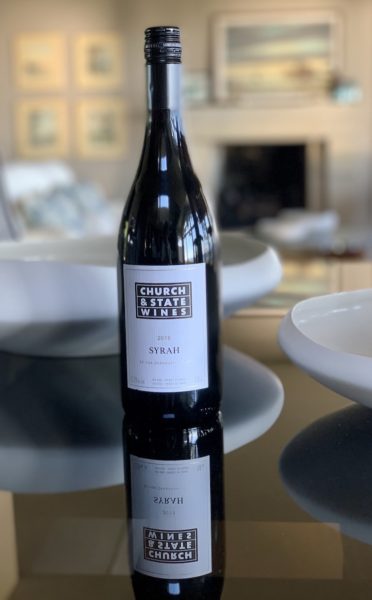 On the nose you are met with eucalyptus, mint and roasted red pepper. The mouthfeel has young grippy tannins and medium body. The palate expresses notes of cranberries, green pepper corns and red currants.
Awards:
Best of Syrah, Lieutenant Governor General Wine Awards, 2020
Syrah $30+, All Canadian Wine Championships, 2021
Another winner from Church and State. Deep, rich red in colour. Scents of ripe cherries and blackberry. So smooth with ripe fruit, very light tannins. Essence of spice and black pepper that is reflected in the flavour of the wine. As it sits purple plum and tart juiciness.
Delicious now and cellar worthy. Best decanted ahead of time and served just at room temperature.
Miso-Glazed Delicata with Roasted Peanuts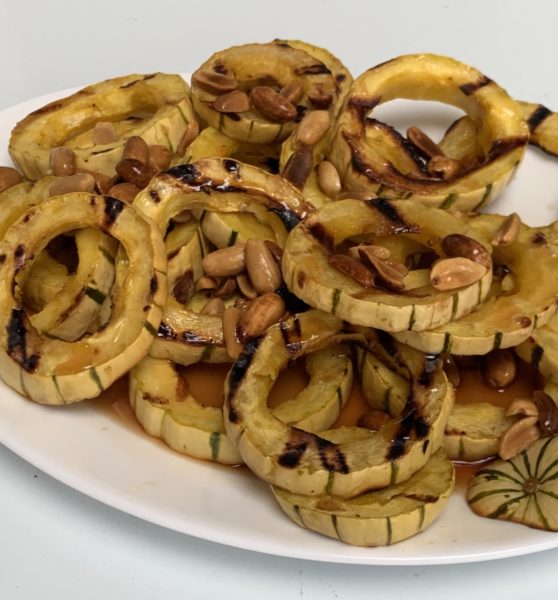 Ingredients
Delicata squash
1 teaspoon sesame oil
1 tablespoon rice wine vinegar
1 tablespoon sake
2 tablespoons miso
1 tablespoon sugar
1 tablespoon honey
roasted peanuts
Method
Slice and core the squash. If you are making this early in the season the rind will be soft and there is not need to peel it.
Combine the rice wine vinegar and sake in the smallest saucepan you have and bring to a boil over high heat. Boil 20 seconds, taking care not to boil off much of the liquid, then turn the heat to low and stir in the miso and the sugar. Whisk over medium-low heat without letting the mixture boil, until the sugar and honey has dissolved. Remove from the heat and whisk in the sesame oil.
Pour the sauce over the squash. Grill on the BBQ until the squash is done and has nice grill markings. Continue to pour any leftover sauce on to the squash as it cooks on the BBQ.
Top with roasted peanuts and serve warm or at room temperature.
This makes a nice tasty starter or side dish and it looks as good as it tastes.
Wine notes courtesy of the winery. My notes (in bold italics) I received complimentary wine to facilitate this feature. All opinions are my own.