"In this series, I'll share which B.C. wine pairs best with select recipes from the best chefs in B.C." 
This delicious Pâté, also known as Paté de Campagne is currently offered on the Menu du Chevalier at Provence Marinaside as well as their Taste of Yaletown menu giving you two opportunities to try this delicious option, or make your own!
At the restaurant the Paté de Campagne is paired with a 2017 François Labet Pinot Noir Île de Beauté from Corsica, France.
Country Style Pâté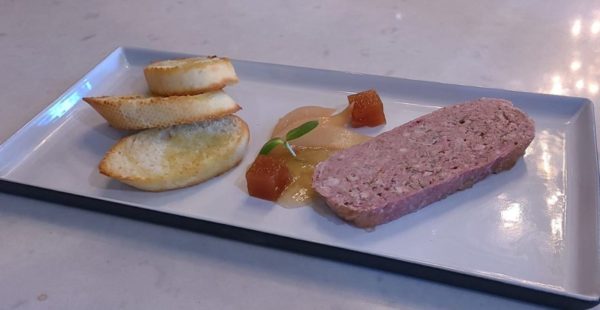 Courtesy of Chef Jean-Francis Quaglia
Notes: Make this recipe at least 2 days before you need it. You will also need a counter top meat grinder or food processor.
Ingredients:
500g pork shank deboned and cut in large strips
500g pork fat/lard, cut in large strips
500g pork liver, cut in large strips
14 slices smoked bacon
1/2 red onion, peeled
15 green peppercorns in brine
8 medium garlic cloves, peeled
½ cup white wine
3 Tbsp. brandy
1 Tbsp. salt
½ cup dried mixed forest mushrooms
a dash each of Tabasco and Worcestershire sauces
pinch of Herbes de Provence
black pepper
pinch Quatre Epice (Four Spice),this can be omitted if you can't find it
8 juniper berries
1 egg
Method:
∙ Place all the ingredients, except the egg, in a bowl and marinate over night. ∙ Remove meat and other solids from liquid that is left.
∙ Next day preheat oven to 350°F.
∙ Put all ingredients through a meat grinder medium to coarse, reserve in a bowl. ∙ Add egg to meat and mix well, at that point if you wish, pan fry a little bit of 'farce' (ground mixture) to check the seasoning.
∙ Line 9" x 5" x 3" metal loaf pan with bacon slices, arranging 8 slices across width of pan and 3 slices on each short side of pan and overlapping pan on all sides. ∙ Using your hands, lightly and evenly press ground meat mixture in the pan on top of the bacon.
∙ Fold bacon slices over, covering paté.
∙ Cover pan tightly with foil.
∙ Place loaf pan in a larger (13" x 9"x 2"works well) metal baking pan and transfer to oven.
∙ Pour boiling water into baking pan to come halfway up sides of loaf pan. ∙ Bake paté at 350°F until a thermometer inserted through foil into the center registers 155°F, about 2 hours and 15 minutes.
∙ Remove loaf pan from baking pan and transfer to rimmed baking sheet to catch the liquid that will come out during the next process.
∙ Remove the foil and replace with saran wrap and place a heavy object (skillet, cutting board) or 2 to 3 heavy cans on top paté to weigh it down.
∙ Chill overnight.
∙ To remove paté place loaf pan in a larger pan of hot water for about 3 minutes and invert paté onto platter.
∙ Cut paté crosswise into 1/2-inch slices.
∙ Serve with crusty bread, French gherkins and Dijon mustard.
BC Wine Pairing Suggestion:
Noble Ridge 2017 King's Ransom Pinot Noir

Dark Cherry, rich plum, and subtle violet undertones are highlighted by warm earth and spice undertones. Complex notes of ripe black cherry and spices on the palate. This bold Pinot Noir is rich with structure and tannin. It will age gracefully for 8+ years.
New release. $54.99 available online
For details about the Provence Marinaside's October Feature Menu or to make a reservation click here.
Provence Marinaside (Yaletown): 1177 Marinaside Crescent at the foot of Davie St., 604.681.4144 www.provencemarinaside.ca
Recipe and images provided by Nancy Wong, Culinary Communications. All images by Emrys Horton. Wine notes courtesy of the winery. To learn more about the new releases from Noble Ridge click here.