"In this series I'll share which B.C. wine pairs best with select recipes from the best chefs in B.C." 
This photo worthy recipe is as delicious as it is stunning! Take advantage of wild BC spot prawns while they are in season and readily available. Or settle in on the Provence patio and let the talented team spoil you with all their fabulous BC spot prawn dishes on the menu.
"Mid-May through June is also BC Spot Prawn season. Every year Provence celebrates these luscious crustaceans with a special menu and it seemed natural to combine the two into one menu. I feel in the case of Kutatàs Wines and Spot Prawns the old adage of 'what grows together, goes together' is absolutely true." Joshua Carlson
Chilled English Pea Soup with Poached BC Spot Prawns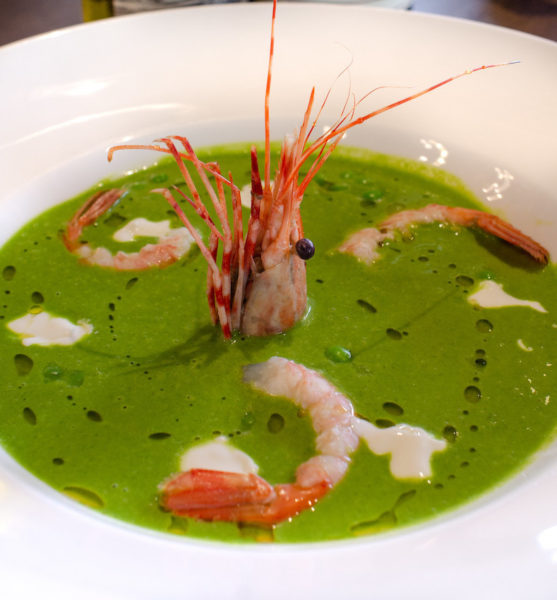 Chef Sheldon Maloff, Chef de Cuisine
Makes 6 to 8 servings
Ingredients – Soup:
25 ml olive oil
1 large white onion, diced
1 tsp. minced garlic
75 ml white wine
6 cups blanched fresh English peas, refreshed in ice water
10 long English cucumbers, seeded not peeled and chopped
6 cups frozen peas
1.5L milk
1.5 L vegetable stock
2 Tbsp. Worcestershire Sauce
10 drops of hot sauce such as Tabasco
2 Tbsp. chopped fresh mint
Salt to taste
Preparation – Soup:
 In a large soup pot, add in the 25 ml olive oil and sweat onions and garlic until soft and translucent
 De-glaze the pan with white wine
 Puree the blanched fresh peas with a bit of the milk and vegetable stock, set aside
 In the same large soup pot with the garlic and onions, add in chopped cucumbers, frozen peas, milk, vegetable stock, Worcestershire and hot sauces to the onion and garlic mixture
 Heat gently and then cool in an ice bath
 Puree the soup mixture
 Gently fold in the fresh pea puree when the soup is chilled
 Check the seasoning and add to taste
Ingredients – Spot Prawns:
3L water
Juice from ½ fresh lemon, reserve the other half
½ cup white wine
A few sprigs of fresh thyme
1 Tbsp. salt
fresh BC Spot Prawns, allow about 3 per serving
Preparation – Poached Spot Prawns:
 In a large pot bring the water to a boil
 Add in the lemon juice, half lemon white wine, thyme and salt
 Add in the spot prawns and cook (about 2-5 minutes, depending on the size of the prawns)
 Remove the prawns from the water, cool and peel
 Gently add to chilled soup
…
Ingredients – Buttermilk Crème Fraîche:
1 Tsp. olive oil
2 Tbsp. diced shallots
250 ml crème fraîche (available at most grocery stores)
150 ml buttermilk
Salt and pepper to taste
Preparation – Buttermilk Crème Fraîche:
 Over medium heat, sweat shallots in olive oil until soft and translucent.
 Set aside and let cool.
 Mix together crème fraiche and buttermilk
 Stir in the cooled shallots
Assembly:
Ladle into bowls and drizzle with buttermilk crème fraîche
For Provence Marinaside's May/June Monthly Winery Menu, Wine Director Joshua Carlson has chosen to highlight artisan wine producers, Kutatàs Wines from Salt Spring Island. "I visited the winery last year and with each of the wines I tasted I thought of seafood," says Carlson.
Recommended pairing:
Kutatás Wines Mèthode Traditionelle Brut 2015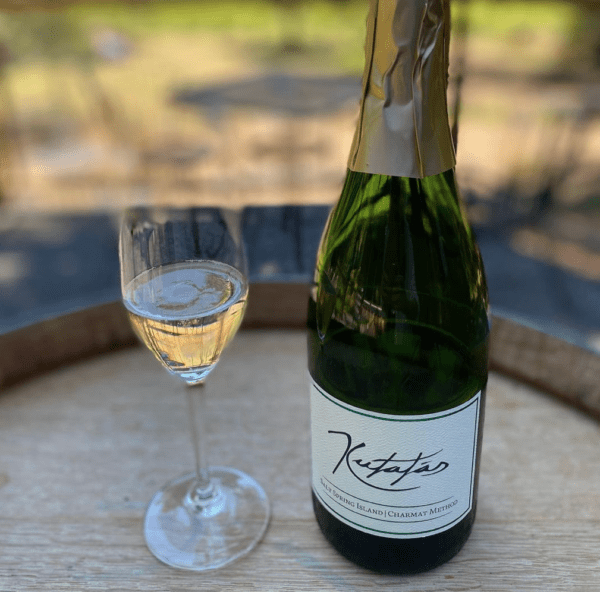 This is a wonderfully complex bubble. Equal parts Chardonnay and Pinot Noir, spontaneous fermentation and 36 months sur lie. Zero dosage. Full of leezy flavours like fresh baked brioche, with bright acid backbone that is reminiscent of olive brine and dill pickles. That 'greenness' inspired the fresh pea soup with mint. The creaminess and lees inspired crème fraîche. The sweetness of the poached prawns complements the dryness of the brut.
Recipe and image of the dish provided by Nancy Wong, Culinary Communications and courtesy of the restaurant. Photo credit: Emrys Horton