"A boat beneath a sunny sky, Lingering onward dreamily In an evening of July"
A Boat Beneath a Sunny Sky by Lewis Carroll
For BC Wine lovers this is an exciting time of the year! So many new releases to discover and enjoy. Featured here a selection of new releases from the Similkameen Valley's Clos du Soleil.
Clos du Soleil is a small artisan winery and estate vineyard on the Upper Bench of the South Similkameen Valley, in British Columbia, Canada.
We produce ultra-premium quality wines, borrowing an aesthetic derived from the great wines of Bordeaux, but stamped with the flavours and aromas of our particular piece of rocky Similkameen land. Through traditional winemaking techniques, informed by research, but adhering to the philosophies of minimal-interventionist winemaking and biodynamic viticulture, we produce wines that are complex and classic, ageable and elegant.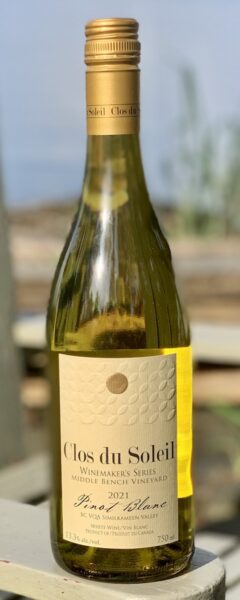 This Pinot Blanc*, a long-time fan-favourite at Clos du Soleil, hails from a vineyard on the Middle Bench Road in Keremeos.
NOSE
On the nose the wine presents an assemblage of ripe, fresh fruit: nectarine, peach, pear, and juicy ripe grapes.
MOUTH
This carries through to the elegantly expressed palate dominated by peach and nectarine, with sweet apple and pear, strung together by zesty citrus. Perfectly balanced, but with a lush ripeness – this is a wine that speaks of Similkameen summertime.
BODY
Medium
WINEMAKING NOTES
Fermented entirely in stainless steel, in the cellar the focus in making this wine was on maximizing retention of the beautiful floral aromatics that always make this wine so distinctive. This included gentle whole-cluster pressing, followed by a long, cool fermentation, with some lees contact to accentuate the richness on the mid-palate. After the completion of fermentation we used only the most minimal and gentle handling during maturation, prior to bottling, in order to retain the full range of fruit characteristics. The result of this is a sophisticated, elegant, and perfectly balanced expression of Similkameen Pinot Blanc.
FOOD PAIRING
This wine is perfect for pairing with grilled fish, pastas with olive oil and fresh vegetables, or just a lazy summer afternoon.
* Vegan wine

Célestiale is Clos du Soleil's Bordeaux blend that is soft and full of fruit with a classic and elegant structure.
NOSE
The taster is greeted with aromas of cedar, fresh ripe raspberries and blackberries, and pencil lead.
MOUTH
On the palate the wine is soft and layered, dominated by fresh ripe fruit flavours of raspberry, blackberry, and pomegranate, with more subtle notes of forest undergrowth and spice, with juicy acidity.
BODY
Full
WINEMAKING NOTES
Each variety and each vineyard block was harvested separately, when judged to be at optimal maturity. Each lot was gently destemmed and then after a moderate cold soak the fruit was fermented in concrete tanks. Following pressing, the wines were aged in 100% French oak barrels for 15 months. Only those barrels displaying the ideal characteristics for our Célestiale blend were selected for this wine. This wine was gently filtered prior to bottling under screw cap, allowing us to preserve all of this wine's freshness and approachability. All of the same skill, care and time-honoured artisanal winemaking techniques go into making this wine as Signature, the flagship wine of Clos du Soleil.
FOOD PAIRING
This wine is both approachable and totally food-friendly, yet retains all of the complexity and depth to truly engage the taster.
* Vegan wine

Signature is our flagship blend of red Bordeaux varieties, produced by hand, and aged for 16 months in 100% French oak barrels. The 2019 vintage is the product of a warm growing season followed by a cooler autumn ripening, leading to a very classically styled vintage of this iconic wine.
Enjoyable in its youth, the balance and structure of this wine will ensure its ability to age for many years.
NOSE
The taster is enveloped in heady aromas of fresh raspberries and blackberries, and herbal notes of sagebrush and mint, buoyed up by delicate floral notes of rose and violet.
MOUTH
On the palate the wine is layered with flavours of black cherry, raspberry, cassis, mint and blackberry, with complex notes of graphite and iron. The structure is full, with polished but mouth-filling tannins and a long lingering finish.
BODY
Full
WINEMAKING NOTES
Our winemaking philosophy is to treat our grapes gently and with respect, in order to produce complex, age worthy wines that showcase the very best expression of the Similkameen Valley terroir. Each vineyard block was harvested separately, by hand, when judged to be at optimal maturity. The grapes were then gently destemmed, crushed, and fermented in concrete tanks following a moderate cold-soak. The wines were fermented using only native wild yeasts to reinforce terroir expression. After a gentle pressing the wines were aged for 16 months in 100% French oak barrels. Only the barrels showing the greatest complexity, depth and elegance were selected for our Signature blend. Simplicity and a light hand in the winery have allowed us to deliver a wine which speaks of the beauty of our land.
VISIT US, TASTE SOME WINE
We look forward to meeting you!
Our tasting room is now open for the 2022 Tasting Season, 7 days a week, 10am to 5pm!
We continue to offer tastings on a RESERVATION-ONLY basis, with easy online booking. When time and space allows walk-ins may be accommodated.
For questions and more details please email wine@nullclosdusoleil.ca
2568 Upper Bench Road,
Keremeos, BC, V0X 1N4
(250) 499-2831
Wine notes courtesy of the winery. Images: MyVanCity. I received  complimentary wine to facilitate this feature.