"In this series, I'll share which B.C. wine pairs best with select recipes from the best chefs in B.C." 
This wonderful recipe and wine pairing courtesy of the Hart House restaurant located in a picturesque setting. Serving Mediterranean inspired cuisine. The pairing, a Fort Berens Merlot Reservice 2019.
If you like a challenging, yet scrumptuous dish, then you can't go wrong with a Duck Breast. In this case the chef has incorporated a Merlot sauce using the Fort Berens recommended wine pairing. An exquisite company-worthy dish served with roasted winter vegetables. An ideal winter dinner dish that is sure to satisfy.
Seared Duck Breast
with Roasted Parsnips & Squash Purée with Merlot Sauce
Serves 4
Fraser Valley Seared Duck Breast
4 duck breasts
Salt and pepper
With a sharp knife, gently score duck breast skin in a crosshatch pattern, then season both sides well with salt and pepper.
Using a medium skillet, add the breasts skin side down and cook on medium-low heat for 10 minutes. Once the skin is brown and crispy, flip the breasts and cook for approximately 8 minutes.
Roasted Parsnips
2 medium parsnips
Salt and pepper
Olive oil
Oregano (to taste)
Red pepper flakes (to taste)
Preheat oven to 425°F. Spread parsnips on 2 large baking sheets, being sure to not overcrowd. Drizzle with olive oil and season with oregano, salt, pepper, and red pepper flakes. Toss to evenly coat.
Roast for about 30 minutes, until golden and easily pierced with a knife, tossing once halfway through.
Squash Purée
1 large butternut squash
6 tablespoons unsalted butter, diced
2 tbsp brown sugar
½ tsp ground cinnamon
¼ tsp ground nutmeg
¼ teaspoon salt
1 tbsp lemon juice
Preheat oven to 350°F. Slice the butternut squash in half lengthwise; scoop out and toss the seeds. Peel it, chop it in chucks, and place on a foil-lined baking sheet.
Sprinkle brown sugar evenly on both halves.
Roast for 45-60 minutes or until the butternut squash can easily be pierced with a knife.
Remove squash from the oven and allow to cool for about 10 minutes. Place into blender, and add cinnamon, nutmeg, salt, lemon juice, and butter. Pulse until you reach a creamy consistency.
Adjust the seasoning to your taste, and toss in a couple more tablespoons of unsalted butter.
Merlot Sauce
1 onion, diced
1 carrot, diced
300ml Fort Berens Merlot
100ml chicken stock
½ tbsp flour
1 bay leaf
1 strip orange skin
Pinch of thyme
1 tbsp olive oil
Pinch of salt
Cook the onion and carrot together in a small pot with olive oil until soft.
Add flour and cook for 3 minutes, then add the remaining ingredients except for the wine. Bring to boil. Cook on medium high heat until the sauce has thickened.
Strain the sauce and add the wine on low heat.
Pour Merlot sauce over the squash purée.
The recipe is from Raul Copete Vazquez, Executive Chef at Hart House Restaurant.
Fort Berens
Merlot Reserve 2019

Tasting notes
Deep ruby red in colour, this Merlot features notes of dark plums, blackberries, cinnamon, and licorice, with hints of dark chocolate. A medium to full-bodied wine with a juicy yet smooth tannin structure on the palate

Winemaker's notes
This wine was handcrafted from our finest 100% estate grown Merlot grapes from our Dry Creek Vineyard. This premium wine features a barrel selection from 10 barrels of Merlot. A combination of different coopers and toasting levels were used to give this wine a unique complexity of flavours. It was aged for 15 months in French oak, resulting in very smooth,juicy tannins. A wine with a beautiful bouquet and concentrated in flavour, yet elegant on the finish.
Food pairings
Pair this perfect fall and winter wine with lamb, beef short ribs, roasted pork, or butternut squash soup.
Cellaring advice
This soft and smooth wine is ready to enjoy now, or with proper cellaring, you can age this wine until 2025.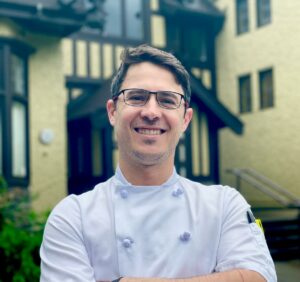 About Hart House Restaurant: Hart House Restaurant opened its doors in 1988, after a thorough renovation of the Tudor-Style home by Paul Smolen and his partner. Paul and his wife Carol owned and operated the restaurant for many years until Carol took the helm in 2014. It has been a beloved culinary destination since its inception: a place that guests return to for special occasions, romantic dinners, lunch and a game of bocce. Executive Chef Raul Copete Vazquez's style is Mediterranean influenced, with local and seasonal ingredients. Outstanding cuisine and warm, professional service inspire loyalty in guests and staff alike. Hart House Restaurant is a proud member of Oceanwise.
#harthouserestaurant #lakesidedining
Come Explore
Fort Berens Estate Winery is located in Lillooet, along the Gold Rush Trail in British Columbia's newest and most exciting emerging wine region. Lillooet's first winery was forged on the road less traveled. It is a culmination of the dreams, vision, and pioneering spirit of the team. Today, with 38 acres of vineyard and a cabinet filled with regional, national, and international wine awards, Fort Berens is showing the world that this is a discovery for the new millennium. At this breathtaking location, we passionately handcraft award-winning wines that reflect our unique Lillooet terroir.