We can't let summer slip away without a tribute to some of our most favourite wines. Follows is a message from Rolf de Bruin, Co-owner and C0-founder of Fort Berens.
2022 Harvest
Mother Nature continued to challenge our vineyard and winemaking team in 2022. Despite the challenges, we are very pleased with this vintage in terms of quantity and quality. It surpassed our expectations, in light of the challenges, including extreme cold winter temperatures and a cooler than normal start of the season. We enjoyed a long and warm fall that allowed our grapes to ripen optimally.
The winter of 2021-22 was cold and harsh with a record low temperature of -25.7 degrees on December 27th. These low winter temperatures tempered our outlook for the vintage. We were very pleasantly surprised when it appeared that the vines in the spring showed minimal winter damage. This could have been a combined result of the slow drop in temperatures during December, combined with an atypical (for Lillooet) snow cover. The slow drop in temperature meant that the plants were able to optimally acclimatize to the drop in temperatures and the vines went into deep dormancy, while the snow cover kept the soil temperatures relatively high.
The cold winter was followed by a late and cool spring, and bud break was 2 weeks later than normal. A cloudy and rainy June delayed ripening even further.
Summer was fairly typical for Lillooet. It was hot and dry, although there were only 3 days just above 40 degrees. The temperature was in the mid-to-high 30-degree range for most of the summer. We had little disease pressure and no smoke or fire challenges near the winery. We performed early leaf removal on the east side of the vine rows to get maximal morning sun onto the grape clusters for better ripening.
The weather cooled down only a little in September, with temperatures remaining in the high 20s into October. October was unseasonably warm, giving the grapes an extra 2 weeks of ripening time, which was just what was needed. We got everything optimally ripe including the late ripening varietals. Harvest started on September 12th and wrapped up on November 2nd, a full 14 days later than in 2021.
With our Red Rock Vineyard coming into production, we were able to harvest the highest crop ever from our estate vineyards, and the 2022 vintage also reflects one of the highest percentages of estate grown grapes.
We put a lot of focus on the soil and irrigation in our new Red Rock Vineyard in 2022, and we are really happy with the beautifully balanced grapes from this vineyard.
Our 2022 vintage whites are elegant with beautiful, fresh acidity, and lovely aromatics. Our 100% estate grown Rosé is juicy and luscious. We're also excited to launch stylish new bottles for our 2022 Riesling and Rosé.
You'll recall that our recently launched Small Lot series showcases vineyard specific, small lot wines. This series allows our winemaker the opportunity to experiment and to create small, handcrafted batches of unique and distinct wines. Portions of our Small Lot Dry Riesling and Small Lot Grüner Veltliner went through natural fermentation in neutral barrels, which added richness and fullness to the mouthfeel.
Rolf de Bruin
Co-founder and Co-owner
Fort Berens Estate Winery
PINOT GRIS 
Winery retail price: $23.49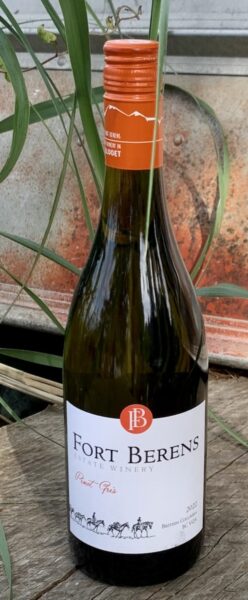 TASTING NOTES
A vibrant and aromatic Pinot Gris featuring notes of white pear, quince, melon, and hints of passion fruit. A refreshing wine that has a creamy texture with a crisp finish and lingering tropical fruit flavour.
VINEYARD NOTES
100% Pinot Gris
WINEMAKER NOTES
Made predominantly with grapes from Lillooet and Lytton, with a small portion from Osoyoos. The grapes were hand-picked, destemmed and crushed, and left on the skins for 4 hours for optimal flavour extraction. Dry ice was used during winemaking to reduce the contact with oxygen to protect the delicate aromas of this Pinot Gris. The wine was fermented cold at 11 degrees to further enhance the aromatic profile, and aged for 4 months on the fine lees to give a full, creamy texture.
FOOD PAIRING NOTES
This refreshing Pinot Gris can be paired with a variety of dishes including sautéed shrimp, a grilled chicken salad, or fresh summer greens with roasted nuts.
MERITAGE RESERVE

TASTING NOTES
Savour notes of dark fruit, including plums, cranberries, and cassis, plus hints of vanilla on the nose. This soft and juicy wine is medium to full-bodied with hints of chocolate on the palate, and a lengthy finish.
AWARDS
Silver – San Francisco Wine Competition in 2022
PRODUCTION NOTES
65% Merlot, 18% Cabernet Franc, 17% Cabernet Sauvignon
WINEMAKER NOTES
The grapes in this Merlot-predominant Meritage were hand-harvested, destemmed, crushed, and cold soaked for 4 days before inoculation with select Bordeaux yeast strains. Pumpovers were done every 4 hours to enhance colour and fruit characteristics. Each varietal was vinified and barrel matured separately for 15 months in French oak barrels. Our winemaker carefully crafted the final blend once the wine was removed from barrels.
FOOD PAIRING NOTES
PaPair this food-friendly Meritage with grilled meats including steak or beef tenderloin, prime rib, or fresh ravioli in tomato sauce.
Pairs beautifully with slow cooked beef stew or vegetarian lasagna.
ACCOLADES
Silver – LA International Wine & Spirits Competition
CHARDONNAY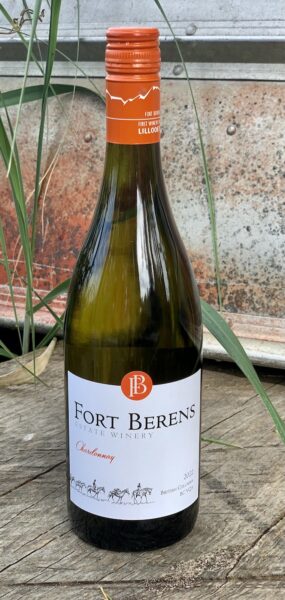 TASTING NOTES
A medium bodied Chardonnay that expresses a combination of stone fruit and citrus on the nose. A bouquet of yellow apple, lime, and hints of fresh baked biscuts. A well rounded palate with a lingering freshness and yellow apple flavour on the finish.
VINEYARD NOTES
55% Lillooet Chardonnay 45% Sourced from Savona & Summerland
PRODUCTION NOTES
100% Chardonnay
WINEMAKER NOTES
30% of the grapes were whole-cluster pressed and naturally fermented in neutral French oak barrels and aged for an additional 4 months adding richness to the mouthfeel. 70% of the grapes were destemmed and crushed with cold fermentation in stainless steel tank that gives vibrancy to the wine. A small amount of new oak was used that adds a subtle toasty character to the wine.
FOOD PAIRING NOTES
Pair this elegant and lightly oaked wine with roasted chicken, risotto, or pasta with cream sauce.
RED GOLD
Winery retail price: $54.99

VINEYARD
Dry Creek Vineyard, Fort Berens Estate Winery in Lillooet.
WINEMAKER'S NOTES 
After an absence of 3 years, the Red Gold is back in our portfolio. Red Gold is only made when the vintage this cellar-worthy blend meets a minimum quality level.
A true expression of Lillooet terrior, this full-bodied wine is handcrafted exclusively from 100% estate grown grapes. This cellar-worthy blend is comprised of 67% Cabernet Franc and 33% Merlot. After a cold soaked for 3 days, the must was naturally fermented and reached a temperature of 28 degrees at its peak. A combination of punch downs and pump overs every 4 hours. The wine underwent 10 days post maceration on skins. The components were aged separately in 100% new French oak barrels. After tasting through all of the barrels, our winemaker thoughtfully selected the top 3 barrels in our cellar to feature in this extremely small lot wine.
TASTING NOTES
A bold yet elegant wine. Loaded with dark fruit, cassis, blueberry, violets, cigar box and chocolate. Soft juicy palate and full bodied.
CABERNET FRANC RESERVE

VINEYARD
Dry Creek Vineyard, Fort Berens Estate Winery in Lillooet.
TASTING NOTES
A bold wine expressing dark fruits such as cassis and blueberries, with hints of dark chocolate from the oak that follows through on palate. A full-bodied wine with a velvety and juicy texture on the finish.
AWARDS
PLATINUM MEDAL – British Columbia Lieutenant Governor's Wine Awards in 2023. SILVER MEDAL and 91 points – Decanter World Wine Awards in 2023.
VINEYARD NOTES
100% estate grown grapes from Dry Creek Vineyard, planted in 2009.
PRODUCTION NOTES
100% Cabernet Franc
WINEMAKER NOTES
The grapes for this 100% estate grown wine were hand picked from select rows with low cropping levels in our Dry Creek Vineyard. The crushed and destemmed grapes received a 3-day soak, followed by a combination of pumpovers and punchdowns every 4 hours, and finally a 5-day extended maceration on the skins, to extract maximum flavour and colour. The wine was aged in carefully curated French oak barrels for 15 months, of which 50% were new.
FOOD PAIRING NOTES
Enjoy this versatile wine on its own by the fireplace, or pair with grilled steak, roasted eggplant, and tomato-based sauces.
RIESLING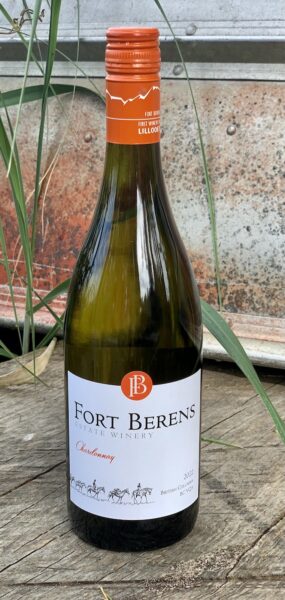 TASTING NOTES
This aromatic Riesling showcases notes of fresh green apples, grapefruit, and elderflowers. It is beautifully balanced and slightly off-dry. Pair this crisp and refreshing wine with a wide array of dishes from Indian and Thai cuisine to beef or pork tacos.
PRODUCTION NOTES
100% Riesling
WINEMAKER NOTES
The majority of Riesling grapes were estate grown, with the balance from Naramata. The grapes were destemmed and crushed, then left on the skins for 12 hours before pressing. The juice was fermented cold to retain the natural fruit-forward aromas. The residual sugar was monitored regularly to determine when to stop the fermentation for optimal balance between sweetness and acidity. A 4-month maturation on the lees gave this terroir-driven Riesling additional mouthfeel.
FOOD PAIRING NOTES
This versatile and food-friendly Riesling pairs well with an array of dishes such as Indian or Thai curry, and beef or pork tacos. For something a little different, try it paired with fried tofu and a mild chili sauce.
ROSÉ
TASTING NOTES
Juicy and luscious, this 100% estate grown Rosé was made predominantly with Pinot Noir grapes. Savour this refreshing summer wine with enticing raspberry and pomegranate notes on the patio this summer, or pair with grilled salmon or pulled pork.
VINEYARD NOTES
100% estate grown grapes
PRODUCTION NOTES
70% Pinot Noir 16% Merlot 13% Cabernet Franc 1% Cabernet Sauvignon
WINEMAKER NOTES
Made from 100% Lillooet estate grown fruit, this wine is comprised of 70% Pinot Noir grapes, 16% Merlot, 13% Cabernet Franc, and 1% Cabernet Sauvignon. The grapes were destemmed and crushed to allow for skin contact of up to 12 hours. After the perfect colour was achieved, the grapes were lightly pressed, followed by a long and cold fermentation. The result is an elegant Rosé with a fruit-forward palate, a creamy texture, and a crisp finish.
FOOD PAIRING NOTES
Pair this luscious Rosé with pulled pork, shrimp, lobster rolls, or a beautifully cooked salmon. It also pairs perfectly with a good book on the patio on a sunny day.
DRY RIESLING – SMALL LOT

TASTING NOTES
An expressive Riesling with tropical fruit, orange blossom, green apple, and hints of white pear on the nose. It has a distinct minerality on the palate with a rich, creamy mouthfeel. The finish is crisp with lingering stone fruit.
VINEYARD NOTES
Grapes are picked from our Dry Creek Vineyard and Red Rock Vineyard
PRODUCTION NOTES
100% Riesling
WINEMAKER NOTES
An elegant wine made with grapes from our Dry Creek vineyard. 30% of the grapes were whole cluster pressed and barrel fermented in neutral oak barrels for up to 4 months, adding a rich texture to the palate. The rest of the grapes were destemmed, crushed, and left on the skins for 12 hours before a light pressing. A long and cold fermentation, with further lees maturation of up to 4 months gave the wine beautiful aromatics and an enhanced mouthfeel.
FOOD PAIRING NOTES
This aromtic Riesling will pair with an array of seafood dishes such as sushi or trout. Grilled sweet peppers and zuchinni or crudifte platters makes for a lovely pairing too.
GRÜNER VELTLINER – SMALL LOT
Winery retail price: $25.99
TASTING NOTES
A refreshing Gruner Veltliner that shows a combination of tangerine, kiwi fruit, lime and white asparagus on the nose with hints of freshly cut grass. A creamy texture on mouthfeel with a zesty acidity on finish making this a deliciously crisp wine.
VINEYARD NOTES
Grapes are all from our Red Rock Vineyard
PRODUCTION NOTES
100% Grüner Veltliner
WINEMAKER NOTES
Hand-picked grapes grown on the estate from our Red Rock Vineyard has a long and slow ripening time on the vines. Grapes are destemmed and crushed and left for skin contact for up to 4 hours to extract flavour. 30% of the juice fermented in neutral oak barrels and 70% of the juice was fermented cold in stainless steel, which leads to an aromatic wine that has great mouthfeel and complexity.
FOOD PAIRING NOTES
A wine that is best enjoyed with fresh oysters, greek salad or even a freshly baked bannock.
COME EXPLORE
Fort Berens Estate Winery is located in Lillooet, along the Gold Rush Trail in British Columbia's newest and most exciting emerging wine region. Lillooet's first winery was forged on the road less traveled. It is a culmination of the dreams, vision, and pioneering spirit of the team. Today, with 38 acres of vineyard and a cabinet filled with regional, national, and international wine awards, Fort Berens is showing the world that this is a discovery for the new millennium. At this breathtaking location, we passionately handcraft award-winning wines that reflect our unique Lillooet terroir.
Wine notes courtesy of the winery. Images: MyVanCity. I received complimentary wine to facilitate this feature.