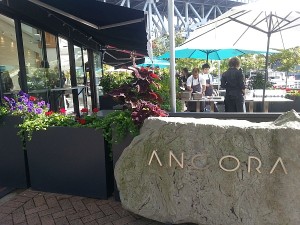 Ancora Waterfront Dining and Patio, is Vacouver's newest upscale eatery, located in the former C Restaurant space, and located along the False Creek seawall, looking directly across at Granville Island.  What makes this restaurant interesting is that it combines West Coast sustainable cuisine with Peruvian and Japanese touches.
Managed by Vescovi, the former manager and wine director at BlueWater Cafe + Raw Bar, he brings together some of the city's finest culinary professionals.
Why Peruvian and Japanese touches?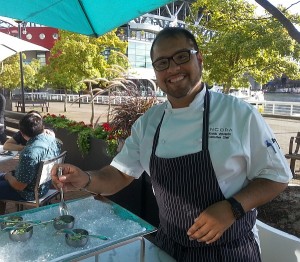 Asia + South America?  If you travel back in history, in the 1800s many Japanese people travelled to Peru, in part in search for gold and a better life.  In 1990 Alberto Fujimori, the person of Japanese descent was elected President of Peru, and was re-elected in 1995.  Through all this history there is no reason why they should not share their cuisine.  Both countries have abundant seafood and are known for their culinary abilities.  It should be a natural fit.  So here we have Executive Chef Ricardo Valverde, of Peruvian origin, giving Ancora's menu a South American flair. He has also worked for such notable restaurants in Vancouver, including CinCin Ristorante, Diva at the Met and most recently as chef de cuisine at Blue Water Cafe.  On the Japanese side of this equation they have a raw bar headed by Master Sushi Chef Yoshi Tabo.
Sampling Chef's Creations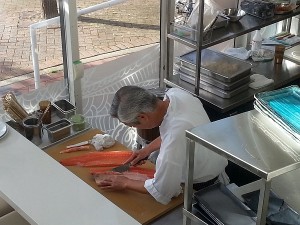 Arriving at the restaurant, Media guests could sample one of the restaurant's wines, or their Ancora Punch, created from rum, pineapple juice and bitters.  The punch was quite delicious.  Not too sweet and also not overly alcoholic.  We nibbled on some Peruvian-inspired dishes, such as tiradito scallop and prawn ceviche with aji amarillo crema and cancha (a toasted Peruvian corn), oysters on the half shell topped with a light drop of caviar, halibut ceviche, Dungeness crab causa, a ceviche and tartare tasting, and selection of sushi. I particularly enjoyed the tiradito.  It was creamy, with a soft scallop texture, crunch of cancha, and spiciness from a slice of chili pepper on top. Also a highlight for me was the halibut ceviche, with it's refreshing citrus acidity. Everyone also enjoyed the variety of sushi. I look forward to trying the main dishes from their menu in the future, such as:
GARAM MARSALA ICELANDIC COD with summer squash, pistachio fennel seed basmati, coconut and aji limo curry
PANCA GLAZED SABLEFISH with baba ganoush, puffed quinoa, broccolini, osoyoos peach 'salsa'
HAIDA GWAII PAN SEARED HALIBUT with forbidden rice paella, chickpea pipean, broccoli, guanciale, lemon and thyme jus.

Ancora is located at 1600 Howe Street #2, and is open daily for cocktail hour, 3:00 to 5:00 pm, followed by dinner from 5:00 pm to 11:00 pm. For reservations please visit bookenda.com/ancora or call 604-681-1164.   For more information please visit ancoradining.com