I love dining at restaurants that are either in my immediate neighbourhood or a comfortable short walk away. That often finds me in South Granville where I enjoy both Fiore on West 12th Avenue at Granville Street or The Stable House on West 13th Avenue at Granville Street.
For this evening, a Monday, when both my favourite South Granville restaurants are closed and there isn't a pop-up wine bar at Fiore hosted by VinVanPop (every other week on Monday nights) we ventured over to West 4th Avenue for a glass of wine at Their There wine bar pop-up hosted by Maude Renaud-Brisson (the first Monday of each month 4 – 8 pm). Both of these venues are casual and fun plus a great way to discover a new wine or enjoy an old favourite. Most recently at Fiore pop-up wine bar a new sparkling rosé from the hatch wines, and at Maude's pop-up wine bar a first ever bottling of Synchromesh Whole Cluster Riesling $18.00/glass.
It pays to venture out on what might otherwise be a quiet evening.  Going further afield to Gastown pop into Water Street Cafe where bottles of wine are discounted by 40% on Monday.
Back to our dining choice. Our faves are casual Las Margaritas where we had gone after Their There April pop-up for the first Monday in April before heading back to South Granville for VinVanPop's pop-up which runs later into the evening. Note: sometimes the every other Monday and the first Monday of the month coincide in which case put on your walking shoes and go to both (times are staggered so you can visit both places in the same evening).
So where did we go? Well after thinking about Au Comptoir recently on a Tuesday, and being disappointed to remember it was closed on Tuesdays, we decided to stroll the four or five blocks west on 4th Avenue and check out how busy they might be. We were in luck, arriving about 8:30, there were a few empty tables and we were seated immediately. (no reservations taken here).
After such a fabulous dinner away in Tofino where we attended a collaborative #TofinoEats chef series dinner with the talented Chef Paul Moran, Tofino Resort + Marina (check out how Paul is doing on Top Chef Canada on the Food Network at 7:00 pm on Monday nights #pvr) and Boulevard's Chef Alex Chen we were thinking it might be a long time before we found another dining experience that not just met our expectations but exceeded them.
Au Comptoir turned out to be the perfect choice. Our servers were very knowledgeable and were instrumental in helping us decide on a wine that would pair with the wild salmon dish that my companion ordered and the duo of veal I chose over the highly debated choice between Duck Breast or Veal. In the end we went with a Sancerre over the more recommended Macon both priced at $70. Why? I had recently had a Sancerre at dinner at home and had been disappointed so I wanted to try another winemaker's just to see if I had lost my taste for the varietal. Turned out I loved it and was not worried it wasn't the optimum pairing for the veal. Drink what you like!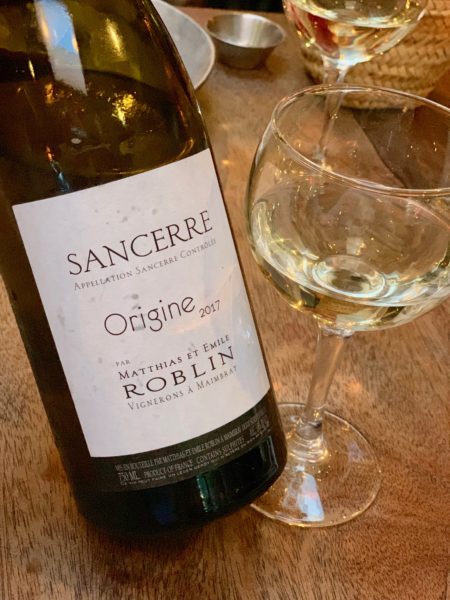 My companion started with the oysters which were of course as fresh as expected which he described as a very flavourful small oyster from Read Island. $16. for six OceanWise oysters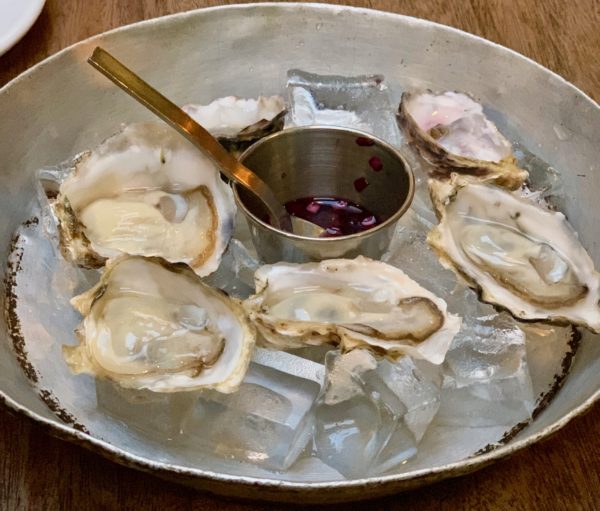 The wild salmon was cooked French style with crispy skin up and quite close to rare in the centre. Also delightful.
SAUMON À L'UNILATÉRALE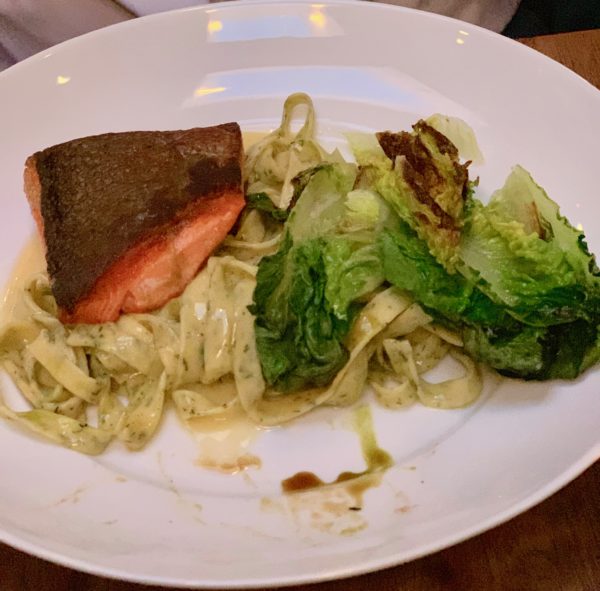 pan roasted wild salmon, fennel tagliatelle, gem lettuce, beurre blanc $28.
Our mains were excellent and I quickly forgot my small angst about choosing the Veal over the Duck Breast, which I also absolutely love. The grilled veal was accompanied by a Veal cheek which was slow cooked and fell apart when I put my fork in. The grilled veal was exactly medium rare and delicious. It was nice to have the Veal two ways in the same dish, served with spring onions, asparagus, fingerling potatoes and tasty morels.
DUO DE VEAU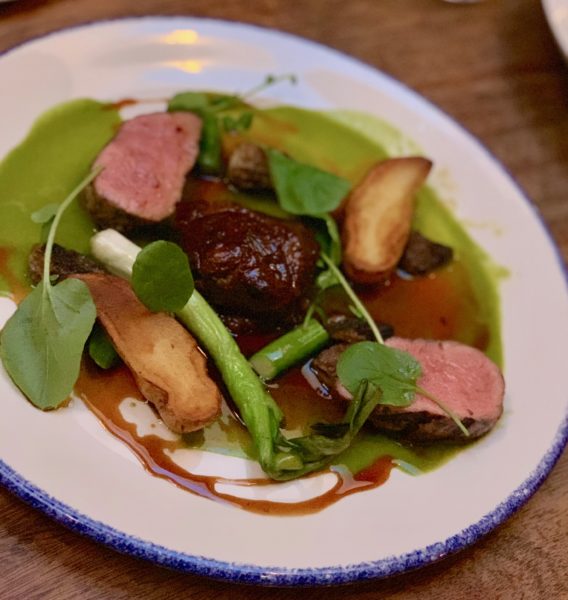 grilled loin of veal, glazed veal cheek, asparagus, potatoes, morels, spring onion, watercress velouté $34.
I love how authentically French Au Comptoir is, from the dishes, the drinks and wines, closing day, no substitution rule and the staff (exception no attitude here). One of our servers was from France, via time in Quebec and had only been in Vancouver for a few weeks. It was interesting to chat with her about her impressions of our city's dining scene. Just to be clear she loves Vancouver.
We will definitely be going again, most likely trying to find the quieter nights to enjoy some of the best cuisine the city has to offer.
All images MyVanCity. Dinner cost $148. before taxes and a 20% gratuity.
[wdi_feed id="2″]