I have been totting that the Similkameen is beyond up and coming and has in fact arrived in terms of wine and wineries. Now Similkameen has come into it's own for Cider as well. Launched as recently as August 1st of this year Untangled Craft Cidery has taken off like a rocket.
I was first introduced when I had lunch at the newly opened Row Fourteen. Thanks to a tip I received while visiting a winery nearby I had the opportunity to give them a try within days of their opening and wow did they hit the ground running. The restaurant serves meals so fresh and flavourful you will be spoiled! Delicious, organic produce direct from their farm in literally hours. Serving only what's in season. I can't wait to go back.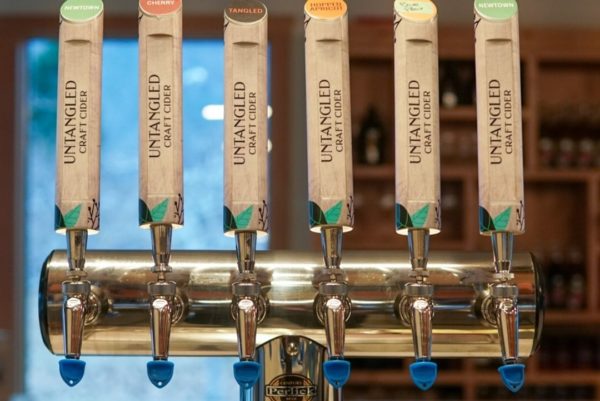 Also on tap at Row Fourteen the Untangled ciders. Produced entirely with organic fruit it is a treat. I tend to be more of a wine drinker but the cider really hits the spot on a super hot day in Cawston. We chose to dine outside on the patio and we so enjoyed ourselves. Read my review on Row Fourteen here.
Many Vancouverites already know Klippers Organics because you can find them at most of the Vancouver Farmers Markets during the season and right now at Riley Park Saturday Farmers Market (Winter Edition) through April. Those same quality, organic products can be found at Row Fourteen and in Untangled Craft Cidery cider.
For our #FavouriteThings Holiday Gift Suggestions we are recommending two different gifts; one the gift of Untangled Craft Cider and two; the gift of great dining with a Gift Certificate from Row Fourteen. Can't decide – choose both!
2018 HOPPED APRICOT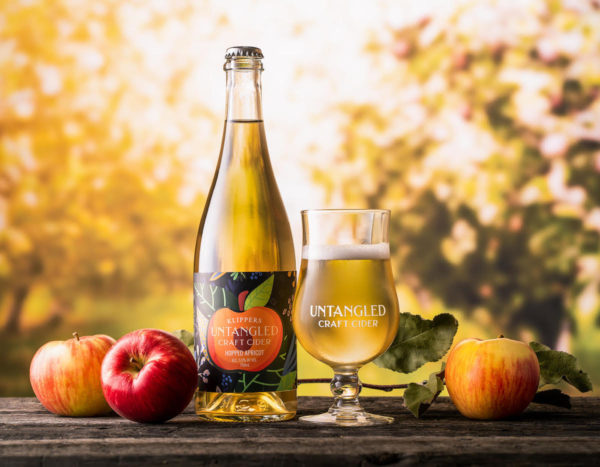 Organic Moorpark apricots, Mutsu apples and wild hops from our orchard come to play in this herbaceous, citrusy medium-bodied cider. This patio-sipper has a lingering finish of tangerines and passionfruit.
General Notes: Opaque (unfiltered), straw-yellow to golden in colour, medium bright, moderately carbonated. Tangerine, tropical flavours, slightly herbaceous 'beer' nose.
Composition: 15% Apricots / 12.5% Winter Banana / 54% Mutsu / 18.5% Spartan
Fruit History: The rogue hops were a pet project from a previous owner of the Tangled property. We harvested the vines and dried the hops with the intention of making a fruity patio-sipper as a trial.
2018 CHERRY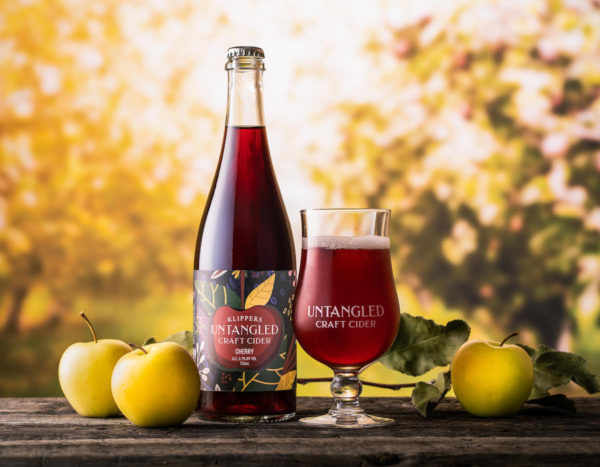 Organic Bing cherries and Mutsu apples play a key role in this old-world inspired cider. A bouquet of rosewood and vanilla is complemented by rich flavours of black cherry and red fruits on this medium bodied cider.
General Notes: Opaque (unfiltered), raspberry red, medium bright, lightly carbonated. Rosewood Vanilla, and peppercorn nose. Fruit-forward, medium bodied finish. Pairs well with meat.
Composition: 30% Cherries, 44% Mutsu, 10.5% Golden Delicious / 10.5% Spartan
Fruit History: All fruit is certified organic. 70% Of this composition is made up of mostly estate grown Mutsu apples. The Bing cherries and their juice is provided to us by our neighbour who is also certified organic.
2018 CRIMSON STAR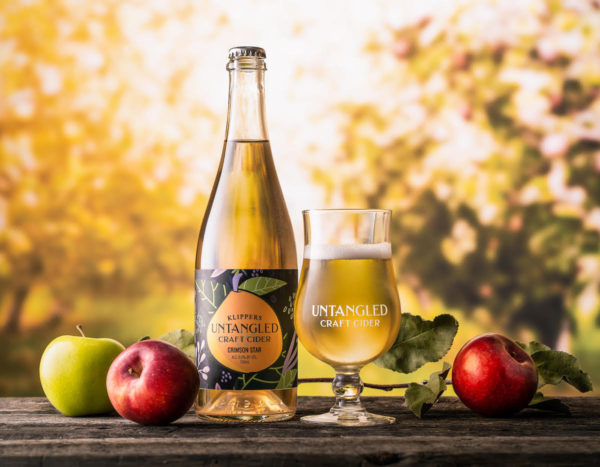 General Notes: Very clear (filtered), straw-yellow to peach in colour, medium bright, lightly carbonated. Apples, pears, honeydew. Slightly sweet and an astringent finish. Low acidity, light body.
Composition: 51% Crimson Star Pears / 38% Spartan / 6% Granny Smith / 5% Shamrock
Fruit History: Crimson Star pears, remarked for their sweetness, ideal shape, hardiness of frost resiliency, severe juiciness, and low acidity, this pear worked well for cider. Shamrocks, a cross between Golden Delicious and McIntosh done at the Summerland Research Station, provides a really neat, tart and semi-sweet tasting apple.
2018 NEWTOWN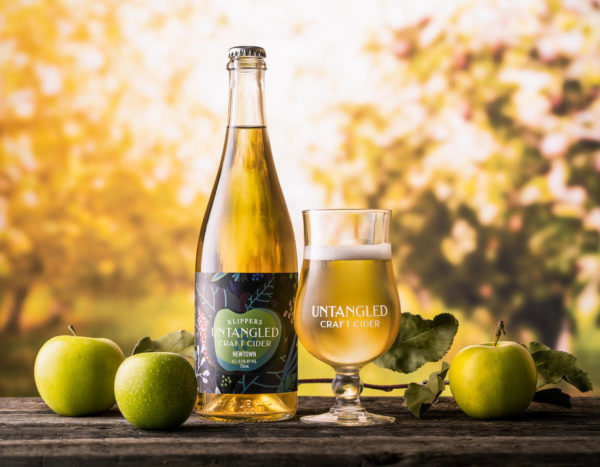 Celebrating our Organic Newtown Pippin apple, this brilliant, straw-coloured cider displays aromas of crisp green apples and lychee. It has a refreshingly bright minerality, a medium body and a long, tannic finish.
General Notes: Very clear (filtered), straw-yellow to golden in colour, medium bright, moderately carbonated. Green apple, fresh lemon, minerally refreshing. Long tannins and astringency on the end. Very recognized 'cider' apple.
Composition: 85% Newton Pippin / 7.5% Spartan / 7.5% Golden Delicious
Fruit History: Newtown Pippins are one of the oldest recognized North American cultivars and were the most common 'green' apple in the market until the 1980s. The perfect cider apple, with high sugar potential and high amounts of malic acid.
2018 TANGLED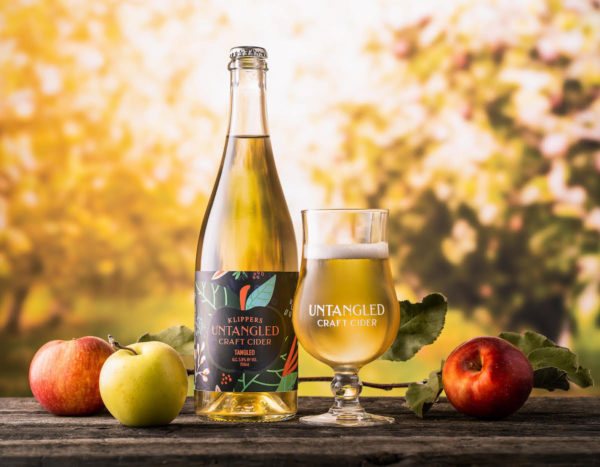 General Notes: Very clear (filtered), pale-yellow in colour, medium bright, moderately carbonated. Banana, strawberry, hibiscus. Fruity with a dainty finish. Light-bodied, semi-dry with a baked apple flavour.
Composition: 60% Golden Delicious / 40% Spartan
Fruit History: Spartans were the first real success from the Summerland Research Station in 1936. Widely considered the most balanced apple for sweetness and tartness. We let our tree-ripen longer than most producers, resulting in an even more beautiful red apple.
2018 SOFT CIDER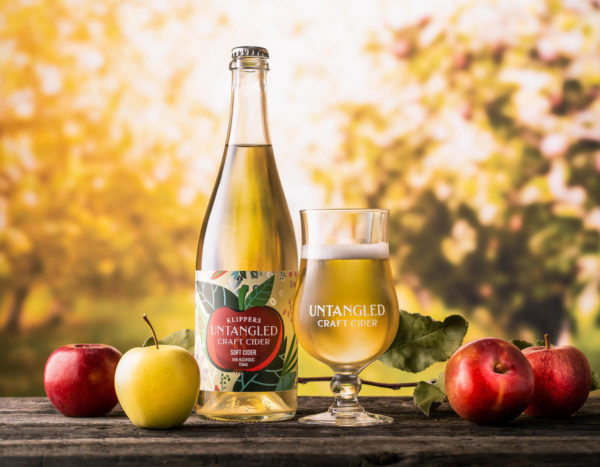 This dry cider offers a refreshing medley of our 17 organic heritage apples that is both zesty and full flavoured. Effervescent and fruity, this non alcoholic cider evokes a relaxed afternoon of summer sunshine, or a cozy evening in front of a fire.
"A little back ground for the cidery itself is that Annamarie and myself decided to open the cidery as we have played with winemaking at home and making Umashu which is a liquor with green apricots and thought it would be great to make a product that we can sell to the public.  We have been farming in Cawston for 18 years and grow a large diversity of fruit and veg so we have all the ingredients to make a great cider.  We make our cider a lot like winemakers make their wine with taking individual varieties and doing them in a single ferment.  We then take our individual ferments and blend after so we can choose the best highlights from each varietal.  We also back sweeten with our apricots for the hopped apricot and use our pears for the Crimson Star cider.  We began selling the cider this year on August 1st and it is taking off quickly." Kevin Klippenstein
ROW FOURTEEN Restaurant at Klippers
Cuisine from the earth, the way nature intended.
Row Fourteen's kitchen is agile, moving with the seasons. We create meals that are directly curated in part by the land and our chef's intuition. Our mission is to cultivate a better relationship and system with organic produce and creative cuisine.
Row Fourteen is situated in the Similkameen Valley, Cawston BC, the organic capital of Canada.
From the dining room, you'll find yourself surrounded by the rows of farmland and the orchard where the ingredients originated.
Row Fourteen at Klippers Organics
725 MacKenzie Road
Cawston, BC V0X 1C2
www.rowfourteen.ca and www.untangledcider.ca
**We politely decline menu modifications. Please inform your server of any allergens or dietary restrictions.** Reservations for 1-7 people available to book
online
.
Tasting notes and images provided by Kevin Klipperstein. I will receive complimentary samples for this feature. All opinions are my own.
[wdi_feed id="2″]