"In this series I'll share which B.C. wine pairs best with select recipes from the best chefs in B.C." 
One of the great things about beets is that they are available all year round. In winter I am always looking for new ways to use root vegetables. This one is colourful as well as comforting and I can't wait to try it.
Beetroot risotto
Ingredients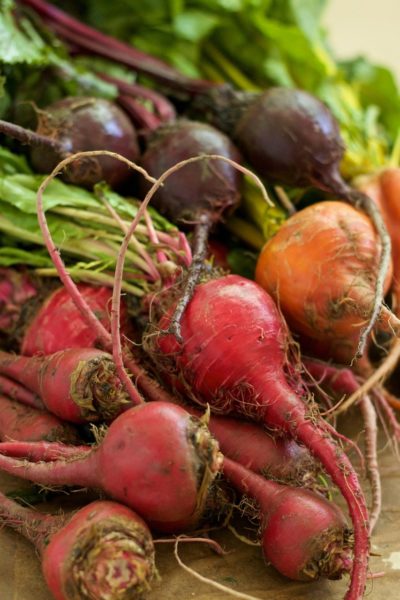 300g Carnaroli/arborio rice
½ white onion brunoise *
½ leek brunoise *
1 minced garlic clove
1 celery stalk brunoise *
125ml poplar grove rose
2 cooked beetroots
1 tblspn dill
1 tblspn creamed horseradish
75g butter
30g grated parmesan
1 litre white chicken stock
Method
Start by heating up the white chicken stock in a saucepan and set aside while keeping warm. 
Take one of the cooked beets and dice into small cubes. Add the other beet and any trim to the blender and blend with some hot water until smooth.
Melt 50g of the butter in a saucepan. Once it starts to foam add the onion, leek, celery and garlic. 
Sweat in the butter with no color. To prevent the vegetable getting color add a pinch of salt. This will take around 15 minutes.
Now turn up the heat and add the rice. Start to stir the rice to release the starch. 
Add the poplar grove rose. and reduce by half of the original volume.
Now start to add the warm chicken stock one ladle at a time.  Do not add too much chicken stock all at once. While you are adding the stock keep stirring and do not add more stock until the rice has absorbed the previous amount.
The cooking of the risotto will take between 15 and 20 mins. The rice will be complete when it is almost cooked through but still has a tiny bite on the inside.
To season the cooked rice, add the beetroot puree, creamed horseradish, 25g butter, grated parmesan, salt and lemon juice. 
Once these ingredients are added, you can slightly warm before serving but make sure not to cook the rice again as your risotto will lose its intensity of flavours with additional cooking time.
To serve: Place the desired amount of risotto on the plate and shave a little parnesean on top.  Option to add your favourite cut of steak, grilled and sliced on the side.
* Brunoise is a culinary knife cut in which the food item is first julienned and then turned a quarter turn   and diced, producing cubes of about 3 millimetres or less on each side. (Google search)
Suggested BC wine pairing:
Poplar Grove CSM 2016
Tasting Notes 
Deep crimson hues and long legs splash in the glass. This signature blend has upfront aromas of white pepper and blueberry with undertones of eucalyptus. This wine greets the palate with warm vanilla, baked fruits, and herbs. A full-bodied mouthfeel is complete with preserved cherries  and tobacco tones,  nishing with lingering plum.
Cellaring Notes 
Ready upon release and can be cellared up to 10 years.
The Restaurant at Poplar Grove
The Restaurant at Poplar Grove provides an elegant space to showcase our world-class wines. An understated dining room highlights our stunning vista overlooking Okanagan Lake across our very own Pinot Gris vines. We use local ingredients combined with Mediterranean flavours to create enticing seasonal fare to complement Poplar Grove's portfolio. We invite you to join us for a truly Okanagan experience.
Please note that as of December we are once again offering our Take Away Frozen Meals menu. We are looking forward to cooking for you and your family!
December – January – February
The Restaurant at Poplar Grove will be
closed from December 21, 2020 – February 11, 2021.
Chef Rob Ratcliffe's menus highlight local and seasonal ingredients. We are looking forward to welcoming you when we return in time for a new Valentines Day Menu!
Recipe and image of the dish courtesy of Chef Rob Ratcliffe; wine pairing suggestion; bottle shot and tasting notes, courtesy of Poplar Grove.