"In the Spring a young man's fancy lightly turns to thoughts of love."
Alfred Tennyson, Works of Alfred Lord Tennyson
For those of us with our feet planted more firmly on the ground our thoughts just may be turning to wine, specifically the wines of the latest Spring Releases. In this series of features, I will endeavour to update you on the new spring releases from some of my favourite British Columbia wineries.
These two wines from Township 7 are among their most popular and crafted in smaller quantities. The Merlot in particular is in limited quantities. With such an excellent price point it is suggested you order these wines promptly to avoid disappointment.
Here are the winery's newest releases:
2019 Chardonny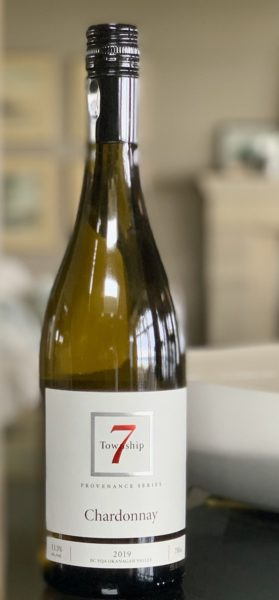 STYLISTIC NOTES
This Chardonnay was predominantly sourced (75%) from Vista Lago Vineyard in Oliver, with small additions from other locations in Oliver. 50% was fermented in French barriques, with the remaining 50% in stainless steel. The wine in barrel then underwent malolactic fermentation to enhance the texture further, while the stainless-steel portion maintained the bright, natural acidity.
This Chardonnay displays notes of Gala apple, pineapple and citrus, with a hint of spice on the nose. The palate is dry but round with hints of vanilla, peach and citrus flavours. Serve with cedar plank grilled salmon.
2019 Merlot

Limited Quantities Remain
STYLISTIC NOTES
This vintage was crafted with Merlot from our North Oliver Bench's Blue Terrace Vineyard and smaller portions from Remuda Vineyard in Okanagan Falls, and Front Yard Vineyard in Naramata. In Oliver the rich, rocky soils provide a foundation for superior grape quality. The grapes from Okanagan Falls add great structure and fruit the Naramata Bench add complexity and dimension to the blend. Two to three weeks of maceration time which included remontage, pipeage and pulsair treatments, resulted in wine with rich fruit extraction and satisfying tannins. Aged in American and French barrels for 18 months adds caramel and vanilla notes which mellow the mouthfeel.
This Merlot is laced with red cherry, plum and spicy aromas of tobacco leaves, cocoa, and vanilla. The three terroirs add complexity and depth to the wine finished with barrel aging to soften tannins and enhance ageability.
VINTAGE REPORT
The winter of 2018/2019 started with an unseasonably warm January, followed by a cold February with some isolated vine and bud damage, lowering overall yield. A cool April brought a slow start to the season, however, things warmed up towards month's end. May and June were the second hottest of the last two decades and resulted in average timing for budbreak and flowering, with standard vigour levels in the spring. The vintage continued to a moderate, smoke-free summer with July and August seeing average temperatures with no heat spikes that would temporarily shut down vine growth. Extra vineyard management was required as the unusual winter conditions led to primary, secondary and tertiary buds experiencing budbreak at different times. This produced variation in growth stages resulting in significant green harvesting and canopy management. On the flip side, the smoke-free year delivered bright sunlight with vines in good condition, progressing as normal.
September started warm and dry with many of the earlier ripening varieties harvested right on schedule. The second week of September saw the weather change, becoming cooler with small amounts of rainfall slowing ripening and drawing out the harvest for later ripening grape varieties. This resulted in slightly lower grape sugar levels but allowed plenty of time for the tannins to develop. The start of October saw the return to more typical dry conditions and moderate temperatures, with continued ripening until Thanksgiving weekend. An early frost affected many of the vineyards, with vines losing their leaves. Fortunately, most of our sites avoided the frost, allowing the grapes to hang into late October.
The 2019 vintage was similar to recent years in growing degree days (GDD) but felt cooler as much of the warmth came earlier in the season. Overall, the 2019 vintage was a moderately cool vintage with wines showing juicy and vibrant fruit, crisp acidity, moderate alcohol levels and ripe tannins in the red wines.
Wine notes and Vintage Report courtesy of the winery. Images: MyVanCity. I received complimentary wines to facilitate this feature.