Sommelier Wine Picks + Pairings from Naramata Inn
Our powerhouse sommelier team has major bench strength and is led by industry dynamo and Inn Wine Director, Emily Walker. This passionate team of educated oenophiles is excited to provide an epic food and wine experience to our guests.
The culinary experience at Naramata Inn is truly hitting its stride in our third summer operating the historic Inn. Our location — in the heart of the heart of wine country — merits the skills of "wine tour guides" to lead our guests to incredible wine discoveries.
Pairing wines with Chef Ned Bell's "French Naramatian" food philosophy (classic French culinary techniques elevating ultra-premium, hyper-local ingredients) requires strong knowledge and keen interest in the food and wine landscape of this glorious region. And while we're all about showcasing wines grown in Naramata and on the Naramata Bench — only the most perfect wines for the job make the cut. The list slants heavily to the Okanagan, but there's room for some special imports too.
The Setting:
Naramata is rich on sunshine. In the summer, the Okanagan has more hours of sunlight than most wine regions in the world, bringing daytime heat to ripen the grapes, and cool nights for the region's signature freshness and vibrant acidity. All of this, packaged up into a short, intense growing season.
The Soil:
Framed by deglaciated mountains and extinct volcanoes moderated by lakes, rivers and streams — there is a diverse range of ancient soils and numerous microclimates within these valleys, each presenting their own distinct terroir.
The List:
Naramata Inn's wine list takes a deep dive into the Okanagan and Similkameen Valley's history by showcasing collections of library vintages, many impossible to find elsewhere. Only local wines are offered by the glass in the restaurant, and while there is a small but thoughtful selection of international wines available by the bottle, it's the B.C. options that really shine and guests often look no further as they settle into an inimitable, multi-course meal.
Who's Who: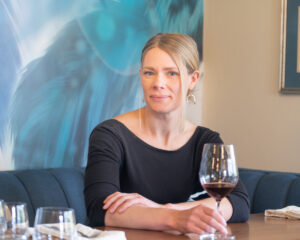 Emily Walker, Wine Director
An award-winning sommelier, Walker has curated a list of Okanagan and Similkameen wines worth travelling for. Believe us when we say most every winery in the province would like a spot on her list, noted as "one of the best in the province" by Western Living magazine, which also named her one of their 2021 Foodies of the Year finalists.
Getting the Band Back Together: Walker's skill and storytelling are well-known to the Naramata Inn opening team, as she worked with two of the Inn owners and operators, Ned Bell and Kate Colley, during their collective tenures at Four Seasons Hotel Vancouver and YEW seafood + bar.
Wine Pick + Pairing: Little Farm 'Siliceuse' Chardonnay, Similkameen Valley 2020 + Halibut and Little Neck Clams
The Chardonnay grape is one of the best when it comes to transmitting terroir, and Little Farm's 'Siliceuse' does just that. Named after the silica-based soils of their organic Mulberry Tree vineyard, this is a racy, intense and mineral-driven style of Chardonnay — a pure reflection of Similkameen Valley fruit. It's a perfect pairing for Halibut and Little Neck Clams; the kelp and chardonnay broth in the dish is a brilliant combination with the saline mineral quality in the Little Farm Chardonnay. Halibut season is on its way out, so come in and enjoy this pairing while you can.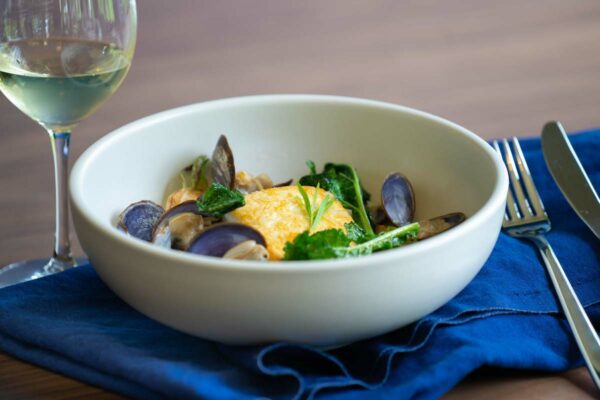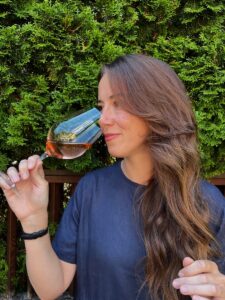 Elizabeth Markulin, Sommelier
Recently arrived, Markulin is a wonderful addition to the wine team. She has a wealth of wine training and knowledge, and is currently working toward certification with the Court of Master Sommeliers. Markulin loves discovering new wines, wineries and restaurants on her own time, and her goal of "pairing the perfect wine for every meal for every guest" has resulted in many delighted diners. Her motto is: "Always. Be. Tasting."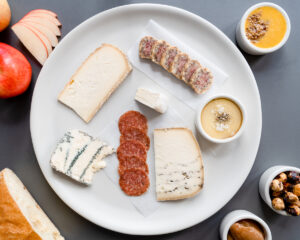 Wine Pick + Pairing: Riesling Time Capsule Tasting and Local Cheese, Naramata Fruit and Brioche
Markulin loves the Inn's themed "Time Capsule Tasting" as it showcases one grape from three different Okanagan producers. This one's all about Riesling and presents the opportunity to enjoy the full experience of different terroirs of the region, and pairs them with our luscious local cheese board.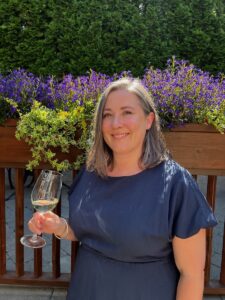 Emily Waters – Sommelier, Beverage Manager
Waters is the epitome of an oenophile; she eats, sleeps and breathes all things wine. With credentials in both wine (WSET 3) and food (Red Seal Chef), her culinary career spanned Vancouver, Melbourne and London before honing in on her passion for wine. In her second season at Naramata Inn, the dynamic leader loves sharing her wine knowledge with staff and guests, providing insight on different wines, wineries, wine regions and wine pairings. Taking guests on a wine journey through pairing the various courses is her absolute favourite part of her job.
Wine Pick + Pairing: Amulet Syrah and 63 Acres Butcher's Cut and/or 63 Acres Beef Burger
This incredibly delicious, well-made Syrah from Dwight Sick, one of B.C.'s best winemakers, is full of dark brambly fruit, sage and a hint of iron. Paired with 63 Acres exceptional beef — at lunch, Beef Burger, or at dinner, Butcher's Cut — the dark fruit and fine-grained tannins complement the richness of the meat, while gentle acidity cleanses the palate between bites.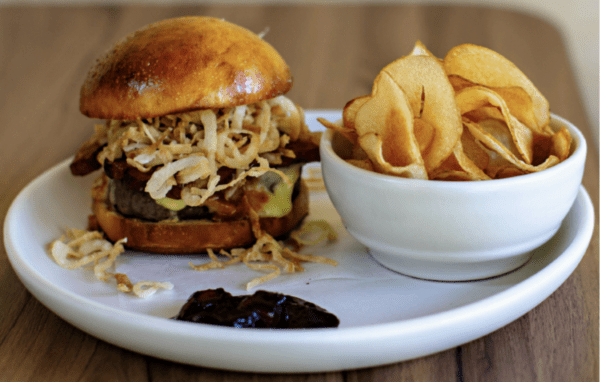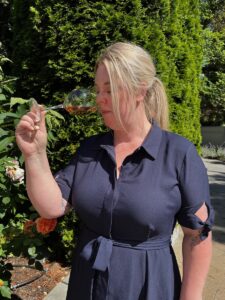 Anna Collard – Sommelier & Groups + Events Manager
Vancouver-born and UK-raised, this International Sommelier Guild member is a four-time recipient of the Vancouver International Wine Festival Silver Wine Program Awards. Collard has also earned the Wine Spectator Award of Excellence six times and was on staff at The Courtney Room restaurant when it was named one of EnRoute magazine's "Top 10 Best New Restaurants" in Canada. Serving, sharing and talking about food and wine pairings is a passion at both work and play, and it serves her well in her additional role as the Inn's Groups + Events Manager.
Wine Pick + Pairing: Tantalus 'Old Vines' Riesling, Kelowna 2013 and Yarrow Meadows Chicken
The Inn carries three vintages of this stunning wine dating back to 2007, which represents some of the Okanagan's oldest Riesling plantings. The age of the vines, the pedigree of the vineyards, and the winemaking techniques combine for a wine that truly tells a story of time, place, and quality.
The aromatics in the Riesling are in perfect harmony with the herbs used in our Yarrow Meadows Chicken dish. The acidity cuts through the creamy richness of the meat and onion soubise. The 2013 vintage is starting to show some tertiary flavours associated with aged Riesling and makes this pairing next level.
Pro-tip: The crispness of this Riesling highlights the mastery of our culinary team in treating our local vegetables with the utmost care and attention: our plates boast delicate, buttery lettuce, finely sliced ambrosia apples, and perfect little radishes with the most delicious vinaigrette – often featuring local blossoms and foraged sumac.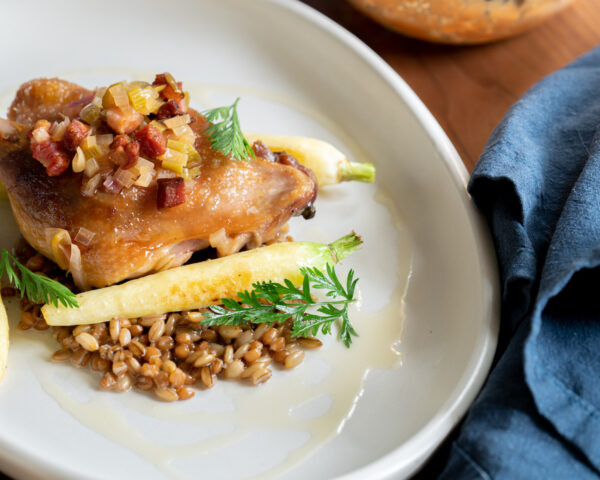 Media release and images provided by Krista Lochhead, Naramata Inn.