TWO WINEMAKER'S DINNERS WITH BIODYNAMIC
TRAILBLAZER FRÉDÉRIC SIGONNEAU OF DOMAINE DE L'R
6pm, November 15, 2022, at The Courtney Room, Victoria
6pm, November 16, 2022, at Boulevard Kitchen & Oyster Bar, Vancouver
Don't miss this rare opportunity to meet fifth generation winemaker Frédéric Sigonneau of Loire's Domaine de l'R and savour a wine pairing dinner featuring his small lot Cabernet Franc and rarely seen Chenin Blanc, along with other noteworthy wines.
Celebrated in particular for his powerful and concentrated Cabernet Franc, the winemaker founded Domaine de l'R in 2004, following years of making wine in Ribera del Duero. That region's influence is boldly apparent in his approach. Sigonneau farms biodynamically and works hard to maintain the purity of fruit in all his wines. "The idea," he says, "is to prevent the juice from any kind of stress and oxidation, to preserve all the natural and delicate flavours of the fruit." According to London's Bibendum, Domaine de l'R is "Where Cabernet Franc sings in all its fruity and elegant, powerful and perfumed glory."
Co-hosting both dinners is Dr. John Volpe, Professor in University of Victoria's School of Environmental Studies. Dr Volpe is a renowned educator and enologist whose work explores the links between ecological and social sustainability, especially in regards to terroir and the sustainable production of quality food and wine. Ecogastronomist Dr. Volpe is a dynamic and entertaining speaker on today's viniculture and sustainable farming and biodiversity.
Also, on the menu—a natural complement—are the wines of Domaine Duseigneur, from the southern Rhone Valley, home to world-renowned Chateauneuf-du-Pape. Biodynamic pioneer Bernard Duseigneur's family domaine was certified organic in 1998. "It was just the way we always did things," says the winemaker. "We never used chemicals or anything, for generations," he says, adding it's crucial to have a good understanding of the environment and respect for healthy soils, the terroir, and its biodiversity.
Domaine Duseigneur is a standard-bearer in the evolution of modern viticulture and organic farming, evolving into biodynamic practices and now low intervention Vin Méthode Nature winemaking. You will be blown away by two wines produced under this regime, Yamakasi Vin Méthode Nature and Catarina, a biodynamic Chateauneuf-du-Pape.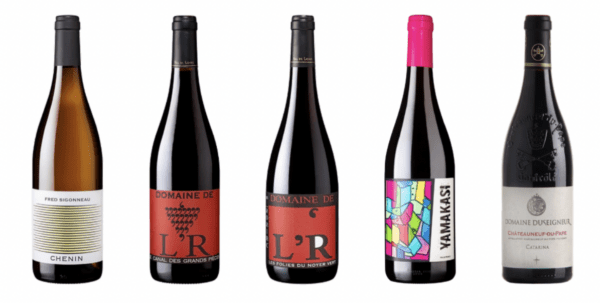 The Courtney Room dinner (Nov 15th.) showcases the contemporary Pacific Northwest cuisine of Executive Chef Brian Tesolin. The chef pays respect to the island's terroir through his seasonally curated menu that highlights the local fishing and farming community and its bounty. His background includes highly respected flagship restaurants such as Vancouver's Hawksworth and Langdon Hall Country House in Cambridge, Ontario. The Courtney Room is located at the award-winning Magnolia Hotel & Spa.
For tickets and more information, please visit https://thecourtneyroom.com/november-wine-dinners/ or phone The Courtney Room, 250-940-4090.
Boulevard Kitchen & Oyster Bar dinner (Nov 16th.) is planned and executed by Executive Chef Roger Ma. His many achievements range from a podium finish at the Bocuse d'Or national finals to being named 2020 Georgia Straight Golden Plates Chef of the Year as well as being crowned the National Champion at the Canadian Culinary Championships.
For tickets and more information, please contact Kristie Or, kristie.or@nullworldwinesynergy.com or 604-318-3840.
Come celebrate the zenith of biodynamic viticulture from two trend-setting producers, paired perfectly with menus designed by these award-winning restaurants, featuring five exquisite and rare wines— including two specially flown in for these events.
World Wine Synergy Inc. works with boutique wineries whose principals manage their own estate, reflecting the passion in their labor and respect for the environment. Behind every wine is a rich family history. Representing over 60 international boutique wineries, World Wine Synergy values tradition, and craft, with a focus on sustainability and indigenous grapes.
Media release and images provided by Grace Li, President, World Wine Synergy Inc. Feature image: Frédéric Sigonneau (left), Bernard Duseigneur (right)